Megan Anderson is a former Invicta FC Featherweight Champion who hails from Australia. She is famous for her fighting skills as well as for her killer looks and personality. Megan Anderson was born on 11th February 1990 in Gold Coast, Australia. So currently, she is 32 years old.
Anderson has had a hugely successful career in the UFC, and she continues to make her mark in that field. Read along to know not just her achievements but also her personal life and, finally, relationships.
Early Life
Anderson spent her entire childhood there and went to All Saints Anglican School. At the beginning of 2008, after her graduation, she left Gold Coast. Megan arrived in Canberra to join and serve the Australian army that year. In Anderson's Invicta bio, we find that she was not very athletic and usually stayed away from sports as a child.
While she served in the army for two and half years, she secretly battled depression and anxiety. She was even hospitalized for attempting suicide. After this incident, the army discharged her, and Anderson returned to Gold Coast. There she worked as a receptionist for a few days. Subsequently, as time passed, Anderson got involved in local boxing.
While making her way through boxing, she made some connections, and that introduced her to martial arts. Later on, martial arts would help her in her journey to overcoming depression.
Some Facts about Megan Anderson
Megan's Zodiac sign is Aquarius
Her current coach is James Krause
She is the tallest UFC woman fighter
Megan Anderson holds the title of Most stoppage victories in UFC Women's Featherweight third division.
In 2018 she made an appearance in the reality show "Heroes & Superstars."
Height and Physical Appearance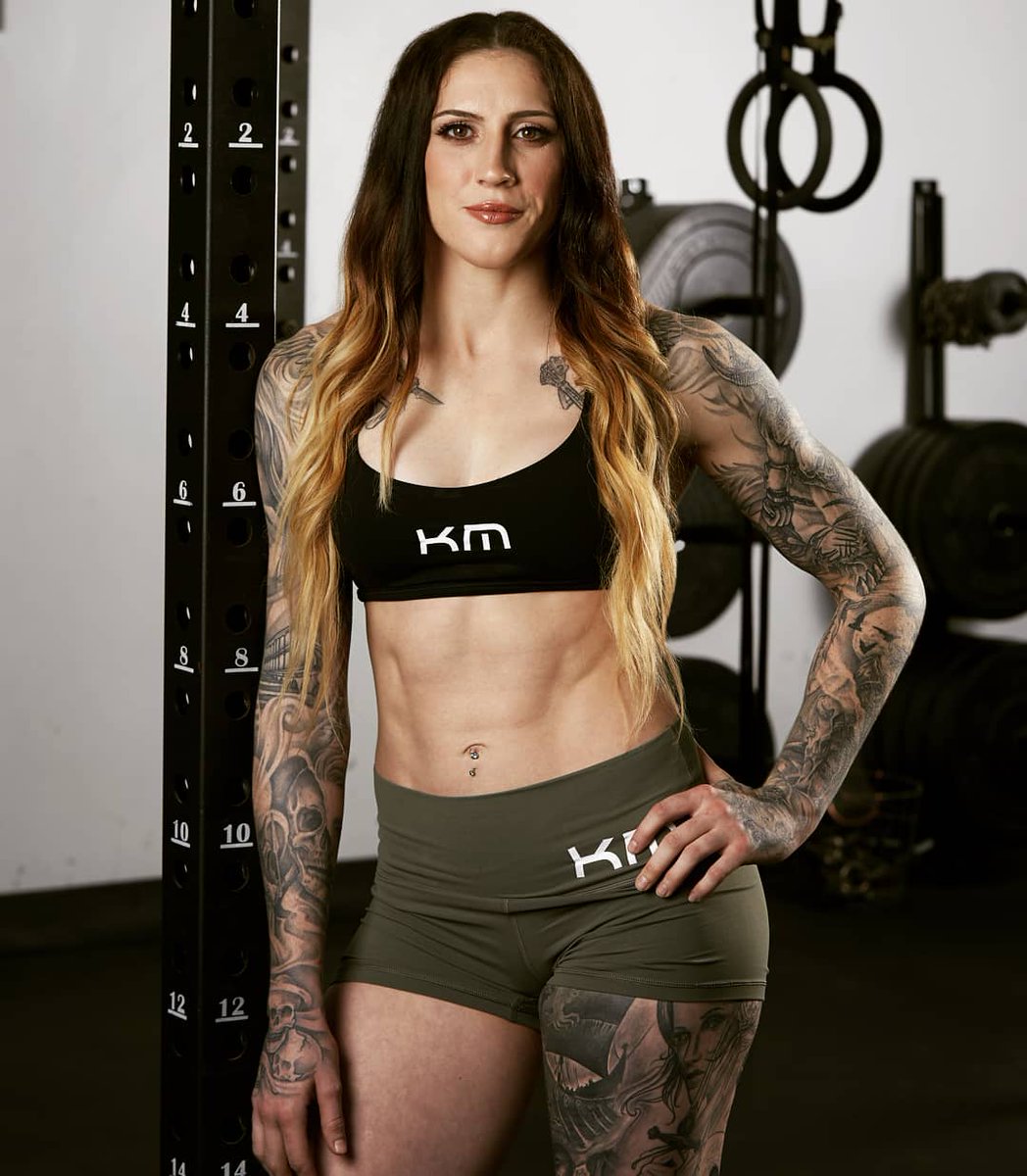 Anderson has a very sturdy body along with well formed muscles. Her chiseled abs and great physique define her strength. Megan Anderson has a height of approx 6 feet. She weighs 145 pounds. Her hair color is brunette, and she has sharp brown eyes filled with determination.
Megan Anderson and Mixed Martial Arts(MMA)
Anderson made her professional MMA debut in November 2013. Her first match was against Zoie Shreiweis. However, she lost her debut match. Over the span of the next two years, she worked hard and built a record of 4 wins and one loss.
Megan Anderson and Invicta FC
Anderson had her first promotional debut in 2015. In her debut match, she faced the Belgian MMA Cindy Dandois at Invicta FC 14: Evinger vs. Kianzad. Unfortunately, Megan Anderson lost the game (4-2) by second round submission on 12th September. However, Anderson learned some valuable lessons from it.
In an MMA Fighting article, Anderson revealed her struggles during her first match. Anderson said, "I've never been hit more…in my entire life." At that very moment, she realized an upgrade was required to take her career to the next level. After her first loss, it was clear to her that she needed a change.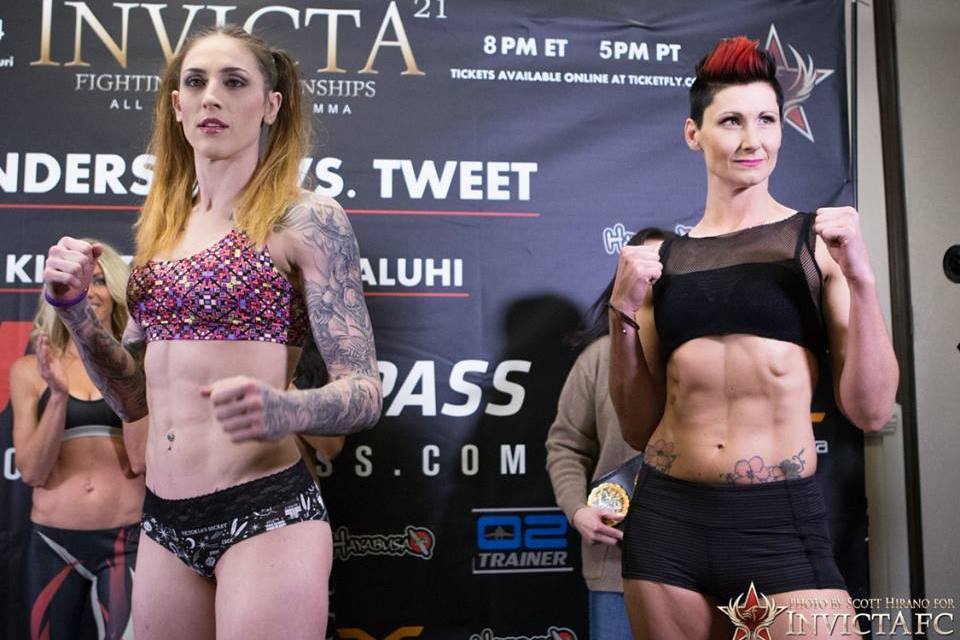 Subsequently, she took charge of her life and made a sudden decision. Anderson didn't travel back to Australia, but instead, she made sure her work visa was approved. And eventually, she moved to Lee's Summit.
Her decision was impulsive, and Anderson didn't realize she was going to live there. She says, "I didn't get to say goodbye to my friends…to my family," she didn't have her belongings.
However, this was the sacrifice she was willing to make in order to prepare herself for the future.
In Lee's Summit, Megan Anderson shared a rented room in a home with six other male fighters. She spent most of her time training and went on to win three wins in the promotion. In those three wins, she defeated Amber Leibrock, Amanda Bell, and Peggy Morgan.
Megan Anderson Becomes Interim Champion
In 2017, Megan Anderson had a face off with Charmaine Tweet for the Interim Invicta FC Featherweight Championship. The fight took place in Kansas City, Missouri.
She won the fight(8-2) by second round TKO. And thus, Anderson got the Invicta interim featherweight title. In the first half of the match, the Canadian MMA Tweet had put up a tough competition. She landed quite a number of tough punches and pulled a spinning back fist. However, Megan Anderson completely took over Tweet in the second round.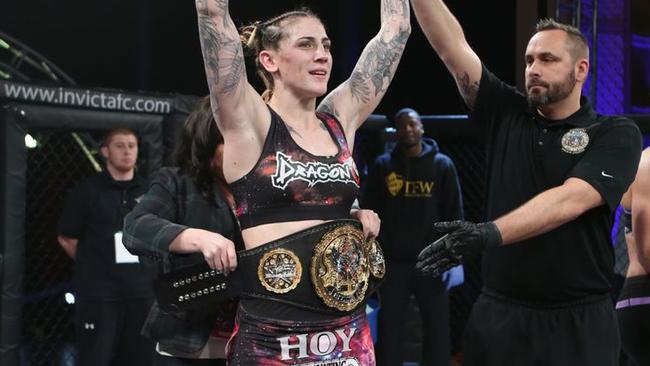 Anderson had an amazing night that day. She had her family cheering for her in the stands. She had won the interim title. Moreover, in the end, she even challenged the future UFC champion. Afterward, Invicta promoted her from interim champion to undisputed champion. Additionally, Anderson also got "The performance of the night" title.
Megan Anderson and Ultimate Fighting Championship (UFC)
On 29th July 2017, Megan Anderson was set to make her promotional debut against Brazilian MMA Cris Cyborg. Unfortunately, Anderson pulled out from it at the last moment stating personal issues. Nonetheless, Cris Cyborg got Tonya Evinger as Anderson's replacement.
Megan Anderson vs. Holly Holm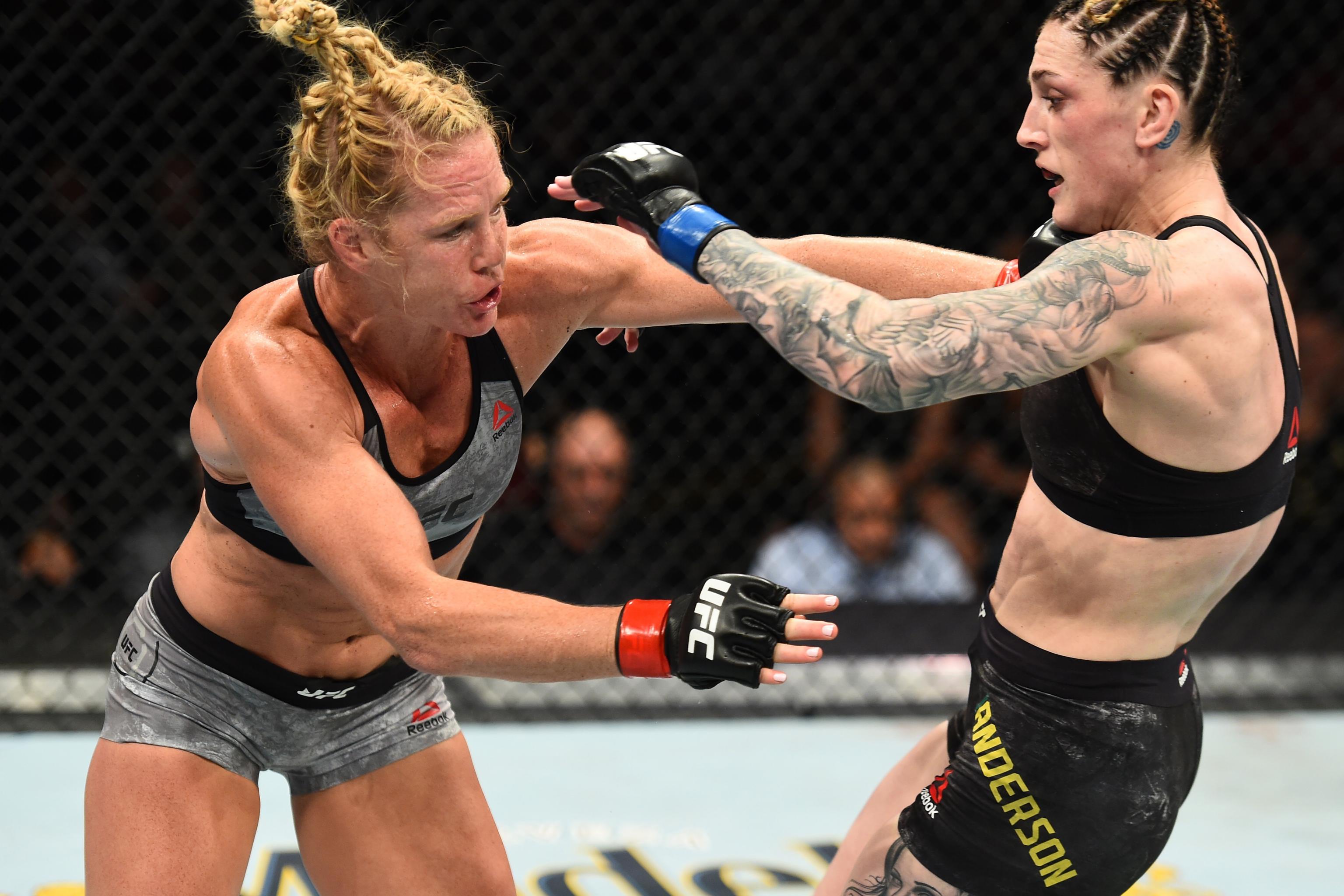 On 9th June 2018, Anderson faced American MMA Holly Holm for the UFC 225 event. As soon as the fight began, it was evident that Anderson had an advantage due to her size. She started off well and scored a huge knee at the beginning itself. Holm found it difficult to keep Anderson under control. However, things changed as time passed. Anderson put up a good fight, but Holm kept landing several kicks and punches. In the end, Holm clearly dominated the fight and ultimately won with a unanimous decision, 30-27, 30-26, and 30-26.
Megan Anderson Vs. Norma Dumont
Anderson, after her defeat against Holly Holm, won twice at the UFC. Once against American MMA Cat Zingano where the fight took place in Inglewood, California, and she won 9-3. And the second time against Zarah Fairn Dos Santos where she won via a triangle choke with a 10-4 win.
In addition, she lost a match against Canadian MMA Felicia Spencer in UFC Fight Night: dos Anjos vs. Lee. This time she was up against Brazilian MMA Norma Dumont. This match was crucial for Anderson as she knew Amanda Nunes was keeping her on defending the title.
Although Anderson had lost two matches before, Dumont was already on a 4-0 winning streak. In this match, too, Megan had a clear advantage in terms of height. Nonetheless, the fight started with great promise. Megan made the first attack with a sharp left hook. Her opponent, although a newbie at UFC, was tough to deal with.
Dumont used some short knees to attack Megan, but she framed her face with her long arms and stopped it. However, Dumont couldn't dominate for long and faced a crushing defeat from Anderson.
Megan put Dumont out in the opening round itself. And in case you are thinking for Megan, the day couldn't get any better, you are wrong. Anderson didn't just win the fight but also won the "performance of the night" title. In addition, she took home an extra 50,000 dollars for her powerful victory.
Megan Anderson vs. Amanda Nunes
The last fight Megan Anderson had at UFC was with Amanda Nunes. Initially, they were supposed to fight against each other on 12 December 2020. However, Nunes withdrew for some personal reasons, and the duo finally had a face off on 6th March 2021.
Amanda Nunes is a two time UFC titleholder, and naturally, she was the match favorite.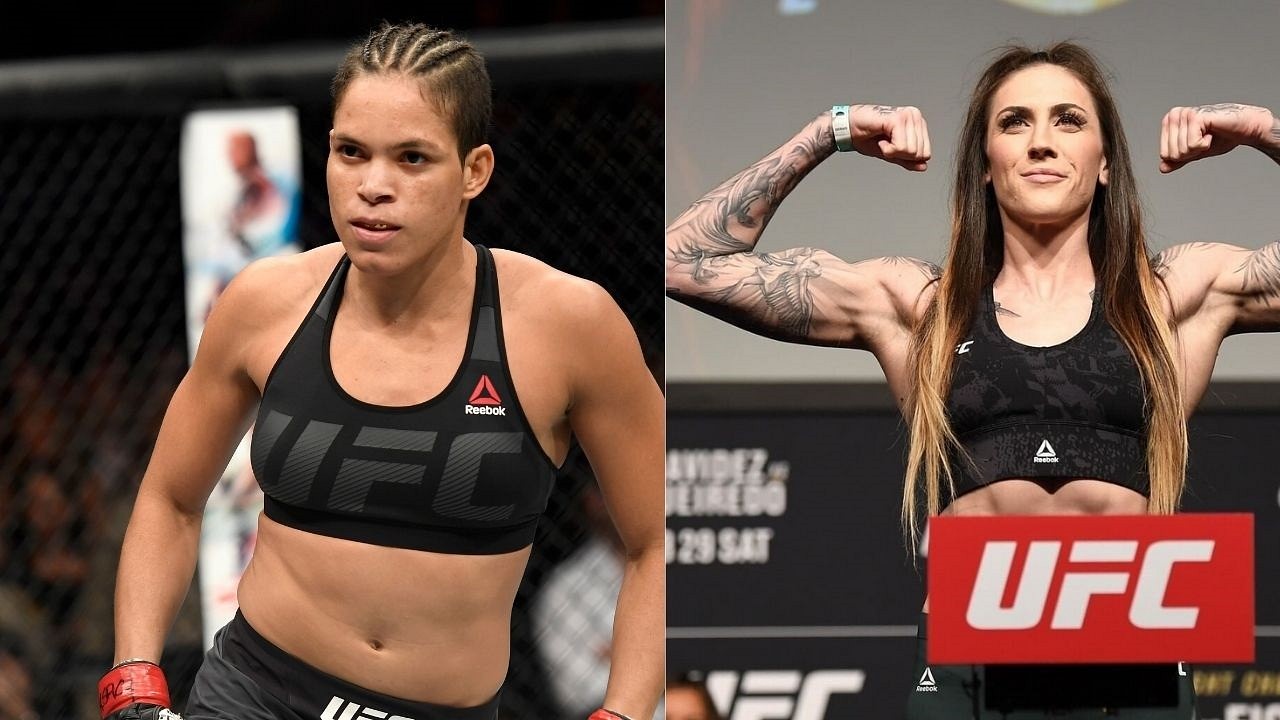 Although Anderson was gifted with a tall and robust physique, the odds didn't seem to be with her. The fight started off with a leg kick by Nunes, followed by punches one after the other. Anderson tried to attack with a spinning back fist, but it was not enough for her to win.
The two fought while trying new strategies and attacks.
However, in the end, Nunes locked Anderson in a tight triangle arm bar. Anderson had no choice other than to give in, so the match was over in just 2 minutes. And finally, Amanda Nunes won the UFC Women's Featherweight Championship.
Megan Anderson's UFC contract has ended, so when is her next match?
Anderson had her last UFC match against Amanda Nunes. She had a six-fight contract with UFC that started in 2018. Currently, she is an official free agent and is now 3-3 in the promotion. She was lucky enough to face the best female MMA in the world in her first ever title fight. Nonetheless, the experience didn't prove to be very good for her contract.
During a live stream on Twitch, Anderson revealed some secrets about the UFC. She said the promotion was planning to dump the entire women's featherweight division. Therefore, she has left the UFC to decide the future of the women's 145 division. And for now, she will explore the endless opportunities in the MMA world.
Megan Anderson Net worth
Anderson is going strong in her MMA career. She has won a number of matches and has even received the performer of the night title and prize money. So, with so many accomplishments under her belt, it's natural to wonder, "what is her net worth?"
Well, as of 2022, Megan Anderson has a net worth of 1 to 3 million dollars. This net worth includes her assets like cars and houses.
Megan Anderson Husband
Megan Anderson keeps her personal life private, and as of now, we officially don't know about any romantic affair. Officially she is single and does not have a husband. However, there are a number of rumors afloat on social media about her relationship status. The rumors point to a specific UFC middleweight champion. So who is he?
Megan Anderson and Israel Adesanya, are they dating?
Israel Adesanya is a popular UFC middleweight champion and is well known for his daring personality. Recently, his fans have noticed that he has posted about a mystery lady on his Instagram stories.
His insta story had the following sentence written on it "On fight week, I take her shopping from my hotel room." Although Israel has not openly said anything, his fans think he is dating that lady. From the small video, we were unable to see the lady's face. Yet, it is clear that she has brunette hair with golden highlights in them. And guess what, who has brunette hair with highlights?
A recent tweet from Anderson and Adesanya has also added fuel to the rumors. Anderson, on 25th June, called out some internet bullies who fat shamed her and gave her rape threats. Adesanya supported Anderson by replying to that tweet and calling her cyber bullies "cu**s."
Of course, Israel can support Megan Anderson as a friend and a good human. However, some fans think that the mystery woman that Israel is dating is none other than Anderson.
Megan Anderson Instagram
Megan Anderson is quite active on social media platforms like Instagram. Her insta handle name is megana_mma, and she has a huge following of 664k people. Here you will often find Megan posting her vacation and championship fight photos.
After the end of her contract with UFC, she addressed the situation with a post along with a long caption. She thanked her fans, supporters, and the UFC team for being with her for the past three years. As of now, she said, she will rest and heal from her injuries. Afterward, she will decide the future of her MMA career.