Ja Morant, a professional basketball player for the Memphis Grizzlies in the NBA, was born in 1999. During his college basketball career with the Murray State Racers, he was a first-team All-American as a sophomore in 2019. Despite not being heavily recruited by Division I programs, he made an impact and earned first-team all-conference honors in his freshman year. Morant's sophomore year was impressive; he won the OVC Player of the Year award, led the NCAA in assists, and became the first player in NCAA history to average 20-plus points and 10-plus assists per game for a single season.
Morant was selected by the Grizzlies in the 2019 NBA draft as the second overall pick and won the NBA Rookie of the Year award in 2020. He made his debut at the NBA All-Star Game in 2022 as a starter, won the NBA Most Improved Player Award, and was chosen for his first All-NBA Team in the same year.
Ja Morant Bio/Wiki Table
| | |
| --- | --- |
| Name | Ja Morant |
| Full Name | Temetrius Jamel "Ja" Morant |
| Net Worth | $80 Million |
| Date of Birth | 10 August 1999 |
| Age | 23 Years Old |
| Birth Place | Dalzell, South Carolina, United States |
| Currently, Live In | Dalzell |
| Profession | Basketball Player |
| Years Active | 2019 – Present |
| Nationality | American |
| Religion | Christian |
| Ethnicity | African – American Descent |
| Hometown | Dalzell, South Carolina |
| Zodiac Sign | Leo |
| School/High School | Crestwood High School in Sumter, South Carolina, the United States |
| College/University | Murray State University in Murray, Kentucky |
| Education Qualification | Graduate |
Ja Morant Stats
Ja Morant, the young and talented point guard for the Memphis Grizzlies, has quickly established himself as one of the most exciting players in the NBA. Morant's impressive career stats speak for themselves, showing just how much he has accomplished in a short amount of time.
2019-20 Season
In the 2019-20 season, Morant's rookie year, he played in 67 games, averaging 17.8 points, 7.3 assists, and 3.9 rebounds per game. He shot an impressive 47.7 percent from the field and 33.5 percent from beyond the arc. Morant's stellar play earned him the NBA Rookie of the Year award, making him only the second player in Grizzlies history to receive the honor.
2020-21 Season
Morant's sophomore season in 2020-21 was another strong showing, as he played in 63 games and averaged 19.1 points, 7.4 assists, and 4.0 rebounds per game. He shot 44.9 percent from the field and 30.3 percent from three-point range. Morant helped lead the Grizzlies to the play-in tournament, but they were eliminated by the Golden State Warriors.
2021-22 Season
The 2021-22 season was perhaps Morant's best yet. He played in 57 games and averaged 27.4 points, 6.7 assists, and 5.7 rebounds per game. He shot an impressive 49.3 percent from the field and 34.4 percent from beyond the arc. Morant helped lead the Grizzlies to the playoffs, where they were eliminated in the first round by the Utah Jazz.
2022-23 season
In the current 2022-23 season, Morant has continued to impress. He has played in 61 games and is averaging 26.2 points, 8.1 assists, and 5.9 rebounds per game. He is shooting 46.6 percent from the field and 30.7 percent from three-point range. Morant's play has helped the Grizzlies remain competitive in the tough Western Conference.
In his young career, Morant has played in a total of 245 games, averaging 22.5 points, 7.4 assists, and 4.8 rebounds per game. He has shot 47.2 percent from the field and 32.1 percent from beyond the arc. Morant's impressive stats and electrifying play have quickly made him one of the league's most exciting players to watch. As he continues to develop and improve his game, there is no doubt that he will remain a force to be reckoned with in the years to come.
Ja Morant Career Stats
Ja Morant, the talented point guard for the Memphis Grizzlies, has quickly made a name for himself in the NBA. In just a few short years, Morant has established himself as one of the most exciting players in the league, with impressive career stats to back it up.
Below is a table detailing Morant's career stats up to the current 2022-23 season. As you can see, Morant's stats have steadily improved year after year, and he has quickly become one of the most dynamic players in the league.
| Year | Team | GP | Min | Pts | FG% | 3pt% | Reb | Ast | Stl | Blk |
| --- | --- | --- | --- | --- | --- | --- | --- | --- | --- | --- |
| 2022-23 | Grizzlies | 61 | 31.9 | 26.2 | 46.6 | 30.7 | 5.9 | 8.1 | 1.1 | 0.3 |
| 2021-22 | Grizzlies | 57 | 33.1 | 27.4 | 49.3 | 34.4 | 5.7 | 6.7 | 1.2 | 0.4 |
| 2020-21 | Grizzlies | 63 | 32.6 | 19.1 | 44.9 | 30.3 | 4.0 | 7.4 | 0.9 | 0.2 |
| 2019-20 | Grizzlies | 67 | 31.0 | 17.8 | 47.7 | 33.5 | 3.9 | 7.3 | 0.9 | 0.3 |
| Career | | 248 | 32.1 | 22.4 | 47.2 | 32.1 | 4.8 | 7.4 | 1.0 | 0.3 |
Morant's stats speak for themselves, showing just how much he has accomplished in his young career. With each passing year, Morant continues to improve his game, and his stats are a testament to his hard work and dedication to the sport. As Morant continues to grow and develop, there is no doubt that his career stats will only continue to impress.
Ja Morant's Net Worth
Ja Morant has become a household name in the basketball world with his incredible skills and unique look. Not only has he had an impressive career on the court, but he has also amassed a significant net worth. As of 2023, Ja Morant's net worth is estimated to be around $80 million, with his basketball career alone bringing in over $9 million in compensation. His talent and marketability have also led to lucrative endorsement deals with brands such as Nike and BodyArmor sports drinks.
Morant's success on the court has translated into a luxurious lifestyle off the court. He owns a beautiful mansion in Memphis and has an impressive car collection, which includes a white Audi A8 that he gifted to his mother and a red Dodge Charger for his father. Ja's generosity towards his parents is just one example of his humble upbringing and close relationship with his family.
In addition to his successful basketball career and endorsement deals, Ja Morant is also involved with various sports organizations and acts as a brand ambassador for several companies. His ability to connect with fans and his unique style have made him a sought-after figure in the world of sports marketing.
Despite his success and wealth, Ja Morant remains grounded and focused on improving his game. He is committed to giving back to his community and has been involved in various charitable initiatives. With his talent, hard work, and business acumen, there is no doubt that Ja Morant will continue to thrive both on and off the court for years to come.
Ja Morant's Current Contract: A Comprehensive Breakdown
Ja Morant, the dynamic point guard for the Memphis Grizzlies, has been making waves in the NBA with his electrifying performances. His talent and potential have been recognized by the Grizzlies, who have secured him with a lucrative contract. This section delves into the specifics of Morant's current contract and its implications for both the player and the team.
The Contract Details
Morant signed a five-year contract with the Memphis Grizzlies, worth a staggering $197,230,450, with the entire amount guaranteed. This contract represents an annual average salary that places Morant among the highest earners in the NBA. The deal is the largest contract the Grizzlies have ever handed out, demonstrating their faith in Morant's abilities and potential.
Salary Breakdown
The contract sees Morant's salary increase each season, a common structure in NBA contracts designed to match a player's expected development and contribution to the team. Morant's salary has seen a steady climb from $8.7 million in the 2019-20 season to $12.1 million in the 2022-23 season. The contract outlines future salaries as well; $34,005,250 for the 2023/24 season, $36,725,670 for the 2024/25 season, $39,446,090 for the 2025/26 season, and $42,166,510 for the 2026/27 season.
Financial Stability
This contract not only secures Morant's services for the Grizzlies but also provides him with financial stability. As of now, Morant has earned a total of $73,625,090 in career earnings throughout his NBA career, from his rookie season in 2019 to the present day. With his current contract, these earnings are set to increase significantly.
Implications for the Grizzlies
The contract's size and length are indicative of the Grizzlies' long-term plans with Morant. By locking him down for five years, the Grizzlies have shown their commitment to building the team around him. This contract also gives Morant the security to develop his game without worrying about his future in the league.
Expectations and Impact
However, this contract also comes with expectations. With such a hefty price tag, the Grizzlies will expect Morant to continue his upward trajectory and lead the team to success. The contract could also impact the Grizzlies' salary cap, limiting their ability to sign other high-profile players.
Ja Morant's Current Salary for the 2023-24 NBA Season: A Detailed Analysis
Ja Morant, the star point guard for the Memphis Grizzlies, has quickly become one of the most thrilling and gifted young players in the NBA. His remarkable skills and performances on the court have earned him a substantial contract and salary, placing him among the highest-paid players on the Memphis Grizzlies roster.
Ja Morant's Current Salary for the 2023-24 Season
As of the 2023-24 NBA season, Morant's current salary is set to be a whopping $34,005,250. This figure is a testament to Morant's value to the Grizzlies and his standing in the league. To put this into perspective, Morant's salary breaks down to approximately $2,833,771 per month, $653,564 per week, and a staggering $414,472 per game. If we delve deeper, this translates to around $103,618 per quarter and $3,454 per minute on the court. These figures clearly illustrate the significant investment the Grizzlies have made in Morant and the high regard in which he is held.
Beyond the Court: Endorsements and Off-Court Activities
However, it's crucial to note that Morant's income is not solely derived from his NBA salary. His earnings also encompass endorsements and off-court activities. As a rising star in the league, Morant has been successful in securing several lucrative endorsement deals. He has partnerships with top brands such as Nike, for whom he is a brand ambassador, and BodyArmor sports drinks. These endorsements significantly contribute to his overall net worth, further solidifying his financial standing.
Breakdown of Ja Morant's Salary for the 2023-24 NBA Season
To summarize, here is a detailed breakdown of Ja Morant's salary for the 2023-24 NBA season:
| | Amount |
| --- | --- |
| Current Salary | $34,005,250 |
| Salary Per Month | $2,833,771 |
| Salary Per Week | $653,564 |
| Salary Per Game | $414,472 |
| Salary Per Quarter | $103,618 |
| Salary Per Minute | $3,454 |
Ja Morant Injury
When the Memphis Grizzlies play the Denver Nuggets, Ja Morant will sport a new appearance. The NBA released its injury report for the day on Friday, and Morant was reported as having a nasal fracture. Morant is listed as being able to play, but it's anticipated that he will wear a mask for the Friday night matchup with the Nuggets (9 p.m., ESPN, Bally Sports Southeast). We don't know when Morant was hurt. In the NBA, wearing masks has gained new popularity. By sporting them with flair, athletes like LeBron James, Richard Hamilton, Kobe Bryant, Joel Embiid, and Kyrie Irving have all contributed to the normalization of the masks. Most recently, NBA All-Star Weekend spectators saw Boston Celtics player Jaylen Brown's debut of an all-black mask.
How long Morant will have to put on a mask is unknown. Morant is one of the NBA's top point guards at hitting the paint, so he must have faith that his nose and mask will be as aggressive. It will be some getting used to, but famous athletes in the past have proven that you can still succeed while wearing a mask.
Ja Morant Shoes
"Just before tip, I really felt it strike me. These are actually my sneakers to start the game," Morant remarked following Sunday's 123-109 loss to the Warriors for the Grizzlies. Morant received his own trademark Nike shoe during his fourth NBA season, making him just the 23rd player in NBA history to do so. The Grizzlies star posted on social media on Christmas morning to celebrate the delivery of his iconic Nika Ja 1 sneakers, saying, "The grind starts on Day 1." The inner half of Morant's low-top basketball shoes are imprinted with his daughter Karis name, which he claims is its finest feature. Although acknowledging that it was a "sad day knowing that Ja will never hoop in [his] KD4s again," Brooklyn Nets player Kevin Durant tweeted on Christmas that it was good for Morant's brand. The signature shoe accolade was deemed "big time" by Morant.
That was something that Morant had been looking forward to for some time. I'm certainly involved in the procedure. Yet, I had great pleasure in every phase of the shoe-making process. It seems that people kind of enjoy it. Outstanding honor. There aren't many people that have a trademark pair of shoes. I'm grateful to the entire Nike family. Then, on January 21, people listed Morant as the seventh-best-selling jersey in the NBA. Throughout his four-year NBA career, the 23-year- old's entry into the Top 10 was made for the first time.
Ja Morant Girlfriend: KK Dixon?
While Ja Morant dominates the basketball court for the Memphis Grizzlies, away from the NBA spotlight, he's a devoted boyfriend to KK Dixon and a proud father to their child.
So, who is KK Dixon? Born in August 1999, Kadre Dixon – known on social media as KK Dixon – hails from Arkansas and is a talented college athlete who played both volleyball and basketball at Fisk University in Nashville, Tennessee.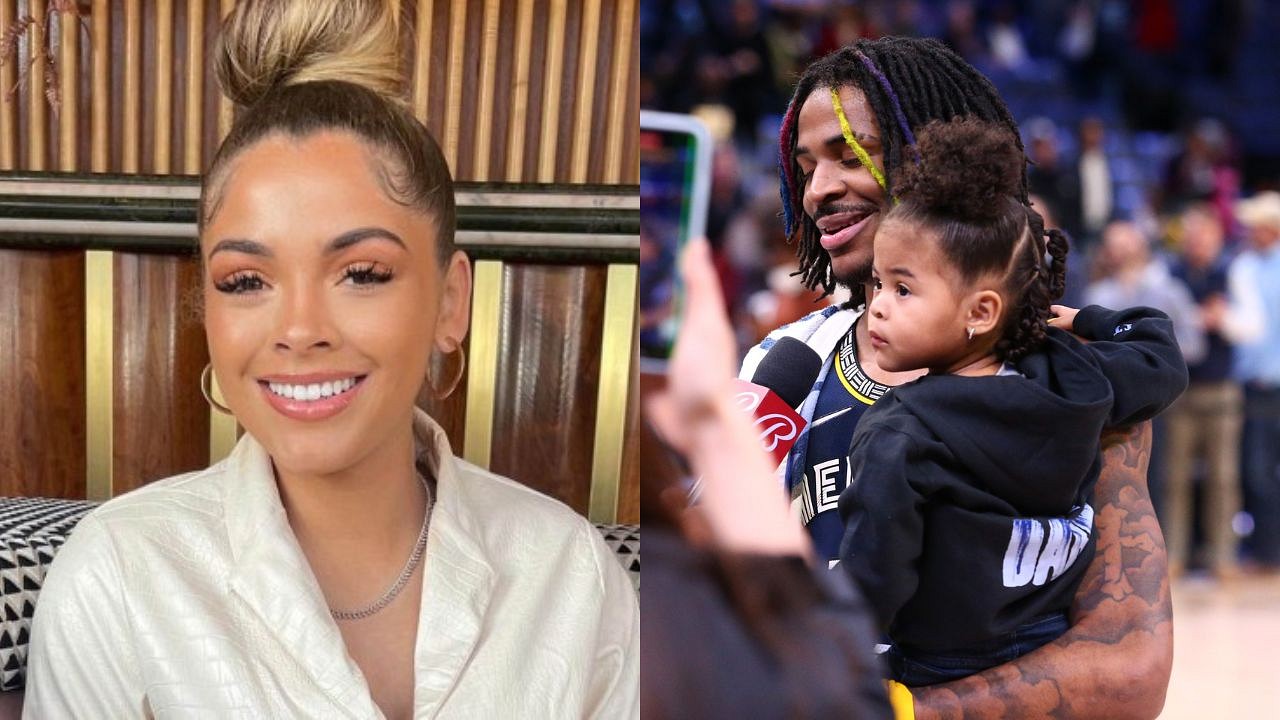 Not content with her athletic achievements, Dixon is also the founder and CEO of Dixon Brands LLC and an accomplished author. Her children's book, "Kaari & Kree's Ultimate Coloring & Activity Book," is available on Amazon and showcases her passion for education and community empowerment.
With over 41k followers on Instagram, Dixon often shares photos of her and Morant's adventures with their daughter, showing how much she cherishes her role as a mother. Above all else, Dixon is dedicated to making a positive impact on the lives of others, inspiring and empowering those around her with her uplifting brand.
Facts
When Murray State coach James Kane was visiting a concession stand at a high school arena, he unintentionally came upon Ja Morant.
Ja Morant did not enter college as a Top 100 recruit.
The first prospect selected in the 2019 NBA Draft to sign a contract with Nike was Ja Morant.
Ja makes an effort to emulate his father and pursue their shared aspirations.
He is the first player in Division I to average over 20 points and 10 assists per game over the course of an entire season.
March 2023 Gun incident
On March 4th, the NBA revealed that it had launched an investigation into a video of Morant displaying a gun at a Colorado nightclub earlier that morning, just hours after a loss to the top-seeded Denver Nuggets. The Grizzlies later announced on that day that Morant would be away from the team for at least two games.
Morant also released an official statement, stating that he would be leaving the team for an "indefinite amount of time" to find better resources to handle his stress, anxiety, and overall well-being. He also deactivated his Instagram and Twitter accounts.
The shoe company Nike, which has a partnership with Morant, released a statement on the incident. In their statement, they said, "We appreciate Ja's accountability and that he is taking the time to get the help he needs. We support his prioritization of his well-being." On March 5th, Grizzlies head coach Taylor Jenkins stated that there was no timetable for Morant's return to the team.
On March 8th, the Grizzlies announced that Morant would be away from the team for at least the next four games.
The Suspension of Ja Morant
Memphis Grizzlies' star, Ja Morant, has received a 25-game suspension without pay. This action was taken by the NBA due to 'conduct detrimental to the league'. The suspension was announced on June 16, 2023.
The Incident Leading to Suspension
This suspension follows a series of incidents involving Morant. An Instagram Live video surfaced showing Morant flashing a gun while in a vehicle with others. Interestingly, this was not the first time Morant was suspended for similar behavior. Two months earlier, Morant was given an eight-game suspension for appearing in another Instagram Live video, this time holding a gun at a nightclub in Glendale, Colorado.
Morant's Apology
In the wake of these events, Morant issued a public apology. He recognized the impact of his actions and extended apologies to the NBA, the Grizzlies, his teammates, and the city of Memphis. In a heartfelt message, he expressed his sorrow to his young fans, sponsors, and followers, acknowledging that he had failed them as a role model. He vowed to be a better representative of his brands and to make it right by his fans.
Details of the Suspension
Morant's suspension will cover the first 25 games of the 2023-24 regular season. The terms of the suspension also prevent him from participating in any "public" team activities. He will be unable to participate in preseason games, until the suspension is lifted.
The League's Reaction
NBA Commissioner Adam Silver highlighted the seriousness of Morant's actions. He expressed concern about the potential influence of Morant's behavior on young fans. Silver made it clear that such reckless and irresponsible behavior with guns will not be accepted in the league.
Before Morant can return to play, he is required to formulate and complete a program that directly addresses the circumstances that led to this destructive behavior. The Grizzlies team expressed respect for the League's decision. They affirmed their commitment to the standards of the league and team.
The Path Forward
The NBA is not just focused on the number of games Morant has been suspended for, but on altering Morant's life path. The aim is to engage with Morant and support him in changing his current negative trajectory.
Support from Sponsors
Nike, one of Morant's sponsors, announced its decision to stand by him. The company applauded Morant for taking accountability and prioritizing his well-being. They have assured continued support for Morant, both on and off the court.
Social Media
Ja Morant is active on several social media platforms, where he shares updates about his life on and off the court with his fans. Here are the links to his official accounts:
On these platforms, Morant shares highlights from his games, photos with his family and girlfriend, and behind-the-scenes glimpses into his life as an NBA player. His social media presence has helped him build a strong fan base and connect with his followers.
Some Frequently Asked Questions
What is the reason for Jay Morant's suspension?
The Memphis Grizzlies have banned Ja Morant for at least two games after a social media video he posted over the weekend following a match against the Denver Nuggets appeared to show him pointing a gun towards a club in the Denver region.
What basketball shoe does Ja Morant wear?
His shoes name is Nike Ja 1. The Nike JA 1 is Ja Morant's first Nike signature sneaker, and it's uncanny how close it is to an original Kyrie shoe. The Ja 1 has a lot of potential, even after their quick initial test of the sneaker.
What is the jersey number of Ja Morant ?
Ja is sporting the 12th jersey. While representing the Memphis Grizzlies, he sports the jersey.
Why did Tee, the father of Morant, quit basketball?
Tee formerly represented Claflin University as a basketball player. But after his wife became pregnant, he began to stay at home, take care of her, and work as a barber.
How did Ja Morant learn to jump?
Ja Morant's father gave him a tyre drill as a gift, which is how he learnt how to leap so high. Ja Morant was able to hone his incredible leaping abilities thanks to this straightforward yet useful gadget. He used the tyre drill to help him increase his bounce and height after every other drill.