If you're a basketball fan, you're probably familiar with Ja Morant. Morant, who is currently a member of the Memphis Grizzlies, has been playing basketball since he was a toddler. The athlete attended Murray State University. Then, the Memphis Grizzlies picked him in 2019. His basketball knowledge, hard ethic, and good talents have contributed to his millions of followers' love and devotion. At college, he won the All-Region Most Valuable Player title three times. Similarly, when at Murray State University, he won the OVC Player of the Year title. Ja is active in social media in addition to basketball. J. Cole mentioned Morat in the song "My Life" from his album The Off-Season. Similarly, on June 3, the basketball player published Promiseland, a six-part documentary on his first NBA season. In this article, we are talking about this player. So, keep reading to know more about him.
Ja Morant Bio/Wiki Table
| | |
| --- | --- |
| Name | Ja Morant |
| Full Name | Temetrius Jamel "Ja" Morant |
| Net Worth | $7 Million |
| Date of Birth | 10 August 1999 |
| Age | 23 Years Old |
| Birth Place | Dalzell, South Carolina, United States |
| Currently Live In | Dalzell |
| Profession | Basketball Player |
| Years Active | 2019 – Present |
| Nationality | American |
| Religion | Christian |
| Ethnicity | African – American Descent |
| Hometown | Dalzell, South Carolina |
| Zodiac Sign | Leo |
| School/High School | Crestwood High School in Sumter, South Carolina, the United States |
| College/University | Murray State University in Murray, Kentucky |
| Education Qualification | Graduate |
Ja Morant Parents
Ja Morant's mother's name is Jamie Morant, and his father's name is Tee Morant. Both of his parents played college basketball, with his father playing for Claflin University and his mother playing for South Carolina State University. They have been very supportive of Ja throughout his basketball career, and are often seen cheering him on from the sidelines during his games. Ja has credited his parents for instilling a strong work ethic in him and helping him to develop his basketball skills from a young age.
College Career
Ja Morant played college basketball for the Murray State Racers from 2017 to 2019. He was a standout player for the team, earning numerous honors and accolades during his two-year college career.
In his freshman season, Morant averaged 12.7 points, 6.5 rebounds, and 6.3 assists per game, earning Ohio Valley Conference Freshman of the Year honors. He followed that up with an even more impressive sophomore season, averaging 24.5 points, 5.7 rebounds, and 10.0 assists per game. He led the nation in assists and became the first player in NCAA history to average at least 20 points and 10 assists per game in a single season.
Morant's standout performance during his sophomore season earned him widespread recognition and made him a top prospect in the 2019 NBA Draft. He ultimately declared for the draft after his sophomore year and was selected as the second overall pick by the Memphis Grizzlies.
Professional Career
2019–20 season
During the 2019 NBA draft, the Memphis Grizzlies selected Morant as the second overall pick. He signed a four-year contract worth $39.6 million with the team on July 2, 2019. Morant made his NBA debut on October 23, 2019, starting in a 101-120 loss to the Miami Heat, where he scored 14 points, grabbed 4 rebounds, made 4 assists, a steal, and a block.
On November 13, he achieved his first career double-double with 23 points and 11 assists, including a game-winning layup in a 117-115 victory over the Charlotte Hornets. He also recorded his first career triple-double on February 9, 2020, in a 106-99 win over the Washington Wizards.
Morant was selected to play in the Rising Stars Game for the 2019-20 season. As a rookie, he led all rookies in assists with an average of 7.1 per game, and he scored a total of 1,138 points (17.8 points per game). Morant was named the NBA Rookie of the Year and earned the NBA All-Rookie First Team honor at the end of the 2019-20 season.
2020–21 Season
In a game against the San Antonio Spurs on December 23, 2020, Morant achieved a then career-high of 44 points, as well as nine assists, two rebounds, and two steals, but his performance was not enough to prevent a 131-119 loss.
In the play-in tournament on May 21, 2021, Morant was instrumental in securing the Memphis Grizzlies' first postseason berth in four seasons, with 35 points, 6 rebounds, and 6 assists in a 117-112 overtime victory over the Golden State Warriors, who were vying for the eighth and final playoff spot.
Morant then made his NBA playoff debut two days later in Game 1 against the top-seeded Utah Jazz, scoring 26 points, 4 rebounds, and 4 assists, and leading the Grizzlies to a surprising 112-109 upset victory.
In Game 2, Morant contributed 47 points and 7 assists, but Memphis ultimately lost 141-129.[60] The Grizzlies were eventually eliminated from the playoffs after losing the series in five games.
2021–22 Season
In the Memphis Grizzlies' season opener on October 20, 2021, Morant delivered an impressive performance, scoring 37 points and providing six assists in a 132-121 win over the Cleveland Cavaliers.
Four days later, he achieved a new career-high of 40 points, in addition to 10 assists, but the Grizzlies lost to the Los Angeles Lakers by a score of 121-118. On December 29, Morant reached his season-high of 41 points, including six three-pointers, to help the Grizzlies defeat the Lakers 104-99.
During the 2021-2022 NBA season, Morant showcased his impressive skills on the court. On January 26, he tied his season-high of 41 points and also contributed eight assists, five rebounds, and two steals in a 118-110 victory over the San Antonio Spurs. The following day, he received his first All-Star Game selection as a West Starter. On January 28, Morant notched his fourth career triple-double with 30 points, 10 rebounds, and 10 assists in a 119-109 win over the Utah Jazz.
In February, Morant continued his impressive performances. On February 16, he tied his then-career-high of 44 points, with 20 points scored in the first quarter alone, in a 123-119 loss to the Portland Trail Blazers. He also grabbed five rebounds and delivered 11 assists in the game. On February 26, Morant set a new career-high of 46 points in a 116-110 victory over the Chicago Bulls, breaking Mike Miller's record for most points in a game by a Grizzlies player that was set in February 2007. Just two days later, he surpassed this total, scoring a career-high 52 points with 22-of-30 shooting, including 4-4 from beyond the arc, in a 118-105 win over the San Antonio Spurs.
Despite missing 25 games during the regular season, he was named the winner of the NBA Most Improved Player Award.
2022 NBA playoffs
During the 2022 NBA playoffs, Morant had several standout performances. In Game 3 of the first round against the Minnesota Timberwolves, he recorded the first postseason triple-double in Grizzlies franchise history with 16 points, 10 assists, and 10 rebounds in a 104-95 win. Later, in Game 5, he hit the game-winning layup with one second left, finishing with 30 points, 13 rebounds, and nine assists in a 111-109 victory.
During Game 2 of the second round against the Golden State Warriors, Morant had a career playoff high of 47 points, along with 8 rebounds, 8 assists, and 3 steals, leading Memphis to a 106-101 win. This impressive performance also made him the third player in NBA playoffs history to have multiple 45-point games before turning 23, alongside Kobe Bryant and LeBron James. However, in Game 3 of the series, Morant injured his right knee and Memphis went on to lose in six games. Despite only playing three games, Morant still managed to average 38.3 points per game on shooting splits of 50.6%, 43.3%, and 85.7%.
2022–23 season
Morant extended his stay with the Grizzlies on July 6, 2022, by signing a five-year extension. The deal included $193 million guaranteed money and could reach $231 million with an All-NBA team selection. On October 21, in the second game of the season, he tallied 49 points, 4 rebounds, 8 assists, and 2 blocks on 17-of-26 shooting from the field to break the Grizzlies' record for most points scored in the first two games of a season.
On November 27, Morant recorded his fifth career triple-double, amassing 27 points, 10 rebounds, and 14 assists in a win over the New York Knicks, tying Marc Gasol for the most triple-doubles in Grizzlies history. He,On December 7, he achieved his sixth career triple-double with 26 points, 13 rebounds, and 11 assists, surpassing Gasol's record in a win against the Oklahoma City Thunder.
In the new year, on January 29, 2023, Morant added another milestone to his career by recording his seventh career triple-double with 27 points, 10 rebounds, and 15 assists in a win over the Indiana Pacers. This performance also made him the first player in Grizzlies history to have at least 25 points, 10 rebounds, and 15 assists in a game.
On February 2, he was selected as a reserve guard for the Western Conference for the second time in his career for the NBA All-Star Game. On February 28, Morant made history yet again by scoring 28 of his 39 points in the third quarter and adding 10 assists and 10 rebounds, recording his 10th career triple-double in a win over the Los Angeles Lakers. He made ten of twelve shots in the highest-scoring quarter ever by a Grizzlies player.
Ja Morant Stats
So, Ja Morant averaged 12.7 points, 6.3 assists, and 6.5 rebounds per game when playing at Murray State at the start of his professional career. He was the team's star player and helped them win the Ohio Valley Conference. He was quickly named to the First Team All-OVC and All-Newcomer teams. His team and he qualified for the NCAA as a result, but they fell to Virginia in their opening game. Ja Morant's performance significantly improved the next season, and she was one of the 20 athletes selected for Chris Paul's Elite Guard Camp. Ja Morant performed admirably in these games, scoring points while comfortably navigating around the opposition and grabbing several assists.
He also finished the games with an average of 24.5 points, 10.0 assists, 5.7 rebounds, and 1.8 steals per game by guiding Murray State to the Ohio Valley Championship (OVC) and NCAA. Ja Morant made the decision to forgo the final two years of collegiate eligibility after the NCAA Tournaments since he was selected in the NBA draft in 2019. He competed in the NBA All-Star All-Star playoffs while averaging 7.3 assists, 17.8 points, and 3.9 rebounds. He was also chosen to the NBA All-Rookie First Team and received a prize.
Ja Morant Net Worth
Morant also has one of the most recognisable looks in basketball. Ja has enjoyed a tremendous basketball career. He has not only had a good profession, but he has also amassed a sizable net worth. Morant, who has been a professional since 2019, has acquired a reputation, recognition, and a substantial amount of money with his distinctive basketball techniques. Ja Morant's net worth is around $3 million as of 2023. When talking about the compensation amount of a basketball career, it is around $9,603,360. He received a $17 million contract with the Memphis Grizzlies after playing for them. He earned roughly $17,351,400 throughout his two seasons with the Grizzlies. Moreover, Morant is one of the richest basketball players in the game.
When it comes to the basketball player's physical assets, he lives in a nice mansion in Memphis. Similarly, he has a diverse car collection with him. Needless to add, he surprised his parents with several pricey automobiles as well. The basketball player spent $98,900 on a white Audi A8 and gave it to his mother. Similarly, he gave his father a $80,945 red Dodge Charger. Ja is linked with several products and sports organizations in addition to basketball. Besides, he promotes many businesses such as Nike and BodyArmor sports drinks. He has also inked a multi-year contract with Nike. He is also the brand ambassador for Hyper Ice, Inc., as well as many other labels. Then, to summarize, the basketball player lives luxuriously and is having the time of his life.
Ja Morant Contract
Ja Morant, a point guard for the Memphis Grizzlies, is anticipated to have a $30 million net worth in 2023. His minimum average yearly pay is now $38.6 million, according to the contract extension he signed for the 2022–23 season. Then, in July 2022, the 23-year-old committed to a five-year contract agreement with the Memphis Grizzlies. When he is chosen for an All-NBA team, the contract's guaranteed value, which is now $193 million, will rise to $231 million. Morant previously agreed to a $40.9 million, four-year contract in 2021.
Ja Morant Injury
When the Memphis Grizzlies play the Denver Nuggets, Ja Morant will sport a new appearance. The NBA released its injury report for the day on Friday, and Morant was reported as having a nasal fracture. Morant is listed as being able to play, but it's anticipated that he will wear a mask for the Friday night matchup with the Nuggets (9 p.m., ESPN, Bally Sports Southeast). We don't know when Morant was hurt. In the NBA, wearing masks has gained new popularity. By sporting them with flair, athletes like LeBron James, Richard Hamilton, Kobe Bryant, Joel Embiid, and Kyrie Irving have all contributed to the normalization of the masks. Most recently, NBA All-Star Weekend spectators saw Boston Celtics player Jaylen Brown's debut of an all-black mask.
How long Morant will have to put on a mask is unknown. Morant is one of the NBA's top point guards at hitting the paint, so he must have faith that his nose and mask will be as aggressive. It will be some getting used to, but famous athletes in the past have proven that you can still succeed while wearing a mask.
Ja Morant Shoes
"Just before tip, I really felt it strike me. These are actually my sneakers to start the game," Morant remarked following Sunday's 123-109 loss to the Warriors for the Grizzlies. Morant received his own trademark Nike shoe during his fourth NBA season, making him just the 23rd player in NBA history to do so. The Grizzlies star posted on social media on Christmas morning to celebrate the delivery of his iconic Nika Ja 1 sneakers, saying, "The grind starts on Day 1." The inner half of Morant's low-top basketball shoes are imprinted with his daughter Karis name, which he claims is its finest feature. Although acknowledging that it was a "sad day knowing that Ja will never hoop in [his] KD4s again," Brooklyn Nets player Kevin Durant tweeted on Christmas that it was good for Morant's brand. The signature shoe accolade was deemed "big time" by Morant.
That was something that Morant had been looking forward to for some time. I'm certainly involved in the procedure. Yet, I had great pleasure in every phase of the shoe-making process. It seems that people kind of enjoy it. Outstanding honor. There aren't many people that have a trademark pair of shoes. I'm grateful to the entire Nike family. Then, on January 21, people listed Morant as the seventh-best-selling jersey in the NBA. Throughout his four-year NBA career, the 23-year- old's entry into the Top 10 was made for the first time.
Ja Morant Age, Height
Morant is currently 23 years old. Leo, who is known to be passionate, imaginative, and self-assured, is his sun sign. Ja has a fit body because he's an NBA great. He is also 6 feet 3 inches (1.91 meters) tall. The basketball star weighs around 174 lb and practices regular exercise while being extremely mindful of his nutrition (79 kg).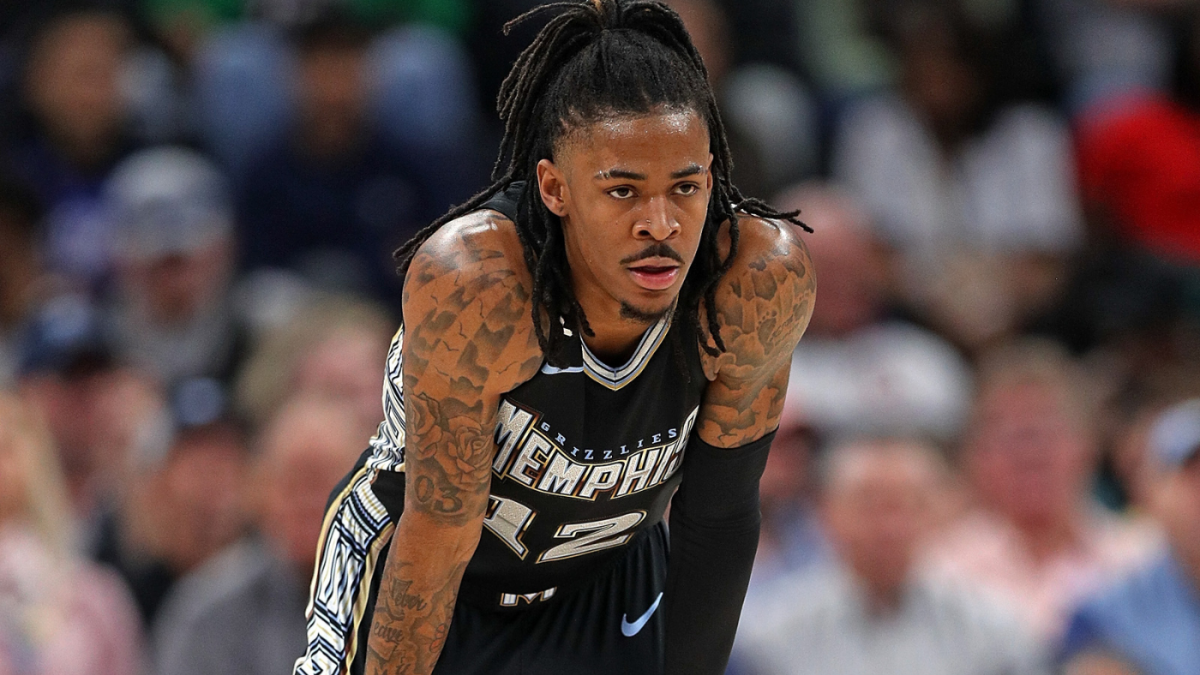 In terms of Morant's other physical characteristics, he has brown hair and black eyes. Yet, there is currently no information available on Ja's exact physical measurements. Not to add, he has the name Morant inked on his left forearm. The name is thought to signify his family and express his joy at being a member of the Morant clan.
Ja Morant Girlfriend
So, "Ja Morant" is possibly the greatest name in the NBA. The young basketball pro currently plays point guard for the NBA's Memphis Grizzlies. The 23-year-old is now atop the league in scoring, averaging 35.3 points per game while dishing out 7.0 assists and pulling down 4.3 rebounds. After the expiration of his rookie deal, Morant recently decided to stay with the organization longer. On July 6, 2022, he and the Grizzlies reached an agreement on a five-year deal. Morant looks to be single at the moment, speaking of relationships. He and his ex-girlfriend KK Dixon, also known as Kadre Dixon, have a daughter together named Kaari Jaidyn Morant, however according to some rumors, KK and Morant are no longer together.
In reality, his name has been linked to a number of other women, including Brooklyn Nikole, the sister of the rapper Latto and a rather well-known tennis player and Instagram influencer. Nonetheless, Morant has been in the news countless more times due to his romance. Prior to this, he caused controversy by ditching Canadian music artist Drake's ex-girlfriend Johanna Leia. KK was born in 1999 and will be 23 in 2023. She was also born on August 31, making her a member of the Virgo zodiac, noted for its kindness, skepticism, patience, and stubbornness. The extremely attractive social media influencer KK is 1.70 meters tall and weighs around 143 pounds.
KK, her parents' middle child, is presently enrolled in graduate school at Fisk University. She participates in athletics and plays basketball and volleyball in addition to her education. She also wants to become recognised as a social media influencer. As of this writing, KK has over 33.2k followers on her Instagram account.
More Details
Being a baseball player in the United States has its advantages, one of which is getting to date a lot of gorgeous ladies. Morant, a guard with the Grizzlies, has emerged as the NBA's biggest star thus far this year. Morant has had outstanding results in the dating game in addition to his spectacular shots. Over the years, he has been associated with several prominent personalities and influencers. He has been associated with a number of people, including the sister of rappers Brooklyn Nikole, KK, Latto, and a moderately well-known teenage tennis player. Prior to the Nikole romance rumors, he caused controversy by dumping Drake's ex-girlfriend.
So, the media first reported about Morant's relationship with Johanna Leia, Drake's ex-girlfriend, around April 2022. In late January, the couple was first mentioned as a couple. But, other than the two of them like each other's Instagram pictures, there is no evidence to support this story. Moreover, the Grizzlies guard was said to be seeing Abigail Russo after parting with Dixon. But, Morant himself refuted the claim on his social media account.
Facts
When Murray State coach James Kane was visiting a concession stand at a high school arena, he unintentionally came upon Ja Morant.
Ja Morant did not enter college as a Top 100 recruit.
The first prospect selected in the 2019 NBA Draft to sign a contract with Nike was Ja Morant.
Ja makes an effort to emulate his father and pursue their shared aspirations.
He is the first player in Division I to average over 20 points and 10 assists per game over the course of an entire season.
March 2023 Gun incident
On March 4th, the NBA revealed that it had launched an investigation into a video of Morant displaying a gun at a Colorado nightclub earlier that morning, just hours after a loss to the top-seeded Denver Nuggets. The Grizzlies later announced on that day that Morant would be away from the team for at least two games.
Morant also released an official statement, stating that he would be leaving the team for an "indefinite amount of time" to find better resources to handle his stress, anxiety, and overall well-being. He also deactivated his Instagram and Twitter accounts.
The shoe company Nike, which has a partnership with Morant, released a statement on the incident. In their statement, they said, "We appreciate Ja's accountability and that he is taking the time to get the help he needs. We support his prioritization of his well-being." On March 5th, Grizzlies head coach Taylor Jenkins stated that there was no timetable for Morant's return to the team.
On March 8th, the Grizzlies announced that Morant would be away from the team for at least the next four games.
Some Frequently Asked Questions
What is the reason for Jay Morant's suspension?
The Memphis Grizzlies have banned Ja Morant for at least two games after a social media video he posted over the weekend following a match against the Denver Nuggets appeared to show him pointing a gun towards a club in the Denver region.
What basketball shoe does ja morant wear?
His shoes name is Nike Ja 1. The Nike JA 1 is Ja Morant's first Nike signature sneaker, and it's uncanny how close it is to an original Kyrie shoe. The Ja 1 has a lot of potential, even after their quick initial test of the sneaker.
Is ja morant out the nba?
Taylor Jenkins, the Grizzlies' head coach, said that there isn't a set date for Morant's comeback. Ja Morant is not currently playing with the Grizzlies.
What is the jersey number of Ja?
Ja is sporting the 12th jersey. While representing the Memphis Grizzlies, he sports the jersey.
Why did Tee, the father of Morat, quit basketball?
Tee formerly represented Claflin University as a basketball player. But after his wife became pregnant, he began to stay at home, take care of her, and work as a barber.
How did Ja Morant learn to jump?
Ja Morant's father gave him a tyre drill as a gift, which is how he learnt how to leap so high. Ja Morant was able to hone his incredible leaping abilities thanks to this straightforward yet useful gadget. He used the tyre drill to help him increase his bounce and height after every other drill.