Trevor Dean Mann, widely known as Ricochet, is an acclaimed American professional wrestler who currently wows fans on the WWE's Raw brand. This versatile performer has not only made his mark in the WWE but also boasts an impressive track record across numerous promotions. Ricochet's foray into the world of wrestling began with remarkable tenures in Japanese promotions such as Dragon Gate, DDT Pro-Wrestling's CyberFight, and New Japan Pro Wrestling, amassing numerous championship titles and winning prestigious tournaments. His electrifying performance as Prince Puma for American promotion Lucha Underground earned him the honor of being the inaugural and first ever two-time Lucha Underground Champion.
From 2010 to 2018, Mann dominated Pro Wrestling Guerrilla (PWG), securing the World Champion title and twice winning the coveted Battle of Los Angeles (BOLA). Mann's wrestling expertise extends to his masked appearances as Helios in the Philadelphia-based Chikara promotion.
In 2018, the dynamic performer signed with WWE, making a memorable debut by defeating Fabian Aichner. Subsequent victories saw him bag the NXT North American Championship, participate in the fourth annual Dusty Rhodes Tag Team Classic, and eventually, earn major secondary titles in WWE, namely the United States, Intercontinental, and North American Championships. Ricochet's remarkable journey from independent circuits to WWE's grand stage epitomizes his dedication, skill, and unmatched wrestling talent.
Ricochet Bio/Wiki Table
| Name | Trevor Dean Mann |
| --- | --- |
| Ring Names | Ricochet, Cameron Locke, Trevor Mann, King Ricochet, Helios, Speedin' Black Bullet, Prince Puma |
| Birth Date | October 11, 1988 |
| Birth Place | Alton, Illinois, United States |
| Height | 5 ft 9 in (175 cm) |
| Weight | 207 lb (94 kg) |
| Billed From | Las Vegas, Nevada; Paducah, Kentucky; Boyle Heights, California |
| Trained By | Brandon Walker, Chuck Taylor |
| Debut | October 11, 2003 |
Ricochet Early Life
Trevor Mann was born on October 11, 1988, in Alton, Illinois, U.S. He's originally from Alton, Illinois, but moved to Paducah, Kentucky at three years old. He developed his interest in wrestling from his early days. He joined Chaos Pro Wrestling in 2003 under the ring name Ricochet, and later participated at several independent wrestling platforms.
Ricochet Parents and Family
Trevor was born and raised by his parents in a simple neighbourhood situated in Alton, Illinois. The attempts to learn more about Ricochet's parents were ineffective. As there is no online source had this information. Hence, making it difficult to determine whether he has siblings or not.
Ricochet Nationality and Ethnicity
Ricochet, whose real name is Trevor Mann, is a highly talented professional wrestler. He is very much popular for his incredible agility, aerobatic manoeuvres, and high-flying style. Born on October 11, 1988, in Paducah, Kentucky, United States, Ricochet has made a significant impact in the world of wrestling with his awe-inspiring athleticism and captivating performances. According to sources his ethnicity is Caucasian. If we talk about his nationality, he belongs to an American nationality.
Ricochet Age
Ricochet is 34 years old as of 2023. He was born as Trevor Mann on October 11, 1988, in Alton, Illinois, United States. Therefore he celebrates his birthday on October 11th every year and his birth sign is Libra.
Ricochet Height
Professional wrestler Trevor Dean Mann stands at a height of  5 ft 9 in (175 cm). He also appears to be quite tall in stature in his photos. His zodiac sign is Libra. He has dark brown eyes. However, we could not guess his hair color as he is bald.
Ricochet Weight
The wrestler weighs 94 kg (207 lbs). However, there is no information on his body measurements or his shoe size. Ricochet has a lightweight frame, which boosts his agility and speed in the ring. Therefore, his slim physique enables him to effortlessly navigate the ropes, show lightning-fast strikes, and perform acrobatic stunts that leave audiences in awe. Ricochet's weight-to-height ratio is a plus point to his remarkable athletic ability. He may use it to fly through the air and attack his opponents with powerful movements.
Ricochet Professional Wrestling Career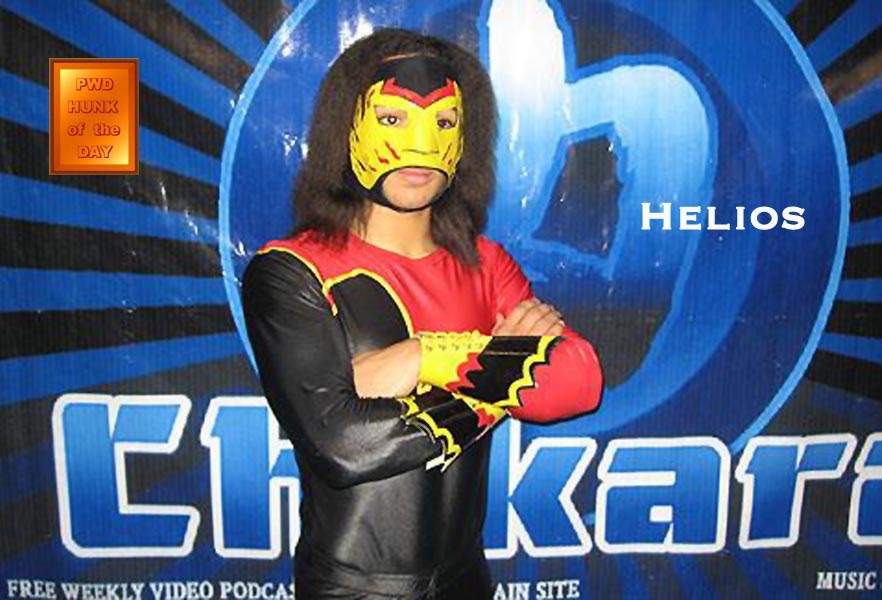 Early career (2003–2006)
In 2003, Trevor Mann embarked on his professional wrestling journey with Chaos Pro Wrestling, adopting the ring name Ricochet. Initially, he honed his skills on the independent circuit, steadily gaining experience and recognition. His breakthrough came on February 6, 2006, when he participated in a high-stakes five-man elimination match at Insanity Pro Wrestling's Sacrifice event. Notably, this match featured Chuck Taylor, who would become Ricochet's long-standing rival, as well as DieHard, Tony Galloway, and Ty Blade. Unfortunately, Ricochet's journey in the match ended with his elimination, as Taylor pinned him to secure the victory.
Shortly after, on February 18, Ricochet found himself in his first major championship bout. At Independent Wrestling Association Mid-South's Xtreme Warfare event, he competed in another five-man elimination match, vying for the vacant Deep South Heavyweight Championship. His opponents included Chuck Taylor, Jeff Jameson, Brian Sterling, and Cabana Man Dan, who ultimately emerged triumphant. Although Ricochet did not seize the championship on this occasion, his performance and dedication left a lasting impression.
A few months later, at IWA Mid-South's thrilling event We're No Joke! held on April 1, Ricochet engaged in a grueling nine-man Tables, Ladders, and Chairs match. This intense encounter aimed to determine the top contender for the prestigious Light Heavyweight Championship, with Chuck Taylor also involved in the mix. Despite Ricochet's loss to Darin Corbin in this electrifying match, he left an indelible mark with a remarkable moment. Ricochet executed his signature move, a double rotation moonsault, off a ladder and onto his eight opponents outside the ring. This awe-inspiring maneuver solidified his reputation as an extraordinary athlete.
On the same eventful day, Ricochet showcased his skills at Insanity Pro Wrestling's Mischief, Mayhem and Revenge, where he challenged Taylor for the Junior Heavyweight Championship.
Chikara: Young Lions Cup Champion (2006–2008)
Ricochet entered the Chikara wrestling scene in 2006, where he experienced a series of losses in the fourth Young Lions Cup tournament. These included a defeat against Chuck Taylor, and a loss in a team match alongside Player Uno. Despite these early setbacks, he claimed his first victory as a Chikara roster member in November 2006. Unfortunately, this was not enough to carry him to success in the Young Lions Cup.
In early 2007, Ricochet continued his pursuit of the Young Lions Cup. However, defeats to Max Boyer and Claudio Castagnoli sidelined his championship dream. Despite the challenges, Ricochet eventually advanced to the final of the fifth Young Lions Cup tournament. Yet, once again, he found himself outclassed by his long-time rival Chuck Taylor. As a consequence, Ricochet was forced to leave Chikara after losing to Taylor in a Young Lions Cup vs. Career match.
His absence from Chikara was brief. Returning with a new look and under the ring name Helios, Ricochet managed to defeat Taylor and claim the Young Lions Cup. Despite Taylor's protests, Helios' victory was deemed valid, making him the new Young Lions Cup champion. As Helios, he successfully defended his title against opponents like Hydra and Fire Ant.
The Future is Now (2008–2010)
Riding the wave of his Young Lions Cup victory, Helios started 2008 with an alliance with Incoherence, forming "The Golden Trio". The group made it to the semi-finals of the 2008 King of Trios tournament, but fell to The BLKOUT. Helios also made a successful title defense against Lince Dorado and reached the final of the Rey de Voladores tournament. Despite losing the tournament to Incognito and subsequently the Young Lions Cup, Helios ended the year on a high note, winning a 16-man elimination tag team match as part of Team Equinox.
In 2009, Helios, as a part of The Future is Now, had mixed results. The team experienced several wins and losses, including a semi-final defeat in the 2009 King of Trios tournament. The team also feuded with The Osirian Portal, culminating in victories in both singles and team matches.
The year 2010 brought changes for The Future is Now. Lince Dorado betrayed the team, forcing Helios and Equinox to rally. The duo managed to earn a title shot for the Campeonatos de Parejas, but were defeated by the reigning champions. This defeat marked the end of The Future is Now and Helios' tenure at Chikara, as he moved on to work with Dragon Gate and Dragon Gate USA.
Participation in Evolve and Dragon Gate USA (2010–2017)
Ricochet began his journey with Evolve on January 16, 2010, winning his debut match against Arik Cannon during Evolve 1: Ibushi vs Richards. However, he faced subsequent losses to Chuck Taylor on March 13, 2010, at Evolve 2: Hero vs Hidaka and Johnny Gargano on May 1, 2010, at Evolve 3: Rise Or Fall. A victorious streak commenced on September 11, after defeating Kyle O'Reilly, following his defeat by Drake Younger in a four-way match on July 23.
In March 2012, during the Open the Ultimate Gate event, Ricochet and Masato Yoshino seized the Open the United Gate Championship. Ricochet debuted at Dragon Gate USA on July 24, 2010, at Enter the Dragon 2010, where he was defeated in a four-way match by Chuck Taylor. Post the match, Ricochet joined Cima's Warriors International stable and was successful in his singles match against Gran Akuma.
As Dragon Gate USA resumed on January 29, 2011, Ricochet was representing the heel stable Blood Warriors. Alongside stable mate Naruki Doi, they competed unsuccessfully in the tournament for the Open the United Gate Champions. Ricochet sustained an ankle injury during a match on April 2, at Mercury Rising 2011, ruling him out of the following day's championship match.
On September 11, at Way of the Ronin 2011, Ricochet and Cima overcame Masato Yoshino and Pac to claim the Open the United Gate Championship. Despite unsuccessful attempts to win the Open the Freedom Gate Championship against Johnny Gargano in 2012, he later won the championship on April 4, 2014. However, during Dragon Gate USA's parent company WWNLive's tour of China, Ricochet lost the title back to Gargano on November 16, 2014.
Engagement with Pro Wrestling Guerrilla (2010–2018)
Ricochet debuted for Pro Wrestling Guerrilla on September 5, 2010, and experienced a "star making performance" despite losing to Claudio Castagnoli in the first round of the 2010 Battle of Los Angeles. He also participated in a six-man tag team match the following day, losing against the team of Brian Cage, Chuck Taylor, and Ryan Taylor.
On October 9, Ricochet achieved a major victory over PWG World Tag Team Champion El Generico. Later in April 2011, he replaced an absent Paul London, teaming with El Generico, only to lose their PWG World Tag Team Championship to The Young Bucks. After a few losses, he returned to PWG on September 1, 2012, for the Battle of Los Angeles, securing a victory over Kevin Steen in the first round.
In 2013, Ricochet partnered with Rich Swann for the Dynamite Duumvirate Tag Team Title Tournament, but they lost to The Young Bucks in the first round. On August 31, 2014, Ricochet emerged victorious in the Battle of Los Angeles and was given a shot at the PWG World Championship, which he lost to Kyle O'Reilly.
Ricochet made history by becoming the first two-time winner of the Battle of Los Angeles on September 3, 2017. He later won the PWG World Championship for the first time on October 21 by defeating Chuck Taylor. However, he lost the title back to Taylor at Mystery Vortex V in a Guerrilla Warfare match.
Dragon Gate (2010–2015, 2017)
Ricochet, a renowned professional wrestler, embarked on his first tour of Japan with Dragon Gate in 2010. He gained prominence through a series of challenging matches, including a six tag team match and a victorious debut where he teamed with his Warriors stablemate Cima and Masaaki Mochizuki. Over the years, he aligned with various groups, including Blood Warriors and World-1 International, achieving remarkable victories and contributing to the groups' reputations. Despite some setbacks and changes in alliances, Ricochet continued to impress with his skill and agility.
Ricochet marked his Dragon Gate farewell match in 2017, leaving behind a legacy of high-profile matches and significant championships, such as the Open the Triangle Gate Championship and Open the Twin Gate Championship. His journey in Dragon Gate is characterized by heel turns, stable changes, championships, and competitive rivalries, painting a vibrant picture of his wrestling career.
New Japan Pro-Wrestling (2013–2017)
Ricochet's career in New Japan Pro-Wrestling (NJPW) was initiated in 2013 when he participated in the 2013 Best of the Super Juniors tournament. This marked his entry into a series of competitions where he demonstrated his wrestling prowess, including tag team matches, round-robin tournaments, and championship matches. Ricochet managed to leave a considerable mark on the NJPW scene, including a stint as the IWGP Junior Heavyweight Tag Team Champion alongside Matt Sydal and a record win in the Best of the Super Juniors tournament.
Towards the end of his tenure in 2017, Ricochet formed a tag team called "Funky Future" with Ryusuke Taguchi and won the IWGP Junior Heavyweight Tag Team Championship. However, his departure was signaled following a series of losses and an emotional farewell to NJPW and Taguchi Japan.
Lucha Underground (2014–2017)
Ricochet, under the ring name Prince Puma, made his mark in Lucha Underground, a television series on the El Rey network. Introduced as a masked character with a fictional Latino background, Ricochet wrestled in high-profile matches, including the main event of the debut episode of Lucha Underground.
Throughout his journey in Lucha Underground, Ricochet earned significant victories, including becoming the inaugural Lucha Underground Champion. He also entered a tournament for the Trios championship along with El Dragon Azteca Jr. and Rey Mysterio Jr., capturing the titles in a final match.
Despite lucrative contract offers, Ricochet decided to leave Lucha Underground in 2016, ending his career there with a series of dramatic matches and his ultimate retirement. His tenure as Prince Puma is remembered for his excellent performance and notable victories.
Ricochet's WWE Career
WWE Debut and Early NXT Career (2018)
Ricochet made his WWE debut on April 7, 2018, at NXT TakeOver: New Orleans. Before this, he had made an appearance in the audience at NXT TakeOver: Philadelphia. His first on-screen encounter was a six-man ladder match for the inaugural North American Championship, which was won by Adam Cole. Ricochet's debut was notable as he went head to head with Velveteen Dream in a storyline that culminated with Ricochet's victory at NXT TakeOver: Chicago II.
NXT North American Champion and United States Champion (2018–2019)
The storyline with Velveteen Dream led to a feud with North American Champion Adam Cole and his stable, The Undisputed Era. Ricochet emerged victorious at NXT TakeOver: Brooklyn IV, securing his first championship in WWE. His reign, however, ended at the hands of Johnny Gargano at NXT TakeOver: Phoenix. Ricochet's NXT career concluded after a successful run in the Dusty Rhodes Tag Team Classic and a final match at NXT TakeOver: New York.
Ascension to the Main Roster (2019)
Ricochet's raw debut came on February 18, 2019. The following months saw him teaming with Aleister Black for numerous Tag Team Championship bouts, albeit without success. Post the Superstar Shake-up, Ricochet transitioned to a singles career and faced a series of challenges. A significant win came when he defeated Samoa Joe to secure the United States Championship, his first singles title on the main roster.
Championship Pursuits (2019–2022)
Following his reign as the United States Champion, Ricochet participated in various notable events including the King of the Ring tournament, Survivor Series, and Royal Rumble. He also challenged for the WWE Championship against Brock Lesnar. He then formed a tag team with Cedric Alexander, which later dissolved when Alexander turned against him. Ricochet continued to pursue various championships, albeit with limited success.
Intercontinental Champion and rivalry with Logan Paul (2022-present)
In 2022, Ricochet's journey as the Intercontinental Champion began with a challenge to Sami Zayn on the February 25 episode of SmackDown. Winning the title on March 4 with assistance from Johnny Knoxville, he became the first to hold all three of WWE's secondary titles. He successfully defended the title multiple times against the likes of Zayn, Angel, Humberto, Jinder Mahal, and Shanky before losing it to Gunther on June 10, ending his reign at 98 days. A rematch for the title and a fatal five-way match for #1 contender status both ended in losses for Ricochet.
Afterward, Ricochet returned to NXT, facing Carmelo Hayes for the NXT North American Championship but lost at Worlds Collide on September 4. On December 2, he claimed the SmackDown World Cup, defeating Santos Escobar, and later became the #1 contender for the Intercontinental Championship but lost in his rematch against Gunther. During the Royal Rumble, a midair collision with Logan Paul in a simultaneous springboard clothesline went viral.
Drafted to Raw in 2023, Ricochet defeated The Miz to qualify for the Money in the Bank ladder match but lost to Damian Priest after executing a high-risk move on Paul that incapacitated both. Throughout this period, Ricochet's performances created significant buzz, and his rivalry with Logan Paul, culminating in dramatic in-ring moments, caught the attention of fans and social media alike.
Ricochet & SummerSlam 2023
WWE SummerSlam 2023 witnessed an intense grudge match between Ricochet and Logan Paul, two Superstars who have been at odds since their encounter at Money in the Bank in London. The feud escalated into a one-on-one contest at SummerSlam, held in Detroit, where both competitors showcased their athleticism and determination.
The match was filled with high-flying maneuvers and near falls, with Ricochet looking set to defeat the YouTuber Logan Paul via a 630 splash. However, in a shocking twist, Logan rolled out of the way, and a member of his entourage handed him brass knuckles, which he used to strike "The One and Only" Ricochet, securing the victory.
The rivalry between Ricochet and Logan Paul had been building for months, with both men nearly falling off a ladder and through two tables during the Money in the Bank ladder match. The incident led to a backstage brawl and a face-to-face confrontation, where Paul accused Ricochet of trying to gain clout by creating a viral moment with a social media sensation. Ricochet's remarkable athleticism and Logan Paul's controversial tactics set the stage for their SummerSlam clash.
While Logan Paul's victory at SummerSlam improved his career record to 2-0, the nature of the ending suggests that his rivalry with Ricochet is far from over. The match's controversial finish, involving the use of brass knuckles, has left fans eagerly anticipating the next chapter in this heated feud. Both Superstars have captured the attention of the WWE Universe, and their ongoing battle promises to deliver more thrilling moments in the ring. Whether it's Ricochet's acrobatic prowess or Logan Paul's cunning strategies, their encounters continue to be a must-see spectacle in the world of professional wrestling.
Ricochet Finishing Move
Ricochet is one of the best high-flyers in the pro wrestling industry, as he has amazed his fans through his gravity-defying stunts over the years. His current finishing move is the 630 senton. The move was not easy to pull off as Ricochet used his athletic ability to perform a 630-degree spin before crashing into his downed opponent. However, Ricochet used to perform an equally dangerous finishing move in his early days, and that was the Double Moonsault. Ricochet does two spins compared to a regular moonsault and crashes into his opponent. But since the manoeuvre took a toll on his knees, Ricochet started using the 630 Senton instead.
Ricochet Theme Song
Ricochet is a superstar with a great theme that fits him perfectly, but it became different. His old theme, One and Only, was loud and distinctive. It started with a strong voice saying one and only. The music sounded comic book-inspired like it was either presenting a hero or spectacle or both. The new theme, It's About To Go Down, is worse in every way. The one and only line is said to be softer. The whole song is meeker, and there are random "ays" in there despite the song's lack of hype. Also, it feels like the song does not know what it wants to say about Ricochet. It is just there.
Ricochet's 5 Best Matches, According To Cagematch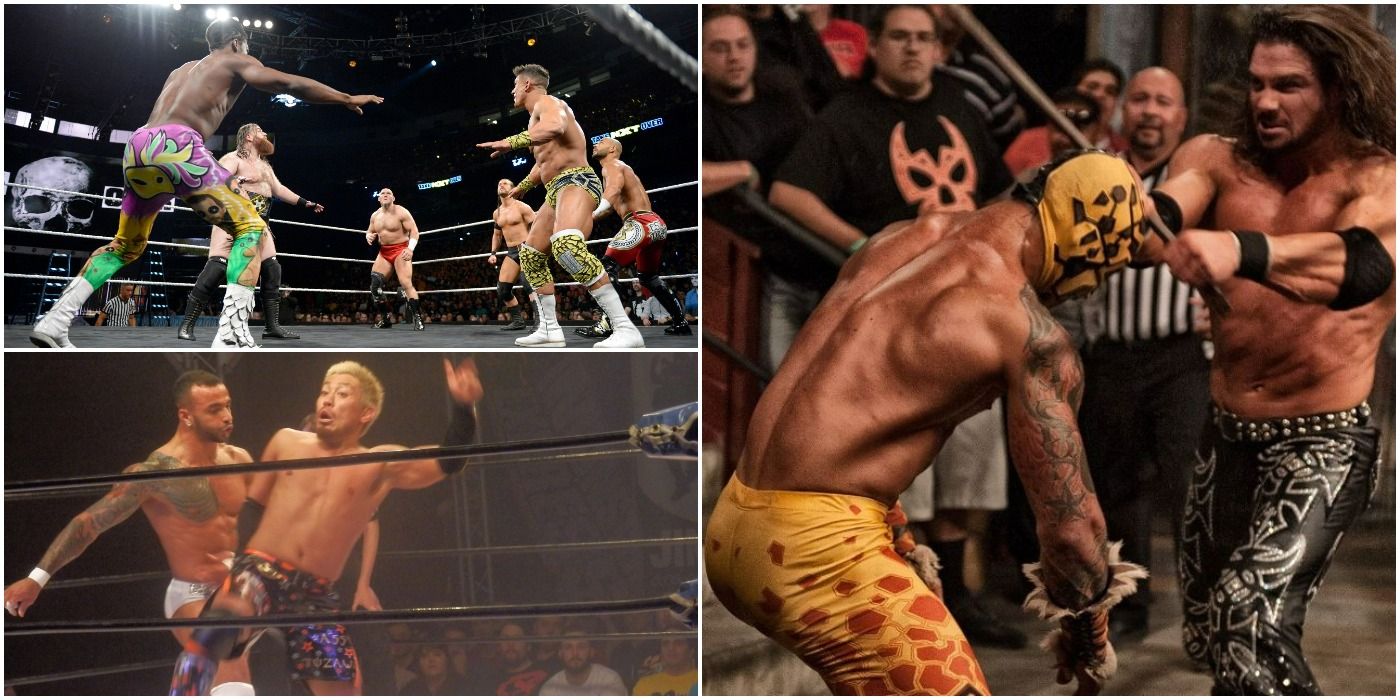 Ricochet is a high-flying wrestler who brings true innovation to the ring with his moves, having competed in some excellent matches in his career. He Often leaves fans shocked at what he can pull out. Throughout his career, the current Intercontinental Champion has amazed fans, whether that be in New Japan, WWE, Lucha Underground, or the independent scene. Fans often compare him to a real-life video game character, and that very much reflects in his matches. Ricochet is also an amazing seller, and he adds a lot of story into his bouts as well. He's had some fantastic matches during his run, and that has been reflected in several of his performances.
1. Ricochet vs. Kota Ibushi (NJPW Dominion, 2014)
Ricochet was starting to break out in Japan at this point, and that is because he was putting in performances like this. They went back and forth with a hard-hitting match via Kota Ibushi's striking. At the same time, there were also a lot of high-flying, and creative moves.
Their styles worked together brilliantly, and it led to a frantic match with some incredible back and forth moments. It was extremely competitive, and seeing the near falls that they added helped to make this a competitive one.
2. Ricochet, Will Ospreay, & Matt Sydal vs. The Young Bucks & Adam Cole (PWG Battle Of Los Angeles, 2016)
Over the years, a PWG style is something that has been created, and that is something that people have enjoyed. These types of matches are frantic, and fast-paced, and they always have something going on. There's tons of action, and that helped to make this one great to see. Ricochet's team brought a lot of high-flying action. But that was something that The Bullet Club were able to hold their own in. This was a match jam-packed with great moves, and that is what made it so much fun to watch.
3. Ricochet vs. Will Ospreay (NJPW Best Of Super Juniors, 2017)
This is arguably Ricochet's most famous match, as it is one that put both of them on the map. The two of them went all out here in a match that people hadn't seen before in terms of style. They brought their unique abilities to create high-flying moments, and this proved to be a great match.
It got everybody talking, and while some fans felt it was too staged. Others found this to be unlike anything else there has ever been. They had amazing chemistry, and the jaw-dropping moves in the match helped to make it a great one.
4. Prince Puma vs. Johnny Mundo (Lucha Underground, All Night Long, 2015)
Lucha Underground brought a lot of great work from Ricochet as Price Puma, and this was certainly a highlight. It was a no disqualification iron man match, and that gave them a lot of freedom to work. Moreover, they tapped into that throughout. It was hard-hitting at points when they wanted it to be. But they also featured in plenty of excellent wrestling as well. Their styles complemented each other a lot, and that led to a fantastic encounter that helped push both men.
5. Ricochet & Matt Sydal vs. The Young Bucks vs. Lucha Bros (PWG Nice Boys, 2017)
For those who like fast-paced matches that are filled with amazing moves and spots, then this match is for them. This had some unbelievable high-flying situations, with each team trying to outdo each other throughout the battle. While there wasn't tons of psychology or selling here, the unbelievable athleticism was enough to take this one to the next level.
Ricochet: A Glimpse into the Personal Life of the Wrestling Star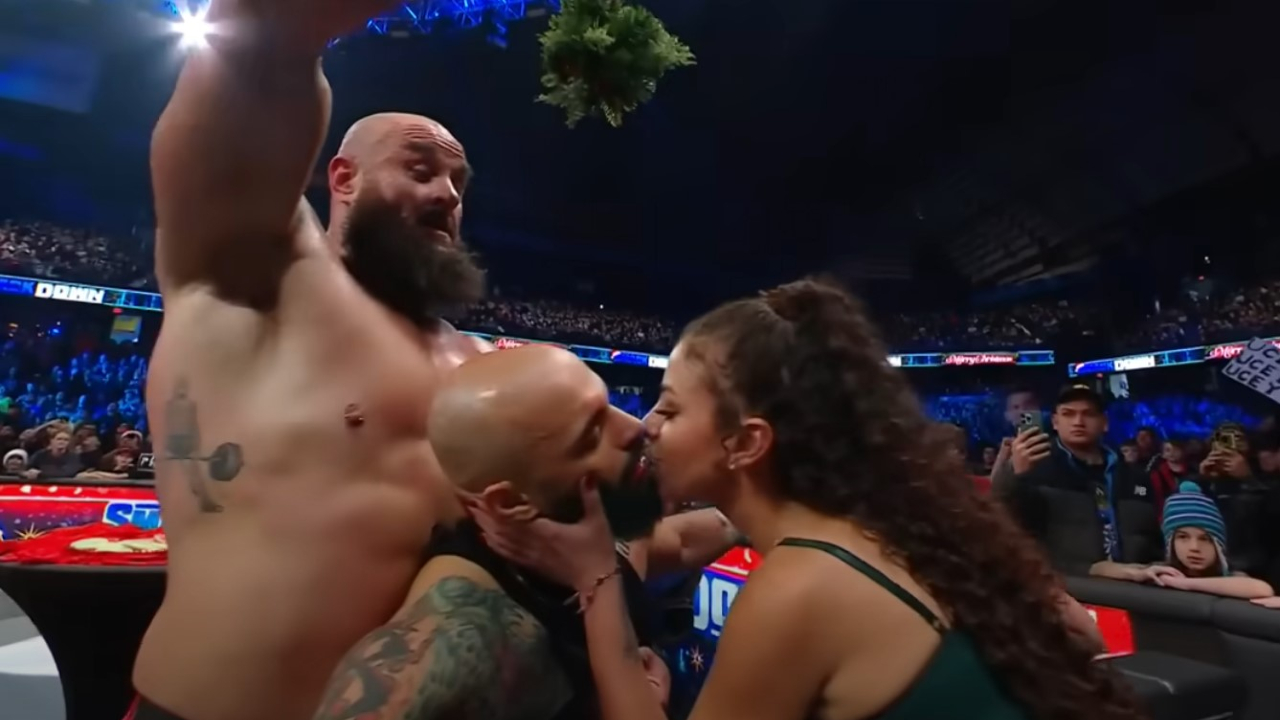 Born as Trevor Dean Mann, Ricochet is a well-known personality in the world of professional wrestling. His journey in wrestling began in 2003, and since then, he has made a significant mark in the field. Ricochet hails from a white family background, adding to the diversity of the wrestling world.
Love Life: Past and Present
Ricochet's personal life has been a subject of interest for many fans. He was previously linked romantically with NXT Superstar Kacy Catanzaro, who is also known in the wrestling world as Katana Chance. This relationship, however, did not last.
Current Relationship Status: Engagement
As of 2023, Ricochet has moved on from his past relationships and is currently engaged to Samantha Irvin. Samantha is not just his partner but also a fellow professional in the WWE universe, working as a television personality. Their engagement has been a topic of interest among fans and followers of WWE.
Ricochet Net Worth
Ricochet net worth, as of 2023, is estimated to be $3 million. This includes his Assets, Money and Income. His primary source of income is his career. As a professional wrestler, according to his WWE contract, he earns a basic salary of $450,000. While he is a part of the WWE mid-card, we dont see him on WWE PPVs regularly. Hence, his earnings from PPVs might not be much. But Ricochet net worth also gets a boost from his WWE merchandise sales. Through his various sources of income, Trevor has been able to accumulate a good fortune. But he always prefers to lead a modest lifestyle.
Ricochet Awards and Achievements
In 2016, Ricochet was ranked No. 15 out of the top 500 singles wrestlers in the PWI 500. His accolades include being a one-time Ironman Heavymetalweight Champion and winner of the Young Lions Cup V.
In the Dragon Gate promotion, Ricochet held several championships including one-time Open the Brave Gate Champion, Open the Dream Gate Champion, Open the Triangle Gate Champion with Cima and Dragon Kid, and twice as Open the Twin Gate Champion with Cima and Naruki Doi. Ricochet was also the winner of the King of Gate tournament in 2013.
In the American promotion Dragon Gate USA, he claimed the Open the Freedom Gate Champion title, and Open the United Gate Champion title, both on one occasion. At House of Glory (HOG), he became the World Heavyweight Champion and won the 2014 HOG World Heavyweight Championship Tournament.
He was the IPW Junior Heavyweight Champion and won the IPW Super Junior Heavyweight Tournament in 2010. In Lucha Underground, he claimed two championship titles as a singles competitor and one as part of a trio with Dragon Azteca Jr. and Rey Mysterio, along with winning The Cueto Cup in 2017.
At New Japan Pro Wrestling (NJPW), Ricochet was a three-time IWGP Junior Heavyweight Tag Team Champion and a three-time NEVER Openweight 6-Man Tag Team Champion. In Pro Wrestling Guerrilla (PWG), he was a one-time World Champion and won the Battle of Los Angeles twice.
In the United Kingdom, he was a one-time Undisputed British Tag Team Champion with Rich Swann, and in World Series Wrestling (WSW), he was the Heavyweight Champion.
While in WWE, he held the United States Champion title, NXT North American Champion title, and won the 2018 NXT Year-End Award for Breakout Star of the Year and the 2019 Dusty Rhodes Tag Team Classic with Aleister Black.
Ricochet Social Media
Ricochet is quite active on social media. He has a significant fan following on his social media accounts. The male wrestler has accrued 1M followers on Instagram alone. He is also on Facebook and Twitter where he has around 830K followers. Let us take a look at the player's profile on various social media platforms.
F.A.Q.s
Who is Ricochet Wrestler?
Ricochet is an accomplished American professional wrestler. He is popular for his work as a star of the World Wrestling Entertainment (WWE). He is also the current United States Champion and has even worked in New Japan Pro-Wrestling (NJPW) as well.
What is Ricochet's real name?
Ricochet's real name is Trevor Dean Mann.
When did Ricochet start his professional wrestling career?
Ricochet started his professional wrestling career in 2003.
How old is Ricochet Wrestler?
Trevor is an American national who was born on 11 October 1988, in Paducah, Kentucky. As of 2023, he is 34 years old.
How tall is Ricochet Wrestler?
Ricochet stands at a height of 5 feet 10 inches.
Who is Ricochet currently engaged to?
As of 2023, Ricochet is engaged to WWE television personality Samantha Irvin.
Who did Ricochet date before his current engagement?
Ricochet was previously in a relationship with NXT Superstar Kacy Catanzaro, also known as Katana Chance.
Is Ricochet Wrestler Married?
As of the latest information available, Ricochet, the professional wrestler, is not married. However, he is engaged to Samantha Irvin, a WWE television personality.
How much is Ricochet Wrestler Worth?
Trevor has an approximate net worth of $3 million. He has made this amount from his career as a professional wrestler.