Xia Li, a prominent figure in WWE, has experienced a series of mishandlings since her call-up to the main roster, turning her from a protector to an afterthought. Despite an impressive NXT run and an encouraging main roster debut, WWE seems to have forgotten about her, leading to a major mismanagement of her character.
Her debut on Smackdown in December 2021 as "The Protector" was filled with intrigue and excitement, but the company's uncertainty about her direction soon became apparent. Xia Li had to wait over two months after her debut to actually wrestle her first match on Smackdown, a decision that baffled fans and showed the company's lack of priority for her.
Further mishandling occurred when she turned heel out of nowhere after weeks of television absence. The rushed explanation and lack of impact in her heel turn failed to resonate with fans, sending the wrong message about her significance in the company's eyes.
Moreover, Li hasn't had a significant storyline since her main roster debut. The lack of meaningful storytelling has made her character feel unimportant, almost like a background character. Despite the many interesting avenues that could have been explored with her character, she's been left to spin her wheels, denying her the opportunity to showcase her incredible talent.
The situation reflects a broader issue with how NXT talents have been treated on the main roster, and it's a shame considering how promising Xia Li's debut was. While it's not too late for WWE to salvage her run, the mishandling so far has certainly dampened fans' expectations.
Xia Li Biography/Wiki
| | |
| --- | --- |
| Birth name | Zhao Xia |
| Born | 28 July 1988 (age 35) |
| Place of Birth | Chongqing, Sichuan, China |
| Ring name(s) | Xia Li |
| Billed height | 5 ft 3 in (1.60 m) |
| Billed from | Chongqing, China |
| Trained by | WWE Performance Center |
| Debut | July 13, 2017 |
Xia Li Birth & Early Life
Xia Li, born as Zhao Xia on July 28, 1988, in Chongqing, Sichuan, China, has been a trailblazer in the world of professional wrestling. As the first Chinese woman to ever compete in a WWE ring, she has broken down barriers and set new standards.
Before entering the world of wrestling, Xia Li was a top-flight fighter in the Chinese martial art of wushu. Her impressive performance at a WWE audition in China led to her recruitment to the WWE Performance Center in January 2017, marking the beginning of her remarkable journey.
Xia Li Parents & Siblings
Information regarding Xia Li's parents and siblings is not publicly available. Her life outside the ring has been kept private, and she has not shared details about her family background. Her focus and dedication to her career have been at the forefront, with her personal life remaining largely out of the public eye.
Xia Li Nationality & Ethnicity
Xia Li is of Chinese nationality and hails from Chongqing, Sichuan, China. She represents her Chinese heritage with pride and has become a symbol of empowerment and success in the wrestling world. Her ethnicity and cultural background have played a significant role in shaping her identity and her approach to her professional career.
Xia Li Age
Born on July 28, 1988, Xia Li is currently 35 years old. Her age has not deterred her from achieving remarkable success in the wrestling world. She continues to be a youthful and energetic presence in the ring, showcasing her skills and determination.
Xia Li Height
Xia Li stands at 5 feet 3 inches tall. Though somewhat shorter than most female wrestlers, her height has not hindered her ability to compete at the highest level. Her incredible strength and martial arts background have allowed her to stand tall against her opponents, regardless of their size.
Xia Li Physical Appearance & Body Measurements
Xia Li's physical appearance is a testament to her dedication to fitness and martial arts. Her well-defined body, combined with her agility and strength, has made her a formidable competitor in the ring.
Xia Li's martial arts background, particularly in wushu, has shaped her physical abilities, allowing her to execute complex moves with precision. Her height of 5 feet 3 inches and her athletic build reflect her commitment to her craft and her relentless pursuit of excellence.
Xia Li WWE Career
Mae Young Classic (2017–2018)
In January 2017, Xia Li made waves by joining the WWE Performance Center, following an impressive performance at a tryout in Shanghai, China. Her debut in WWE came on July 13, as she competed in the inaugural Mae Young Classic, becoming the first Chinese woman to ever step into a WWE ring. Though eliminated in the first round by Mercedes Martinez, her presence was groundbreaking.
In her second Mae Young Classic on September 19, 2018, she defeated Karen Q in the first round but was eliminated in the second by Deonna Purrazzo. During 2017 and 2018, Li's wrestling appearances were primarily at NXT live events, outside of the Mae Young Classic.
Beginnings in NXT (2019−2020)
Xia Li's first appearance on a main roster pay-per-view was at the Royal Rumble on January 27, 2019. Entering the women's Royal Rumble match at number 11, she lasted 4:48 before being eliminated by Charlotte Flair. Her television debut followed on February 20 in a singles match against Mia Yim on NXT, where she later secured her first televised win against Rachel Evers. A feud with Aliyah and Vanessa Borne led to singles victories and an attack by NXT Women's Champion Shayna Baszler, culminating in a non-title match loss to Baszler.
Li's presence in the women's Royal Rumble match continued in 2020, where she entered at number 24 and lasted 10:49 before elimination by Shayna Baszler. A series of matches with Mia Yim, Aliyah, and Chelsea Green showcased her skills and determination. A backstage injury led to a brief match with Aliyah, where Li avenged herself by defeating her. However, distractions from Aliyah and Robert Stone led to subsequent losses, including a match where Stone's in-ring vomiting led to Aliyah's victory.
Tian Sha (2020−2021)
Xia Li's journey in NXT has been marked by a series of transformative events, rivalries, and character development. On September 16, she teamed with Jessi Kamea in a match against Kayden Carter and Kacy Catanzaro, where her refusal to shake hands after a loss hinted at a change in her character. This was followed by a battle royal and a match against Carter, where her aggressive behavior continued to escalate.
Her heel turn became more pronounced after a loss to Shotzi Blackheart, when she was handed a mysterious letter by Boa. Subsequent losses led to a more aggressive Li, attacking her opponents post-match. A series of vignettes began to air, showing Li and Boa being "punished for their failures" by an elderly man and a mysterious woman. This brutal training led to a transformed Li, who returned with dominant victories over various opponents.
Li's new persona was further solidified in her feud with Kacy Catanzaro and Kayden Carter, defeating them in singles and handicap matches. Her master, Mei Ying, played a significant role in guiding her actions.
In June, Li began a feud with Mercedes Martinez, stemming from a loss in the inaugural Mae Young Classic. She defeated Martinez at NXT TakeOver: In Your House and later in a mixed tag team match. Her challenge for the NXT Women's Championship against Raquel González ended in failure and an injury, but she appeared to be unharmed.
SmackDown (2021–2023)
Xia Li's journey in WWE took a significant turn as part of the 2021 Draft when she was drafted to the SmackDown brand. Making her main roster debut on December 10, 2021, she emerged as a face, protecting Naomi against Sonya Deville, Natalya, and Shayna Baszler. Her in-ring debut on February 25, 2022, saw her defeating Natalya, marking a promising start.
However, a shift in her character occurred on April 22, 2022, when she turned heel, declaring her self-focused intentions. This change set the stage for a series of high-profile matches, including a six-pack challenge for the SmackDown Women's Championship and a failed attempt to qualify for the Women's Money in the Bank ladder match.
Li's debut on the Raw brand further showcased her versatility, as she competed in a Last Chance six-way elimination match, only to be eliminated by Becky Lynch. Her pursuit of championship opportunities continued on SmackDown, where she participated in a gauntlet match, a WWE Women's Tag Team Championship Tournament, and various multi-contender matches. Despite her efforts, victories remained elusive, with opponents like Baszler, Rodriguez, and Ronda Rousey standing in her way.
Her performance at Royal Rumble on January 28, 2023, where she lasted 15 minutes and 30 seconds, highlighted her resilience and determination. Subsequent matches, including a tag team bout with Lacey Evans, further solidified her presence but failed to secure significant victories.
Raw (2023–present)
As part of the 2023 WWE Draft, Li was drafted to the Raw brand, marking a new chapter in her career. Her match against Candice LeRae on the June 8 episode of Main Event, though a loss, signifies her ongoing pursuit of success.
Xia Li Debut
In December 2021, Xia Li debuted on Smackdown. She defended Naomi from Sonya Deville, Natalya, and Shayna Baszler. Her intriguing gimmick as The Protector and her exciting entrance, complete with strobe lights, promised a bright future.
However, Xia Li had to wait over two solid months to wrestle her first bout on SmackDown after her main roster debut. This delay made it clear that WWE was unsure about her direction. She won her first match against Natalya, a feat some NXT talents don't achieve on the main roster. But people quickly forgot this victory.
Xia Li has shown tremendous wrestling skills during her time in NXT. So, the delay in showcasing her abilities on the main roster puzzled many fans. It became clear right away that the business didn't value her highly. Her subsequent booking made it even clearer that WWE didn't consider her a top priority.
Xia Li Finisher
Finishing and signature moves
Cyclone Kick
Spinning Heel kick
Palm strikes
Knife-edge chop
Splits Leg Drop
Crucifix Hold
Swinging Neckbreaker
Xia Li Married
There is no information online about Xia Li's romantic situation. Despite being quite active on social media, she has never discussed her dating life there.
Not even a single rumor about her dating another wrestler has surfaced. It is best to presume that she is still unmarried because there is no information about her romantic status available.
Xia Li Karate
Many of Li's followers are unaware that she also owns a fitness centre. Sheamus was easily lifted by her in one of his films on his YouTube channel, demonstrating her strength (Celtic Warrior Workouts).
Xia Li Trained By WWE
It's not unusual for NXT to sign people in their late 20s, despite the fact that it is now returning to its developmental brand status and the corporation is focused more on younger stars to become the future of WWE. Xia's performance at a WWE audition in China a few years back was incredibly well received. Yes. The firm had to train her from scratch because she had no prior wrestling expertise.
Li has improved at wrestling in the WWE style, which is good. She is a homegrown talent, so the company will want her to succeed as well. Yes. This could even result in a few significant opportunities down the road.
Xia Li Injury
Raquel González and Xia Li's NXT Women's title fight was interrupted yesterday night so the trainer could examine Li, who had replaced the champion in this position. When given the all-clear to go, they quickly reached the end. Yes. It probably wasn't fun to take Big Mami Cool's one-arm powerbomb, especially because the public believed Xia had fractured a rib during the springboard senton.
But it was probably a good indicator that the medical personnel who checked on her allowed that to happen. Yes. Moreover, follow-up reports have been favorable.
The Tian Sha member "looked okay" backstage after the bout, according to Fightful Select's sources. Yes. Despite one of the wrestlers not having the typical hoss build, Li vs. González nearly had the feel of a hoss bout. Although it wasn't amazing, it was decent enough to pique my interest in how it might have turned out in the absence of the injury worry.
Once Xia has received formal clearance, we'll see if they run it back. Yes. Although she may not be large, she has shown she is tough as nails.
Xia Li Storyline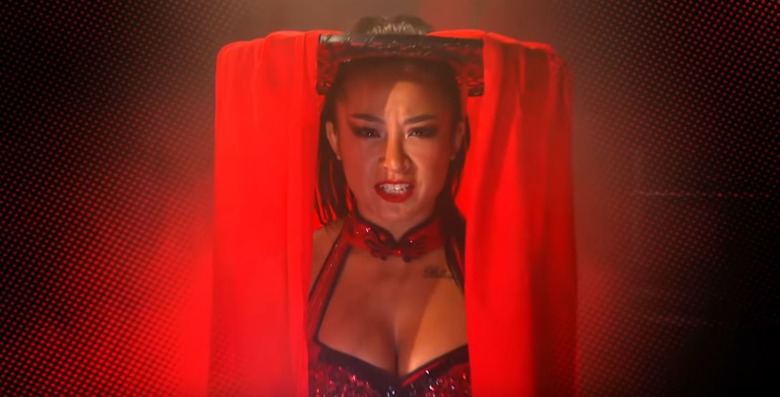 Since making her main cast debut, Li hasn't had a compelling storyline. The paucity of storylines Li has been a part of has made it even more difficult for her to truly endure herself to the public given the shoddy character work and hurried heel turn she was given.
Without an engaging storyline, the character doesn't feel significant at all. Yes. It almost seems as if she hasn't had any influence on the primary cast and isn't participating in anything that viewers should really be interested in. Nothing conveys to viewers how little WWE truly regards a wrestler than treating them like a supporting actor who is simply around to fill out the division's roster. Yes. The character had so many exciting, varied directions to go when she initially appeared on Smackdown. But she's been left to sputter for virtually the whole run. Yes. This denied her the chance to demonstrate to the audience what an amazing worker she is.
Xia Li Martial Arts
She had experience in martial arts. Outside of the ring, Xia Li has accomplished a lot of things. She was about to make her MMA debut and is a true martial artist until WWE pulled her from the match. She has won numerous martial arts events and fitness contests.
Before entering WWE, Li always participated in combat sports, namely wushu. She was a founding partner in a company that provided personal training. She took first place countless times in martial arts and fitness events. It featured the second World Traditional Chinese Wushu Championship, the Nike Challenge Competition, and the first China Throw Down: Battle on the Bund.
FAQs on Xia Li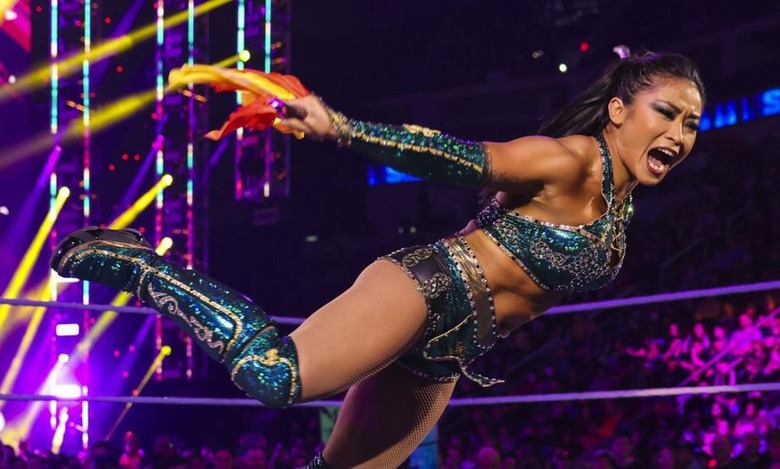 Does Xia Li know martial arts?
Xia co-founded her own fitness studio and has martial arts experience. Yes. Zhao has won first place awards in a number of martial arts and fitness contests, including the First China Throw Down: Battle on the Bund, Nike Challenge Competition, and the Second World Traditional Chinese Wushu Championship.
Is Xia Li Chinese?
Xia Li was born on July 28, 1988, in Chongqing, Sichuan, in China.
What happened to Xia Li?
Xia Li Could Have Suffered an Injury During Her Match With Lacey Evans on SmackDown. Yes. It appears that Xia Li may have actually suffered an injury during Friday night's bout between her and Lacey Evans. Yes. If true, that would be a tragic loss. Yes. WWE Superstar Xia Li might have actually hurt herself during Friday's SmackDown broadcast, according to initial reports.
Was Xia Li on SmackDown?
She competed in WWE NXT as both a baby face and a heel. It was before her selection for the main roster in the October 2021 WWE Draft. Yes. Li made her SmackDown debut as The Protector on December 10; she supported the WWE Women's Champion as she dealt with Natalya, Shayna Baszler, and Sonya Deville.
Who is Xia Li WWE?
Xia Li has a history of shattering stereotypes as the first Chinese woman to compete in a WWE ring. Yes. Li impressed all with her talent scouts during a tryout in Shanghai. Yes. Then, the WWE Performance Center hired Li in January 2017. A few months later, she made her debut by competing in the first Mae Young Classic tournament.