Thea Megan Trinidad Büdgen, better known as Zelina Vega, is a standout American professional wrestler and actress. She has Puerto Rican roots and is a top talent in WWE's SmackDown. She also belongs to wrestling groups like Legado Del Fantasma and the Latino World Order.
Vega has won several awards, including the WWE Women's Tag Team Championship. She also won the 2021 Queen's Crown tournament. She is one of only four women to win tag team championships in both WWE and Impact Wrestling. Cassie Lee, Jessie McKay, and Chelsea Green share this honor with her.
Before joining WWE, she wrestled in Total Nonstop Action Wrestling (TNA) as Rosita. There, she won the TNA Knockouts Tag Team Championship with Sarita. She also wrestled in various independent promotions using her real name. In 2017, she debuted in WWE's NXT as Zelina Vega. She mainly managed Andrade "Cien" Almas. WWE released her in November 2020 but re-signed her in less than six months. After winning the Queen's Crown, she changed her ring name to Queen Zelina.
Outside wrestling, she acted in the 2019 film "Fighting with My Family," portraying wrestler AJ Lee. With a growing list of achievements in wrestling and entertainment, Zelina Vega is a name to watch.
Zelina Vega Biography/Wiki Table
| | |
| --- | --- |
| Birth Name | Thea Megan Trinidad |
| Date of Birth | December 27, 1990 (age 32) |
| Place of Birth | Queens, New York City, U.S. |
| Spouse | Malakai Black (m. 2018) |
| Family | Amazing Red (cousin) |
| Ring Names | Divina Fly, Queen Zelina, Rosita, Thea Trinidad, Zelina Vega |
| Billed Height | 5 ft 1 in (155 cm) |
| Billed From | Queens, New York, U.S.; Puerto Vallarta, Mexico |
| Trained By | Javi-Air, Azrieal, Arturo Beristain, Tony Salazar, WWE Performance Center |
| Debut | February 20, 2010 |
Early Life
Born on December 27, 1990, in Queens, New York City, Thea Megan Trinidad is an American with Puerto Rican roots. She fell in love with wrestling at a young age. She often watched matches with her dad, Michael, and her younger brother, Timothy. Wrestling icons like Rey Mysterio and Lita inspired her.
At age 10, Trinidad faced a life-changing event. Her father died in the September 11 attacks. He worked as a telecom analyst for Cantor Fitzgerald and was on the North Tower's 103rd floor. Despite this tragedy and her parents' divorce, her mom, Monique Ferrer, stayed strong. Ferrer worked with StoryCorps to create a short cartoon called "Always a Family." It honors her late husband.
Trinidad credits her father for her career in wrestling. An NBC special, "Children of 9/11," featured her life story on September 5, 2011. Besides wrestling, Trinidad helps children affected by 9/11. She works as a camp counselor for these kids. She also supports charitable causes like Habitat for Humanity with Tuesday's Children, especially after Hurricane Katrina.
Zelina Vega Parents & Siblings
Zelina Vega, born as Thea Megan Trinidad, was raised in a family deeply connected to wrestling. Her father, Michael Trinidad, and her mother, Monique Ferrer, played pivotal roles in her life. She also has a younger brother named Timothy. Her parents divorced but remained amicable, and her father tragically lost his life in the September 11 attacks. Her mother later collaborated with StoryCorps to create a short cartoon, "Always a Family," to honor his memory.
Zelina Vega Nationality & Ethnicity
Born in Queens, New York, Zelina Vega is an American national with Puerto Rican ethnicity. Her cultural background has been a significant influence on her wrestling career, adding a unique flair to her persona in the ring.
Zelina Vega Age: How Old Is Zelina Vega?
As of 2023, Zelina Vega is 32 years old. Born on December 27, 1990, in Queens, New York, she has made significant strides in her career at a relatively young age.
Zelina Vega Height: How Tall Is Zelina Vega?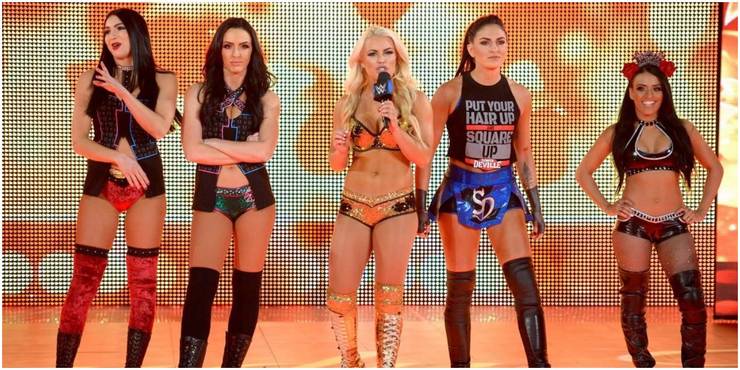 Standing at 5 feet 1 inch, Zelina Vega may not be the tallest in the ring, but she more than makes up for it with her agility and wrestling skills. Her height has never been a barrier to her success, proving that talent knows no bounds.
Zelina Vega Weight: How Much Does Zelina Vega Weigh?
Zelina Vega weighs approximately 50 kilograms (110 pounds). Her athletic build and rigorous training regimen have contributed to her optimal weight, making her a formidable opponent in the wrestling world.
Zelina Vega Physical Appearance & Body Measurements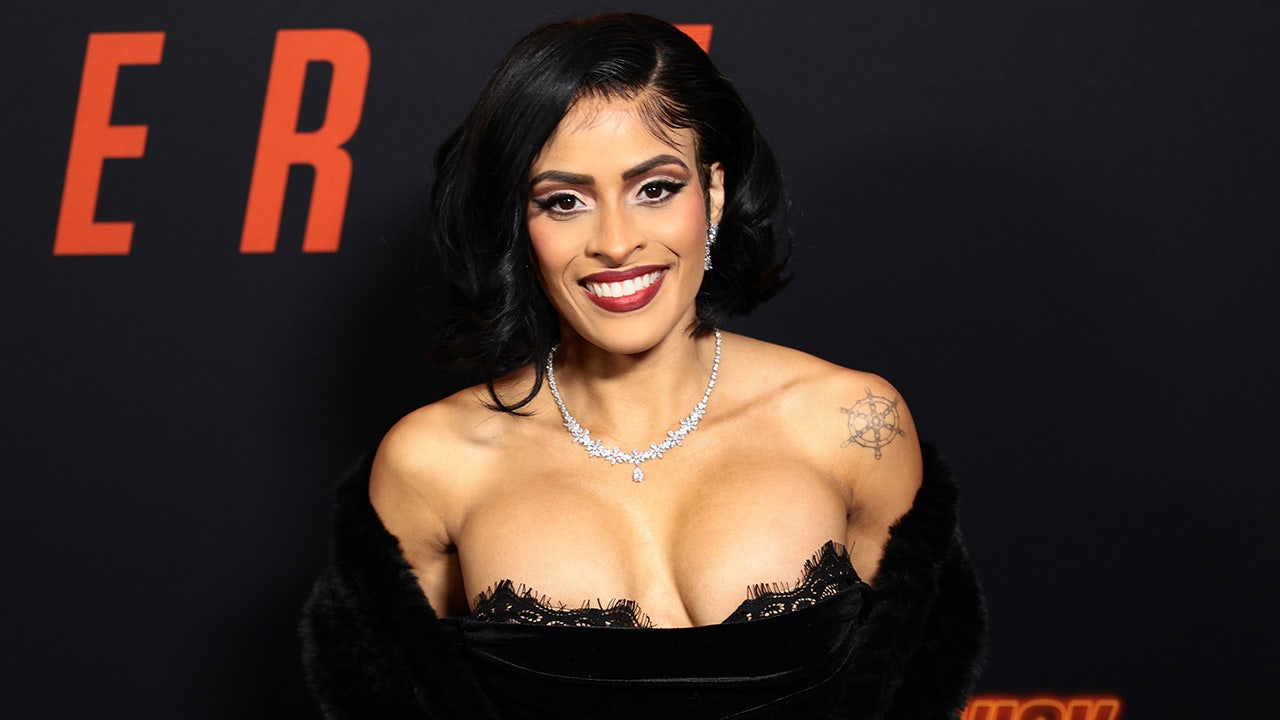 Zelina Vega has an athletic build with body measurements of 32-24-34 inches. Her bra size is 32B, and she has a shoe size that complements her physique. Her well-toned body is a result of intense training and a disciplined lifestyle, making her a standout performer in WWE.
Professional Wrestling Career
Early career (2010–2011)
At just 17 years old, Thea Megan Trinidad, better known by her ring name Zelina Vega, embarked on her wrestling journey, training under esteemed mentors like Javi-Air, Azrieal, and T.J. Perkins. She made her in-ring debut on February 20, 2010, for National Wrestling Superstars (NWS) in Bloomfield, New Jersey. Competing as Divina Fly, she faced off against Brittney Savage, although she didn't secure a win. Her early career also saw her in matches against Niya and in mixed-tag-team bouts, where she teamed up with Judas Young and Mike Dennis.
Transitioning to Women Superstars Uncensored (WSU), Trinidad continued to wrestle as Divina Fly. Her debut match in WSU was yet another clash with Brittney Savage. Despite the loss, Trinidad's career showed promise. Alongside Niya, the duo formed a tag team known as The Fly Girls. They aimed for the WSU Tag Team Championships but fell short against the reigning champions, Cindy Rogers and Jana. However, Trinidad's perseverance paid off when she secured a victory against newcomer Candy Cartwright, employing her signature move, the Fly Cutter.
Total Nonstop Action Wrestling (2011–2013)
In the early stages of her wrestling career, Thea Megan Trinidad, popularly known as Zelina Vega, caught the eye of industry veteran Tommy Dreamer. This led to her participation in a tryout dark match at Total Nonstop Action Wrestling's (TNA) Impact! television tapings on January 11, 2011, where she faced Angelina Love. Shortly after, Trinidad officially signed a contract with TNA and made her debut under the ring name Rosita. She was introduced as the storyline cousin of Sarita and quickly made an impact by winning an eight-woman tag team match alongside Madison Rayne and Tara.
February 2011 was a pivotal month for Rosita and Sarita as they defeated Angelina Love and Velvet Sky, earning a title shot for the TNA Knockouts Tag Team Championship. Their victory at Victory Road against Love and Winter marked the beginning of what Sarita called a "Mexican takeover of TNA." This alliance, later named Mexican America, included Hernandez and eventually Anarquia. Despite facing defeats in six-person street fights and steel cage matches, Rosita and Sarita successfully defended their Knockouts Tag Team Championship against formidable opponents like The Beautiful People (Angelina Love and Velvet Sky) and Madison Rayne and Tara.
However, their reign came to an end when they lost the titles to Ms. Tessmacher and Tara. Subsequent rematches proved unsuccessful, including a steel cage match at Lockdown against Eric Young and ODB. Eventually, the Mexican America alliance disbanded as Anarquia left the promotion and Hernandez turned face. After months of inactivity, Trinidad's contract with TNA expired, and she parted ways with the promotion in January 2013.
Independent Circuit (2011–2017)
In the latter part of 2011, Zelina Vega, wrestling as Rosita, ventured into Mexico to attend an event by Consejo Mundial de Lucha Libre (CMLL), where her storyline cousin Sarita performed as Dark Angel. While in Mexico, she trained under CMLL experts Arturo Beristain and Tony Salazar. Although offered a contract with CMLL, she couldn't sign due to TNA's alliance with rival promotion AAA. Shortly after, Rosita appeared on AAA's TV show, Sin Límite, fueling a storyline that involved TNA wrestlers invading AAA.
In May 2011, Rosita made her debut for Family Wrestling Entertainment (FWE) at the Meltdown pay-per-view, where she faced Winter and lost, with Christy Hemme officiating as the special guest referee. Despite three rematches against Winter, Rosita couldn't secure a win. She returned to FWE in March 2012, competing unsuccessfully for the FWE Women's Championship in a three-way match against Maria Kanellis and Winter.
Fast forward to 2015, Rosita, now going by her real name, Thea Trinidad, was announced as part of the Global Force Wrestling (GFW) roster. She debuted in June 2015, defeating Lei'D Tapa in Jackson, Tennessee. However, her profile was mysteriously removed from GFW's website in August of the same year. Trinidad also made her presence felt in Ring of Honor (ROH), managing Austin Aries, and later joined Shine Wrestling, where she debuted with a win against Stormie Lee. In September 2016, she entered World Wonder Ring Stardom, defeating Kris Wolf in her debut match.
Zelina Vega WWE Career
Managerial role (2017–2020)
In March 2013, Thea Trinidad tried out for WWE. This marked her first step into the world's top wrestling promotion. She made a few WWE appearances, including a role as one of Adam Rose's "rosebuds." She also faced NXT Women's Champion Asuka in 2016. By June 2017, she had signed with WWE and started training at their Performance Center. She debuted on NXT as Zelina Vega and managed Andrade "Cien" Almas. She helped him win the NXT Championship.
In 2018, WWE drafted Vega and Almas to the SmackDown brand. There, she continued to manage Almas and started her own in-ring career. She beat Lana in her first SmackDown match. In 2019, WWE moved her and Andrade to the Raw brand during the Superstar Shake-up. She helped Andrade keep the United States Championship and had her own spotlight moments. These included a Women's Royal Rumble match and a title challenge against Asuka.
In November 2020, WWE released Vega. This happened on the same day she supported wrestling unionization. Reports linked her release to her stance on WWE's third-party platform policy. Despite this, Vega had a versatile WWE career. She excelled as both a manager and a competitor. She engaged audiences and influenced key storylines. Her journey highlights the challenges and complexities in modern professional wrestling.
Queen Zelina (2021–2022)
After an eight-month hiatus, Zelina Vega made a triumphant return to WWE on the July 2, 2021, episode of SmackDown. Her comeback was marked by her participation in the 2021 Women's Money in the Bank ladder match, although she didn't secure the win. Vega continued to make waves, competing in a fatal four-way elimination match for the SmackDown Women's Championship #1 contender spot, ultimately won by Bianca Belair. As part of the 2021 WWE Draft, Vega transitioned to the Raw brand in October.
Before settling into Raw, Vega made history by winning the inaugural Queen's Crown tournament, representing SmackDown. She defeated notable opponents like Toni Storm and Carmella, culminating in a victory over Doudrop at Crown Jewel. This win led to her coronation as "Queen Zelina," complete with a crown, cape, and scepter. Her first major title came when she and Carmella captured the WWE Women's Tag Team Championship, marking a significant milestone in her WWE career.
Queen Zelina's reign alongside Carmella lasted for 131 days, ending at WrestleMania 38 in a fatal four-way tag team match. Despite the loss, her impact on the WWE landscape remained significant. She continued to be a key player in the women's division, participating in high-stakes matches like the Royal Rumble, where she eliminated Sasha Banks. However, her in-ring activities took a pause in May 2022 due to a reported injury requiring surgery.
Legado Del Fantasma and Latino World Order (2022–present)
After a seven-month break, Zelina Vega made a high-impact return to WWE on the October 7 episode of SmackDown, aligning with Legado Del Fantasma and launching an attack on Hit Row. Her comeback was further highlighted when she entered the Women's Royal Rumble match at #21 in January 2023, where she managed to eliminate Xia Li before her own elimination by Lacey Evans.
In a pivotal moment, Vega turned face for the first time in her WWE career on the March 10 episode of SmackDown. She joined forces with Rey Mysterio and Legado Del Fantasma against The Judgment Day. This alliance led to the reformation of the Latino World Order, solidifying her role in one of WWE's most iconic factions. Vega's rising profile earned her a SmackDown Women's Championship match against Rhea Ripley at Backlash, as confirmed by WWE Official Adam Pearce. Although she didn't capture the title, her performance won her a standing ovation from the hometown audience.
Vega continued her momentum by defeating Lacey Evans, securing a spot in the 2023 Women's Money in the Bank ladder match. Despite not winning, her performance was noteworthy. Later, she challenged the reigning WWE Women's Champion Iyo Sky, but fell short of victory.
Championships and Accomplishments
Zelina Vega has amassed an impressive list of championships and accolades that underscore her impact in the world of professional wrestling.
In 2011, Pro Wrestling Illustrated honored her as the Inspirational Wrestler of the Year and also ranked her at No. 31 in their top 50 female wrestlers list. Her prowess was further acknowledged by Sports Illustrated in 2018, where she secured the No. 30 spot in their ranking of the top 30 female wrestlers.
In the realm of Total Nonstop Action Wrestling (TNA), she captured the TNA Knockouts Tag Team Championship alongside Sarita.
However, her crowning achievement came in WWE, where she won the WWE Women's Tag Team Championship with Carmella and was crowned the winner of the WWE Queen's Crown tournament in 2021.
Zelina Vega Husband Tom Büdgen/Malakai Black/ Aleister Black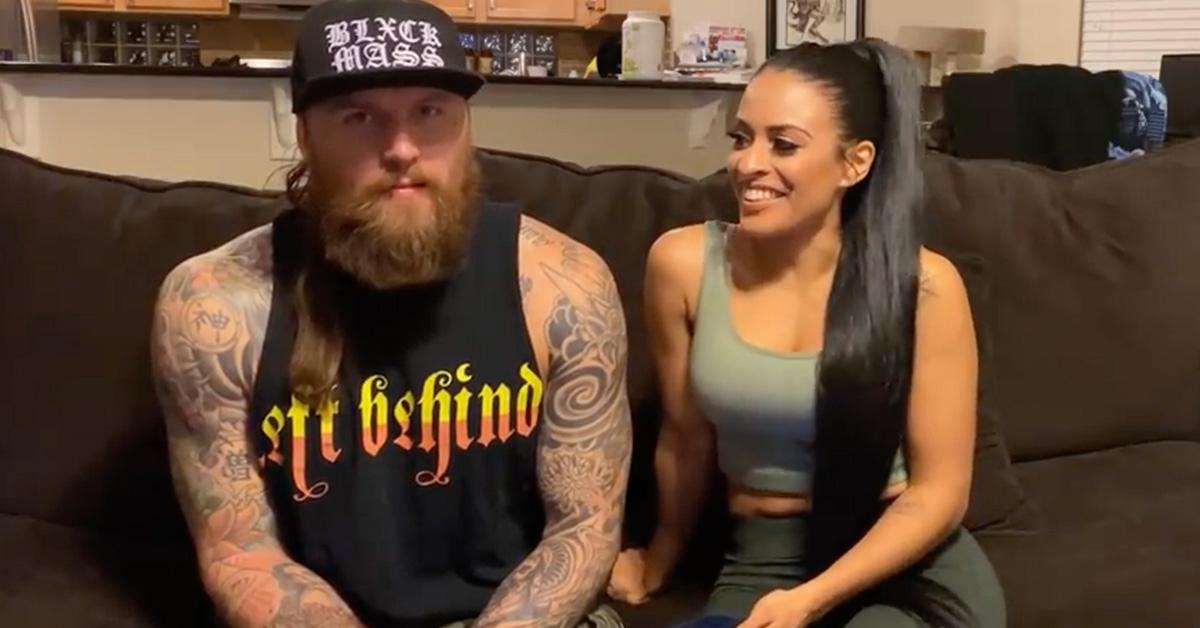 Zelina Vega, also known as Thea Trinidad, is not just a powerhouse in the wrestling world; she's also one half of a wrestling power couple. She is married to Dutch professional wrestler Tom Büdgen, who is widely recognized by his ring name Malakai Black, and formerly known as Aleister Black during his WWE tenure. The couple tied the knot in 2018 and have since become one of the most talked-about pairs in professional wrestling. They reside in Tampa, Florida, balancing their high-octane careers with their personal lives.
Tom Büdgen, aka Malakai Black, has had an illustrious career himself, making the couple a true wrestling dynasty in the making. His enigmatic and dark persona in the ring complements Queen Zelina's own charismatic and strong-willed character, making them a fascinating pair to watch both inside and outside the ring. While Queen Zelina has been making waves in WWE, Malakai Black has also been carving out his own legacy, adding another layer of interest to this wrestling power couple.
As of now, there is no public information about the couple having children, which isn't surprising given their demanding careers. Both are focused on their professional endeavors, with Queen Zelina recently winning accolades in WWE and Malakai Black making his presence felt in other wrestling promotions. Their union is not just a marriage but a partnership of two individuals at the peak of their careers, supporting each other in their respective journeys.
Zelina Vega Salary, Earnings & Net Worth 2023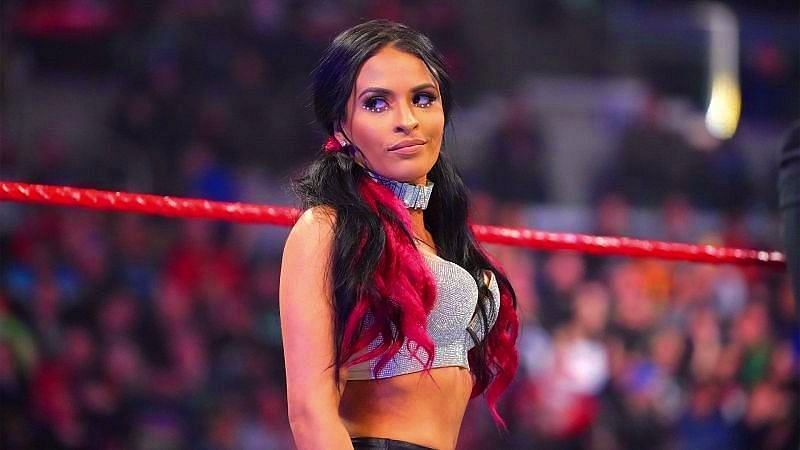 In 2023, Zelina Vega's financial standing is a topic of much interest, with estimates of her net worth ranging from $2 million to as high as $5 million. Her income is not solely derived from her wrestling career; she also earns from acting, modeling, and social media engagements. Reports suggest that her annual salary could be around $150,000, although exact figures are not publicly disclosed. These earnings make her one of the more financially successful talents in WWE.
Zelina Vega Instagram
You can follow Zelina Vega on Instagram @zelinavegawwe. On her account, she shares behind-the-scenes glimpses of her wrestling career, workout routines, and personal life. It's a great way to stay updated on her latest endeavors and achievements.
Zelina Vega FAQs
Who is Zelina Vega?
Zelina Vega is the ring name of Thea Megan Trinidad, an American professional wrestler and actress. She is currently signed with WWE and has also worked in other wrestling promotions like TNA.
What is Zelina Vega's real name?
Zelina Vega's real name is Thea Megan Trinidad.
When and where was Zelina Vega born?
She was born on December 27, 1990, in Queens, New York City, U.S.
What is Zelina Vega's heritage?
Zelina Vega is of Puerto Rican descent.
Who has Zelina Vega managed in WWE?
In WWE, Zelina Vega has managed Andrade "Cien" Almas. She played a pivotal role in his career, including helping him win the NXT Championship.
What championships has Zelina Vega won?
In WWE, she has won the Women's Tag Team Championship with Carmella and the Queen's Crown in 2021. In TNA, she won the Knockouts Tag Team Championship with Sarita.
Why was Zelina Vega released from WWE in 2020?
She was released from WWE in November 2020, reportedly due to her resistance against WWE's policy on third-party platforms. Her release came on the same day she expressed support for unionization in professional wrestling.
When did Zelina Vega return to WWE?
Zelina Vega returned to WWE on the July 2, 2021, episode of SmackDown.
What movies has Zelina Vega acted in?
Zelina Vega portrayed fellow wrestler AJ Lee in the 2019 biographical film "Fighting with My Family."
What significant life event influenced Zelina Vega's career choice?
Zelina Vega lost her father in the September 11 attacks when she was just 10 years old. She has often attributed her decision to pursue a career in wrestling to her late father.