The Kentucky Derby of 2023 is now a piece of history.
While there is still much analysis of the race that can be done and ongoing stories tied into the race, it has been run. The tests have been passed. We have declared a winner and draped him in roses.
We woke up on the first Sunday in May, and racing went on.
What is the next step for three-year-old Thoroughbreds in the United States? The eyes of the racing world now turn to Baltimore, Maryland, the home of the Preakness Stakes.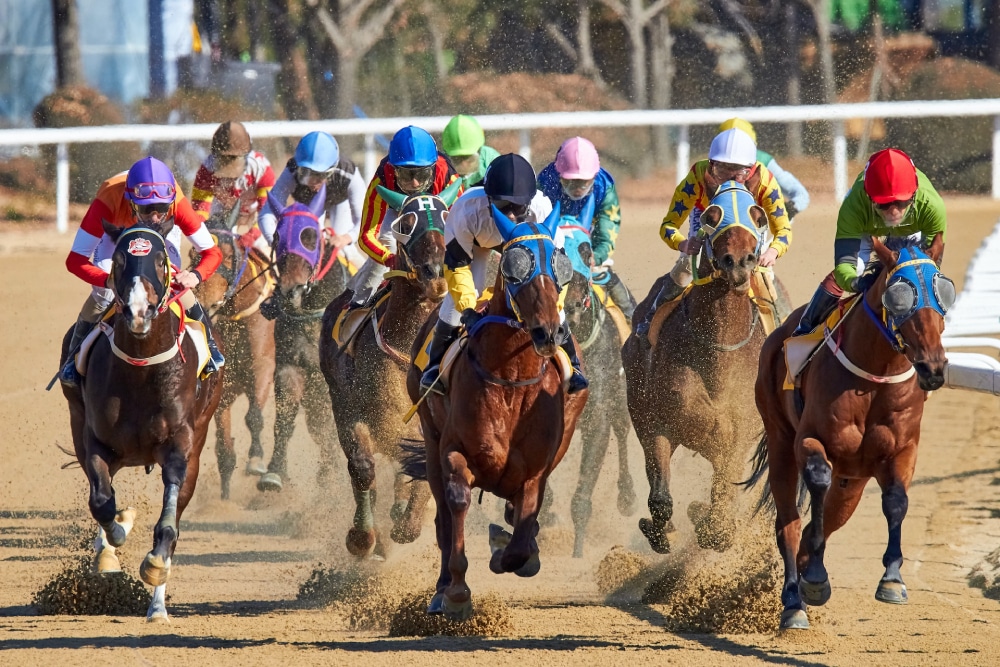 This contest, held at 1 3/16th mile at Pimlico Race Course, is the second leg of the United States Triple Crown of Thoroughbred racing. It is two years older than the Kentucky Derby, having first been run in 1873 (but its hiatus between 1891-1893 mean that it actually has one fewer running than the Derby). It is also a prestigious and historic race in its own right; horses who won the Preakness without winning (or in some cases even entering) the Kentucky Derby include Man o'War, Native Dancer, Damascus, Afleet Alex, and Rachel Alexandra.
Let's have a look at the main players in the cast for this year's Preakness.
Mage
According to TwinSpires, the favourite, first and foremost, of course, is the Kentucky Derby winner.
Mage is one of the least experienced Kentucky Derby winners of modern times; like Justify in 2018, Mage only has four-lifetime starts. Also like Justify, those four starts are spread between only two tracks. Prior to his winning charge in the Kentucky Derby at Churchill Downs, Mage, trained by Gustavo Delgado, had only raced at Gulfstream Park in Florida. His races there consisted of a maiden win, a fourth in the Grade II Fountain of Youth Stakes, and a close second to champion Forte in the Grade I Florida Derby.
Looking at the speed figures for each race shows that Mage has improved his performance with every start, even if he has only won twice. The figures also increase steadily rather than spiking, indicating that they are part of a pattern of improvement rather than a fluke.
Mage is by Good Magic, who chased Justify home in the Kentucky Derby and finished fourth in the Preakness. His dam, Puca, placed second in the 2015 edition of the Grade II Gazelle Stakes for three-year-old fillies. She, in turn, is by Big Brown, who famously won the Kentucky Derby and the Preakness in 2008.
First Mission
Amazingly, First Mission enters the Preakness with an even lighter racing history than Mage. The Brad Cox trainee has only had three previous lifetime starts, although he currently has experience at more tracks than Mage or Justifies did at this point in their careers.
His first two races were at Fair Grounds in Louisiana. He did not win at first asking, although he was second by less than a length to stablemate Bishops Bay. A month later, he won by nearly seven lengths. Cox knew at this point that he would not likely be able to earn enough points to get into the Kentucky Derby, but he pointed him to the Grade III Lexington Stakes at Keeneland anyway. He responded with a hard-fought half-length win as the race favourite.
First Mission is a son of 2007 Kentucky Derby winner Street Sense, who had also been the 2006 Eclipse Champion Two-Year-Old. His dam, Elude, is a winning daughter of multiple Grade I winners and leading sire Medaglia d'Oro.
Disarm
A fellow graduate of the Lexington Stakes, Disarm was the only horse entered in the race who had amassed enough qualifying points to have a legitimate shot at entering the Kentucky Derby. He had previously run second to Kingsbarns in the Grade II Louisiana Derby after breaking his maiden at second asking and finishing second in an allowance race. He only did as much as he had to in the Lexington, securing third and earning a berth to the Derby.
There, the Steve Asmussen charge fought through traffic and finished a good fourth. Although he only has a maiden win to his name and has not shown the same quality as horses like Mage and Forte, his speed figures also indicate that he is showing improvement with every start.
Disarm's sire is Gun Runner, who was Horse of the Year for 2017, a year that included five victories (four of them being in Grade I races) and only one loss, a second in the Group I Dubai World Cup. Gun Runner has had an amazing start as a sire, getting champion Echo Zulu, Preakness winner Early Voting, and graded stakes winners Cyberknife, Taiba, Society, and Gunite despite only having two crops come to the races. Disarm's dam, Easy Tap, is a daughter of leading sire and noted stamina source Tapit. Also Read – Find Your Path: 5 Fitness Careers for Health Enthusiasts
National Treasure
National Treasure is the only horse on this list who was a prominent runner at age two. Although he transitioned to Tim Yakteen's barn for a brief time as a Kentucky Derby hopeful, when that did not pan out, he returned to Bob Baffert's barn. Like Disarm, National Treasure has only won once, in his debut. However, he was thrown straight into Grade I company thereafter and acquitted himself well: he was second to stablemate Cave Rock in the Grade I American Pharoah Stakes, and the two of them both finished behind Forte in the Breeders' Cup Juvenile.
As a three-year-old, National Treasure finished third in the Grade III Sham Stakes before encountering foot trouble and needing to scratch from the Grade II San Felipe Stakes. Yakteen was then able to get the colt back on track in time for the Grade I Santa Anita Derby, but he failed to fire and finished a fairly dull fourth in the field of eight. His speed figures suggest he may have hit a plateau with his performances, but his stakes experience will be a factor in his favour.
National Treasure is a son of Quality Road, a colt who was among the leaders of his generation in 2009 and 2010. Although Quality Road never won beyond 1 ⅛ miles, he has a total of five Grade I wins to his name and his include champions Corniche, Caledonia Road, and Abel Tasman. National Treasure's dam, Treasure, is also a daughter of Medaglia d'Oro.