Ilie Nastase Career Stats
Ilie Nastase is one of the most gifted and fluid players in the history of tennis. A player with great touch, speed and all the strokes. Unfortunately Nastase was perhaps more well known for his temper on the court instead of his great skills. He won the U.S. Open over Arthur Ashe in 1972 and the French Open in 1973.
Ilie Năstase, born 19 July 1946) is a Romanian former world No. 1 professional tennis player, and one of the world's top players of the 1970s. He was ranked world No. 1 from 23 August 1973 to 2 June 1974.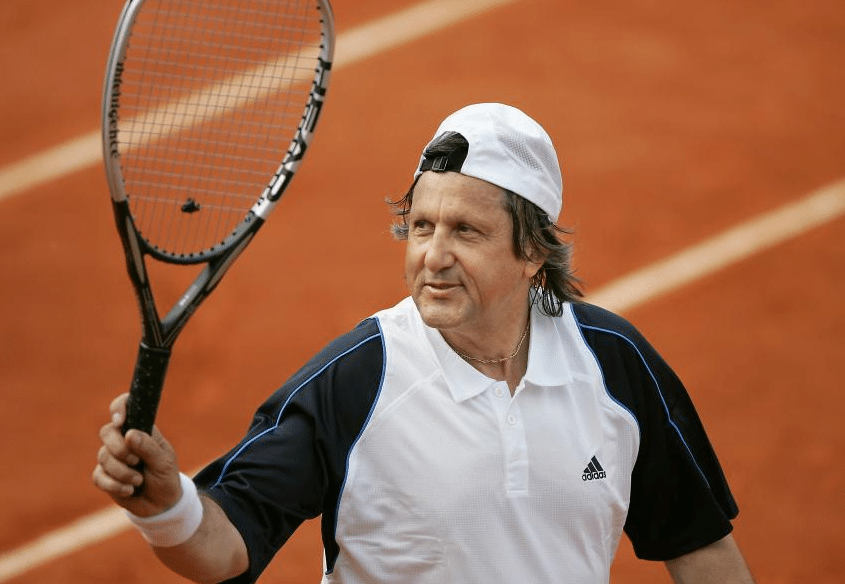 He was inducted into the International Tennis Hall of Fame in 1991. Năstase won seven Grand Slam titles: two in singles, three in men's doubles and two in mixed doubles. He also won four Masters Grand Prix year-end championship titles and seven Grand Prix Super Series titles (1970–73), the precursors to the current Masters 1000.
First player to become the World No. 1 in the ATP Computer Ranking from 23 August 1973 to 2 June 1974.
Twice runner-up in Wimbledon (1972, 1976).
First tennis professional to sign an endorsement contract with Nike (1972).
Ran unsuccessfully for mayor of his hometown Bucharest (1996).
He had a sense of humor in his on-court shenanigans, but frequently did not know when to stop and lost control of himself. "I am a little crazy," he said, "but I try to be a good boy." His comrade, Tiriac, amicably put it this way: "His brain is like a bird in a cage." He was expert at putting the ball just beyond an opponent's reach, and applying discomforting spin. In 1976 he was the first European to exceed $1 million in career prize money, and had a career total of $2,076,761.
Career
His record in the season-closing Masters was spectacular. He won four times, 1971-73, '75, and was finalist to Guillermo Vilas in five sets in 1974. Born July 19, 1946, in Bucharest, he was the greatest of his country, the first Romanian of international prominence. Largely through his play that small country rose to the Davis Cup final on three occasions, 1969, '71-'72, losing each time to the U.S. At the end of 1985 after playing Davis Cup since 1966, Nastase ranked second behind Italian Nicola Pietrangeli among the busiest players in Cup history, the only men to have won more than 100 matches.
Nastase, 11 wins behind, captured 109: 74-22 in singles, 35-15 in doubles for 52 series. Romania was favored to lift the Cup from the U.S. in the 1972 finale on the friendly slow clay of Nastase's hometown. However, his nervousness combined with an inspired performance by Stan Smith added up to an 11-9, 6-2, 6-3 victory for the American in the crucial opening singles, and the U.S. kept the Cup, 3-2.
Nastase Tennis
He first came to the limelight after reaching the finals of the French Open Men's Doubles finals. He during the decade of the 1970s concentrated more on singles and reached Wimbledon finals twice but failed to lift the trophy in his illustrious tennis career.
He though had the privilege of winning the US and the French Open titles and finished the career with 2 Grand Slams to his name. After the rankings were introduced, he reached the number one rankings for the first time in his career in August 1973. He won World Tour finals four times in his career.
On the court he was the most controversial player and his career was ruined by disqualifications, fines, and suspensions. Off the court though, he was a likable and good-natured person. He became the first European in the Open era to received prize money in excess $1 million in 1976. He was inducted into the Tennis Hall of fame in the year 1991.
Ilie Nastase Serena Williams
American tennis player Serena Williams has accused Ilie Nastase of racially abusing her and her unborn baby as she made her first response to comments the Romanian former world No1 made about her.
Ilie Nastase has issued an apology for his conduct during Romania's Fed Cup tie against Great Britain last weekend. The 70-year-old former world No1 has already been provisionally suspended by the International Tennis Federation after a series of incidents in Constanta.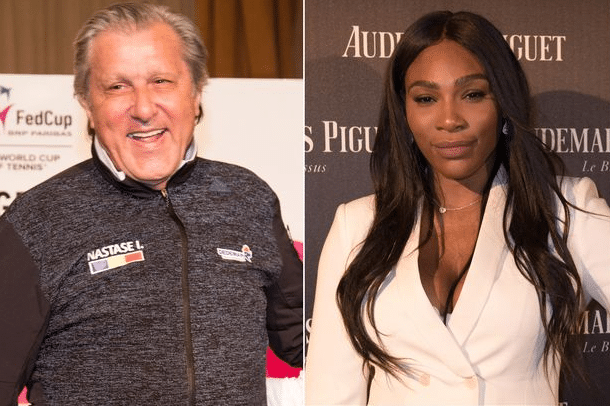 "At the press conference I was asked what opinion I had about Serena being pregnant. I then found out for the first time (she was pregnant) and my reaction was spontaneous," Nastase wrote on Facebook, according to the Associated Press. At a Fed Cup press conference last Saturday, Nastase said the following in response to a question about Williams' pregnancy, according to ESPN.com: "Let's see what color it has. Chocolate with milk?"
Ilie Nastase Comments
The tribunal also backed the ITF's judgment that Nastase made "abusive and threatening comments to a member of the accredited media" and "racially insensitive" remarks about the possible skin color of the then-unborn baby of Serena Williams.
Nastase said he welcomed the "conclusion that I am not a racist, nor that I had any racist intentions when I made the remark in relation to Ms Serena Williams' child." Williams had called Nastase's comments toward her racist and his verbal abuse of players as sexist. Nastase apologized last April in a statement on Facebook.
"While I have learned my lesson from this experience, I also hope that now (the ITF) will realize that their treatment toward me was exaggerated," he said in the statement Wednesday.
How Old Is Ilie Nastase?
73 years (19 July 1946)
Ilie Nastase, Nastase also spelled Năstase, (born July 19, 1946, Bucharest, Romania), Romanian tennis player known for his on-court histrionics and outstanding Davis Cup play. He was the first European to surpass $1 million in career prize money, and he was ranked number one in the world in 1973.
How Much Is Ilie Nastase Worth?
Ilie Nastase Net Worth: Ilie Nastase is a Romanian retired professional tennis player who has a net worth of $15 million. Ilie Năstase was born in Bucharest, Romania in July 1946. He started his amateur career in 1966 and turned professional in 1969. During his career Nastase won over $2 million in prize money.
How Many Grand Slams Did Nastase Win?
2
How Many Career Match Wins Does Ilie Năstase Have?
Ilie Năstase has the ninth-most career match wins in the Open Era (842 total # of wins). The top 10 Open Era men's singles tennis players by career match wins are: Jimmy Connors, Roger Federer, Ivan Lendl, Guillermo Vilas, Rafael Nadal, John McEnroe, Andre Agassi, Novak Djokovic, Ilie Năstase, Stefan Edberg.