In the world of sports, especially in the NBA, the spotlight often shines brightest on the players, illuminating their triumphs, talents, and sometimes, their tribulations. However, behind every successful athlete, there's a support system, often led by family members who have played pivotal roles in their journey. One such influential figure is Jamie Morant, the mother of NBA sensation, Ja Morant.
Born on December 20, 1975, Jamie Morant is not just known for being the mother of the Memphis Grizzlies' star player but also for her own athletic pursuits. A former point guard and a softball player, Jamie's roots in sports run deep. Her influence on Ja's career is undeniable, from refining his shooting skills in their backyard to imparting mental strategies for handling on-court challenges. Their bond, characterized by mutual respect and deep affection, is evident in Ja's tributes to her, both in interviews and tattoos.
However, like many stories that touch the limelight, Jamie's journey with her son hasn't been without its share of controversies. Recent events have thrust her into the media's eye, linking her to some of Ja's off-court incidents. From altercations at shopping malls to the speculation of her influence on Ja's behavior, Jamie's role in her son's life has been under intense scrutiny.
As we delve deeper into the life of Jamie Morant, we'll explore the multifaceted relationship she shares with her son, understanding the blend of support, guidance, and challenges that come with being the mother of an NBA superstar.
Who is Ja Morant's Mother, Jamie Morant?
Jamie Morant, often recognized in the limelight as the mother of NBA prodigy Ja Morant, is a figure of strength, resilience, and inspiration. Born on December 20, 1975, in Sumter, South Carolina, Jamie's connection to sports is not merely through her son but also through her own athletic endeavors. In her younger years, she showcased her prowess on the basketball court as a point guard and later, during her college days, as a softball player.
Beyond her athletic achievements, Jamie's influence in shaping Ja's basketball journey is profound. From early morning practice sessions to instilling mental fortitude, she has been a guiding force behind Ja's rise to NBA stardom. Their bond, deeply rooted in mutual respect and unwavering support, is a testament to the pivotal role parents play in the success of their children.
However, Jamie's identity extends beyond just being an NBA star's mother. She's a symbol of dedication, a beacon of guidance, and most importantly, a mother whose life story intertwines with challenges, triumphs, and an undying passion for sports. In understanding Ja Morant's success, one cannot overlook the indomitable spirit and influence of Jamie Morant.
Jamie Morant: A Glimpse into Her Early Life and Education
Born in the heart of Sumter, South Carolina, Jamie Morant's early years were marked by a deep connection to sports and academia. Growing up, she embraced the town of Appling, Georgia, as her true home. Jamie's athletic journey began at Harlem High School, where she donned the jersey as a point guard for the women's basketball team, showcasing her innate talent and leadership on the court.
Beyond the basketball arena, her academic pursuits led her to Claflin University in Orangeburg, South Carolina. Here, Jamie not only furthered her passion for sports by playing softball but also delved deep into the world of science. Earning a bachelor's degree in Biology, she balanced her time between rigorous academic commitments and the demands of being a student-athlete. Jamie Morant's early life paints a picture of determination, passion, and a relentless pursuit of excellence.
Jamie Morant: Age and the Wisdom it Brings
Born on December 20, 1975, Jamie Morant gracefully embraces the age of 47. With each passing year, she has accumulated experiences, wisdom, and insights that have not only shaped her own journey but have also played a pivotal role in guiding her son, Ja Morant, to NBA stardom. Her age stands as a testament to her resilience, dedication, and the rich tapestry of life lessons she brings to the table, both as an individual and as a guiding figure in her family.
Jamie Morant's Family: The Bedrock of Her Personal Life
In the intricate tapestry of Jamie Morant's life, family threads are the most vibrant and defining. Married to Tee Morant, a barber with his own basketball history, Jamie's personal life is a harmonious blend of love, sports, and shared dreams. Their union is blessed with two children, each reflecting the Morant legacy in their unique ways.
Ja Morant, their son, has taken the NBA by storm, with his exceptional skills and passion for the game. His rise to stardom is often attributed to the foundational support and guidance he received from both Jamie and Tee. On the other hand, Teniya Morant, their daughter, mirrors the family's love for basketball, showcasing her own flair and enthusiasm for the sport.
The Morant household is further enriched with the joyous addition of Ja's daughter, Kaari Jaidyn Morant, making Jamie a proud grandmother. This close-knit family, bound by shared experiences, values, and aspirations, stands as Jamie's anchor, providing her with strength, motivation, and a sense of purpose.
Beyond the glitz of the NBA and the public eye, Jamie's personal life is a testament to the importance of family bonds, mutual respect, and shared dreams. It's a narrative of love, challenges, triumphs, and the unbreakable bond that ties the Morant family together, making them a beacon of inspiration for many.
Jamie Morant: The Guiding North Star in Ja Morant's Basketball Odyssey
Ja Morant's relationship with his mother, Jamie, is a testament to the deep bond they share. From his early years, Jamie has been a pivotal figure in Ja's life, guiding him both on and off the court. Their bond is so profound that Jamie once remarked, "Denzel Washington once said, 'A mother is a son's first true love. A son, especially their first son, is a mother's last true love,'" expressing how Ja transformed her life in ways he might not even realize.
Jamie wasn't just a supportive mother; she was an athlete in her own right. She played basketball during her younger years, taking on the role of a point guard. Additionally, Jamie showcased her athletic prowess in college by playing softball. While Tee Morant, Ja's father, often claims that Ja inherited his basketball skills from him, Jamie playfully counters that everything Ja knows, apart from dunking, comes from her. She emphasizes the importance of being a team leader, loving the sport, and possessing mental toughness, qualities she believes she passed on to her son.
In recent times, Jamie Morant found herself in the spotlight due to some cryptic social media posts by Ja. He shared messages expressing love for his parents and daughter, followed by a mysterious "bye" post. While the context and implications of these posts remain uncertain, they highlight the close-knit relationship Ja shares with his family, especially his mother.
Ja Morant's Mother: Jamie Morant's Influence and Controversies
Ja Morant, the young NBA star, has been in the limelight not just for his exceptional basketball skills but also for controversies off the court. He has been seen in videos carrying guns and has faced suspensions by the Grizzlies for displaying weapons on Instagram Live. Additionally, there have been incidents involving confrontations with high school students and allegations of pointing guns at Indiana Pacers employees.
The behavior of Ja Morant has led many to speculate about the influences in his life. Some have directly blamed his mother, Jamie Morant, for his actions. A notable incident occurred at a mall where Jamie Morant had an altercation with a shoe store clerk. She reportedly called her son, Ja Morant, for assistance. Following this, Ja Morant and a group of his friends arrived at the shoe store, leading to further confrontations.
Popular comedian and radio host Corey Holcomb shed light on this incident, questioning why Jamie would call her son to a location where she had a disagreement with an employee. There have been suggestions of resentment and jealousy from Jamie Morant and Tee Morant, Ja's father, over their son's success.
Amid these controversies, Ja Morant shared a series of disturbing photos on Instagram, which appeared to be a farewell. This led to concerns about his well-being, prompting a welfare check by the police. They confirmed that Ja was well and had decided to take a break from social media.
Jamie and Tee Morant: A Partnership Beyond Basketball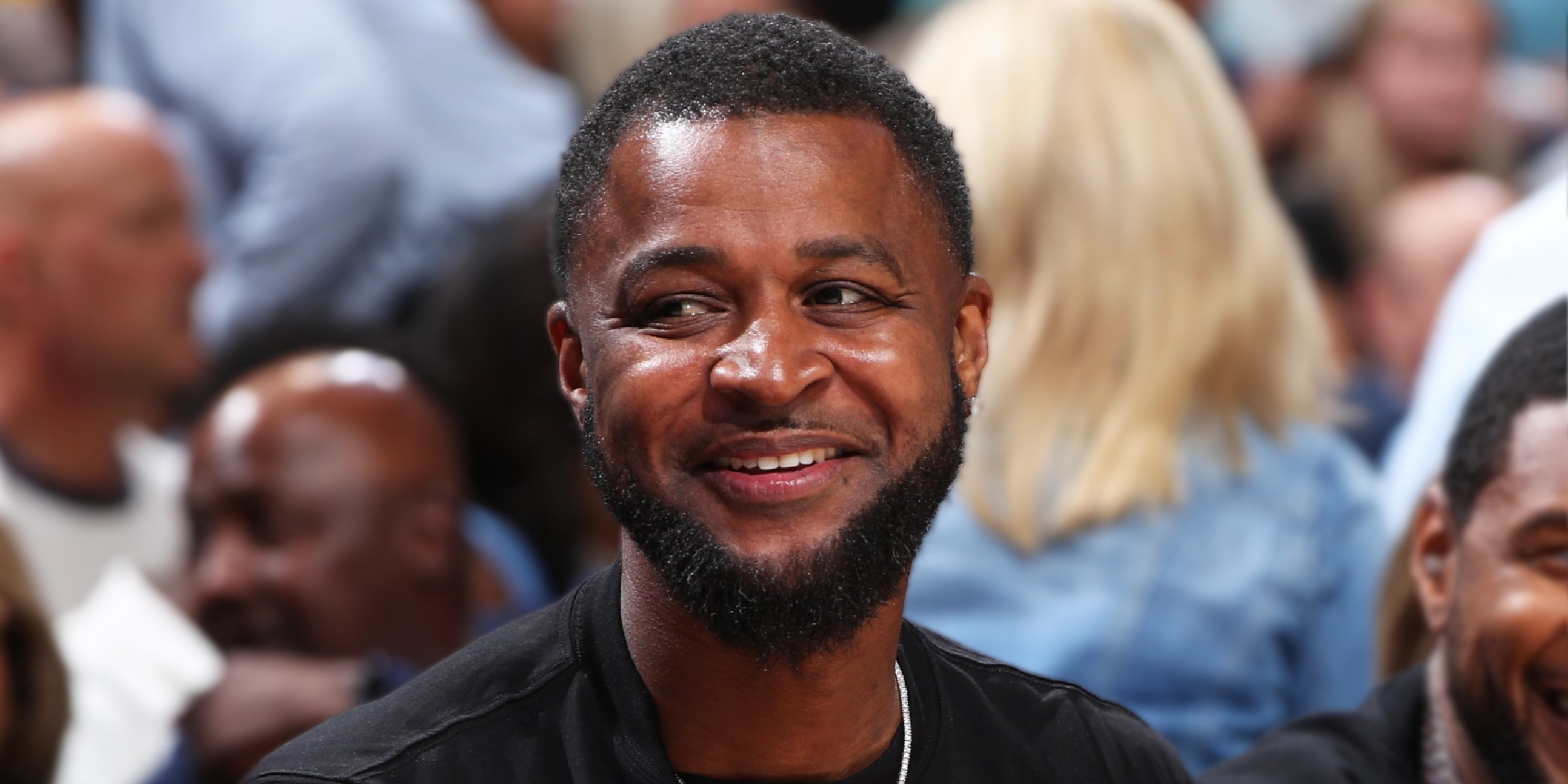 The love story of Jamie and Tee Morant is one that intertwines passion, sacrifice, and a shared dream. Both Jamie and Tee were student-athletes, with basketball playing a significant role in their lives. Their paths crossed at Claflin University, where they both pursued their love for the sport. Tee, much like Jamie, showcased his basketball prowess, even playing semi-professionally. However, life had other plans. When Jamie became pregnant with their son, Ja Morant, Tee made the selfless decision to forgo potential overseas basketball opportunities to support his growing family.
Tee transitioned into the role of a barber, providing for his family while also setting up the 'Tee Morant Skills & Agility Training Camp.' His influence on Ja's basketball journey is undeniable. As Ja's first coach, Tee's rigorous training methods and high expectations shaped the young athlete's mindset and skills, molding him into the NBA star he is today.
Their bond, however, goes beyond the basketball court. Jamie and Tee's relationship, which blossomed during their college days, has stood the test of time. Together, they have raised two children, Ja and Teniya Morant, and have even embraced the joys of grandparenthood with Ja's daughter, Kaari Jaidyn Morant. Through the highs and lows, the couple's unwavering support for each other and their family showcases a partnership built on love, trust, and shared aspirations. In the world of sports, where individual achievements often take center stage, the story of Jamie and Tee Morant serves as a heartwarming reminder of the power of family and collaboration.
FAQs
Who is Jamie Morant?
Jamie Morant is best known as the mother of NBA superstar Ja Morant. She was a former high school basketball player and has played a significant role in guiding and influencing her son's basketball career.
Where was Jamie Morant born?
Jamie Morant was born in Sumter, South Carolina, on December 20, 1975. However, she regards Appling, Georgia, as her hometown, where she spent most of her early life.
Did Jamie Morant play basketball?
Yes, Jamie Morant was a point guard for the women's basketball team at Harlem High School in Georgia. She also played softball during her college years at Claflin University.
Who is Jamie Morant's husband?
Jamie Morant is married to Tee Morant, a former basketball player who later became a barber. The couple met during their time at Claflin University.
How many children do Jamie and Tee Morant have?
Jamie and Tee Morant have two children: Ja Morant, the NBA player, and Teniya Morant.
Is Jamie Morant a grandmother?
Yes, Jamie Morant is a proud grandmother to Ja's daughter, Kaari Jaidyn Morant.
What role did Jamie play in Ja Morant's basketball career?
Jamie Morant has been instrumental in Ja's basketball journey. She spent countless hours with him in the gym, refining his shooting techniques and teaching him the nuances of the game. Her words of encouragement, "Beneath No One," have been a guiding mantra for Ja.
Did Jamie pursue a professional sports career?
While Jamie was an athlete during her school and college days, she did not pursue a professional sports career. She shifted her focus to family after becoming pregnant with Ja.
What is Jamie Morant's educational background?
Jamie Morant completed her high school education at Harlem High School in Georgia. She later attended Claflin University in Orangeburg, South Carolina, where she earned a bachelor of science degree in Biology.
How has Jamie Morant influenced Ja's attitude towards basketball?
Jamie has instilled values of dedication, discipline, and resilience in Ja. She taught him both the skills and the mental aspects of the game. Her belief in Ja's potential and her constant encouragement have been foundational in shaping his approach to basketball and life.