Allyson Michelle Felix is the most decorated track Athlete in the history of America. She has created and broken numerous records throughout her career. Felix is not just a sports person but also a strong force of change. She has used her position to bring changes for the welfare of women, especially mothers in the black community. Read along to know her story.
Allyson Felix Age
Allyson Felix was born on November 18, 1985 in California. She is currently 37 years of age.
Allyson Felix Height
Allyson Felix is not exactly very tall. Her height is 5 feet 6 inches tall and her body weight is 55 kilograms.
Early Life
Upbringing and childhood
From a very young age, Felix showed signs of athletic excellence. Her parents were Paul and Marlean Felix. Neither of them was related to sports or athletics in any way. Her father, Paul Felix, was an ordained minister and a professor of the New testament. He was also a professor at The Master's Seminary in Sun Valley, California. Her mother, on the other hand, was an elementary school teacher at Balboa Magnet Elementary school. Felix is not a single child of her parents. She has an older brother named Wes Felix, who is also a gifted athlete.
Allyson Felix was brought up as a devout Christian by her father. Likewise, she still carries her Christian roots to date no matter how much success she has achieved. She describes her running ability as a "gift that God has blessed me with," and she wishes to use her gift to the fullest. On numerous occasions, Felix has thanked her Christian upbringing.
She thinks growing up under the guidance of Christian parents has helped her to remain grounded. In addition, Felix considers her parents to be role models for their hard work and dedication to their faith. She also thanks most of her early life success to her sprint coach Jonathan Patton, who prepared her in high school.
Early Career
Felix was not always aware that she had a gifted athletic ability. Allyson Felix attended the Los Angeles Baptist High School in California. She discovered her ability for the first time after participating in track for the first time in ninth grade. Back then, Felix was 14 years old. Just ten weeks after trying out track for the first time, she participated in CIF California State Meet 200m track race. Subsequently, she came 7th in the race with barely any kind of prior training. Therefore she started preparing herself as a sprinter and realized her talent in athletics. After her first State Meet race, she went on to win the meet five times in the upcoming seasons.
Allyson Felix Records and Some of Her achievements as a Junior Athlete
Felix received her first-ever international title in 2001 at the Debrecen World Youth Championships for 100 meter track.
Track and Field sports magazine named Allyson Felix the national girls' "High School Athlete of the Year."
Allyson finished in the second position in the 200 meter track race at the US Indoor Track & Field Championships in 2003.
Allyson made history by running 200 meters in just 22.11 seconds in front of 50,000 people in Mexico City. Thereafter, the run became the fastest ever performance by a junior athlete. After this event, she became a phenomenon overnight, and people from all over the globe started recognizing her.
In 2003, Felix made headlines as she signed a professional contract with Adidas even before entering college. Adidas did not just pay her a good sum for the collaboration. At the same time, they picked up her college tuition at the University of Southern California.
Again in 2003, Allyson Felix participated in the 200 meters sprint at the U.S. national championships. She finished the sprint in just 22.59 seconds and thus came second in the 200 meter sprint.
Allyson's phenomenal performance at the U.S. national championships earned her a spot at the 2003 Paris World Championships. In the 200 meter sprint, Allyson finished in the sixth position after completing the race in 23.33 seconds.
Why did Some Students Call Allyson Felix "Chicken Legs"?
The students at Allyson's high school called her "chicken legs." And Why? Felix had an athletic body. Her height is five foot six inches, and her weight was around 125 pounds. However, in proportion to the rest of her body, her legs are skinnier. Therefore, this was the reason she got such a strange nickname. But on the brighter side, her legs did not stop her from speeding up. Rather they increased her speed and strength. Believe it or not, as a high school student, Felix was able to deadlift 270 pounds.
Allyson Felix and Her Career as a Senior Athlete
2004: Allyson Felix and her First Olympic medal
Right now, Allyson Felix is the most celebrated U.S. track athlete, with 11 Olympic medals under her belt. However, every legend has a starting point that determines the rest of their career. For Felix, it was her first Olympic medal. At the 2004 summer Olympics, Allyson Felix took part in the 200 meters at the age of 18.
She finished the race in just 22.18 seconds and stood in second position, behind Jamaican Athlete Veronica Campbell. In addition, she also set a world junior record of 200 meters. After such a successful first Olympics, it's simple to assume that Felix was overwhelmed with joy, but in contrast, things were different. After the race, Felix was found in tears. Maybe she expected something more from herself.
2005-2007: Allyson Felix and the World Championships
Felix never fails when it comes to making and breaking records. In 2005 Allyson became the youngest athlete to win a gold medal in 200 meters at the world championships. She achieved this feat at the 2005 Helsinki World Championships.
Next, she successfully defended her title at the 2007 Osaka World Championships. In addition, she also defeated her long time rival Veronica Campbell by finishing the 200 meter sprint in just 21.81 seconds. It was the first time she finished a 200 meter race in under 22 seconds. And, of course, she was elated at her achievement.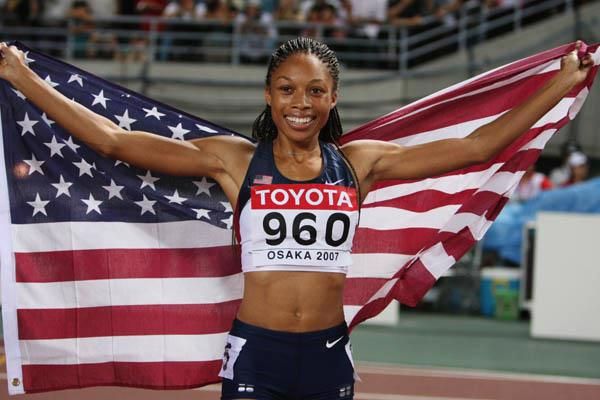 In the post race interview, Felix stated her excitement at her excitement and called it "not an easy road." She also revealed her future plans of preparing well for the then-upcoming Beijing Olympics and winning a gold there.
Later on, at the 2007 Osaka World Championships, Felix won two more gold medals. One for the women's 400 meter track and the other for the women's 400 meter relay. After this achievement, Allyson Felix became the second to win three gold medals in a single IAAF World Championship. The first woman to achieve this feat was German sprint track and field athlete Marita Koch.
2008: Allyson Felix and the 2008 Summer Olympics
The 2008 Beijing Olympics proved to be quite challenging for Allyson Felix. This time apart from participating in the 200 meter track and 400 meters relay, she also went for the 100 meter track. Unfortunately, she could not qualify for the 100 meter track despite her best efforts.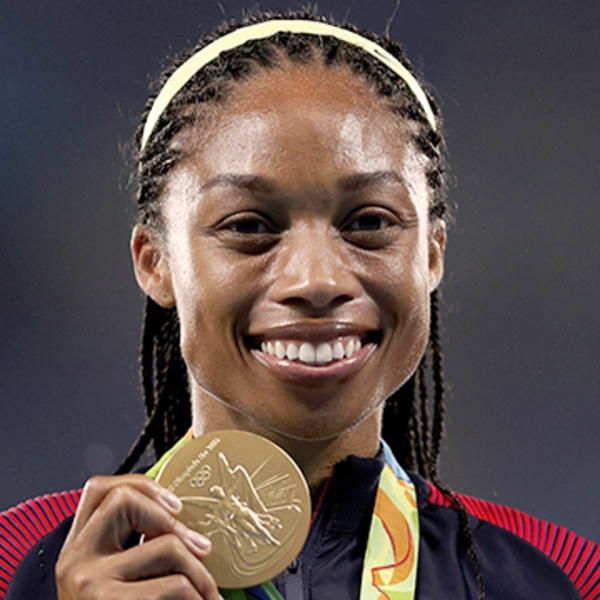 In the finals of the 200 meter race, Felix was again face to face with her long time rival Veronica Campbell. This time Felix put in her best performance in terms of time and finished the race in just 21.93 seconds. However, even this was not enough to win a gold as Campbell gave the best performance of the decade and finished in 21.74 seconds. This defeat was difficult for Allyson Felix, and she worked extremely hard for it and missed the gold for just a few seconds. After the loss, Felix was again in tears.
Nonetheless, Felix did not break down completely after her first loss. Instead, she aspired to avenge her loss in the 400 meter relay. Allyson Felix participated in the 400 meter relay as a part of the U.S. women's team. She gave an amazing performance there and helped her team to reach the first position. Subsequently, she earned her first gold medal at the Olympics, defeating rival Veronica Campbell.
2009: Allyson Felix became the first woman to win three medals for 200 meters
Allyson Felix was slowly getting better at not just sprint track but also at relays. Before the 2009 Berlin World Championships, she participated in another international sprint relay. She was a part of the U.S 400 meters relay team along with Lauryn Williams, Carmelita Jeter, and Muna Lee. The team gave an astounding performance and even became the fastest women's sprint relay in the last 12 years.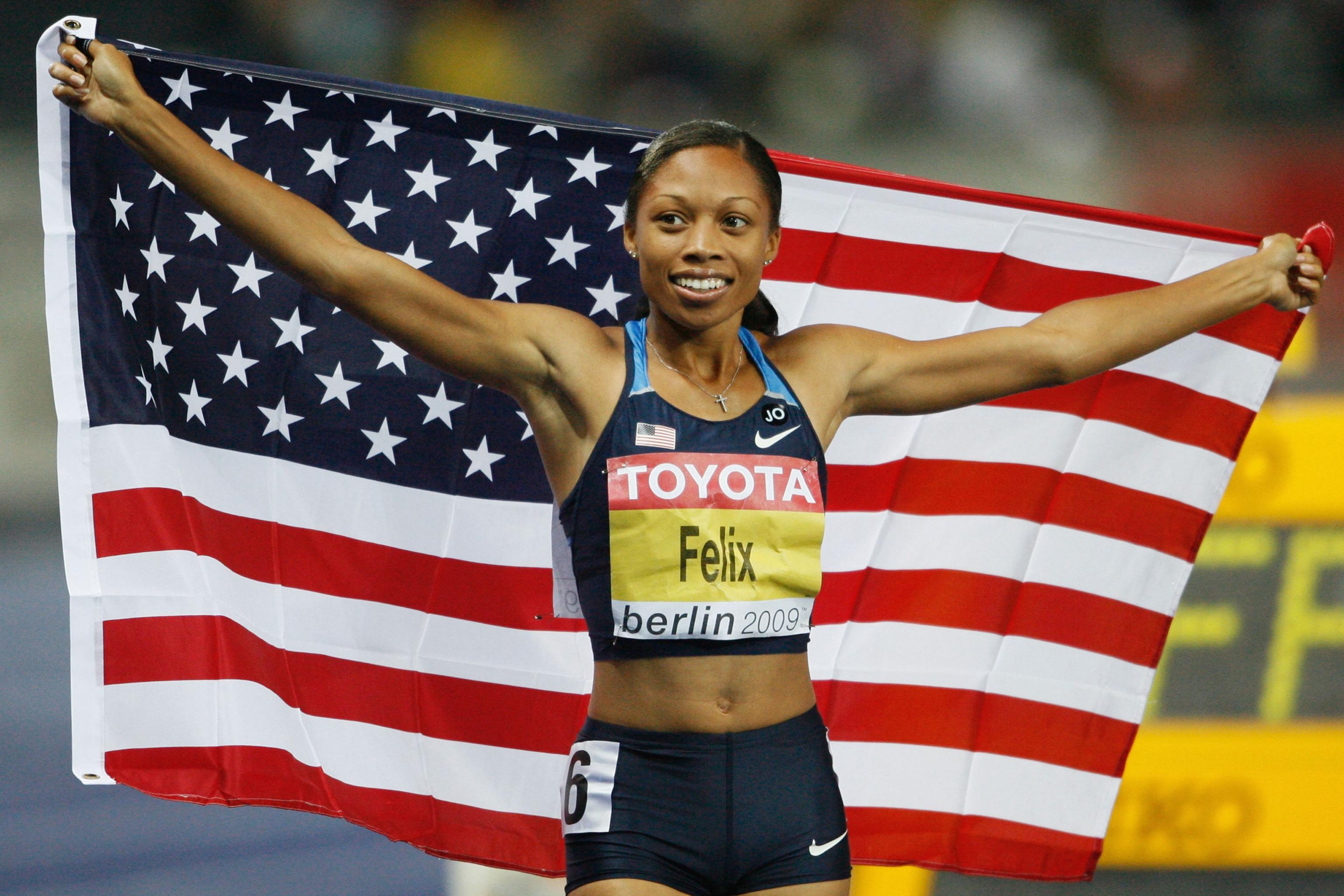 Felix received her third gold medal for 200 meters at the 2009 Berlin World Championships. She made history as she became the first woman to win three gold medals for the world 200 meter race. This time too, she was up against Veronica Campbell. In the beginning, it seemed as if Veronica was going to win, but at about 130 meters, Felix paced up. She kept increasing her lead and, in the end, won the gold medal. Allyson Felix achieved this amazing feat at just 23 years old. The world already knew by then that she was going to be the next big thing in athletics.
2010-2011: Allyson Felix became the first person in history to win two IAAF Diamond League races in the same year
In the year 2010, Felix decided to broaden her spectrum and started participating in 400 meter events. That very year she participated in the IAAF Diamond League and won two trophies for 200 meters and 400 meters. Thereafter, she became the first person in history to achieve this feat. Later on that year, Felix also participated in the 2010 USA Outdoor Track and Field Championships. There she ended up being the 100 meters champ by completing the sprint in 11.27 seconds.
In 2011 Allyson Felix again participated in the World Championships in Athletics. There she took part in the 200 and 400 meter races as well as relays. In the end, Felix won two gold medals for the relays and a silver and bronze medal for the 400 and 200 meter event.
2012: Allyson Felix and the London Olympics controversy
The London Olympics took place in 2012. This time too, Allyson Felix decided to participate in not just the 200 meter event but also in the 100 meter event. Unlike the previous Olympics, she qualified for the 100 meter spot. However, the event was stacked with controversy. Allyson Felix and her training partner Jeneba Tarmoh were in a dead place for the qualifying position. A second qualifying race was scheduled for them, but as Tarmoh backed out, Felix automatically Qualified.
2012: Allyson Felix became the second woman in history to win three Olympic gold medals
When the name Allyson Felix pops up somewhere, it's normal to think about the record breaking moments. And indeed, the 2012 summer Olympics was nothing different. In the 200 meter finals, Felix gave the personal best of her career. She finished the race in just 21.69 seconds. Thus becoming the third-fastest American and fourth fastest ever in terms of time until that point.
Allyson Felix participated in the 4 x 100 meter relay along with Tianna Madison, Carmelita Jeter, and Bianca Knight. The team did not just win a gold medal in that event but also broke a world record. In 1985, East Germany set a record of completing 4 x 100 meters in 41.37 seconds. But finally, the US girls completed the relay in just 40.82 seconds.
During the finals of the 4 x 400 meter relay, Allyson Felix achieved another feat. Here Felix ran a 48.2-second leg, and the team won in a time of 3:16.87. Therefore setting the record of the third-fastest time in Olympic history.
That year she competed in a total of four events. They were 100 meters, 200 meters, 4 x 100 meter relay, and 4 x 400 meter relay. And it is not surprising that other than the 100 meter event, she won gold in all the other events. Therefore, after this, she became the second American woman to win three Olympic gold medals in athletics. The first person to achieve this was American Athlete Florence Griffith Joyner.
2015- The world championships
In 2015 Felix returned to participate in the 2015 USA Outdoor Track and Field Championships. Before this event, Felix was on a long break as she was suffering from a hamstring injury. This time she participated in the 400 meter event and won by completing the race in just 50.19 seconds. Subsequently, she won her ninth U.S championship title.
Next came the 2015 Beijing World championships. But this time, Allyson was put in a dilemma due to the 200 and 400 meter schedules. The 400 meter final was placed just an hour after the 200 meter semi-finals. Therefore, even though Felix had world records in both events, she was forced to choose between two.
Finally, Allyson chose 400 meters over 200 meters and did not disappoint her fans. From the very beginning of the race, she took the lead and finished it with her personal best of 49.26 seconds. After this, Allyson Felix became the first woman to win the most number of world titles for 200 as well as 400 meters. Additionally, she also became the only American track and field athlete to collect the most gold medals. She had also won the most overall medals in the World Championship.
Later on, Allyson Felix managed to bag two more silver medals. The first one is for the 400 meter relay, and the second silver for the 4 x 400 meter relay.
2016: Allyson Felix and Her Injury
Allyson Felix had a gym accident in 2016. She accidentally dropped from a pull-up bar and ended up twisting her ankle and tearing ligaments. Therefore, due to this accident, she missed the Diamond League meet.
Next came the 2016 Olympic Trials. Back then, she was still suffering due to the accident. However, she managed to participate. During the 400 meter trials, Felix went past her injury and overtook her opponents with a record breaking 49.68 seconds. However, fatigue and physical strain started to show during the 200 meters final. Even after Felixs' best efforts, she lost the race by 0.01 seconds and missed the third spot in the team. Nonetheless, a sports person like Allyson Felix was not born to back down. And she proved herself again in the 2016 Rio de Janeiro Olympics.
2016: Allyson Felix and the 2016 Olympics
In the 2016 Olympics, she managed to achieve three more medals. Two gold and one silver. She won the silver medal for the 400 meter event, where she missed the gold by 0.07 seconds. The first spot was then grabbed by Bahamian athlete Shaunae Miller.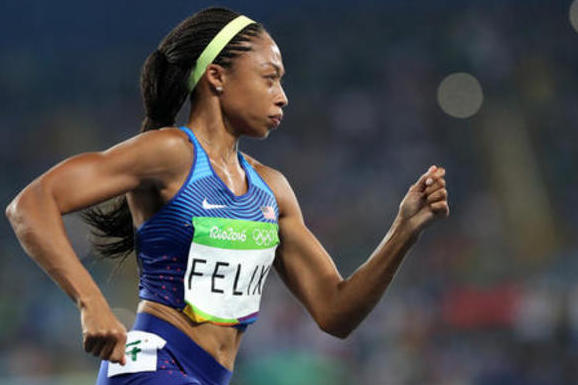 The performance was disappointing, but she made up for it in the relays. The 4 x 100 meter relay was controversial in some ways. During the race, Felix dropped the baton while handing it to another teammate. Therefore according to the rules, the U.S team was supposed to be disqualified. However, with a repeated investigation, it was found that the baton dropped due to some external reasons. The Brazilian athlete in the neighboring lane swung her arm, and due to that, Felix accidentally lost her balance. Therefore the USA team was not disqualified.
In the final, the USA team won in 41.01 seconds and received the gold medal. Allyson won her second gold medal via the 4 x 400 meter relay.
2018-2019: Allyson became a mother for the first time
In 2018 Allyson took an unusual break from her sports career. She participated in a lesser number of championships and focussed more on her mental growth. Later on, she revealed her pregnancy and finally gave birth on 28th November 2018. She had a difficult pregnancy, to say the least. A few months after her delivery Allyson Felix got involved in some legal issues with Nike. Due to this array of events, she was unable to partake in any sports events or championships.
In July 2019, Allyson Resumed her career. Although she was a new mother then, it did not stop her from excelling in athletics. Felix participated in the US national championships and the IAAF World Championships one after the other. And Finally, by the end of the season, Felix surpassed Usain Bolt for the most gold medals in the world championship.
2020- till date: Allyson Felix and the 2020 Tokyo Olympics
In 2020 Allyson Felix was supposed to participate in the Olympics for the first time since becoming a mom. Unfortunately, things were postponed due to the pandemic, and she had to wait till June 2021.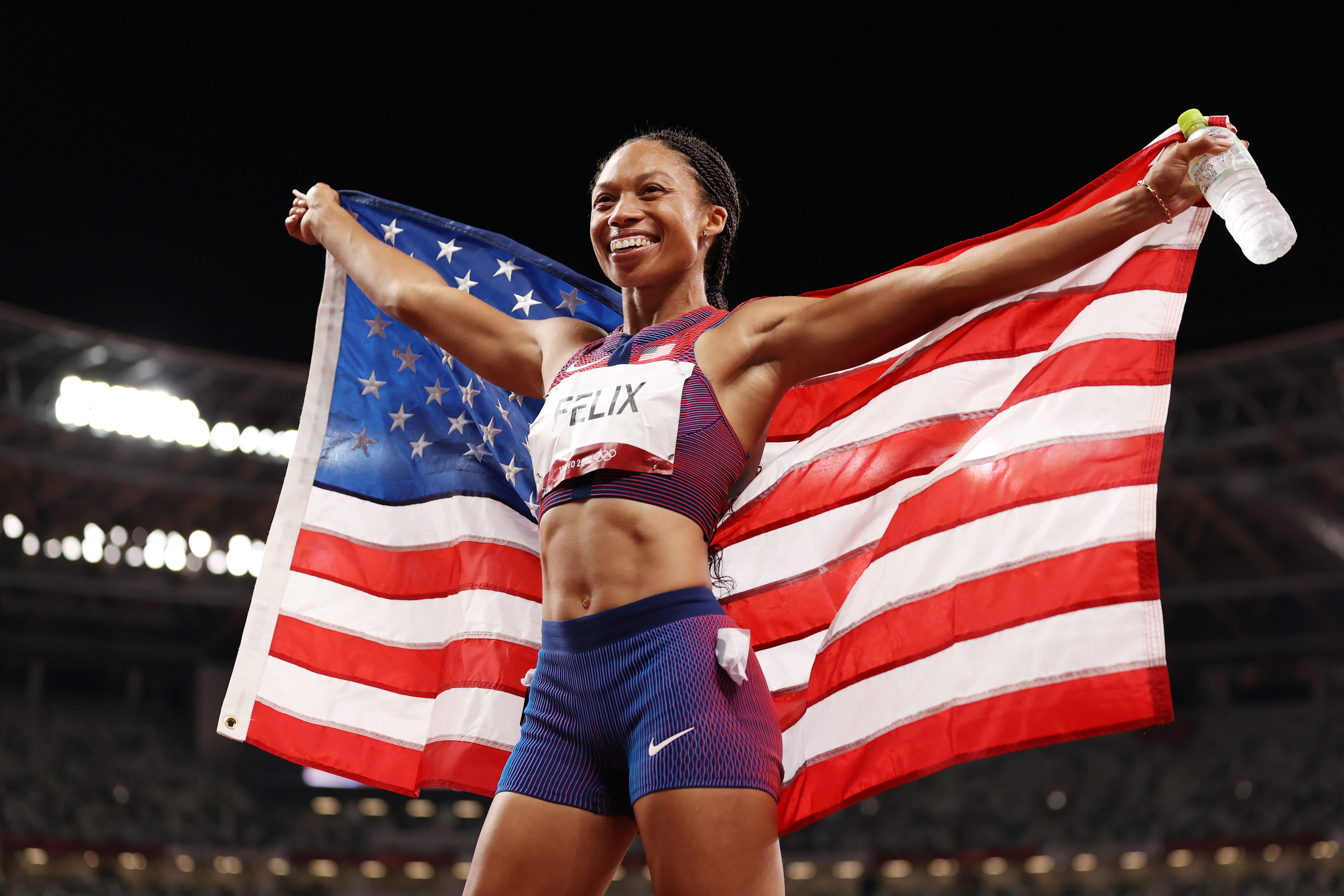 Allyson, at the age of 35, qualified for the 400 meters event by finishing her trial in 50.02 seconds. In The Tokyo 2020 Olympics, Allyson Felix was going to participate in the last individual Olympic event of her career. However, a lot of people started doubting her performance due to her age and her performance in the semi-finals. Felix had the second slowest qualifying time of 49.89 seconds, and that put a lot of pressure on her. Nonetheless, with her unwavering spirit, Allyson gave her best and secured a bronze medal at the Olympics. She finished the race in 49.46 seconds and claimed her 10th Olympic gold medal.
Allyson received another gold medal after competing in the women's 4 x 400 meter final. This medal concluded her Olympic career and broke her tie with American athlete Carl Lewis. Currently, she is the most decorated American track and field athlete in the history of the Olympics.
Will Allyson Felix Retire in the Near Future?
In an interview with USA Today, Felix indeed revealed that she is going to retire very soon. She said she is planning to retire before the 2024 Paris Summer Games. Therefore the 2020 Tokyo Olympics was her very last Olympics.
Allyson Felix Net Worth
Allyson Felix is undoubtedly one of the most successful sports persons in the history of America. Therefore it is obvious that she has made a pretty good fortune through her career. Currently, Allyson Felix has a net worth of around 5 million dollars. Apart from championships, Allyson also made quite an amount of fortune through her collaboration with Nike and other brand endorsements.
Allyson Felix and Nike
Allyson had a contract with Nike for years. Felix is one of the most marketed athletes of Nike and has collaborated on numerous occasions. However, things started to change once Allyson announced her pregnancy.
Allyson's contract with Nike ended in 2017. After this, Allyson asked Nike for a renewal stating that she was planning to start a family soon. She asked Nike to provide her with written proof that they would provide financial security if she performed subpar after delivery. However, Nike was not ready to negotiate and was willing to cut 70 percent of her sponsorship.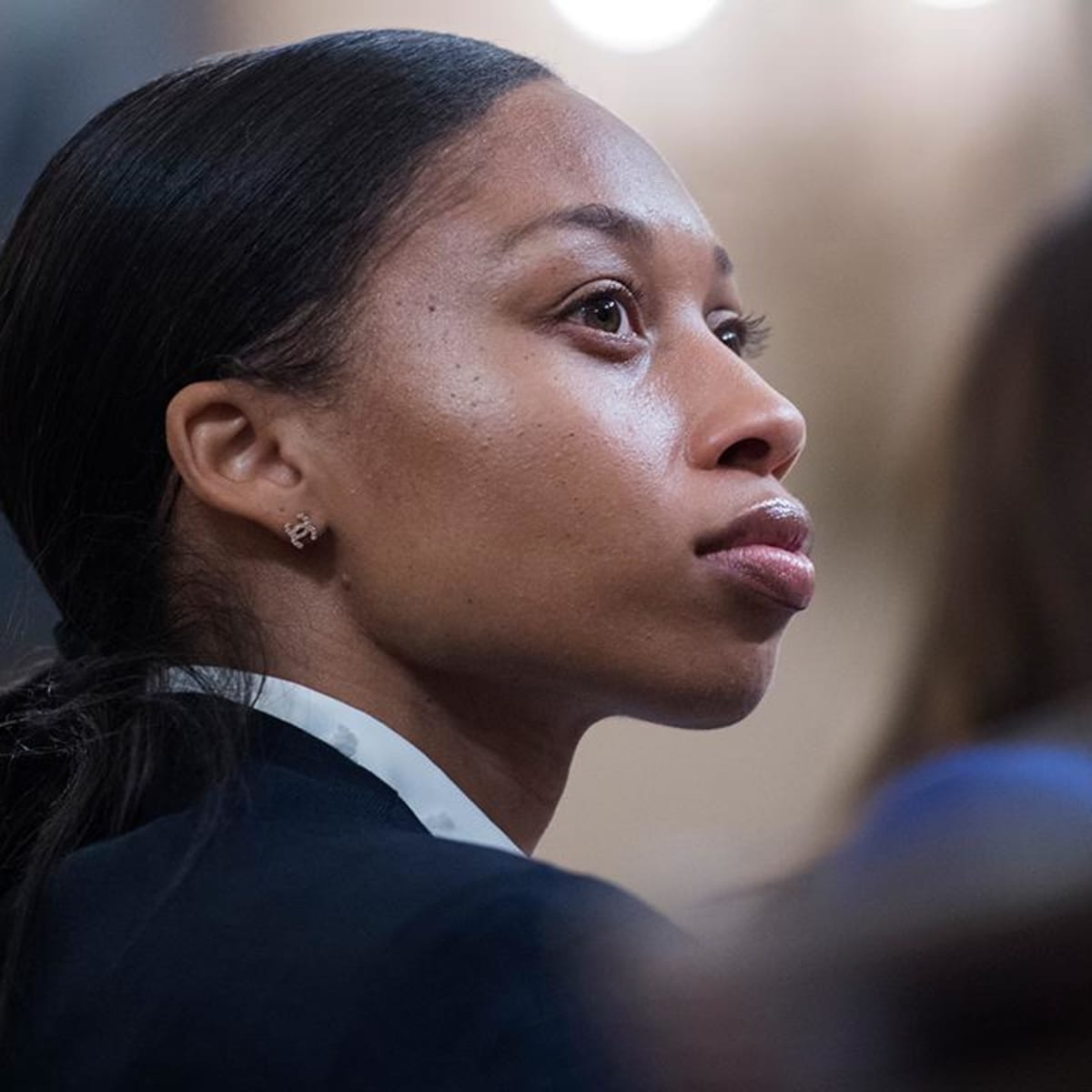 After her difficult childbirth, she felt the constant pressure of performing well as her pay was reduced. In an interview with the New York Times, Allyson revealed how disrespectful she felt with the way Nike treated her.
Soon enough, she left Nike and signed a contract with a clothing brand named Gap Inc. After Allyson voiced her experience with Nike, other athletes with similar stories joined her. Olympic runners Alysia Montaño and Kara Goucher too disclosed their stories and broke their contracts.
Later on, after Allyson left Nike, the company changed its maternal policies to support female athletes.
Allyson Felix Husband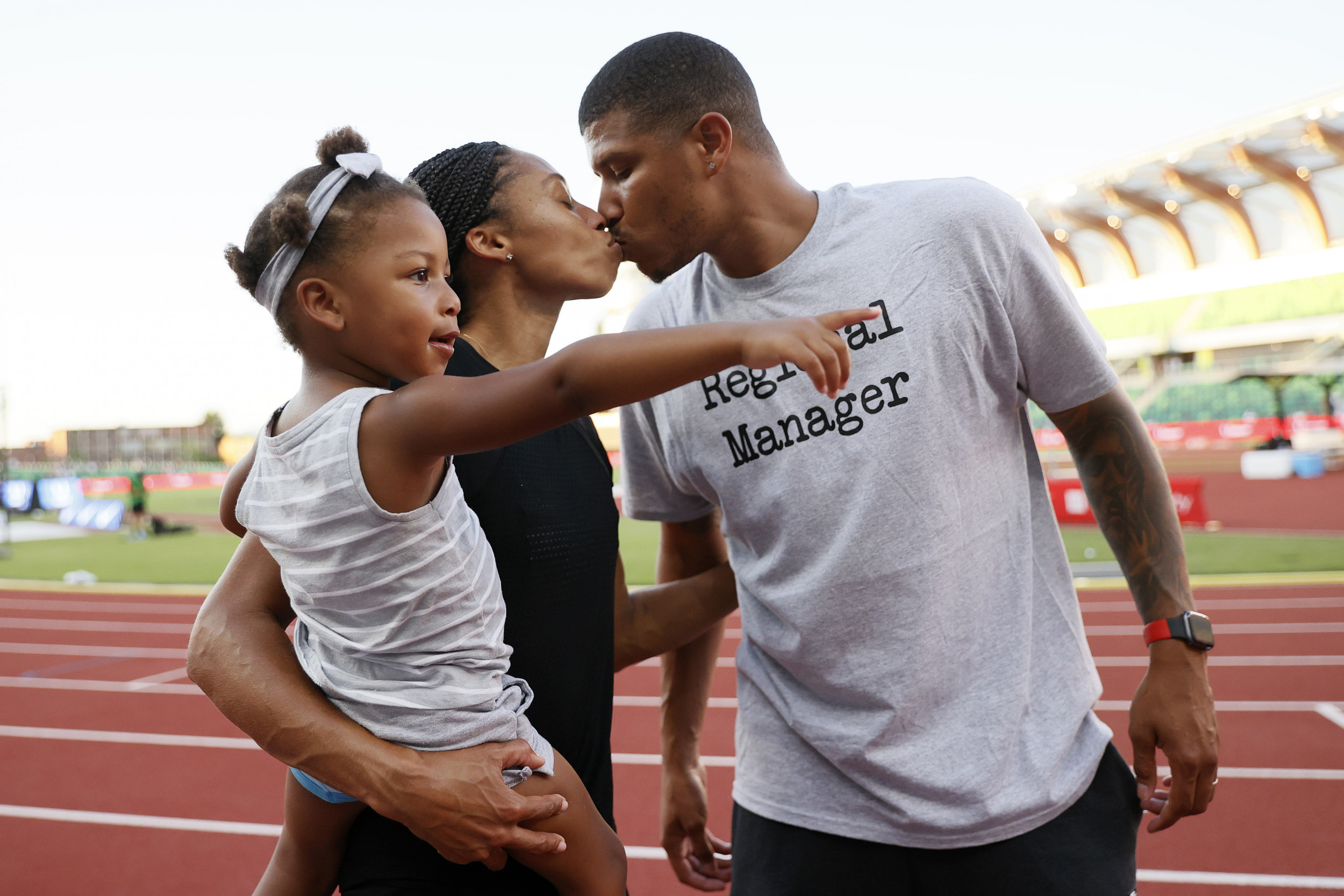 Allyson Felix is married to another American Athlete. Her husband is Kenneth Ferguson, a former sprinter, and hurdler. Ferguson, in the past, has won three gold medals in the Pan American Junior Athletics Championships. The pair got married in 2018. However, we don't know the details of the wedding.
Allyson Felix Complicated Pregnancy
Felix gave birth to her first child in 2018. However, her journey to motherhood was not easy. In the beginning, things were going fine. But after her 32nd week pregnancy checkup, the doctors found out that she developed pre-eclampsia. In this condition, the mother suffers from high blood pressure along with increasing amounts of protein in the urine. This condition is somewhat prevalent among African American women.
Things got worse with time, and her baby's heart rate started to decrease rapidly. The situation was getting out of hand, and therefore, Allyson had to undergo an emergency c-section. She delivered her premature baby within 48 hours. Her daughter, after her birth, weighed only 3 pounds and 7 ounces. Therefore she had to spend almost a month in the neonatal ICU.
Allyson Felix Daughter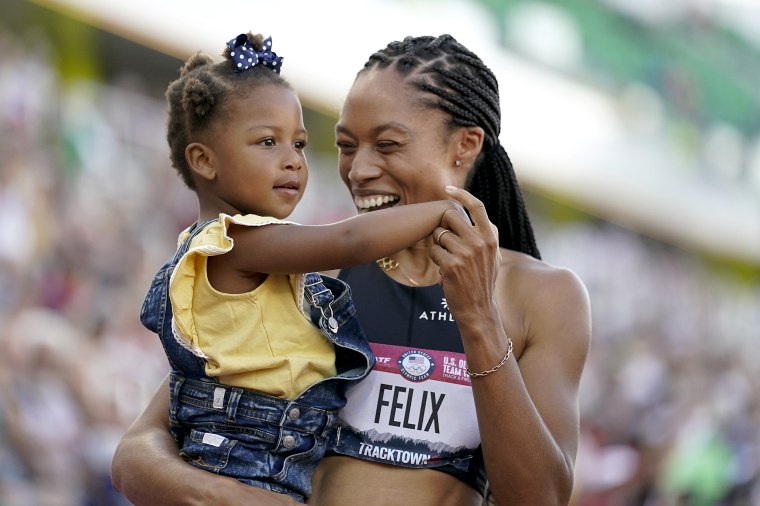 Allyson Felix's daughter was born on 28th November 2018. She has named her daughter Camryn. Camryn fought like a warrior after her birth, and now she is a healthy toddler. In a number of social media posts and other events, Allyson thanked her daughter. She did so as she thinks Camryn gave her the courage to fight.
During the Tokyo Olympics, she was not allowed to travel with her daughter. And thus, they reunited after a long time. She left a strong message on her Instagram after their reunion.