Who is Carlos Carrasco?
Carlos Carrasco is a baseball player of Venezuela, nicknamed Cookie. He's a Venezuelan-born and American baseball pitcher, playing for New York Mets of Major League Baseball (MLB). Carrasco had been injured several times on the ground but didn't stop, In this article let's unwrap more about Carrasco.
Early Life Carlos Carrasco
Carlos Luis Carrasco is the full name of the sports star. As we came to know where was the sports star was born, here's about his early life. Carlos Carrasco was fascinated by baseball by the age of 10 as a third baseman. By the age of 16, Carlos was discovered by the team's scout in Venezuela and had an opportunity to throw for Sal Agostinelli whose an international scouting director for the Philadelphia Phillies. At an early age, Carlos learned how to throw from the left hand which was an addition to his right-hand delivery, together he turned out an excellent player but he never considered himself ambidextrous, that is someone who can use both hands equally which is a bit strange.
The Career Graph of Carlos Carrasco 
Philadelphia Phillies
In 2003, Carrasco signed to play for the Phillies team as an undrafted free agent on November 25, 2003. He played the entire season at the single-A with the Lakewood Blueclaws, achieving 2.26 ERA 1591/3, and innings were pitched. He played the season until 2006 and in 2007 between the Double-A Reading Phillies and the Single-A Clearwater Thresher. That was also the time when Carrasco threw his first no-hitter on August 21, 2007. He was on the world roster by 2006. Then, Carlos divided his time in 2007 as a single as well as a double-level player. By 2006, 2007 and 2008 he came in All-star featured games.
Stepping in early 2007, Carrasco ranked in one of the top players in the Phillies organization. On the list of best baseball players, Carrasco was in the 41st position among all the baseball players. By 2008 he was still the top-ranked prospect of the Phillies system. In the same year, he became the organization's best fastball player and changeup.
Cleveland Indians
On July 29, 2009, the Phillies decided to trade Carlos and a few other players to the Cleveland Indians for Cliff Lee and Ben Francisco. Carlos Carrasco made his major debut in the League on September 1. He played good and by July 29, they played against the Kansas City Royals and Carrasco underwent Tommy John surgery( It's a surgery that grifts and deals with the medial elbow) Therefore, he missed the entire season of 2012 by the high 7 runs over 3+⅓.
Carrasco was back on the ground on April 9, 2013, after Tommy John's surgery and suspension. The start of the season was slow and outing against New York. By 2014, Carlos appeared in 40 games for Cleveland simultaneously with an 8-7 record while striking out for 140 batters in 134 innings
On April 7, 2015, Carlos signed a contract of extension worth $22 million, including club options for 2019 and 2020. While playing with Chicago, Carlos met and an injury while playing which gave him a bruise on his jaw. X-rays were negative. In 2016 Carlos met another injury that fractured his metacarpal bone, leading him to miss the whole postseason. On June 5, 2019, Carrasco came on the list of 10 days injured list.
New York Mets
On January 7, 2021, the Indians traded Carrasco and Francisco Lindor to the New York Mets for Amed Rosario, Andrés Giménez, Josh Wolf, and Isaiah Greene. During spring training, Carrasco tore his hamstring during a running drill and was expected be out for six to eight weeks. As of late April, he was expected to join the Mets rotation in the second week of May. On May 6, Carrasco was placed on the 60-day injured list as he continued to recover from the injury.
What is He Doing Now?
In January 2021, Carlos joined New York Mates and he got an injury in the spring training. After some treatment and rotation, he finally started playing in late July. The first pitch Carrasco threw for his new team, Mets became a homerun hit for Jonathan India. In a recent match, his first innings was not that good but he is rebounding in this second innings for Met's on 2nd September.
Bit Of Carlos Carrasco's Personal Life
In the Player's Tribune, Carlos shared some of his unknown experiences of his early days when he was in the USA. He was in the US for his spring training and the only thing he ate was Domino's PIzza for 90 days. It was the only thing he knew how to order. After that, he got an offer from Domino's for one month of free pizza for being their best customer. He married Karelis and they have five children. Carlos believes in helping others with what he has. Accordingly, he does charity and donations of thousands of dollars. However, he didn't share anything about his parents or siblings yet.
Chronic myeloid leukaemia affected Carlos in early 2019 and this disease was enough to ruin his whole career, even his life. But, Carlos stayed strong and his friend and family supported him throughout. There were hard times but as a real sportsman, Carlos overcame this negative impact and came back to the pitch in 2020.
General Trivia on Carlos Carrasco

Carlos Carrasco completed his high schooling from Liceo Federico, Lara, Ven. He won many awards in his baseball career including. His net worth in 2023 is $1 Million to $5 Million, which implies he is a successful player. The fun fact is, Chris Perez have Carlos his famous nickname as he found Carlos having cookies in the clubhouse in 2011. After that, this name became his nickname and his teammates and fans loved to call him by this name.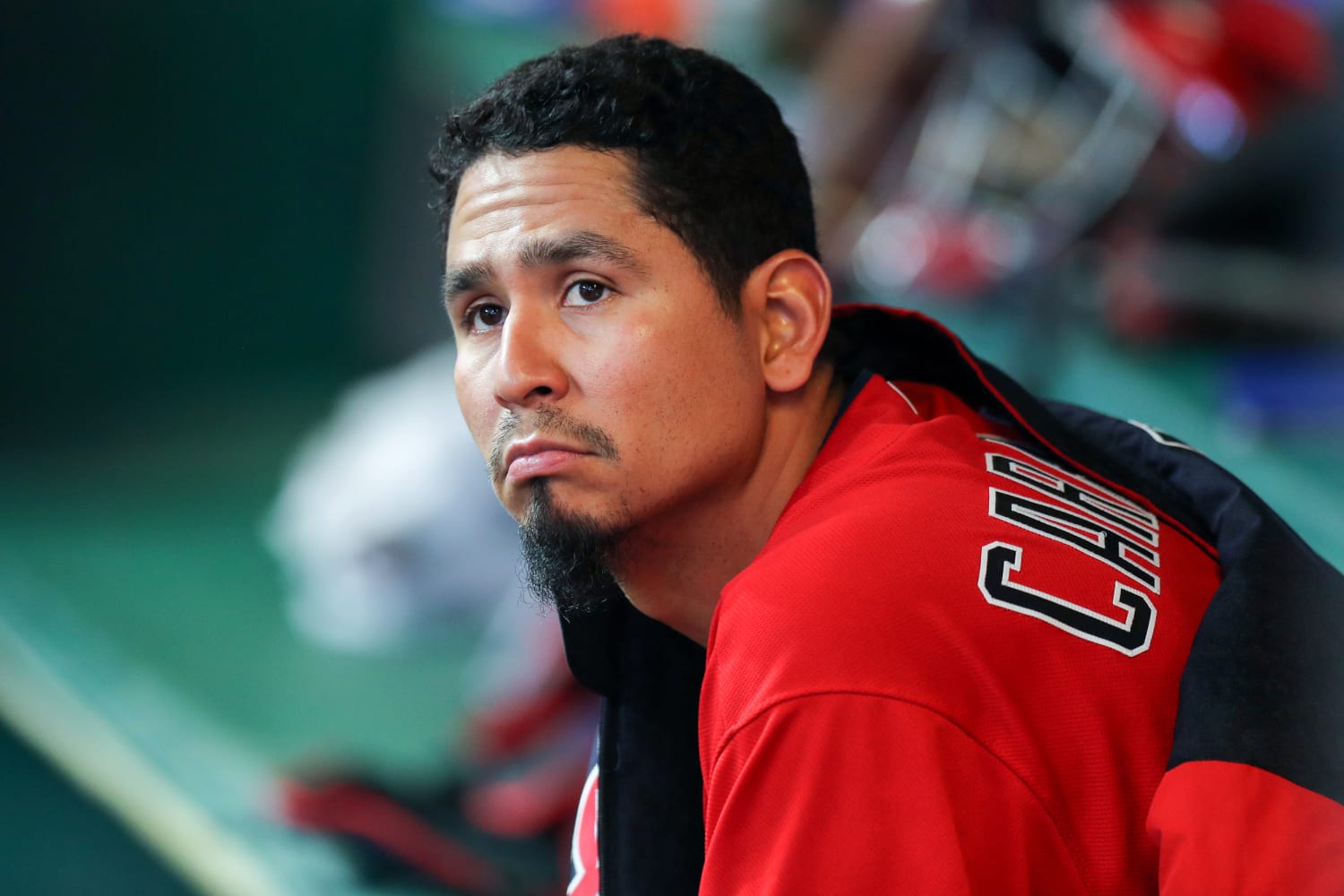 Carrasco is 35 years old and his zodiac sign is Aries, He has a height of 1.91 m and a weight of 102 kgs. He was uncomfortable with the English language as he is from Venezuela. But gradually he learnt the language and now he is fluent in English. But we need to say that his performance speaks a lot for him.
You can find Carlos is on Instagram at the id of  cookie_Carrasco. In addition, Carrasco has actively seen on social platforms like Instagram with a following of 124k.  His Twitter account is also available as Carlo Carrasco. From his Insta feed, it is clearly visible that he loves his career and family equality. Also, he loves to travel and he put his memories on Instagram as well.