Who is Jeff McNeil?
Jeff McNeil, also known as the "Flying Squirrel," is a popular and highly successful baseball utility player. He is indeed a talented player and has been on the rise since 2018. Read along to know his life story, his career, personal life, the viral puppy, and everything else.
Stage Name
Jeff McNeil
Real Name
Jeff McNeil
Profession(s)
Baseball Player,
Birthday
April 8, 1992
Zodiac Sign
Aries
Age
30 years
Gender
Male
Birthplace
Santa Barbara, United States
Hometown
Santa Barbara, California, United States
Nationality
American
Parents
Father: Steve McNeil
Mother: Rebecca McNeil
Sibling(s)
Brother(s): Ryan McNeil
Sister(s): None
School
Nipomo High School in Nipomo, California
Relationship Status
Married
Wife
Tatiana McNeil
Stats Of Jeff McNeil

The following statistics are according to the information on MLB. Additionally, You can also see his career statistics on FANGRAPHS.
Nickname– Flying Squirrel
Date of birth– 4/8/1992
Free Agent– 2025
Team– New York Mets
Bats/Throws– L/R

Jeff McNeil Age
McNeil was born on 8th April, in the year 1992. So, currently, he is just 30 years old.
Hometown and School
McNeil was born in Santa Barbara, a coastal city in California. There he attended Nipomo High School as a kid. Jeff McNeil was an athletic kid since his childhood. From a very young age, he started playing basketball as well as Golf.
Parents and Life Before Baseball Career Of Jeff McNeil

Jeff McNeil is the eldest son of his parents, Steve and Rebecca McNeil. However, he is not a single child and has a younger sibling called Ryan McNeil. As mentioned before, he was into sports from a very young age. In fact, his dream sport was not baseball, but Golf!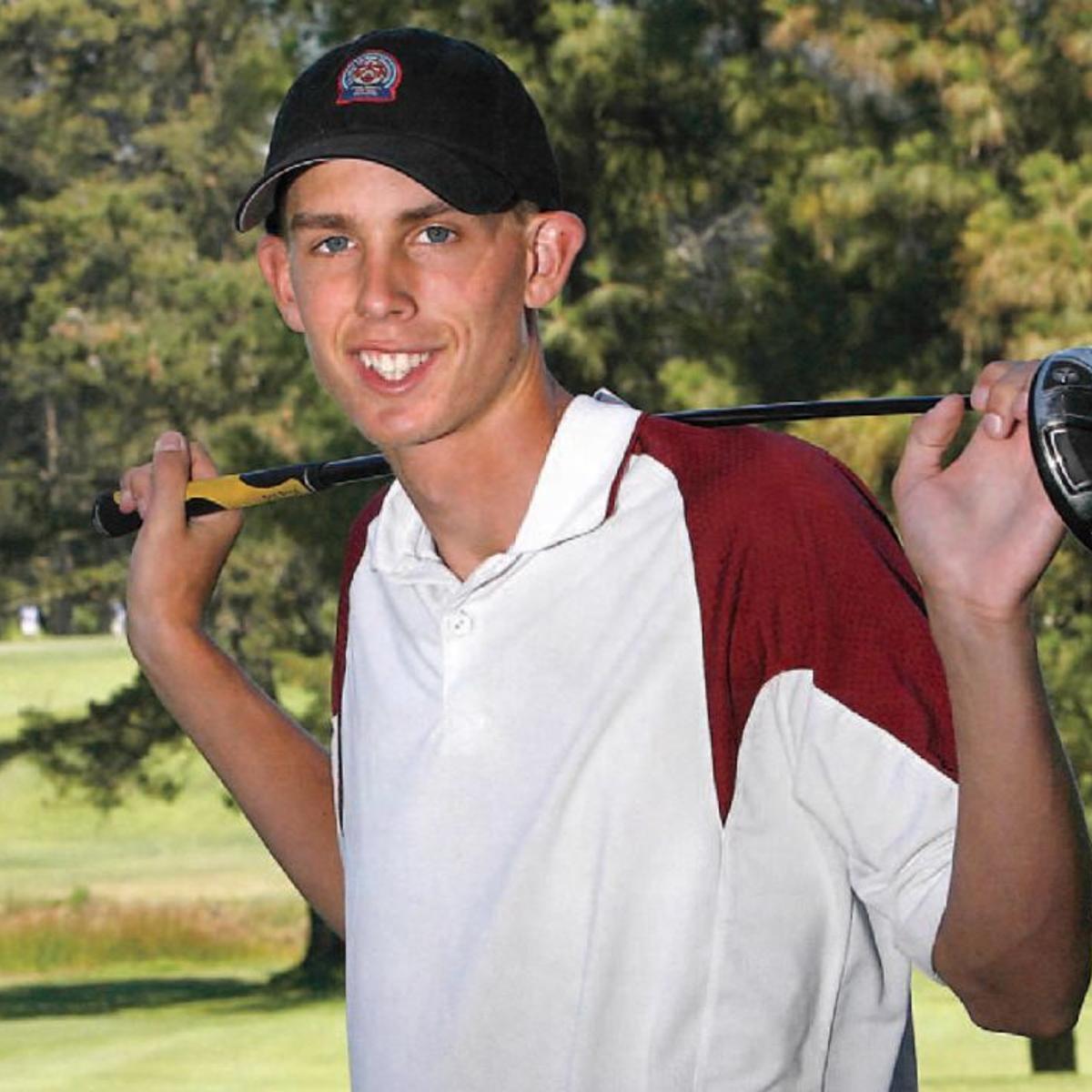 Jeff McNeil has played three seasons of high school basketball. He even had a praise worthy average of 17 points per match as a senior. But, even though he had a good grip on basketball, he always considered Golf to be his primary. All along with high school, when he played for the team Titans, he remained the top golfer there.
In 2009, while McNeil was in high school, he qualified for the United States Junior Amateur Golf championship. The event was somewhat like the U.S open for under 18 golfers. Unfortunately, he didn't perform very well there and thus didn't receive a scholarship. Before his disappointing performance at the championship, Jeff McNeil only dreamt of playing college golf.
How did the baseball journey start for Jeff McNeil?
After his loss at the Junior Amateur Golf Championship, he was rethinking his decision to play Golf. Then suddenly, he received an offer to play Division I baseball. And that's how the trajectory of his sports journey changed. Likewise, McNeil started off by playing scout baseball with his younger brother Ryan.
During the senior year of high school, McNeil made a difficult decision and chose Baseball over Golf. Moreover, it was here in his brother's scout team where he was noticed for the first time. Cal State Northridge approached him after watching him play at the summer ball, and he ended up signing a letter of intent with them.
McNeil received a scholarship to play college baseball. Therefore in his senior year of high school, he played for Cal State Northridge. Jeff McNeil gave a great performance there and even hit a 0.446 as a senior.
Unfortunately, the Northridge coach got fired after a while. And later on, Jeff got signed with Long Beach State. In 2012, Jeff McNeil started playing college summer baseball with the Brewster Whitecaps. Jeff McNeil had a commendable batting average as a junior. His average was .348, with 11 strikeouts in 221 at bats. In addition, he was also named to the first team of All-Big West. This is how the unusual baseball journey of Jeff McNeil started.
Jeff McNeil's Height and Physical Appearance
Jeff Mcneil is 6 ft 1 inch or 1.85 meters tall. His height aids him in his sports career. His weight is 88kg or 194 lbs. As per appearance, McNeil is a decent looking guy with brown hair and hazel brown eyes. Additionally, he has a very well maintained body structure that is perfect for playing sports.
Jeff McNeil's Nickname and Why is He Called So?
McNeil has earned a very unique nickname, "flying squirrel." But Why? There is no doubt that he is among the best grinders of the Mets. But he got his quirky nickname from his college days. His blond mustache and goatee, along with his nimbleness in character, had gotten him the nickname "squirrel."
Jeff McNeil's Career
2013- The beginning
In the 2013 Major League Baseball draft, the famous New York Mets drafted Jeff McNeil. They drafted Jeff in the 12th round of the Major Baseball League. From there, he began his professional career as a baseball player. That very year, he made his debut with the minor league baseball team Kingsport Mets. Subsequently, in that season, Jeff had hit .329 in just 47 games.
2014- The Minor season
In 2014, Jeff McNeil played for the minor league baseball teams Savannah Sand Gnats and St. Lucie Mets. During that season, he played a total of 117 games for Savannah Sand Gnats. There, he hit 51 RBIs, 17 stolen bases, and .292 with three home runs.
2015- Jeff McNeil and the Arizona Fall League
In 2015 he played a total of 123 games with St. Lucie and Binghamton Mets combined. There, his stats were .308/.369/.377 with one home run, 16 stolen bases, and 40 RBIs. After the end of the 2015 season, the New York Mets sent him as a prospect to the Arizona Fall League. However, he was accompanied by right-hander Ricky Jannis and right-hander Beck Wheeler as prospects.
Jeff McNeil participated with players from D-Backs, Nationals, Blue Jays, and the Rockies to form the Salt River Rafters in the Arizona league.
2016 & 2017- Jeff McNeil injury and absence from the league
These two years specifically were not very favorable for Jeff McNeil as he was down with multiple injuries. In the years 2016 and 2017 combined, Jeff played only 51 games. Nonetheless, during this period, the teams he played with were St. Lucie, Binghamton, and Las Vegas 51.
2018- Jeff McNeil and his first major league for the New York Mets
After playing in minor leagues for years, Jeff was finally promoted to the major leagues in 2018. On 24th July 2018, Jeff McNeil made his first major hit, and that too against Phil Hughes of the San Diego Padres. Subsequently, on 31st July, he hit his first major league home run against Washington Nationals pitcher Tanner Roark.
In that particular season, McNeil had an average of .329/.381/.471 in 225 at bats. In addition, against right-handers, he had the highest batting average at .345.
That season he was even nominated for the National League Rookie of the Year Award. He received one vote for that position and ended up in sixth place alongside Harrison Bader and Yoshihisa Hirano. During his first major league season, Jeff McNeil had a very high contact rate and a very low strike rate. Therefore, he garnered the reputation of a throwback player.
2019- Jeff McNeil and the National League All-Star team
On 30th June 2019, Jeff McNeil, for the first time, was selected for the National League All-Star team. Indeed, the selection was made due to his terrific performance at the majors. Back then, he had a batting average of .348.
On 5th August 2019, McNeil became the fastest player in Mets history to have 200 career hits. However, even with so much success, he spent most of 2019 playing in the left field. Throughout the year, Jeff had a batting average of .318/.384/.531. In addition, he scored 23 home runs and 75 RBIs. He also had the highest percentage of pitches amongst all the other major league batters.
2020- till date
In 2020, Jeff was ranked as the fifth-best third baseman in baseball by MLB Network. Even though the 2020 season was shortened due to the pandemic, he still had an average of .311/.383/.454.
Consequently, due to his amazing performance, he made history in 2020. Jeff McNeil became the first player for the Mets since David Wright to have an average batting average of .300 in three consecutive seasons.
Before the 2021 season, he was named the best player in The National League. In addition, he has also ranked the second best second baseman in MLB.
What Bat Does Jeff McNeil use?
In 2016 Jeff McNeil started using a special kind of knobless bat. And immediately, the media became curious about the unusual bad Jeff started using. In the Met's dugout, people could easily identify the bats of different players by the numbers on the respective knobs. However, Jeff's bats stood out from the rest. His bat did not have a knob. And the lumber of the bat, instead of having a mushrooming appearance, widened towards the end. His bats, in general, have an average size of 34 inches and an average weight of 32 ounces.
Nonetheless, due to the absence of the knob, the bat has an unusual weight distribution. And according to Jeff McNeil, this odd weight distribution of the bat helps him to have more control. Jeff Mcneil even states that without the knob, the bat feels lighter, and it becomes easier to balance.
In 2016, Mets minor league hitting coordinator Lamar Johnson gave McNeil this special type of bat. Soon after receiving the bat, McNeil instantly felt the difference and went on to hit a home run with it. From there on, Jeff McNeil started using the special bat for every game.
However, it must be mentioned that Jeff is not the first person to use this type of bat. For Instance, years ago, heavy weights like Roberto Clemente used this type of bat. And in fact, it was pretty popular back then.
Jeff McNeil In Fantasy league
McNeil is a valued fantasy league player. Unfortunately, due to multiple injuries and a slow start his value has dropped. However, we have seen how powerful he can get with the bat, and we just have to wait for his form to return. Meanwhile,to know more details about his fantasy career, visit Fantasy Pros.
Net Worth Of Jeff McNeil
According to some trusted sources, Jeff McNeil has a net worth of 38.5 million dollars. His contract with the New York Mets earns him a handsome salary every year. Now, as per recent records, on average, he earns 642,251 dollars per year.
His Current Contract?
Currently, he is on a one year, 642,251 dollar contract with the New York Mets. In addition, he is guaranteed 642,251 dollars and an annual average salary.
Jeff McNeil Wife Tatiana 
Jeff McNeil had been dating his girlfriend Tatiana, an environmental scientist, for quite some time. And finally, they decided to walk down the aisle on 3rd February 2018. The couple met for the first time at Long Beach State while they were still freshmen.
Their Wedding
The couple, Jeff and Tatiana, had a very simple outdoor wedding. On the day before the wedding, all the family members contributed to complete the decorations. The photos on top of the table were the most unique thing about the decorations. Atop each table, they placed a card mentioning a year. And alongside the card, two photos of Jeff and Tatiana from that year were kept.
Tatiana, the bride, wore a beautiful white gown. Of course, it complemented her beautiful curves and personality. Additionally, sweet messages like "pick a table, not aside, you're loved by both" were written on every table.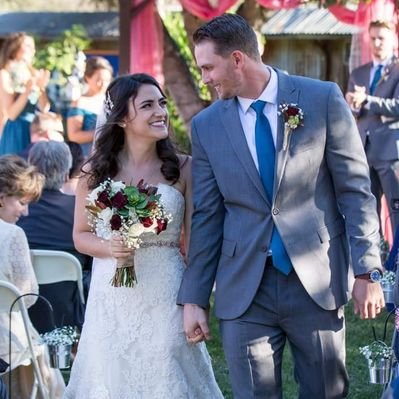 For the cake, Jeff McNeil and Tatiana specifically opted for the timeless, white wedding cake. It was simple and down to earth. The couple ended their special day with a beautiful dance. On the whole, it was a very cozy wedding with old friends and close family members.
Jeff McNeil and His Viral Dog Willow
So how did the baseball star Jeff McNeil meet the internet sensation Willow? Well, it was indeed sudden. It all started in July 2019 when the New York Mets hosted a pet adoption event at City Field. There, a no-kill shelter called North Shore Animal League America participated in a promotional event. Accordingly, a number of adorable puppies were present there. And several members of the Met were enjoying themselves with the puppies. They were playing, clicking pictures, and having fun.
For the New York Mets star Jeff McNeil, a certain puppy stood out amongst the rest. In an interview with Atlanta magazine, Jeff revealed that the instant he saw the puppy, he "fell in love with her."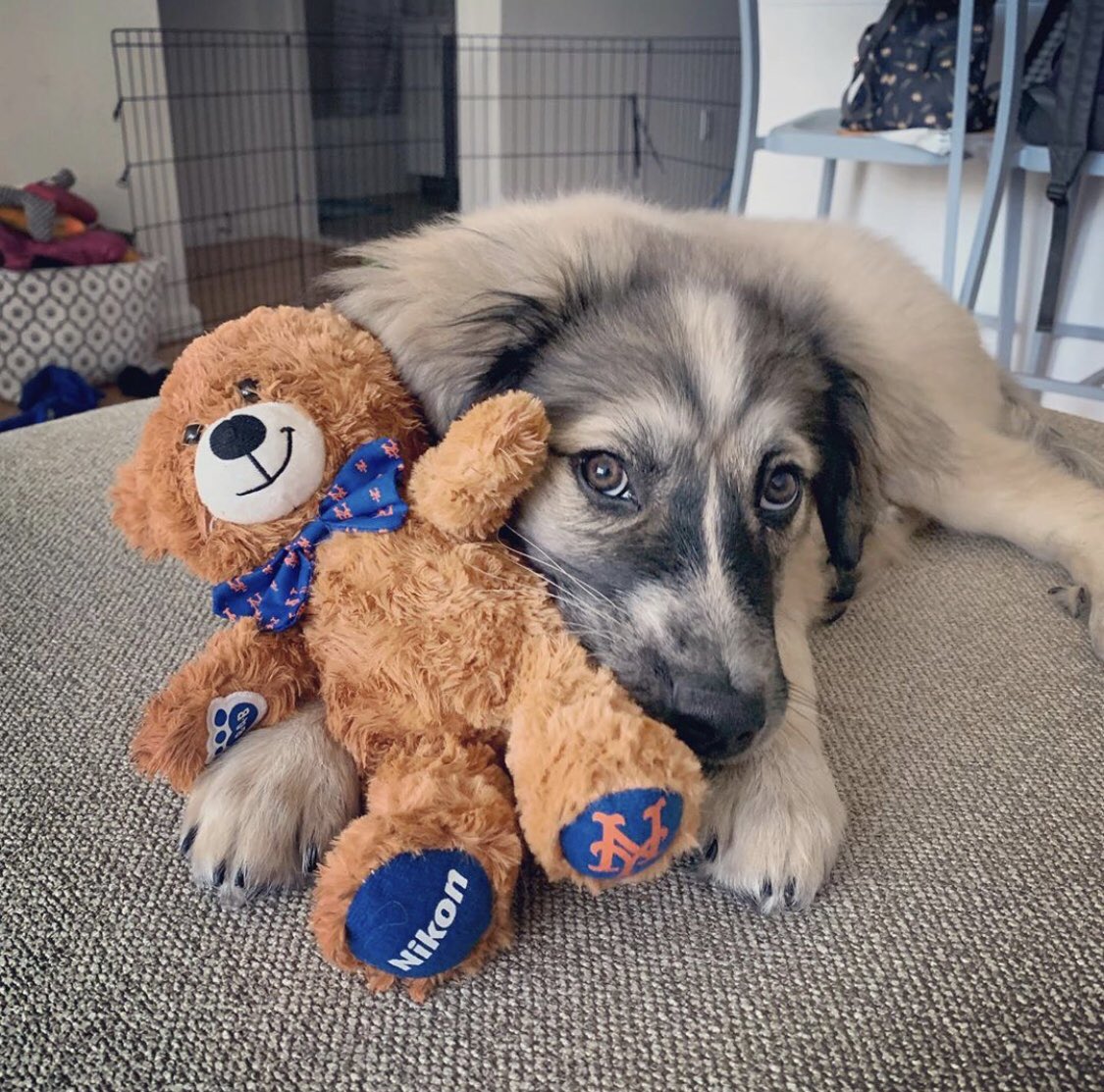 From the time he got married to his girlfriend Tatiana, he had literally been lobbying her to get a dog. And the instant he saw Willow, he knew she was the one. Soon after their first meeting, Jeff ended up playing exceptionally well. He had a match that very evening, and he scored a three-run home run against the Pirates. Subsequently, he told his wife, "We need this."
And soon, the little puppy became a part of the McNeil family.
Willow on Instagram
Soon after Willow was adopted, her parents opened an Instagram handle for her. Immediately, she started gaining fans from all over the world. In that account, McNeil often shares Willow's adorable pictures and videos. Consequently, the entire world saw Willow grow from a little puppy to a fully grown adult. As a result, she gained hundreds of followers. Currently, Willow's insta handle has 17.1k followers and has turned into an internet sensation.
How Jeff McNeil's Dog Willow Became an Unofficial Mascot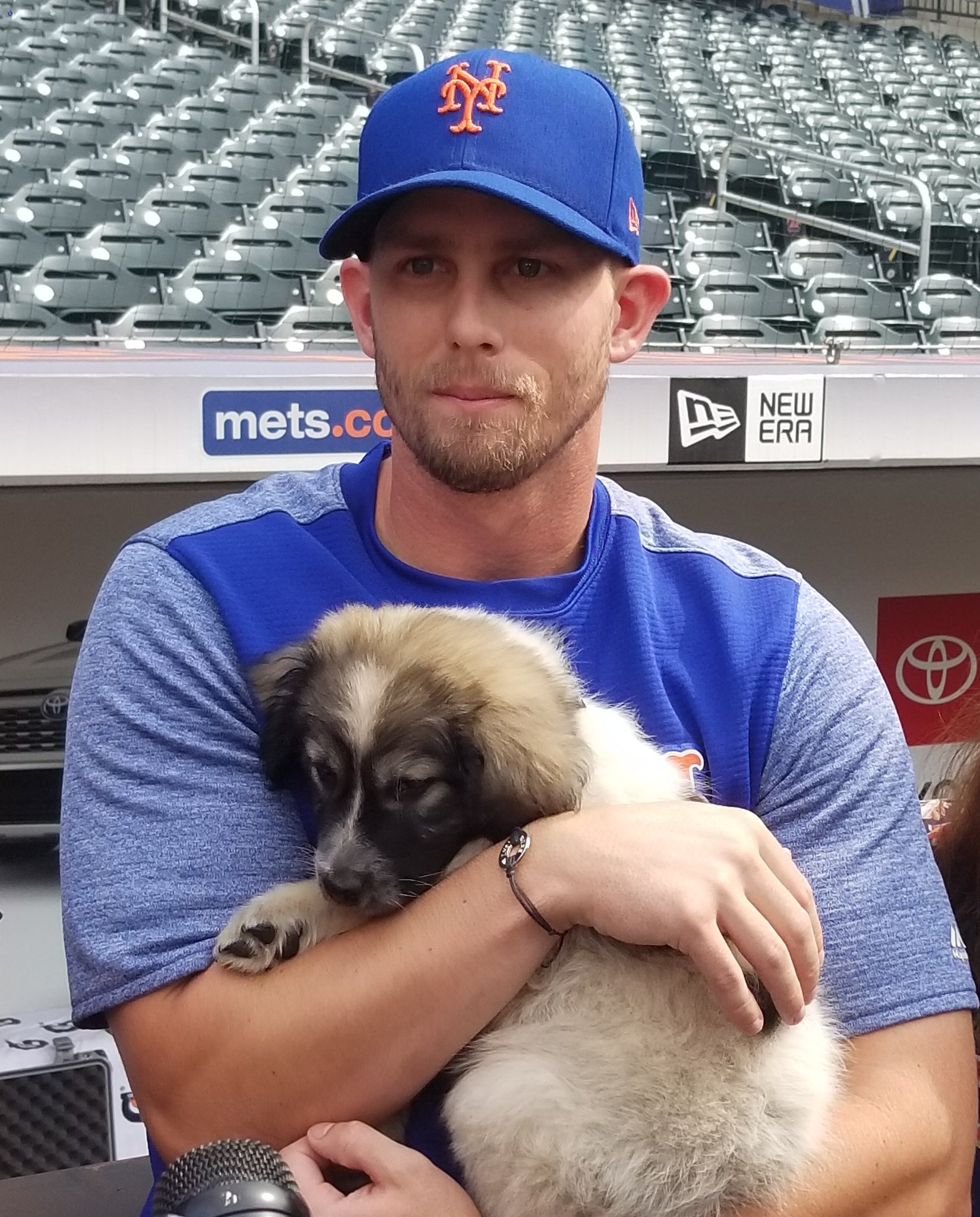 Willow is adored by the Met fans all over the world. However, this worldwide recognition is not just due to the Instagram posts but also due to some other influence. She has her own range of merchandise called "Puppy Power." And in addition, all the money from her merch goes straight to the North Shore Animal League.
Talking about puppy power, Willow may have positively affected the Mets team and not just Jeff. In fact, Just 12 games after meeting Willow, Jeff McNeil has batted .327 with a 1.188 OPS along with five home runs. The team, too, started having a sudden turnover in their performance after the arrival of Willow.
Some Facts about Jeff McNeil's Dog Willow
Willow is a female Collie, Shepherd, and Husky mix breed dog.
Currently, Willow is two years old.
She indeed has an unusual fur color. Her face is covered with black and grey patches, while the rest of her body fur is straw yellow.
Moreover, She is a rescue dog.