Kevin De Bruyne is a professional football player from Belgium. He took birth on 28th June 1991. Therefore, he plays for the national team of Belgium as well as as a midfielder for Manchester City, the legendary Premier League club. Moreover, critics have considered him again and again to be one of the best players of his generation and the world at large. They have also often regarded him as a complete footballer. Hence, let us see more about his life and career in this article.
He was born on 28 June 1991 and is currently 31 years old.
Kevin De Bruyne Stats
So, let us take a quick look at how the career of this "complete footballer" from Belgium has been over the years. Kevin De Bruyne had begun his career at Genk as a regular player when they won the Belgian Pro League back in 2010-11. In 2012, he joined Chelsea FC. However, he found minimal use there. So, he signed a deal with Wolfsburg in 2014 worth 18 million pounds. So, this was where he established his greatness and became a key player in the 2014-15 DFB-Pokal win of the club. However, following this, he joined the Premier League giant Manchester City for a contract of 54 million pounds. Since then, he has won four titles from the Premier League, five League Cups as well as an FA Cup.
Moreover, in 2017, when Manchester City became the only team in the Premier League to gather 100 points within a season, he played an important role. Additionally, in the 2019-20 season, he became the Player of the Season after he made the record of maximum assets in the Premier League season. Moreover, Kevin De Bruyne also has a remarkable career arc in international matches. So, he was a part of the UEFA Champions League Squad of the Season a total of five times. Moreover, he has also been on the IFFHS Men's World Team four times, in the UEFA Team of the Year, and the ESM Team of the Year three times.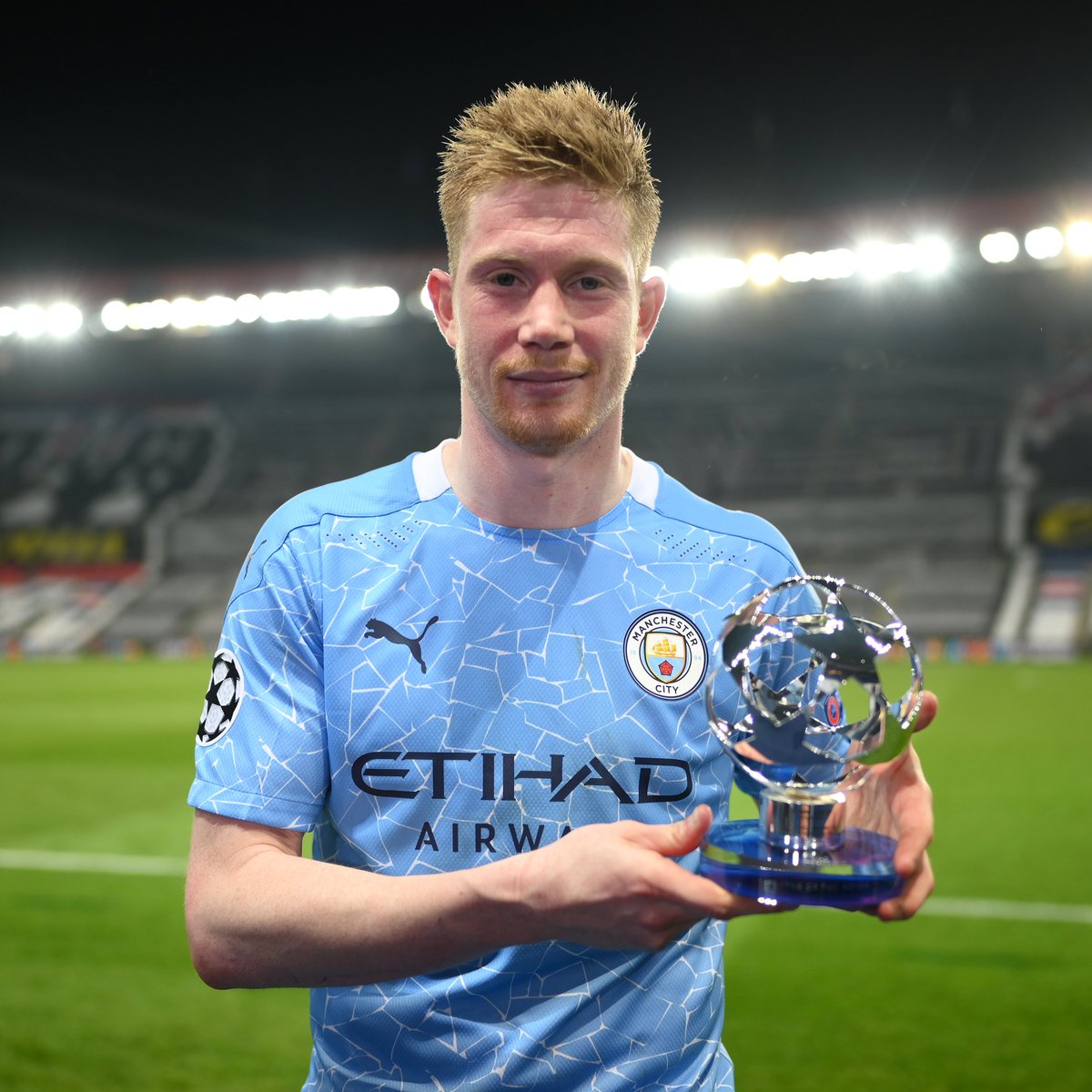 In addition to these, he also won the title of the Premier League Playmaker of the Season two times, the PFA Players' Player of the Year two times, and Manchester City's Player of the Year four times. However, these are not everything. He has a number of other accolades and titles to his name.
Table
| | | |
| --- | --- | --- |
| Competition | Total no. of matches | Total no. of goals |
| Premier League | 210 | 53 |
| Bundesliga | 84 | 23 |
| Jupiler League | 72 | 13 |
| Champions League | 60 | 12 |
| EFL Cup | 26 | 10 |
| FA Cup | 21 | 7 |
| JPL Play-off I | 16 | 1 |
| Europa League | 11 | 5 |
| DFB-Pokal | 10 | 2 |
| Europa League Qualifying | 5 | 1 |
| JPL Play-Off II | 5 | 1 |
| Jupiler Pro League Playoff Europa League | 4 | 1 |
| Champions League Qualifying | 3 | – |
| Beker van België | 3 | – |
| Belgian Super Cup | 2 | – |
| DFL Super Cup | 1 | – |
| Community Shield | 1 | – |
| Total | 534 | 133 |
Kevin De Bruyne Wife
So, Michele Lacroix is the wife of Kevin De Bruyne. Therefore, they tied the knot in a luxurious wedding in Italy back in 2017. Moreover, they also have two children.
Kevin De Bruyne Boots
So, currently, Kevin de Bruyne wears the Phantom Vision II boots from Nike. Moreover, they designed it especially to tackle his long-range passing along with scoring the VSN 2's micro-textured Flyknit upper. Therefore, the Quadfit inner sleeve reinforces the soft Flyknit upper and also gives a custom fit. So, this is because it tightly clings to his feet during his various movements in the field. Moreover, the hyperposition outsole of VSN particularly helps the midfielder's pivots as well as directional changes. However, that is not just it. There are conical studs to help in rotation and bladed studs to make the heel and toe extremely agile.
Kevin De Bruyne Salary
So, Kevin De Bruyne is currently on a contract of 5 years with Manchester City FC. Therefore, the total amount he received out of this was 104,000,000 pounds. Moreover, he has an annual average salary of around 20,8000,000 pounds.
Kevin De Bruyne Transfer
So, club football has seen some significant purchases this year. Therefore, there has been a lot of transfer news in the past few weeks. However, though that is the general climate of the game, it does not apply to Kevin De Bruyne. So, Manchester City FC, the Premier League giants bought him back in 2015 and he has been playing there as a midfielder ever since. Moreover, the transfer fee was a record in the history of the club. Therefore, the deal they signed was for 55 million pounds or 75 million euros. Moreover, this became the second most costly transfer of British Football ever with the most expensive being Angel Di Maria's transfer to Manchester United in 2014.
Kevin De Bruyne Net Worth

Kevin De Bruyne's net worth is believed to be approximately 23.5 million pounds in year 2022.
Kevin De Bruyne World Cup 2014
So, by now, we have a fair idea that Kevin De Bruyne is probably the best football player that Belgium has currently. Therefore, it is only obvious that the national team will rely on him and make him the key to their World Cup matches. Despite being only thirty, he has already played in a number of world cups. So, the first FIFA Men's World Cup that he appeared in was the one in 2014. Moreover, he had shown commendable performance.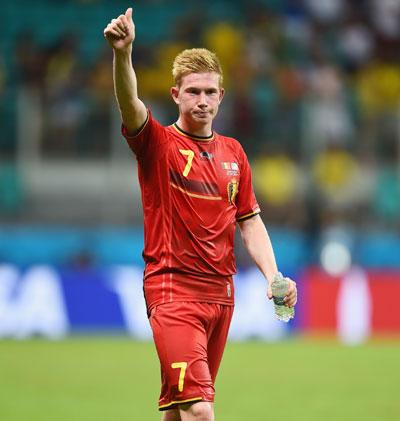 Therefore, in the 2014 FIFA Men's World Cup qualification process, he became a very key figure in the Belgium national team. So, in the qualification stage, he made a stunning 4 goals. Therefore, this pushed the entry of the Red Belgian Devils into a major tournament for the first time in 12 years.
Moreover, as you can already expect, he was in the news headlines throughout the tournament for his spectacular performances. Therefore, with so much responsibility to shoulder, it is only natural that he becomes the "complete footballer" in Belgium. Let us now see how he performed in the next World Cup.
Kevin De Bruyne World Cup 2018
So, the 2018 World Cup was hardly any different. Therefore, Kevin De Bruyne enrolled himself into the final Belgium team containing 23 players for the 2018 FIFA Men's World Cup. Moreover, in the opening game on 18th June, Belgium played against Panama who was playing for the first time ever in the World Cup. So, in this game, he gave an assist to Romelu Lukaku. Therefore, this resulted in a 3-0 win. Let us now see what the situations are just at the onset of the 2022 World Cup.
Kevin De Bruyne World Cup 2022
So, the FIFA Men's World Cup happens only once in 4 years. Therefore, there is a lot of excitement and expectation building around it. Even if your own national team did not get selected, you always have your favorite players and teams to support and cheer for. However, if you are a fan of the Belgium National Team or Kevin De Bruyne, you have no reason to be sad. So, just like the past two tournaments, Belgium has made a place in the FIFA Men's World Cup for this year as well. Therefore, just wait for a couple of months before you spot your favorite player in Qatar this November.
Kevin De Bruyne FAQs
Who is Kevin De Bruyne's biological father?
So, the biological father of Kevin De Bruyne is Herwig De Bruyne. He took birth in Drongen, Belgium in 1991.
What is Kevin De Bruyne famous for?
So, he is famous for being one of the best footballers that the football history of Belgium has ever produced. Moreover, he currently plays for Manchester City FC as a midfielder. Many have dubbed him as the "complete footballer". Check out the "Kevin De Buyne stats" section to get a thorough insight into his illustrious career.
How old are Kevin De Bruyne's kids?
So, their oldest Mason Milian De Bruyne took birth in 2016. Therefore, he is 6 years old. Moreover, their second son Rome took birth in 2018 making him 3 years old. Finally, they had Suri De Bruyne born in 2020. So, she is hardly 2 years old.
Who is the best midfielder in the world?
Well, as of now, Kevin de Bruyne tops the list containing the best midfielders in the world across the club and international football. However, that is hardly surprising.
Is KDB ginger?
So, in Belgium, people call him "the Ginger Pele". Moreover, his Manchester City FC transfer worth 55 million pounds shows why people hold him in such great regard.
Is Kevin De Bruyne married?
Yes, he is married. So, he married Michele Lacroix back in 2017 after the conception of their first son together- Mason.
How many assists does KDB have all time?
As of now, he has a total of 85 assists. Therefore, this makes him the 9th player with the most assists in the history of the Premier League.
What was Kevin De Bruyne's best season?
So, arguably, his best season as of now was 2019-20 during which he equaled the record of Thierry Henry with 20 assists.