Andrew McLean Galloway IV, known in Scottish Gaelic as Anndra MacGill-Eain Gall-Ghàidhealaibh IV, was born on June 6, 1985. He is a Scottish professional wrestler, currently performing in WWE on the Raw brand as Drew McIntyre.
Galloway started his wrestling career in the United Kingdom in 2001. WWE signed him in 2007, sending him to Ohio Valley Wrestling and Florida Championship Wrestling. As "The Chosen One" on SmackDown in 2009, he won the WWE Intercontinental Championship and WWE Tag Team Championship. However, he later worked as a low-card wrestler, joining the stable 3MB. WWE released him in 2014.
From 2014 to 2017, Galloway wrestled under his real name in various global promotions. His notable stints include Total Nonstop Action Wrestling (TNA), where he became a one-time TNA World Heavyweight Champion and Impact Grand Champion. In Evolve, he was a one-time Evolve Champion, one-time Open the Freedom Gate Champion, and two-time Evolve Tag Team Champion.
Galloway returned to WWE as McIntyre in 2017, winning the NXT Championship in NXT. After rejoining WWE's main roster in 2018, he claimed the Raw Tag Team Championship, the 2020 Men's Royal Rumble match, and the WWE Championship at WrestleMania 36's second night. McIntyre is the first and only British WWE world champion and the 31st Triple Crown champion.
Discover the intriguing world of Drew McIntyre in this comprehensive guide. Learn about his captivating biography, including his real name, age, height, and the influence of his parents. Dive into his remarkable career in WWE, exploring his achievements, net worth, and notable awards.
Drew Mcintyre Bio/Wiki
| | |
| --- | --- |
| Full Name | Andrew McLean Galloway IV |
| Date of Birth | 6 June 1985 (age 38) |
| Place of Birth | Ayr, Scotland |
| Spouse(s) | Taryn Terrell (m. 2010; div. 2011) Kaitlyn Frohnapfel (m. 2016) |
| Ring Name(s) | Drew McIntyre, Drew Galloway |
| Height | 6 ft 5 in (196 cm) |
| Weight | 265 lb (120 kg) |
| Billed from | Ayr, Scotland |
| Trainers | Spinner McKenzie, Justin Richards, Mark Sloan, James Tighe |
| Wrestling Debut | 2001 |
Early Life
Born in Ayr on 6 June 1985, Andrew McLean Galloway IV spent his formative years in the neighboring town of Prestwick. Attending Prestwick Academy, he initially harbored dreams of becoming a professional football player, showcasing his skills as part of the Prestwick Boys youth club. However, a serendipitous encounter with the magazine X Factor altered his trajectory.
Fascinated by its content on conspiracy theories and ghost stories, young Galloway penned a letter to the FBI under the Freedom of Information Act. To his surprise, the FBI responded by sending him a collection of intriguing documents. While maintaining his passion for professional wrestling, Galloway embarked on training at the tender age of 15, striking a deal with his supportive parents to balance his studies. This commitment led him to pursue and achieve a master's degree in criminology from Glasgow Caledonian University.
Drew McIntyre Parents & Family
Born as Andrew McLean Galloway IV, Drew McIntyre, the famous WWE star, was born in Ayr, Scotland, to Angela Anne Galloway and Andrew Galloway Sr. His parents played a crucial role in shaping his career in professional wrestling. At a tender age of 15, when McIntyre showed interest in wrestling, his parents agreed to support him as long as he gave equal attention to his studies. McIntyre lived up to his promise, eventually earning a master's degree in criminology from Glasgow Caledonian University.
Drew McIntyre Nationality & Ethnicity
Hailing from Scotland, Drew McIntyre is of Scottish descent and holds British nationality. Born as Andrew McLean Galloway IV, he is widely recognized under his ring name, Drew McIntyre. His Scottish lineage is reflected in his wrestling persona, as he represents the raw power and tenacity associated with Scottish warriors.
Drew McIntyre Age: How Old is Drew McIntyre?
As of 2023, Drew McIntyre is 38 years old. He was born on June 6, 1985, in Ayr, Scotland. His journey into the world of wrestling began at a young age, and his dedication and hard work have allowed him to remain a prominent figure in the industry for more than a decade.
Drew McIntyre Height: How Tall Is Drew McIntyre?
Drew McIntyre is a towering figure in the wrestling world, standing at an impressive height of 6 feet 4 ¾ inches, or approximately 195 cm. He uses his height to his advantage in the ring, commanding attention with his commanding presence and intimidating stature. McIntyre's height, coupled with his intense, brooding, and aggressive wrestling style, has become a significant part of his wrestling persona.
Drew McIntyre Weight: How Much Does Drew McIntyre Weigh?
Drew McIntyre weighs in at 265 pounds, which is approximately 120 kilograms. His muscular build and hefty weight make him an imposing figure in the wrestling ring. McIntyre's weight, combined with his height and muscular build, contribute significantly to his powerful in-ring performance, making him a formidable opponent for any wrestler.
Professional Wrestling Career
Training and Debut (2001–2006)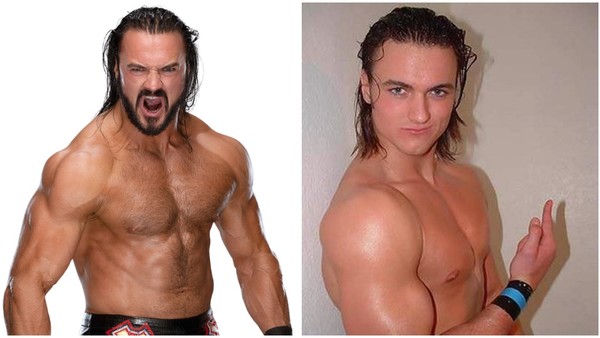 Andrew McLean Galloway IV, known in the wrestling world as Drew McIntyre, initiated his training at Frontier Wrestling Alliance's Academy at age 15 after his family relocated to Portsmouth, England. Mentored by Mark Sloan, Justin Richards, and James Tighe, among others, Galloway made his debut for British Championship Wrestling (BCW) in 2003. At BCW, he honed his skills under Colin McKay and Spinner McKenzie, creating the persona of a self-obsessed narcissist, "Thee" Drew Galloway. He achieved his first significant victory under the guidance of manager Charles Boddington.
In 2005, Galloway began a series of matches against American veterans and initiated brief feuds with several wrestlers. Following a succession of events against long-term rival Sheamus O'Shaunessy, Galloway emerged victorious in their rematch in May 2006.
Independent Circuit (2006–2007)
Galloway's journey in the independent circuit commenced in November 2006. After some initial matches, he triumphed over BCW Heavyweight Champion Highlander. The win led him to his second BCW Heavyweight Championship, successfully defending it throughout 2007 before vacating it due to relocation to the United States.
In the Republic of Ireland, Galloway wrestled under Irish Whip Wrestling (IWW), still using the "Thee" Drew Galloway persona. His rivalry with Manson was a highlight of this period. Despite losing streaks, his tenacity and endurance earned him respect. Eventually, Galloway emerged as the IWW International Heavyweight Champion on 28 January 2006 after a series of intense matches against O'Shaunessy. However, due to other commitments, he had to give up the championship in January 2007.
During his time in the independent circuit, Galloway competed in various promotions and tournaments and won the first ICW Heavyweight Champion title in the Insane Championship Wrestling's debut show. He held the title for 280 days before losing it in a five-man elimination match. Despite his wrestling commitments, he also served as a referee for Premier British Wrestling, indicating his versatile contributions to the sport.
World Wrestling Entertainment/WWE (2007 – 2014)
Drew Galloway, known by his ring name Drew McIntyre, began his journey with World Wrestling Entertainment (WWE) in 2007, establishing himself as a villainous character. Under the mentorship of Dave Taylor, McIntyre successfully defeated his opponents and proved his skills. He moved to the Raw brand in early 2008, where he gained popularity with the audience.
Early appearances (2007–2008)
Galloway made his official debut on the 12 October 2007 episode of SmackDown! as Drew McIntyre. He had a successful start, defeating Brett Major and Brian Major with the help of his mentor, Dave Taylor. At the beginning of 2008, McIntyre was moved to the Raw brand and made his official debut on the 6 January episode of Heat as a face character, defeating Charlie Haas.
Ohio Valley Wrestling/OVW (2007–2008)
In September 2007, McIntyre went to Louisville for Ohio Valley Wrestling (OVW). His time in OVW was mostly spent wrestling regularly on OVW TV & non-televised live events. He formed a tag team with the future Wade Barrett—known as Stu Sanders at the time—forming the "Brit Pack". In February 2008, WWE announced they would be pulling their contract with OVW, leading to McIntyre's exit from the wrestling promotion.
Florida Championship Wrestling (2008–2009)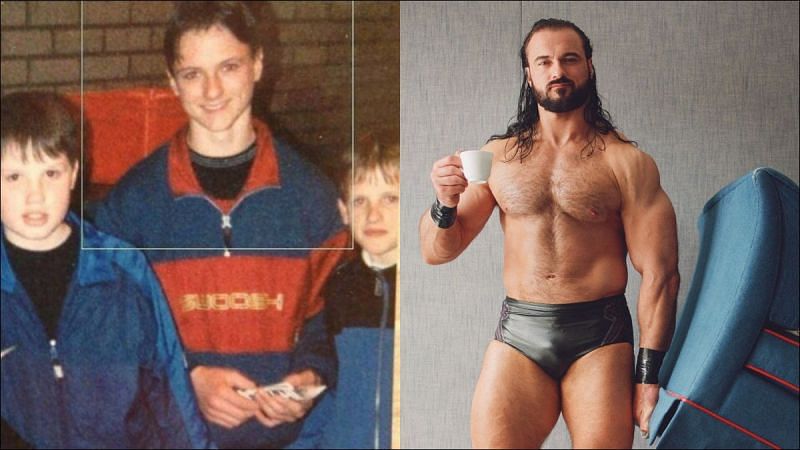 After leaving OVW, McIntyre moved to WWE's developmental territory, Florida Championship Wrestling (FCW). There, he reformed his team with Stu Sanders, now known as The Empire. They had several notable matches, with McIntyre winning the FCW Florida Heavyweight Championship in 2009. Despite the challenges, he regularly defended his title until it was won by Tyler Reks in June.
Intercontinental Champion (2009–2010)
In August 2009, McIntyre re-debuted on the SmackDown brand as a villain. He gained popularity by attacking R-Truth and using his new finishing move, the Future Shock. McIntyre's successful streak continued, and he won his first WWE championship, the Intercontinental Championship, in December at TLC. He held the title for 161 days before losing it to Kofi Kingston in May 2010.
Various storylines (2010–2012)
Between 2010 and 2012, McIntyre found himself in various storylines, including a tag team with Cody Rhodes, with whom he won the WWE Tag Team Championship. He also had a tense relationship with general manager Theodore Long, which was a significant part of his storyline. He participated in several major matches, including the namesake ladder match at Money in the Bank and the SmackDown Elimination Chamber match for the World Heavyweight Championship.
3MB (2012–2014)
In 2012, McIntyre and Jinder Mahal joined forces with Heath Slater to form the Three Man Band, or 3MB. Despite their attempts to make a name for themselves, the group faced many losses. The group dissolved after McIntyre's release from his WWE contract in June 2014. This marked the end of McIntyre's initial run with WWE.
Return to Insane Championship Wrestling (2014–2017)
In July 2014, Drew Galloway made his post-WWE debut under his real name at Insane Championship Wrestling (ICW), kickstarting a feud with Jack Jester. This marked his first appearance at ICW in seven years. By November, Galloway claimed victory over Jester at ICW's "Fear & Loathing VII" event to become a two-time ICW Heavyweight Champion. Galloway defended his title internationally, including a successful defense in Denmark.
He announced his intention to make the ICW title a world championship by defending it globally, rechristening it as the ICW World Heavyweight Championship in February 2015. Throughout 2015 and 2016, Galloway successfully defended his championship in Scotland, Australia, England, and Germany. A significant moment came when he joined forces with Jack Jester and ICW GM Red Lightning, forming 'The Black Label'. Galloway's ICW tenure ended in November 2016 due to severe back injuries.
He was inducted into the ICW Hall of Fame in February 2018. In 2022, the new ICW World Heavyweight Champion, Leyton Buzzard, cited Galloway's "Travelling World Champion" title reign as his inspiration.
Galloway's Time with Evolve (2014–2017)
Galloway debuted for Evolve in August 2014 and quickly rose to prominence by defeating Chris Hero for the Evolve Championship. Throughout 2014 and 2015, he defended the Evolve championship stateside against formidable opponents and also internationally in Scotland and England. Galloway elevated the Evolve Championship to a world title and made successful defenses globally.
In 2015, Galloway managed to claim the Dragon Gate USA Open the Freedom Gate Championship, thus becoming a double champion. Galloway lost both championships to Timothy Thatcher in July 2015, but not before setting the record for the most successful title defenses. Despite suffering a suspension, Galloway returned to Evolve, where he won and lost the inaugural Evolve Tag Team Champions alongside Johnny Gargano.
Return to the Independent Circuit (2014–2017)
Following his WWE release, Galloway returned to the independent circuit in 2014. His journey began with WrestleZone Scotland and continued with promotions like House of Hardcore, International Wrestling Federation (IWF), Scottish Wrestling Alliance, Lucha Libre AAA Worldwide (AAA), and many more. He won and lost several championships and built rivalries with some of the biggest names in independent wrestling.
His run in the independent circuit also saw him debut for Preston City Wrestling (PCW), Westside Xtreme Wrestling (wXw), House of Glory (HOG), and AAW: Professional Wrestling Redefined (AAW). His tenure with What Culture Pro Wrestling (WCPW) saw him claim and lose the WCPW Championship. Galloway's journey in the independent circuit was marked by a relentless pursuit of wrestling excellence and passion for the sport.
Total Nonstop Action Wrestling Journey (2015 – 2017)
Total Nonstop Action Wrestling (TNA) saw a surprise debut from Drew Galloway in 2015. His impactful entry in Glasgow, Scotland, showcased his potential when he aided TNA British Boot Camp season 2 participant Grado, marking the start of a feud with The Beat Down Clan. Galloway's tenure with TNA was characterized by various intriguing encounters, powerful alliances, and a dynamic journey towards the championship.
The Rising and Pursuit for Championships (2015–2016)
Galloway's rise to prominence began in 2015 when he formed "The Rising," a stable with Eli Drake and Micah. This alliance saw multiple successes and rivalries, notably with The Beat Down Clan. Despite their victories, the group had to disband after losing to The Beat Down Clan in a 4-on-3 handicap match.
Galloway's journey took a turn when his former teammate, Eli Drake, attacked him during a match for the TNA World Heavyweight Championship against Ethan Carter III. Although Galloway lost, he managed to defeat Drake in a No Disqualification rematch. His continued persistence eventually led him to become the number one contender for Ethan Carter III's TNA World Heavyweight Championship.
A significant chapter in his career unfolded when he participated in the TNA World Title Series for the vacant title. Despite not advancing past the round of 8, his fight against some of the toughest opponents like Bram, Rockstar Spud, and Grado made a mark.
Galloway also had a short-lived storyline with Kurt Angle, the wrestling legend. Their competition culminated in Manchester, England, in a heartfelt match as part of Angle's farewell tour.
Championship Reigns and Epic Battles (2016–2017)
Galloway's relentless pursuit bore fruit on the 15th of March 2016 episode of Impact Wrestling. He cashed in his Feast or Fired briefcase and overpowered Matt Hardy to capture the TNA World Heavyweight Championship, becoming the first-ever Scottish-born TNA World Heavyweight Champion.
His reign saw a series of successful defenses against strong opponents such as Jeff Hardy and the Bound for Gold winner Tyrus. However, his reign ended at 89 days when Lashley won the title at Slammiversary. Subsequent attempts to regain his championship were thwarted by the involvement of Ethan Carter III.
Following a fallout with Ethan Carter III, Galloway turned heel and joined the qualifying tournament for the inaugural Impact Grand Championship. Despite an injury causing him to be replaced in the finals, Galloway returned stronger and defeated Moose to win the Impact Grand Championship in January 2017. However, his reign was short-lived, as he lost the championship back to Moose in March. Shortly after, he parted ways with TNA.
The Pro Wrestling Guerrilla Chapter (2015–2016)
Parallel to his TNA career, Galloway also debuted for Pro Wrestling Guerrilla (PWG) in August 2015. He marked his presence by competing in the Battle of Los Angeles tournament and was part of a winning ten-man tag team. His journey in PWG was marked by challenges and victories, with memorable battles against former rival Roderick Strong for the PWG World Championship and Michael Elgin. Galloway's tenure in PWG showcased his skill and perseverance, further solidifying his status in the wrestling world.
Return to WWE (2017 – present)
On April 1, 2017, Drew McIntyre, formerly known as Galloway, returned to WWE, appearing at NXT TakeOver: Orlando. ESPN later confirmed his re-signing with WWE and his move to NXT.
NXT Champion (2017–2018)
Drew McIntyre's NXT re-debut came on April 12, where he adopted new entrance music and showcased his evolved in-ring style, defeating Oney Lorcan. He then became the #1 contender for the NXT Championship by defeating Killian Dain on the July 19 episode of NXT.
At NXT TakeOver: Brooklyn III on August 19, McIntyre captured the NXT Championship from Bobby Roode. Post-match, he was attacked by Bobby Fish, Kyle O'Reilly, and the newly arrived Adam Cole. McIntyre successfully defended his title against Roderick Strong on the October 4 episode of NXT.
McIntyre's next feud was with Andrade "Cien" Almas. NXT General Manager William Regal scheduled a championship match between them at NXT TakeOver: WarGames. The night before WarGames, McIntyre defended his title against Adam Cole, with Shawn Michaels as special guest referee, at a house show in San Antonio, Texas. This match later aired on the WWE Network on January 3, 2018.
However, at WarGames on November 18, McIntyre's reign as NXT Champion ended. Almas defeated him, marking McIntyre's first loss in NXT and concluding his 91-day title run. Post-match, it was revealed that McIntyre had suffered a torn bicep during the match.
Alliance with Dolph Ziggler (2018–2019)
In April 2018, Drew McIntyre returned to WWE on Raw, aligning with Dolph Ziggler and turning heel. They quickly defeated Titus Worldwide. McIntyre aided Ziggler in winning the Intercontinental Championship from Seth Rollins. Despite Rollins winning a rematch by disqualification, Ziggler retained the title. McIntyre later secured Ziggler's win at Extreme Rules in sudden death overtime.
McIntyre and Ziggler then formed an alliance with Braun Strowman. The duo won the Raw Tag Team Championship from The B-Team, successfully defending it at Hell in a Cell. However, they lost the titles to Rollins and Dean Ambrose in October.
In 2019, McIntyre joined Team Raw at Survivor Series, emerging victorious. December saw Drew McIntyre Appreciation Night, leading to the dissolution of his team with Ziggler. McIntyre then lost to Ziggler and Finn Bálor at TLC and a steel cage match to Ziggler, respectively. He was eliminated by Ziggler in the Royal Rumble.
McIntyre, alongside Baron Corbin and Lashley, lost to The Shield at Fastlane. He then attacked Roman Reigns, leading to a win over Dean Ambrose. After challenging Reigns to a WrestleMania match, McIntyre lost to Reigns at the event. The Shield defeated McIntyre, Corbin, and Lashley again at The Shield's Final Chapter. McIntyre demanded a rematch with Reigns, leading to an alliance with Shane McMahon but lost the Money in the Bank ladder match. Reigns defeated McIntyre at Stomping Grounds and teamed with The Undertaker to beat McIntyre and McMahon at Extreme Rules.
Post-Extreme Rules, McIntyre split from McMahon and entered the King of the Ring tournament, losing to Ricochet. He joined Ric Flair's team at Crown Jewel but lost to Team Hogan. At Survivor Series, Team Raw, including McIntyre, lost to Team SmackDown and Team NXT.
WWE Champion (2020–2021)
In late 2019, Drew McIntyre embarked on a winning streak in WWE's Raw brand, showing signs of turning face. He won the Royal Rumble in January 2020, earning a WrestleMania 36 title shot. McIntyre chose to face WWE Champion Brock Lesnar and defeated him, becoming WWE Champion. His first title defense against Big Show aired the following day on Raw.
McIntyre retained the championship against Seth Rollins at May's Money in the Bank and against Bobby Lashley at June's Backlash. He successfully defended the title against Dolph Ziggler at The Horror Show at Extreme Rules in July. McIntyre continued his championship run, retaining against Randy Orton at SummerSlam in August and in an Ambulance match at September's Clash of Champions. However, his reign ended at 203 days when he lost to Orton in a Hell in a Cell match in October.
In November, Drew McIntyre regained the WWE Championship from Randy Orton on Raw, concluding their rivalry. At Survivor Series, he faced Universal Champion Roman Reigns but lost due to Jey Uso's interference. McIntyre successfully defended his title at TLC in December against A.J. Styles and The Miz, and continued his successful defenses against Keith Lee on Raw and Goldberg at the Royal Rumble in January 2021. However, he lost the championship to The Miz at February's Elimination Chamber, following a Money in the Bank cash-in.
McIntyre then beat Sheamus in a No Disqualification match on Raw and again at Fastlane. He challenged Bobby Lashley for the WWE Championship at WrestleMania 37 in April but was defeated. His attempt in a triple threat match at WrestleMania Backlash also failed. In June, after defeating Kofi Kingston on Raw, McIntyre lost to Lashley at Hell in a Cell due to MVP's interference, marking his last title challenge against Lashley.
Feud with The Bloodline (2021–2023)
At Money in the Bank in July, Drew McIntyre lost the ladder match due to Jinder Mahal's interference. He then defeated Mahal at SummerSlam in August. On Raw, McIntyre failed to win the United States Championship in a triple threat match. After confronting WWE Champion Big E, McIntyre was drafted to SmackDown. He lost a championship match to Big E at Crown Jewel.
At Survivor Series, McIntyre captained Team SmackDown but was eliminated. He started a feud with Happy Corbin and Madcap Moss on SmackDown, beating Moss at Day 1. McIntyre was the final elimination in the Royal Rumble by Brock Lesnar. He won against Moss in a Falls Count Anywhere match at Elimination Chamber. At WrestleMania 38, McIntyre defeated Corbin. He and RK-Bro lost to Roman Reigns and The Usos at WrestleMania Backlash. McIntyre competed in the Money in the Bank ladder match, won by Theory.
On July 8, Drew McIntyre's SmackDown match against Sheamus for the #1 contender spot was postponed due to Sheamus's feigned illness. McIntyre won the rescheduled "Good Old Fashioned Donnybrook" match on July 29. He was then attacked by Karrion Kross and Scarlett, leading to a loss against Roman Reigns at Clash at the Castle on September 3.
McIntyre challenged Kross to a strap match at Extreme Rules, but lost due to Scarlett's interference. He defeated Kross in a steel cage match at Crown Jewel on November 5. At Survivor Series WarGames, McIntyre's team lost against The Bloodline. In the 2023 Royal Rumble, McIntyre was eliminated by Gunther and Sheamus. He challenged Gunther for the Intercontinental Championship at WrestleMania 39 in a triple threat match but lost.
Post-Draft, McIntyre confronted Gunther at Money in the Bank and lost a title challenge at SummerSlam. McIntyre briefly teamed with Matt Riddle before Riddle's WWE release.
Alliance with The Judgment Day (2023–present)
Returning to singles competition, Drew McIntyre became a tweener, adopting a more aggressive stance and distancing himself from faces like Cody Rhodes and Sami Zayn. He rejected the idea of accepting Jey Uso as a respected member of the Raw locker room due to Uso's actions with The Bloodline.
On October 9, McIntyre challenged Seth "Freakin" Rollins for the World Heavyweight Championship at Crown Jewel, but failed to win the title. On November 13, he aided The Judgment Day in retaining the Undisputed WWE Tag Team Championship, attacking Uso and then aligning with the group by shaking hands with Rhea Ripley.
McIntyre later teamed with The Judgment Day in a WarGames match at Survivor Series: WarGames. Despite winning the WarGames advantage by defeating Uso, his team lost in the event's match.
Drew Mcintyre Wife & Children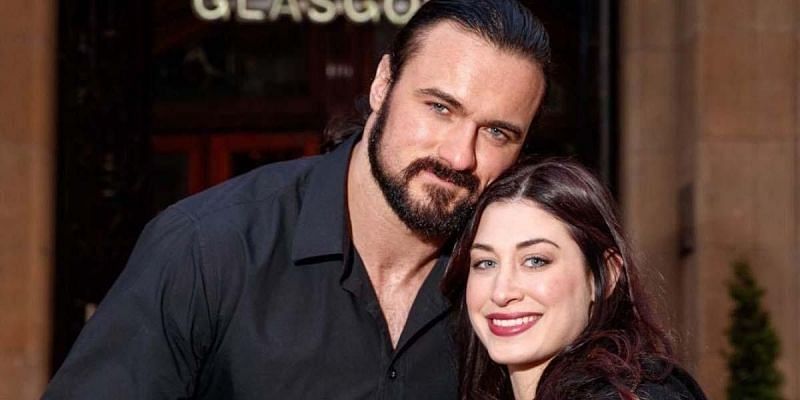 Drew McIntyre, the famed professional wrestler, is happily married to Kaitlyn Frohnapfel. Their union took place in 2016 and since then, they have had a fulfilling married life. McIntyre credits Frohnapfel for her unwavering support during tough times, which helped him revitalize his career. The couple shares a strong bond and resides in their lavish house in Tampa, Florida. Frohnapfel is a practicing doctor and keeps a low profile on major social media platforms.
Following a distressing end to his first marriage, professional wrestler Drew McIntyre was left disheartened and unsure of opening his heart again. The apprehension of heartbreak loomed over him, but Kaitlyn Frohnapfel's charm was irresistible, even for a seasoned wrestler like him. The towering athlete eventually succumbed to his affection for Kaitlyn, leading to their marriage on December 9, 2016, in St. Petersburg, Florida. The couple, currently without children, cherishes their time together and looks forward to the possibility of expanding their family when the time is right.
Before his enchanting union with Kaitlyn, Drew was romantically involved with Taryn Terrell – a model, actress, and fellow wrestler. The two began dating in 2010 and later took their vows in a private ceremony. However, an unexpected separation ensued, causing a stir in Drew's personal life and sparking widespread speculation. Despite these past trials, Drew McIntyre has found a harmonious marital bond with Kaitlyn Frohnapfel and continues to thrive in his professional wrestling career.
Drew Mcintyre Net Worth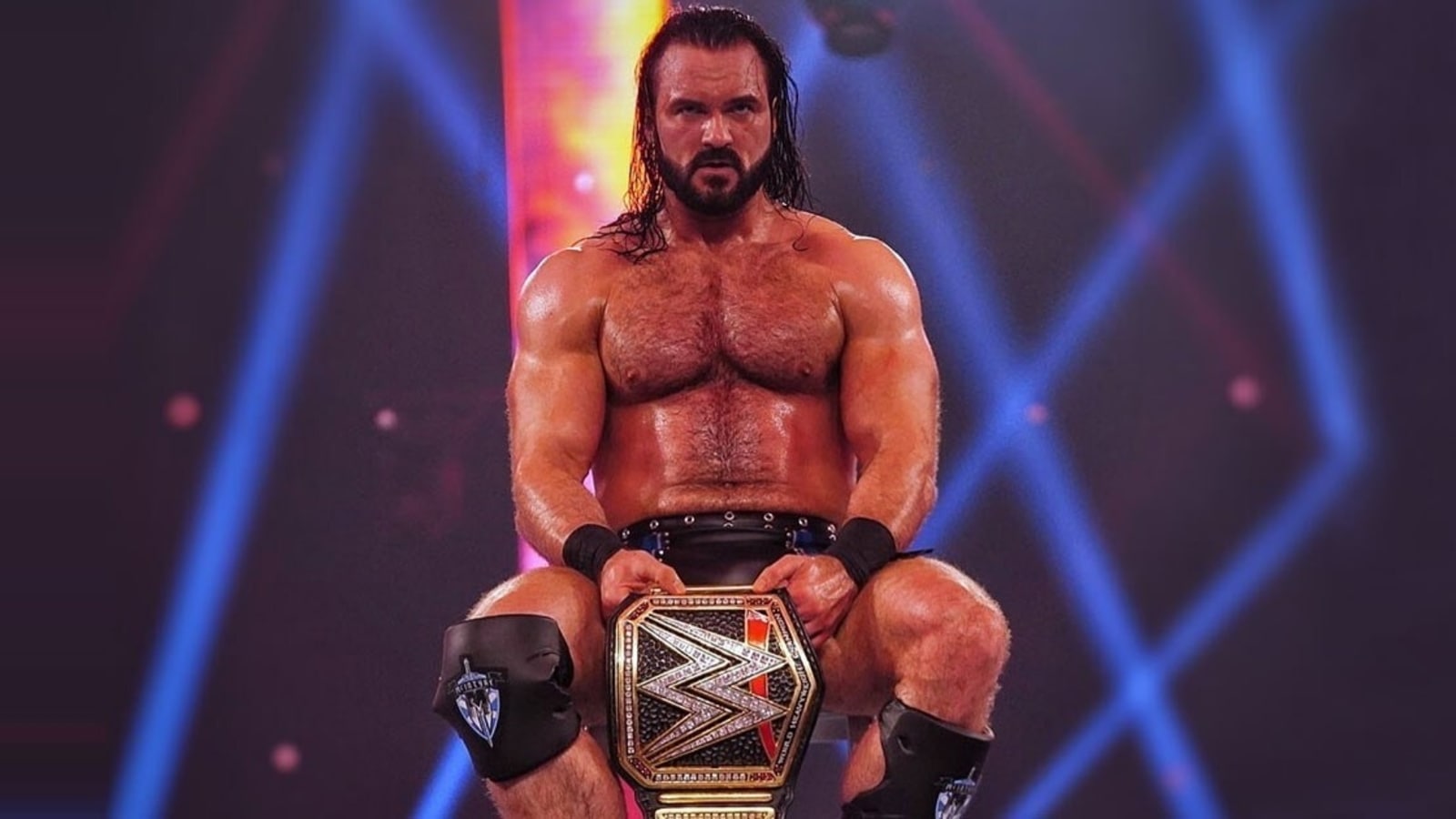 Drew McIntyre is a WWE superstar, and he has a net worth of $1.5 million US dollars as of 2023. McIntyre has played a significant part in the company's presentation in recent years. As a result, according to numerous speculations, his net worth will climb in the next few years. Drew McIntyre allegedly earns about $1 million US dollars each year in WWE, according to many reports. However, it is unclear whether this is McIntyre's base salary or if it is primarily derived from merchandise and ticket sales, as well as royalties.
Drew Mcintyre Claymore
Drew McIntyre made history at WrestleMania 38 as he became the first person in the organization to kick out of Happy Corbin's End Of Days finisher. The move had been highly guarded until The Showcase Of The Immortals and McIntyre revealed on the Believe in Pro Wrestling podcast that being the first guy to kick out of the finisher was cool. "I could feel it while I was lying there. I could see it when I watched it again and I could see the internet reaction: 'Oh God, Corbin's won it.' And there was the part of the match where we had them. It's catching the crowd, no matter what you think you know. They were defeated in the match. "And it was the point when everyone became completely disoriented, and his reaction to it was fantastic," McIntyre added.
"The stunner is kicked out. Claymore was expelled. There is nothing wrong with it as long as it is done on the appropriate occasion, done correctly and adds to what is happening in the ring. So it's good to claim I was the first to do it." McIntyre went on to defeat Corbin in their WrestleMania 38 encounter, and both men have since moved on from their rivalry, with Corbin now working with Madcap Moss and McIntyre collaborating with RK-Bro in a loss to The Bloodline.
Drew Mcintyre Finisher
Drew McIntyre's finishing move was not always the Claymore. During his tenure with 3MB, he tried a variety of slams before employing Claymore. But it was all unintentional, as he was attempting a huge boot but his pants were too tight, causing him to fall through on the kick. He felt it was cool and decided to use it as his finale.
Drew Mcintyre Awards
Drew McIntyre has won a number of awards and championships throughout his wrestling career. Here are some of his notable achievements:
He is a two-time WWE Champion.
He has won the WWE Intercontinental Championship once.
He is a one-time NXT Champion.
He has won the WWE (Raw) Tag Team Championship twice.
He also won the 2020 Slammy Award for Superstar of the Year.
Outside of WWE, under the ring name Drew Galloway, McIntyre also had significant success:
He was a one-time TNA World Heavyweight Champion and one-time Impact Grand Champion in Total Nonstop Action Wrestling (TNA).
On the independent circuit, he was the inaugural and two-time ICW World Heavyweight Champion, one-time Evolve Champion, one-time Open the Freedom Gate Champion, two-time Evolve Tag Team Champion, and one-time WCPW Champion.
After returning to WWE in 2017:
He won the NXT Championship at NXT TakeOver: Brooklyn III, becoming the first man to win the championship in his TakeOver in-ring debut and the first WWE wrestler to hold it after having previously won a championship on the main roster.
He won the Raw Tag Team Championship, the 2020 Men's Royal Rumble match, and the WWE Championship in the main event of the second night of WrestleMania 36.
He is the first British world champion in WWE and the 31st Triple Crown champion.
In total, McIntyre is a five-time world champion in professional wrestling.
Some Frequently Asked Questions
Drew McIntyre carries a sword for what reason?
McIntyre saw it as a monument to his loving mother, as having the sword alongside him meant having his mother with him. Drew McIntyre told Military News that the idea of naming a sword after his mother wasn't his, but Vince McMahon's.
What happened to Drew McIntyre?
Drew McIntyre revealed on Twitter on December 6, 2022, that he has been disqualified from the following bouts due to medical difficulties.
What is the age of Drew McIntyre?
Drew McIntyre was born on June 6, 1985 in Ayr, Scotland. He is 38 years old in 2023.
What is the height and weight of Drew?
Drew McIntyre stands at 6 feet 5 inches, or 196 cm, and weighs 120 kg, or 265 pounds.
How old is Drew McIntyre?
As of 2023, Drew McIntyre is 38 years old. He was born on June 6, 1985, in Ayr, Scotland.
How tall is Drew McIntyre?
Drew McIntyre stands at an impressive height of 6 feet 4 ¾ inches, or approximately 195 cm.
How much does Drew McIntyre weigh?
Drew McIntyre weighs approximately 265 pounds, which is about 120 kilograms.
Who is Drew McIntyre's wife?
Drew McIntyre is married to Kaitlyn Frohnapfel. They tied the knot on December 9, 2016, in St. Petersburg, Florida.
Does Drew McIntyre have children?
Currently, Drew McIntyre and his wife Kaitlyn Frohnapfel do not have children, but they look forward to expanding their family in the future.
What is Drew McIntyre's net worth?
Drew McIntyre has a net worth of $1.5 million US dollars as of 2023. He is a prominent WWE superstar and has contributed significantly to the company's success in recent years. It is speculated that his net worth will continue to grow in the coming years.
How much does Drew McIntyre earn in WWE?
Reports suggest that Drew McIntyre earns around $1 million US dollars annually in WWE. However, it is unclear whether this figure includes his base salary or if it encompasses earnings from merchandise, ticket sales, and royalties.