Sarona Moana Marie Reiher Snuka-Polamalu or Tamina Snuka, which is her ring name, is a professional wrestler from the United States. She is presently contracted to WWE, where she competes on the Raw brand as Tamina. She has one WWE Women's Tag Team Championship and nine WWE 24/7 Championships.
Tamina is an amazing wrestler with a WWE Hall of Famer father and a merciless aggression capable of running rampant throughout WWE.
Tamina is a force to be aware of, because of her massive size and power. She also has the ability to fly off the top rope. Tamina makes full advantage of her strong personality while playing as the muscle behind other good female Superstars when she isn't beating her opponents in singles competitions.
She also found love and married Akira Tozawa, a fellow Raw Superstar, in a double wedding ceremony with Dana Brooke and Reggie. Tamina filed for divorce a month later, therefore the marriage did not last long.
Tamina Snuka Instagram
Athletes and sportspersons tend to have a lot of following, especially if they are playing a popular sport. Professional wrestling is one such sport. And if they are on the biggest stage, then they are sure to have a healthy fan following. This is why WWE superstars and divas are so popular and have so many followers on their social media accounts. One such wrestler is Tamina SNuka. Tamina is very active on her social media pages on Instagram and Twitter. She regularly shares updates with her fans.
Tamina Snuka Age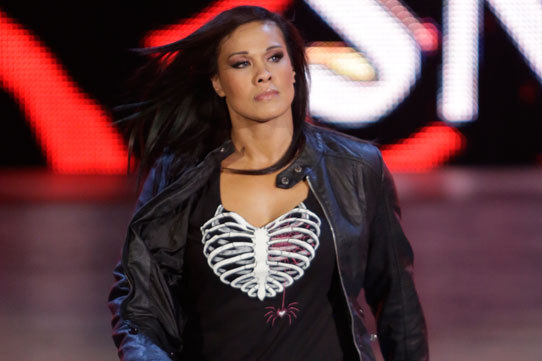 The WWE wrestler Tamina Snuka was born on January 10, 1978. She is 44 years old. For her age, she is a very strong professional wrestler. Over the last ten years, she has grown stronger and has been a consistent performer. It seems she still has a lot of years left to wrestler and win more championships.
WWE Raw
RAW is one of the World Wrestling Entertainment promotion's two primary brands. It was founded on March 25, 2002. WWE's roster is divided into brands by WWE. Wrestlers from each brand must compete on a weekly basis. Every Monday, RAW wrestlers appear on the show Monday Night RAW, or just RAW. WWE quit this brand for a brief period from 2011 to 2016 before bringing it back. When RAW resumed in 2016, Vince McMahon, the owner of WWE, appointed Stephanie McMahon as commissioner.
WWE RAW is home to a number of championships. Many are no longer available, while others have been available since RAW's start in 2002, and even before RAW. When the brand was expanded, some of the championships that had existed before WWE's foundation were assigned to RAW and Smackdown.
WWE Raw is home to some of the most successful and talented WWE superstars. AJ Styles, Randy Orton, Alexa Bliss, Becky Lynch, Tamina Snuka, and Queen Zelina are among those on the current roster.
Tamina Snuka Husband Name
Tamina Snuka has had two marriages. First, she married Brandon Polamalu in 1995. They separated in 2003. Next, in 2022, she married Akira Tozawa but filed for divorce after only a month.
Akira Tozawa is a very famous professional wrestler from Japan. He was born in Nishinomiya, Hyogo, Japan on July 22, 1985. Nishinomiya is a city in the Japanese prefecture of Hyogo. He currently works for the World Wrestling Entertainment (WWE) promotion.
Akira Tozawa began his pro wrestling career with Dragon Gate, a Japanese wrestling promotion. It goes by the name Dragon Gate Japan Pro-Wrestling. Akira Tozawa made his Dragon Gate USA debut after Dragon Gate. He then won numerous further fights in the United States before returning to Dragon Gate in 2011. Tozawa then signed with WWE, the world's largest wrestling promotion, in 2016.
On March 28, 2022, Akira Tozawa married fellow professional WWE wrestler Tamina Snuka. The couple fell in love after spending months practising for and attempting to win the WWE 24/7 Title. Tozawa won the championship for the fifth time on April 18, 2022. He triumphed this time by pinning his bride-to-be Tamina during their wedding ceremony. Tozawa eventually lost the championship to Dana Brooke. Tamina filed for divorce at the end of that month because Tozawa was unable to assist Tamina in winning the title.
WWE
WWE, or World Wrestling Entertainment, Inc., is the largest professional wrestling promotion in the world. WWE is its trade and publicity name. The promotion was established in 1953.
WWE had grown so large as a wrestling promotion company that it acquired two of its main competitors. However, this forced WWE to sign wrestlers from those companies. As a result, there was an abundance of talent. In 2002, WWE established two brands under itself, RAW and Smackdown. The brands disappeared in 2011 and reappeared in 2016. In 2016, the two brands returned with two completely different rosters, rings, and championships.
Wrestlers on RAW's roster include Austin Theory, Seth Rollins, Rey Mysterio, Tamina Snuka, Alexa Bliss, Dana Brooke, and Becky Lynch, among others. Smackdown's roster includes wrestlers such as Roman Reigns, Jinder Mahal, Charlotte Flair, Scarlett Bordeaux, and Ronda Rousey, among others.
It is critical to note that WWE shows are not legitimate competitions. All of the fights and dialogues, including the life-threatening moves, are scripted and choreographed. Vince McMahon admitted this aspect of the world's favourite professional wrestling promotion in 1989. He did so to avoid paying athletic commission taxes.
Tamina Snuka Height and Weight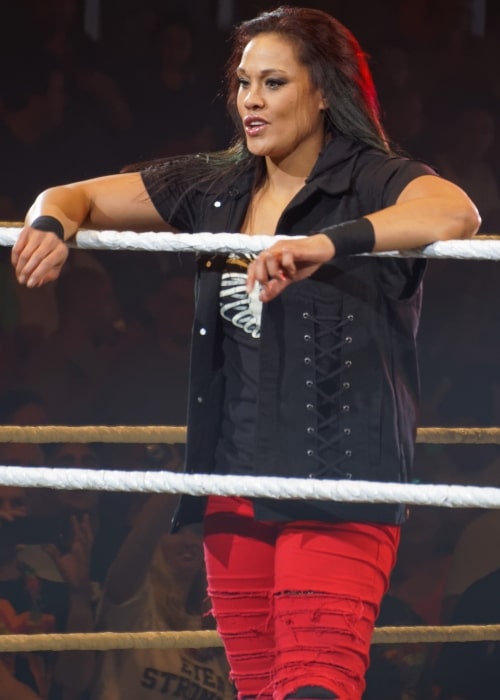 Tamina Snuka is a great female wrestler from the United States. Tamina, the WWE legend Jimmy Snuka's daughter, has built a name for herself in the profession. Fans have praised her game and her abilities in a number of important fights. The wrestler stands about 5 feet 7 inches tall. She is 66 kg in weight.
Tamina Snuka & Her Father Jimmy Snuka
James Reiher Snuka was a professional wrestler from Fiji. He goes by the ring name Jimmy "Superfly" Snuka. From the 1970s to the 2010s, Snuka wrestled for several promotions.
Jimmy Snuka began his WWE career as a villain, but his high-flying style made him famous. As a result, he made a lot of fans. Snuka's involvement in the WWF Championship match with Bob Backlund in Madison Square Garden, when the two wrestled in a Steel Cage, has gone down in history.
Jimmy Snuka is also famous for being the Undertaker's first opponent, whom the Dead Man defeated in WrestleMania VII to begin his undefeated streak. Jimmy Snuka wrestled in WCW for a year before returning to WWE.
The High-Flyer continued to make brief appearances for the firm. In 1996, Jimmy Snuka was inducted into the WWE Hall of Fame. Snuka died in 2015, after being dropped from the trial involving his girlfriend's death due to Dementia.
WWE wrestler Tamina Snuka is Jimmy Snuka's daughter. She wrestles under the brand RAW.
Tamina Snuka Net Worth
Snuka has been a professional wrestler for more than a decade. Hence, she amassed a lot of wealth during that period. She also earns a lot of money from wrestling video games. Tamina Snuka's net worth is approximately between $1 million and $2 million.
Tamina also made $80,000 from WWE in 2018. According to some sources, she currently earns $200,000 per year. She will almost certainly make more now that she has established herself in the ring. Therefore, Tamina lives a comfortable and wealthy existence.
Tamina Snuka and The Rock
Tamina Snuka and Dwayne "The Rock" Johnson are cousins. They are not related to each other by blood, but they are related to a common family. For this reason, the two consider themselves cousins.
Tamina Snuka FAQs
Is Tamina Snuka related to The Rock?
Yes, the WWE wrestler Tamina Snuka is a relative of the former WWE Superstar The Rock. The Rock, whose real name is Dwayne Johnson, is Tamina's cousin.
Is Tamina related to Roman Reigns?
Through her father, Jimmy Snuka, Tamina Snuka is connected to Roman Reigns. While the WWE icon and Hall of Fame member married into the Anoa'i family, Tamina is Roman Reigns' cousin and can claim a relationship with the Universal Champion.
Is Tamina related to The Usos?
Tamina's father married into the Anoa'i family in 1964 when he married Sharon. Tamina became a member of the family and a cousin to The Usos, with whom she made her WWE debut in 2010.
How many kids does Tamina Snuka have?
Tamina Snuka has two daughters, Milaneta and Malaeta. These two daughters are from her first marriage, that is, her marriage with Brandon Polamalu. She was married to Brandon Polamalu from 1995 to 2003.
Are Roman Reigns and The Usos related?
Roman Reigns and The Usos are related to each other via Dwayne Johnson, who went by the ring name The Rock. The Usos and Roman Reigns, both are The Rock's cousins. They have alway sbeen great performers in the ring and have dominated the ring, especially in the past two years.