Ronda "Rowdy" Rousey, born February 1, 1987, is an iconic American figure in the world of professional wrestling, MMA, judo, and acting. Affiliated with WWE's Raw brand, Rousey previously made her mark in the Ultimate Fighting Championship (UFC). Her "Rowdy" nickname is a tribute to wrestler Roddy Piper.
Rousey's accolades are profound. In 2008, she became the first American woman to secure an Olympic judo medal, winning bronze. She ventured into MMA in 2011, swiftly moving to Strikeforce and subsequently to UFC, where she was both their first female fighter and Women's Bantamweight Champion. Holding the record for the most UFC title defenses by a woman, she retired in 2016. Her prowess led to her induction into the UFC Hall of Fame in 2018.
Transitioning to professional wrestling in 2018, Rousey made an impactful WWE debut at WrestleMania 34. Her achievements include winning the Raw Women's Championship, headlining the all-women's Evolution pay-per-view, and making history at WrestleMania 35. 2022 saw her triumphant return, winning the Royal Rumble and subsequently the SmackDown Women's Championship twice. Alongside Shayna Baszler, she became the eighth Women's Triple Crown Champion, unifying the WWE and NXT Women's Tag Team titles.
Rousey's legacy is unparalleled; she's the sole female champion in both UFC and WWE and the only one to lead a pay-per-view event in both entities. Voted ESPN's best female athlete of all time in 2015, Fox Sports celebrates her as a defining 21st-century athlete. Beyond sports, she's showcased her talent in movies like "The Expendables 3", "Furious 7", and "Mile 22", and penned her autobiography, "My Fight / Your Fight", in 2015.
Bio/Wiki Table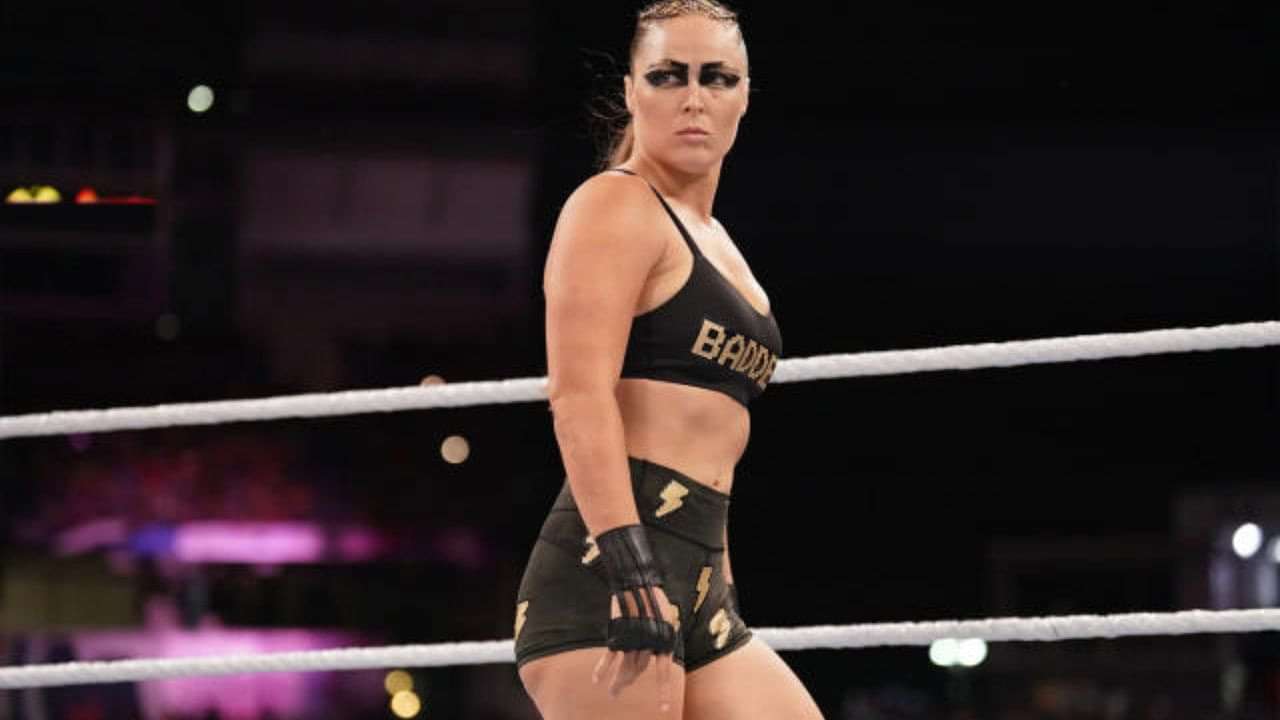 | Category | Details |
| --- | --- |
| Full Name | Ronda Jean Rousey |
| Nickname | Rowdy, The Baddest Woman On The Planet |
| Date of Birth | February 1, 1987 |
| Place of Birth | Riverside, California, U.S. |
| Spouse | Travis Browne (married in 2017) |
| Children | 1 |
| Height | 5 ft 7 in (170 cm) |
| Weight | 135 lb (61 kg) |
| UFC Division | Featherweight (2010–2011), Bantamweight (2012–2016) |
| Style | Judo |
| UFC Team | Glendale Fighting Club, Gokor Hayastan Academy, SK Golden Boys |
| Judo Belt Rank | 6th dan black belt |
| Years Active | 2010–2016 (MMA) |
| MMA Record | 14 total fights (12 wins, 2 losses) |
| WWE Ring Name | Ronda Rousey |
| WWE Debut Date | April 8, 2018 |
Early Life
Ronda Rousey, born on February 1, 1987, in Riverside, California, is the youngest of three siblings. She was named after her father, Ronald John Rousey. Her mother, AnnMaria De Mars, is a renowned judoka and the first American to clinch the World Judo Championship in 1984. Rousey's diverse heritage includes English, Polish, Trinidadian, Venezuelan, and Canadian roots. Her maternal great-grandfather, Dr. Alfred E. Waddell from Trinidad, was among North America's pioneering Black physicians, and she also has ties to Venezuela through a great-grandmother.
Rousey faced personal and health challenges early on. Her father tragically took his own life after a sledding accident when she was eight. Further, Rousey grappled with apraxia, a neurological speech disorder, during her early years, a condition caused by her umbilical cord wrapping around her neck at birth. Seeking specialized speech therapy, her parents relocated to Jamestown, North Dakota, where she received treatment at Minot State University.
Throughout her childhood, Rousey oscillated between Jamestown and Southern California. Though she dropped out of high school, she eventually secured her GED. Rousey's passion for combat sports was evident early. She retired from judo at 21 and promptly launched into an MMA career at 22, choosing the path of a fighter over a traditional career.
Ronda Rousey Parents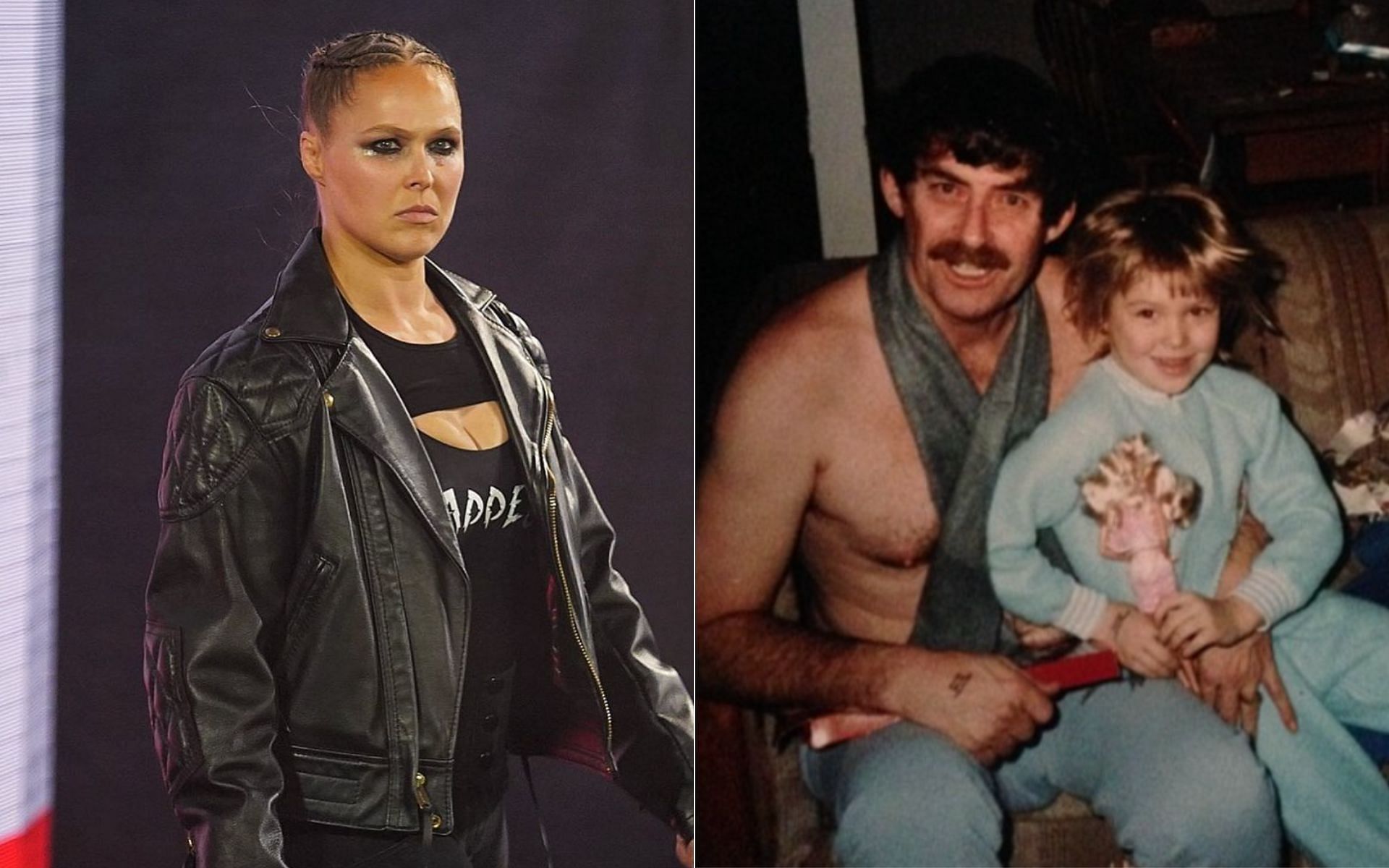 Ronda Jean Rousey, an American professional wrestler, actress, former judoka, and mixed martial artist, was born to parents AnnMaria De Mars and Ron Rousey.
Her mother, AnnMaria De Mars, is notable for being the first American World Judo Champion.
Ronda's father, Ron Rousey, was an aerospace engineer and a soldier. Tragically, Ronda lost her father to suicide, a result of his struggle with a rare blood disorder similar to hemophilia. This disorder made it difficult for him to recover from injuries.
Despite the tragedy, Ronda's father's fearless stance and courage continue to serve as an inspiration for her. Ronda Rousey's family background, including her English, Polish, Trinidadian, and Venezuelan ancestry, has undoubtedly played a significant role in shaping her successful career in various fields.
Ronda Rousey Siblings
As for her siblings, Ronda Rousey has two older sisters, Maria Burns-Ortiz and Jennifer Rousey. She shares a close bond with both of them, having grown up together. Maria Burns-Ortiz is particularly known for her work as a sports journalist. Ronda also has a younger sister, Julia De Mars, who is making her own mark in the world of soccer. The Rousey siblings have always been supportive of each other's endeavors, further strengthening their familial bond.
Ronda Rousey Family
Ronda Rousey's family extends beyond her parents. She is married to Travis Browne, a former UFC ace, and together they welcomed their first child, La'akea Makalapuaokalanipō Browne, in September. This addition to their family has brought immense joy and happiness to their lives.
Ronda Rousey Nationality & Ethnicity
Ronda Rousey, a multifaceted personality in the world of sports and entertainment, is of American nationality.
Delving deeper into her roots, Ronda's ethnicity is a rich blend of English, Polish, Trinidadian, and Venezuelan descent. This diverse ancestry has contributed to her unique persona and has influenced her journey in various ways.
Ronda has often expressed pride in her heritage, which is evident from her references to being "half Venezuelan, a quarter English, a quarter Polish, and 100% American."
Ronda Rousey Education
Regarding her education, Ronda Rousey faced challenges in her early academic years, leading her to be homeschooled for parts of her elementary and high school education. Despite these challenges, Ronda found solace and purpose in martial arts, where she excelled and made a name for herself.
Her dedication to judo and martial arts became her primary focus, overshadowing traditional academic pursuits. However, her mother, AnnMaria De Mars, showcased academic excellence by achieving a perfect score on the SATs at 16 and graduating from college at 19, all while juggling her responsibilities as a single mother and an engineer.
Ronda Rousey Age: How Old Is Ronda Rousey?
Ronda Rousey, the renowned American professional wrestler, actress, former judoka, and mixed martial artist, has made a significant mark in the world of sports and entertainment. Born on February 1, 1987, Ronda Rousey is currently 36 years old. With her dedication and rigorous training, she has maintained an athletic physique that stands out in the ring.
Ronda Rousey Height: How Tall Is Ronda Rousey?
Standing tall at a height of 5 feet 7 inches (170 cm), Ronda Rousey has an impressive stature that adds to her dominating presence during her matches.
Ronda Rousey Weight: How Much Does Ronda Rousey Weigh?
So, Ronda Rousey weighs around 61 kg or 134 pounds. She is slim in figure. Her Body Measurements are 34-28-34 inches. Her Shoe Size is 4 (US) and Dress Size is 7 (US).
Ronda Rousey Physical Stats and Appearance
When it comes to her physical appearance and stats, Ronda Rousey possesses an hourglass figure with body measurements of approximately 35-25-34 inches. Her Shoe Size is 4 (US) and Dress Size is 7 (US). Her dedication to fitness and her commitment to her sport have played a pivotal role in shaping her body, making her one of the most recognized athletes globally.
Ronda Rousey Olympic Judo Career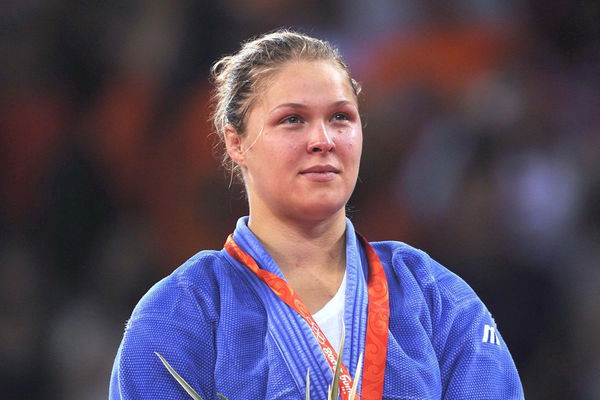 Ronda Rousey's judo journey began at 11 under her mother's tutelage. At 13, a training accident led to her breaking her mother's wrist. By 17, Rousey showcased her prowess as the youngest judoka to participate in the 2004 Athens Olympic Games. Although she lost to silver medalist Claudia Heill, Rousey clinched gold at the 2004 World Judo Juniors Championships in Budapest.
2006 was a landmark year for Rousey. She became the first female U.S. judoka in a decade to triumph in an A-Level tournament, securing gold at the Birmingham World Cup. At 19, she secured a bronze at the 2006 Junior World Championships, marking her as the inaugural U.S. participant to bag two Junior World medals.
In 2007, Rousey scaled up to the 70 kg category, quickly establishing herself among the global top three. Her victories included gold at the 2007 Pan American Games and silver at the 2007 World Judo Championships.
Rousey's defining moment came during the 2008 Beijing Olympics. Despite a quarterfinal loss to ex-world champion Edith Bosch, Rousey battled through the repechage, overcoming Annett Boehm to clinch a bronze. This feat positioned her as the first American to earn an Olympic medal in women's judo since its Olympic debut in 1992.
Post-Olympics, at 21, Rousey retired from judo. She then resided in a Venice Beach studio apartment, juggling multiple jobs, including bartending and waitressing, to provide for herself and her pet.
Mixed Martial Arts Career of Ronda Rousey
Training
Ronda Rousey's journey into the world of martial arts began with a strong foundation in judo. Her initial introduction to the sport was through clubs managed by her mother's ex-teammates. This foundational training took a distinct turn when she joined the Hayastan MMA Academy. Under the guidance of Gokor Chivichyan, Rousey embraced a more aggressive, brawling style of judo.
As she trained, she frequently sparred with fellow fighters Manny Gamburyan and Karo Parisyan. Often, she found herself pitted against male sparring partners who were larger than her, presenting both physical and emotional challenges. In fact, Rousey has spoken openly about the emotional toll this training took on her, revealing that she frequently cried out of sheer frustration.
A pivotal influence in her training was Manny Gamburyan. He not only played a crucial role in her development but also showcased immense support, especially when Rousey injured her knee. Recognizing her potential and dedication, Gamburyan offered personalized training sessions to aid her recovery. This bond deepened when Rousey watched Gamburyan take on Nate Diaz in "The Ultimate Fighter," a match that ignited her interest in Mixed Martial Arts (MMA). Following her stint at the 2008 Olympics, she decided to fully transition into MMA, doing so under the banner of Team Hayastan.
As her journey progressed, Rousey sought expertise from various training centers to refine her skills. She trained at the Glendale Fighting Club, where she received mentorship from Edmond Tarverdyan. Additionally, she immersed herself in Jiu Jitsu, training at diverse academies such as Dynamix MMA with Henry Akins, Gracie Academy with the renowned Ryron and Rener Gracie, and at the Art of Jiu-Jitsu under the guidance of B.J. Penn. Beyond this, she further expanded her skill set in wrestling, training intensively under the Romanian American expert, Leo Frîncu.
Early MMA Career (2010–2011)
In the span of 2010 to 2011, Ronda Rousey rapidly carved a niche for herself in the MMA world. She embarked on her journey with an impressive amateur debut, where she stunned audiences by defeating Hayden Munoz in a mere 23 seconds. But that wasn't a one-off victory; Rousey's subsequent amateur matches were equally swift, with her combined fight time for all these bouts clocking in at less than two minutes.
This unrelenting momentum paved the way for her transition to a professional platform. When she faced Ediane Gomes in her professional debut, she maintained her reputation for rapid victories, sealing the match in just 25 seconds. Rousey's dominance didn't waver as she faced diverse opponents. Notably, she went toe-to-toe with kickboxing champion Charmaine Tweet and emerged victorious, finishing the bout in less than a minute. Her early career was undoubtedly a testament to her prowess and potential.
Strikeforce Era (2011–2012)
The years 2011 to 2012 marked Ronda Rousey's ascendancy in the MMA world, a period dominated by her participation in the Strikeforce Championship.
Initial Matches
Rousey's introduction to the Strikeforce arena wasn't without its fair share of drama. Her debut against Sarah D'Alelio was shrouded in controversy, as debates flared over the exact criteria for a verbal submission in the match. Despite the contentious start, Rousey's momentum didn't waver. After securing a notable victory over Julia Budd, she set her sights on a bigger prize and a fiercer opponent: Miesha Tate. This decision not only signaled Rousey's ambition but also marked the onset of what would become one of MMA's most intense rivalries.
Bantamweight Dominance
The anticipation culminated in a showdown with Tate, which saw Rousey emerge victorious, clinching the coveted Strikeforce Women's Bantamweight Championship. With the title around her waist, Rousey's status in the MMA community was further solidified, leading her to national fame. Her prowess in the ring was matched by her charisma outside of it. The media quickly took notice, with Rousey being featured in Showtime's documentary-style program "All Access: Ronda Rousey". Additionally, her insights and journey were spotlighted in a coveted interview on the talk show "Conan".
Defending the Championship
Rousey's reign as the Bantamweight Champion was marked by her unyielding spirit. When she faced Sarah Kaufman, she defended her title with the same vigor and technique that had become her signature. In the aftermath of this victory, always looking for the next challenge, Rousey publicly called out Cris Cyborg. However, she was firm in her stipulation: any potential bout with Cyborg would have to be under the bantamweight category, setting the stage for yet another thrilling chapter in her career.
Ultimate Fighting Championship (2012–2016)
First female UFC Champion
In 2012, the MMA world witnessed a historic moment as Ronda Rousey was announced as the first female fighter to ink a deal with the Ultimate Fighting Championship (UFC). This monumental event was confirmed by UFC President Dana White, who declared Rousey the inaugural UFC Women's Bantamweight Champion during a pre-fight press conference for UFC on Fox: Henderson vs. Diaz.
Despite friends dubbing her "Rowdy", Rousey was initially hesitant to adopt the moniker, fearing it might come off as a slight against the iconic wrestler, "Rowdy" Roddy Piper. However, after a personal encounter with Piper, arranged by mutual trainer Gene LeBell, Rousey received Piper's blessing to use the nickname.
Her first title defense in the UFC came against Liz Carmouche in February 2013 at UFC 157. The bout was intense: Carmouche's early neck crank maneuver led to a dislocation of Rousey's jaw. But Rousey, ever resilient, successfully retained her title with an armbar submission just before the close of the first round.
In a turn of events, after Cat Zingano's victory over Miesha Tate, she was named to coach alongside Rousey for The Ultimate Fighter 18. However, due to an unfortunate injury to Zingano, Tate was brought in as her replacement. This set the stage for a high-stakes rematch between Rousey and Tate at UFC 168. The fight pushed past the initial rounds, but Rousey's armbar in the third round ensured her victory. Post-fight, Rousey mentioned in an interview that her filming obligations had impacted her muscle strength and preparation for this bout.
Record-setting championship reign
Following UFC 168, it was declared that Ronda Rousey would defend her UFC Women's Bantamweight Championship title against fellow Olympian Sara McMann at UFC 170 on February 22, 2014. Rousey delivered a stunning performance, defeating McMann with a knee to the body in just over a minute. Notably, this was Rousey's first win without using her signature armbar move. The decision was somewhat contentious, as some felt the stoppage was premature.
In 2014, Rousey's contributions to sports earned her a spot on espnW's Impact 25 list. She went on to defend her title against Alexis Davis at UFC 175 on July 5, securing victory within 16 seconds. Despite her swift win, Rousey sustained a thumb injury. Her performance that night granted her a second Performance of the Night bonus.
The much-anticipated fight between Rousey and Cat Zingano took place at UFC 184 on February 28, 2015. Rousey emerged triumphant in a record 14 seconds, only to have that record bested by Conor McGregor later that year. On August 1, 2015, at UFC 190, Rousey faced Bethe Correia, concluding the bout in just 34 seconds. This match had a personal touch, dedicated to the recently deceased "Rowdy" Roddy Piper, who had inspired and endorsed Rousey's nickname.
By the end of this period, Rousey's UFC record boasted six victories, achieved in a cumulative 1077 seconds, averaging to almost $1002.79 per second of fight time. Remarkably, her average fight time of 2 minutes and 59 seconds was shorter than any other UFC weight class, emphasizing her unparalleled dominance in the octagon.
Rousey's Title Loss and Transition Away from UFC
Ronda Rousey, in her seventh title defense, went up against Holly Holm at UFC 193 on November 15, 2015. Despite being the favorite, Rousey faced a dominating performance from Holm and was knocked out in the second round, marking the end of her undefeated streak. Both fighters received a "Fight of the Night" bonus. After the defeat, Rousey faced a medical suspension and was visibly affected, even shielding herself from media attention.
In a candid conversation with Ellen DeGeneres in 2016, Rousey revealed the depth of her despair, admitting she had contemplated suicide post-defeat.
After a year-long hiatus, Rousey made a comeback, challenging the champion Amanda Nunes at UFC 207. However, the bout ended in Rousey's defeat in the first round.
While Rousey never officially declared her retirement from MMA, her response to a 2018 query from DeGeneres about her return was telling. Comparing her MMA career to revisiting the Olympics for judo, she hinted at her move away from fighting. The MMA community celebrated Rousey's incredible career when she was inducted into the UFC Hall of Fame in July 2018.
Mixed Martial Arts Fighting Style
In a 2012 interview, prior to facing Miesha Tate, Ronda Rousey highlighted her judo background: "In judo, my edge was my conditioning and pace; I'd exhaust opponents." She embraced a mantra from Ryoko Tani, emphasizing the importance of treating every five seconds of a fight as if it were the endgame.
Rousey, an esteemed judoka, employs hip throws and sweeps to ground her opponents, subsequently looking for strikes or submissions. She tends to use punches from side control when on top and, from the rear, frequently goes for back mounts and head strikes. Interestingly, though right-handed, Rousey, when performing judo, operates as a left-handed judoka but adopts an orthodox stance as a striker in MMA.
She idolizes MMA fighter Fedor Emelianenko and seeks to mirror his combat approach. Rousey's grappling acumen, especially her signature armbar, is legendary. With opponents like Julia Budd and Sarah Kaufman, she prioritizes ground action to aim for quick submissions. Only formidable grapplers like Tate and Liz Carmouche have posed significant ground challenges.
Rousey evolved her combat style over time. Early in her MMA journey, she used strikes to leverage her judo skills but refined her striking post her UFC entry. On her feet, she employs jabs, knees, and overhand rights. She often eschews a traditional boxing stance, instead squaring off against opponents, using the clinch or fence proximity to amplify her striking power.
Discussing her famed armbar, Rousey shared a quirky tidbit: her judoka mother would rouse her from sleep with armbars.
A unique facet Rousey brought to women's MMA was trash talking. She's been candid in interviews, often underscoring opponents' limitations, seeing it as a tool to boost the sport's visibility.
Ronda Rousey WWE Career
Sporadic appearances and signing (2014–2017)
Ronda Rousey, an ardent professional wrestling enthusiast, formed a group with Shayna Baszler, Jessamyn Duke, and Marina Shafir, coining themselves as "The Four Horsewomen." This title was inspired by the iconic wrestling faction, The Four Horsemen, and had the endorsement of its members Ric Flair and Arn Anderson.
The quartet gained recognition during WWE's SummerSlam event in 2014, where they were prominently seated in the front row and were acknowledged on camera. The same night, Rousey's interview with WWE.com hinted at a potential crossover to wrestling, mimicking the career path of Brock Lesnar.
Their presence was again evident at WrestleMania 31 in 2015. A memorable sequence saw Rousey join forces with The Rock against The Authority, comprising Stephanie McMahon and Triple H. After a tense confrontation, Rousey showcased her physical prowess, throwing both Triple H and Stephanie out of the ring. This moment was spotlighted in the subsequent Raw episode, intensifying the buzz around Rousey's possible future in WWE.
In 2017, during the Mae Young Classic, the Four Horsewomen were in the audience supporting Baszler in her WWE debut. They also had a notable standoff with WWE's own version of the Four Horsewomen – Charlotte Flair, Becky Lynch, and Bayley, teasing a potential rivalry.
Reports later that year confirmed Rousey's full-time commitment to WWE. She underwent training at the WWE Performance Center in Orlando and also honed her skills at Brian Kendrick's wrestling school.
Raw Women's Champion (2018–2019)
Ronda Rousey made a stunning appearance at Royal Rumble in January 2018, confronting top WWE champions. Her entrance was marked by wearing "Rowdy" Roddy Piper's jacket, a gift from Piper's son. ESPN soon revealed Rousey's full-time WWE contract. Her WWE debut was announced for WrestleMania 34, a tag team match with Kurt Angle against Stephanie McMahon and Triple H. Rousey's performance was applauded, with her debut lauded as one of the best in professional wrestling.
By May, Rousey was set to challenge champion Nia Jax for the Raw Women's Championship. However, during the match, Alexa Bliss interrupted, causing Rousey to win by disqualification. Despite the interference, Rousey's wrestling prowess garnered praise, with many noting her ability to maintain a strong image in WWE. This set the stage for a feud with Bliss, which saw Rousey secure the Raw Women's Championship title at SummerSlam in August.
Rousey successfully defended her title against various opponents including Nikki Bella, Mickie James, and Nia Jax. A high-profile match against Becky Lynch was scheduled for Survivor Series but was switched to Charlotte Flair due to Lynch's injury. Rousey's interactions with both Flair and Lynch led to a landmark moment in WWE: a triple threat match at WrestleMania 35, the first women's match to be the main event. In a contentious end, Lynch pinned Rousey, marking Rousey's first loss in WWE. Rousey's 231-day reign as champion set a new record, only to be surpassed later by Lynch.
SmackDown Women's Champion (2022–2023)
Ronda Rousey made a triumphant return to WWE at the Royal Rumble in 2022. Entering at #28, she showcased her dominance by eliminating top wrestlers and eventually secured her victory by ousting Charlotte Flair. Her victory promised her a championship opportunity, and she decided to contest Flair for the SmackDown Women's Championship at WrestleMania 38.
Leading up to the event, Rousey and Naomi clinched a win against Flair and Sonya Deville at the Elimination Chamber. WrestleMania saw Flair retaining her title against Rousey, marking Rousey's second loss. Despite this, Rousey managed to challenge Flair again at WrestleMania Backlash, where she emerged victorious and claimed the SmackDown Women's Championship.
Rousey defended her title successfully against opponents like Raquel Rodriguez and Natalya. However, a twist came post her match against Natalya when Liv Morgan cashed in her Money in the Bank contract, ending Rousey's reign at 55 days. Controversy brewed at SummerSlam, where Morgan defeated Rousey, leading Rousey to turn heel by assaulting Morgan and the referee. This aggression earned her a (kayfabe) suspension. After her return, Rousey reclaimed the SmackDown Women's Championship by beating Morgan at Extreme Rules.
She continued her title defenses against formidable opponents like Emma and Shotzi. However, in an unexpected twist, Charlotte Flair made a return, challenging Rousey. Accepting the sudden challenge, Rousey was swiftly defeated by Flair, concluding her second reign as the SmackDown Women's Champion after 83 days.
Partnership and rivalry with Shayna Baszler (2023–present)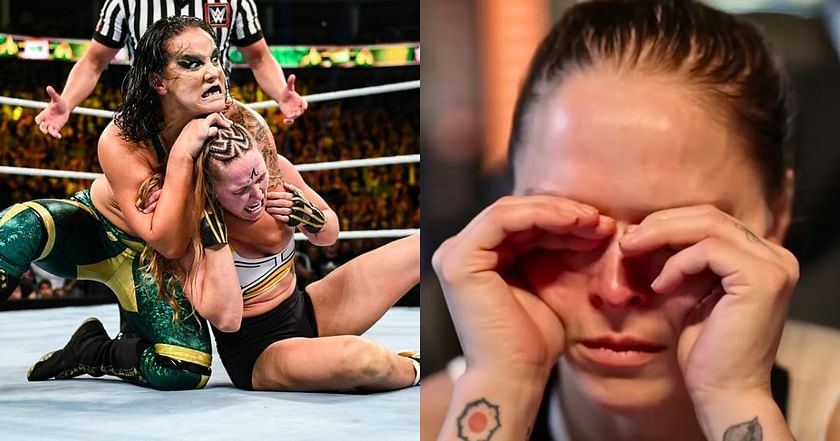 Following a brief break, Rousey returned to Raw on February 10, partnering with Baszler to assault Liv Morgan and Tegan Nox, marking the start of their alliance. At WrestleMania 39, despite Rousey's limited involvement due to a fractured elbow, the duo emerged victorious in a women's fatal four-way tag team match.
Rousey was then moved to the Raw roster during the 2023 WWE Draft. Their success continued as they clinched the WWE Women's Tag Team Championship on May 29, crowning Rousey as the eighth Women's Triple Crown Champion. Furthering their dominance, they unified the WWE and NXT Women's Tag Team Championships by defeating Alba Fyre and Isla Dawn on June 23's SmackDown.
However, at Money in the Bank, their partnership soured. Baszler betrayed Rousey, leading them to lose the tag team title to Morgan and Rodriguez, ending their 32-day reign. On July 3, Baszler confronted Rousey, expressing her resentment for Rousey's rapid ascent in WWE compared to her own longer journey. This confrontation culminated in a heated brawl, with Baszler delivering a knee to Rousey's face. Their animosity intensified on July 10 when Rousey ambushed Baszler post her victory over Emma, resulting in another fierce brawl between the two.
Ronda Rousey

Filmography
Ronda Rousey, while primarily known for her prowess in the world of mixed martial arts and professional wrestling, has also made significant strides in the entertainment industry. Her filmography showcases her versatility as she transitioned from the octagon to the big screen. Some of Ronda's notable film appearances include:
The Expendables 3 (2014): Ronda played the character Luna in this action-packed ensemble film, showcasing her combat skills alongside Hollywood heavyweights.
Furious 7 (2015): In this installment of the popular Fast & Furious franchise, Ronda portrayed Kara, bringing her signature intensity to the role.
Entourage (2015): Ronda appeared as herself in this film adaptation of the popular TV series, blending her real-life persona with the fictional world of Hollywood.
Mile 22 (2018): Ronda further expanded her acting repertoire with a role in this action thriller, proving that she can hold her own alongside seasoned actors.
Ronda's transition to films has been a testament to her adaptability and talent. Her roles often leverage her fighting background, allowing her to bring authenticity to action sequences. As she continues to evolve in her career, fans eagerly anticipate her future projects and the dynamic characters she will bring to life.
Ronda Rousey Mixed Martial Arts Record
Ronda Rousey, often referred to as "Rowdy," is a trailblazer in the world of mixed martial arts (MMA). Her impressive MMA record stands testament to her dominance and skill inside the octagon. With a record of 12 wins and 2 losses, Rousey has proven time and again why she's considered one of the best in the sport. Out of her 12 victories, 3 were achieved through knockouts (TKOs) and a remarkable 9 via submission, showcasing her versatility and proficiency in both striking and grappling.
Rousey's MMA journey began after her success in judo, where she became the first American woman to win an Olympic medal in the sport, securing a bronze at the 2008 Summer Olympics. Transitioning to MMA, she quickly rose through the ranks, leaving an indelible mark with each fight. Her UFC record specifically stands at 6 wins and 2 losses. Ronda's fighting style, characterized by her signature armbar submission and aggressive approach, has made her a fan favorite and a formidable opponent for any fighter.
Ronda Rousey Husband: Travis Browne
Ronda Rousey, a powerhouse in the world of sports and entertainment, has a personal life that mirrors the passion and commitment she displays in her professional endeavors. Married to Travis Browne since 2017, their union is a testament to shared values, mutual respect, and deep love.
Travis Browne, a formidable figure in the MMA world, stands tall at 6 feet 7 inches and weighs 244 pounds. With a fair-skinned complexion, long dark hair, and piercing black eyes, Travis exudes a commanding presence. Yet, behind his stern ring demeanor lies a broad, warming smile.
Travis's journey into the world of mixed martial arts began with a tragedy – the loss of his father. This led him to drop out of college and delve deep into Brazilian jiu-jitsu, earning a black belt by the age of 26. A year later, after honing his boxing skills, he embarked on his professional fighting career. Initially competing in organizations like Bellator and King of the Cage, Travis made a name for himself with a 9-0 winning streak.
In 2010, Travis joined the UFC, marking his debut against James McSweeney with a triumphant TKO. His subsequent bout against UFC veteran Cheick Kongo ended in a contentious draw, but his prowess was undeniable.
In September 2021, Ronda and Travis welcomed a beautiful addition to their family, a daughter named La'akea Makalapuaokalanipō Browne. The name, rich in cultural significance, reflects the couple's appreciation for heritage and tradition. La'akea's arrival has brought immense joy to the couple, marking a new chapter in their lives.
It's also worth noting that Travis Browne has two children, Kaleo and Keawe, from a previous marriage. Ronda has embraced them with open arms, showcasing the blended family's unity and love.
Ronda Rousey Children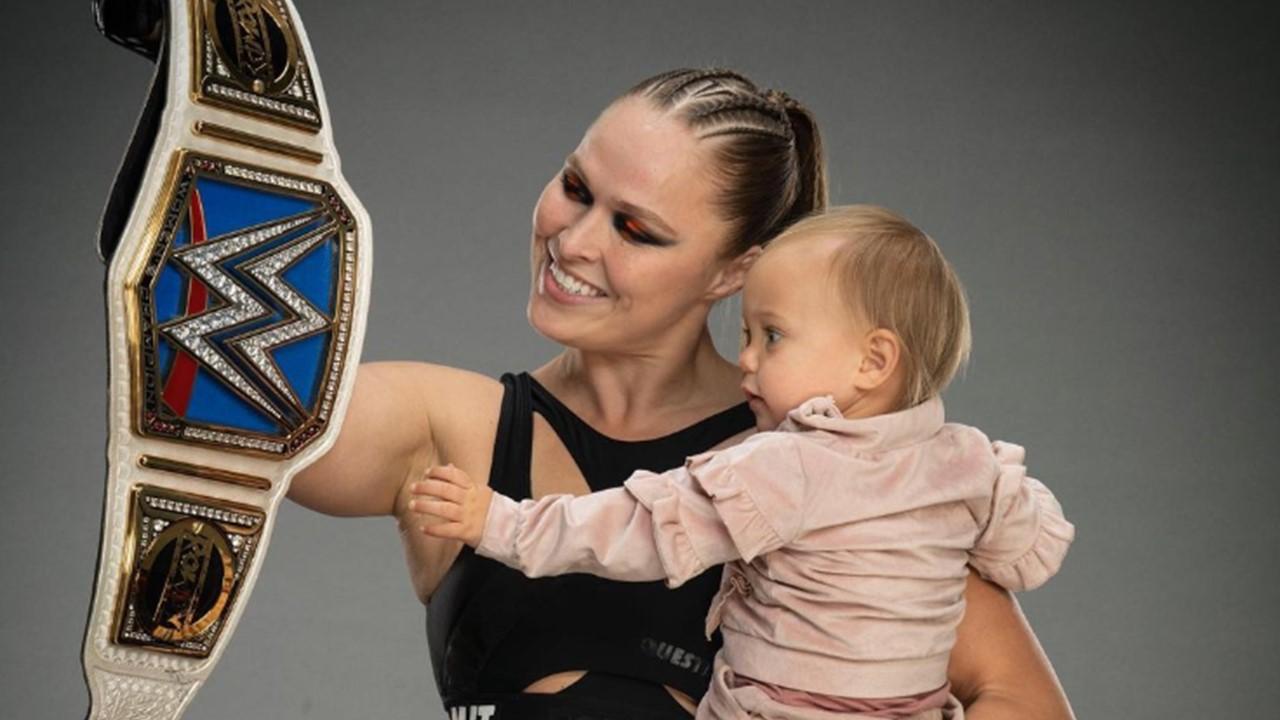 Rousey is married to Travis Browne, a former UFC fighter. The pair started dating in 2015, and they married in Hawaii in 2017. In 2021, the pair announced on her YouTube channel that she was four months pregnant. She gave birth to her first daughter, La'akea Makalapuaokalanip Browne, in September 2021.
Ronda Rousey Movies
So, In 2014, she played a role as Luna in The Expendables 3 movie. Then, in 2015, she played a role as Kara in the Furious 7 movie. Then, in 2015, she played a role in the Entourage movie. In 2018, she played a role as Sam Snow in the Mile 22 movie. Then, in 2019, she played a role in the Charlie's Angels movie. Then, in 2019, she played a role in the Through My Father's Eyes movie.
Moreover, in 2011, she played a role in the Honoo-no Taiiku-kai TV show. Then, in 2016, she played a role in the Drunk History TV show as Gallus Mag. Then, in 2016, she played a role in the Saturday Night Live TV show. In 2017, she played a role in the Blindspot TV show as Devon Penberthy. Then, in 2019, she played a role in the 9-1-1 TV show as Lena Bosko. Then, in 2019, she played a role in the Total Divas TV show. In 2020, she played a role in the Game On TV show. Then, in 2023, she played a role in the Stars on Mars TV show.
Ronda Rousey Awards
In 2007, she took silver in the 'World Judo Championships.' Bronze medalist in the 'German Open,' gold medalist in the 'Pan American Games,' and bronze medalist in the 'Pan American Championships' in judo. She took bronze in the women's 70 kg judo competition at the 2008 'Summer Olympics.' She is the inaugural 'UFC' Women's Bantamweight Champion, having won the championship in December 2012. She received three 'Wrestling Observer Newsletter' awards in 2014, including 'Best Box Office Draw,' 'Most Outstanding Fighter,' and 'MMA Most Valuable Fighter.'
Ronda Rousey Net Worth, Salary & Earnings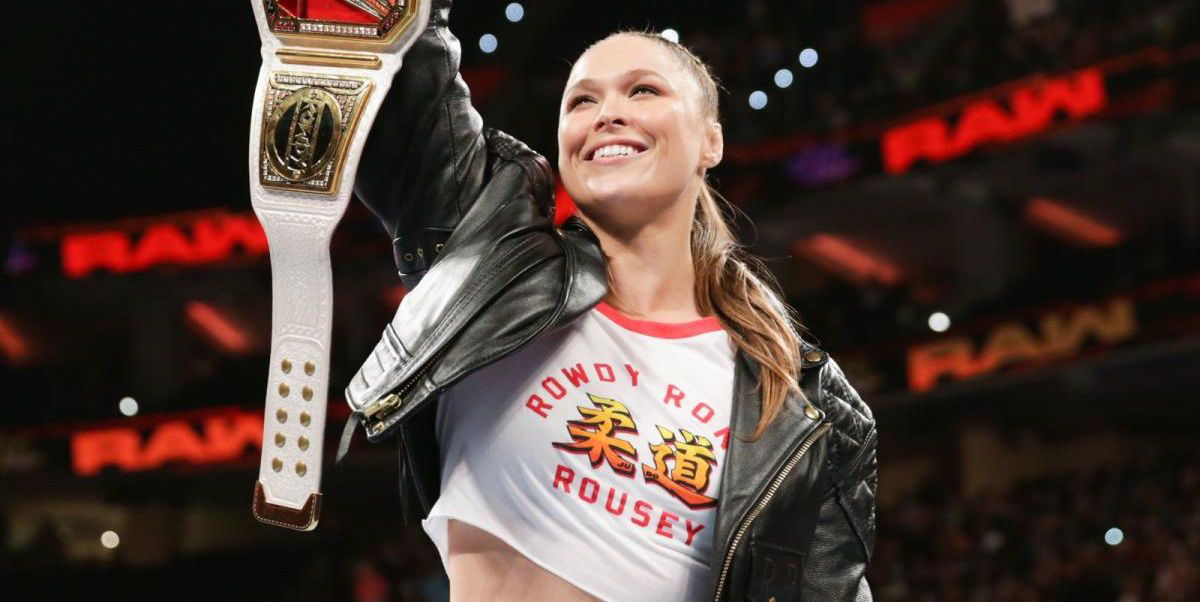 Ronda Rousey, a name synonymous with dominance in the world of mixed martial arts, has not only made a mark with her unparalleled skills but has also amassed significant wealth throughout her illustrious career. As of 2023, Ronda Rousey's net worth is estimated to be a staggering $13 million, positioning her as one of the wealthiest women in the WWE.
Rousey's earnings are a testament to her versatility and marketability. During her tenure with the UFC, she was one of the top earners, and her transition to the WWE only amplified her financial gains. Rousey's contract with the WWE is notably lucrative, with her compensation reported to be up to $1.5 million. Additionally, she is estimated to earn another $2.1 million, further solidifying her financial stature.
Beyond her salary from fighting, Rousey has diversified her income streams. She has ventured into acting, penned an autobiography, and has been a part of numerous endorsement deals, all contributing to her impressive net worth. Her brand endorsements and media appearances have played a significant role in bolstering her earnings.
Ronda Rousey's financial achievements mirror her success in the octagon and the wrestling ring. Her dedication, coupled with strategic career choices, has ensured that she remains not just a force to reckon with in sports but also a financial powerhouse in the world of entertainment and endorsements.
Social Media
Ronda Rousey, the renowned MMA fighter and WWE superstar, maintains an active presence on various social media platforms. Here are some of her official social media profiles:
Instagram: Ronda Rousey (@rondarousey) – With over 17 million followers, Ronda shares glimpses of her personal and professional life through photos and videos.
Twitter: Ronda Rousey (@RondaRousey) – Ronda uses Twitter to engage with her fans, share updates, and voice her opinions on various topics.
Facebook: Ronda Rousey – On her official Facebook page, which boasts over 12 million likes, Ronda shares updates, videos, and interacts with her fanbase.
These platforms offer fans a window into Ronda's world, allowing them to stay updated with her latest ventures, both inside and outside the ring.
FAQs
Who are Ronda Rousey's parents?
Ronda Rousey's mother is Dr. AnnMaria De Mars, a judo champion and the first American to win a World Judo Championship. Her father, Ron Rousey, tragically passed away when Ronda was young.
Does Ronda Rousey have siblings?
Yes, Ronda Rousey has three sisters: Maria Burns-Ortiz, Jennifer Rousey, and Julia DeMars.
How old is Ronda Rousey?
Born on February 1, 1987, Ronda Rousey is currently 36 years old as of 2023.
What is Ronda Rousey's height?
Ronda Rousey stands at a height of 5 feet 7 inches (170 cm).
How much does Ronda Rousey weigh?
Ronda Rousey's weight is approximately 134 lbs (61 kg).
What is Ronda Rousey's nationality and ethnicity?
Ronda Rousey is of American nationality and has a mixed ethnicity of English, Polish, Trinidadian, and Venezuelan descent.
Has Ronda Rousey acted in films?
Yes, Ronda Rousey has appeared in films such as "The Expendables 3," "Furious 7," "Entourage," and "Mile 22."
What is Ronda Rousey's MMA record?
Ronda Rousey has an MMA record of 12 wins and 2 losses.
Who is Ronda Rousey's husband?
Ronda Rousey is married to Travis Browne, a fellow mixed martial artist.
Do Ronda Rousey and Travis Browne have children?
Yes, in September 2021, Ronda and Travis welcomed a daughter named La'akea Makalapuaokalanipō Browne.
What is Ronda Rousey's net worth?
As of 2023, Ronda Rousey's estimated net worth is $13 million.
Where can I find Ronda Rousey on social media?
Ronda Rousey is active on platforms like Instagram, Twitter, and Facebook.
What is Ronda Rousey's signature move in MMA?
Ronda Rousey is renowned for her signature armbar submission.
Has Ronda Rousey won any Olympic medals?
Yes, Ronda Rousey won a bronze medal in judo at the 2008 Summer Olympics.