Sesugh Uhaa, commonly known by his ring name Apollo Crews, is a Nigerian-American professional wrestler born on August 22, 1987. Currently a prominent talent in WWE, Crews showcases his skills on the Raw brand.
Launching his wrestling career in 2009 as Uhaa Nation, Crews gained significant recognition in 2011 when he was signed by Dragon Gate USA. This milestone also marked his debut in Japan, wrestling for Dragon Gate. With a physique measuring 6 feet 1 inch and weighing 240 pounds, Crews is celebrated for his unique blend of high-flying agility and raw power.
In 2015, Crews joined WWE and was initially assigned to its developmental brand, NXT. It was here that he adopted his current ring name, Apollo Crews. He made his debut on WWE's main roster in April 2016 and has since achieved notable success. Crews clinched the United States Championship in May 2020 and further solidified his legacy by winning the Intercontinental Championship at WrestleMania 37.
Apollo Crews Biography/Wiki
Birth Name
Sesugh Uhaa
Date of Birth
August 22, 1987 (age 36)
Place of Birth
Sacramento, California, U.S.
Spouse
Linda Palonen
Children
2
Ring Names
Apollo, Apollo Crews, Uhaa Nation
Billed Height
6 ft 1 in (1.85 m)
Billed Weight
240 lb (110 kg)
Billed From
Benue State, Nigeria
Stone Mountain, Georgia
Trained By
Mr. Hughes
Debut
August 17, 2009
Apollo Crews Age
Apollo Crews, whose real name is Sesugh Uhaa, was born on August 22, 1987, which makes him 36 years old as of 2023. Despite being in his mid-thirties, he is known for his incredible athleticism and high-flying moves in the wrestling ring. Crews has been active in professional wrestling for over a decade and has gained a large fan following due to his impressive skills and charismatic personality.
Apollo Crews Height & Weight
Apollo Crews, also known as Sesugh Uhaa, stands at a height of 6ft 1in (1.85m) and weighs around 110kg. He has a well-built and muscular physique, which he maintains through rigorous training and workout routines. His height and weight are considered advantageous in his profession as a professional wrestler, where strength and agility play a vital role.
Apollo Crews Family
Sesugh Uhaa was born on August 22, 1987, in Sacramento, California, in the United States. He is of Nigerian origin, and his sister is a US Army soldier now in San Antonio, Texas. Crews, who was born and raised in Atlanta, Georgia, had a passion for professional wrestling while growing up. He became a huge admirer of stars like The Rock and Stone Cold Steve Austin, but his all-time favourite was Kurt Angle. Apollo attended a military high school and was active in a number of sports, including track and field, football, soccer, and amateur wrestling. Apollo's coach gave him the moniker "Uhaa Nation" after noticing how strong he is during weight training.
Apollo Crews and Linda Palonen have two children together: a son named Kai and a girl named Sade, both of whom were born in June 2017. (born in January 2019). Currently, the family resides in Stone Mountain, Georgia.
Wife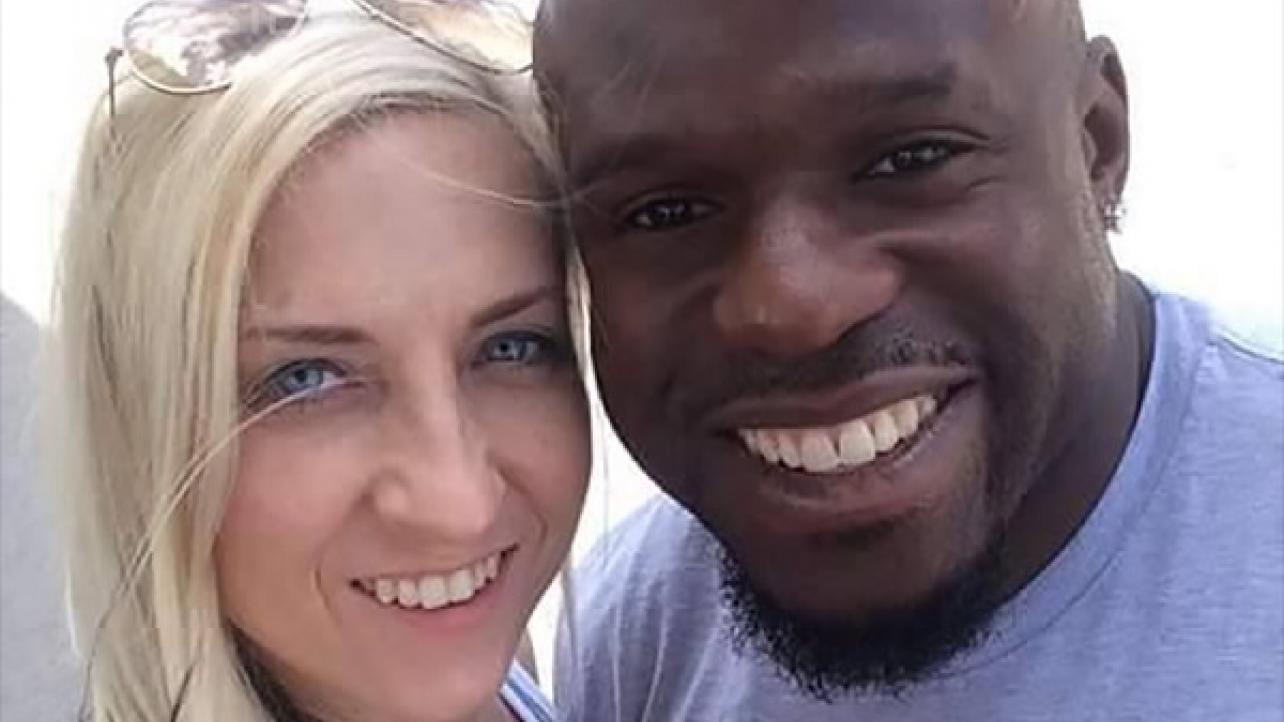 One thing separates Linda and her husband Apollo: they both have enormous muscles. The wife of Apollo Crews, Linda Palonen, seems to be a competitive bodybuilder.
Bodybuilder Linda Palonen is the spouse of Apollo Crews. There is one picture of them from the Rx Muscle Contest Gallery.
Although Linda closely guards her private life, we do know that she cherishes her companion, Apollo. Although they share a daughter named Sade Sofiya, neither party has made it official that Apollo and Linda are partners.
Apollo Crews' wife Linda Palonen and a buddy. There is also another picture of them from Chicks Info.
As we already said, Linda is a private person who has locked down her Instagram account. On the other hand, she has either filled her Twitter page with strange objects or her partner Apollo. Linda Crews, Apollo Crews' wife, also seems to be a big fan of rap music. Tupac Shakur, Eminem, Dr Dre, Rae Sremmurd, and J Cole are just a handful of the rappers Linda enjoys. At the gym, people listen to a variety of music, and Linda has a rap flow.
Father
In Sacramento, California, Apollo Crews took birth in the United States. Sesugh Uhaa is his real name. His parents' names are unfortunately not there.
He supposedly has a sibling. His baby sister is a soldier in the American Army and is now in San Antonio, Texas.
He has Nigerian ancestry. His father is originally from the Nigerian mid-belt state of Benue. His mother is a Ugandan native. After a few years of marriage, they left each other.
Initially, Sesugh Uhaa lived in Uganda with his dad. He had his sister live in Atlanta, Georgia, with his mother. The divided family used to travel by plane sometimes to meet.
Apollo Crews Bodyguard
Now we know who the two "Nigerian elite guards" were that travelled with Apollo Crews to WWE SmackDown.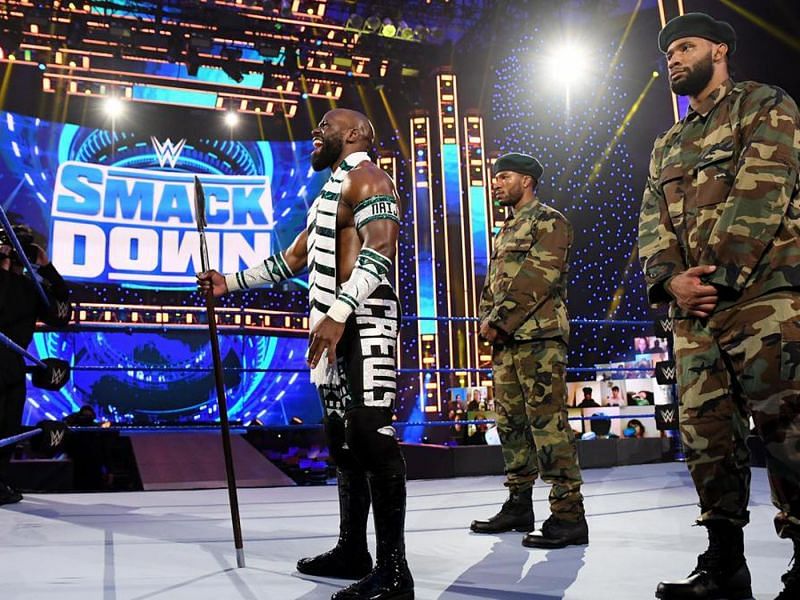 Wrestling Inc has noted the two guards who we saw with Apollo Crews on tonight's Blue brand episode. Two NXT Superstars called Denzel Dejournette and Matrick Belton took on the job of the guardians. In NXT, Denzel is famous as Desmond Troy. Troy joined NXT way back in the middle of 2018. He lost to Karrion Kross in his most recent contest in December 2020.
The NXT Superstar worked numerous TV matches on RAW, SmackDown, and NXT last year. He has a background in amateur wrestling. In April 2020, he competed in and lost to Bobby Lashley in his final bout on WWE RAW.
As part of the most recent Performance Center class, which also includes Parker Boudreaux, Matrick Belton just signed a WWE contract. He competed in the independents, including a spell in CZW, before signing with WWE.
Apollo Crews Net Worth
An American professional wrestler has the name Apollo Crews. Also, at this time, he works for the WWE as a wrestler. He performs for the WWE's Smackdown part.
Sesugh Uhaa is his actual name. But people know him by his ring name, Apollo Crews.
His life's passion has always been wrestling. He had always been sure that he wanted to compete in real wrestling. He went to the wrestling training facility out of a want to shine as a winner.
The rest is now in the past. Though few people are aware of his path, we witness Uhaa's tenacity and ferocity in the ring.
Apollo's net worth was $2 million as of 2023, and WWE paid him a salary of $250,000. Additionally, he earns money from WWE PPV and other public events.
Apollo Crews and Commander Azzez
According to reports, Commander Azeez and Apollo Crews have both joined the WWE NXT roster.
Crews returned to the brand on the NXT 2.0 episode, as previously mentioned. In order to prepare for a potential title fight, possibly at NXT Great American Bash on July 5, he faced off against NXT Champion Bron Breakker. Later, he teamed up with Solo Sikoa to defeat Grayson Waller and NXT North American Champion Carmelo Hayes in the main event. Crews returned to the brand without Azeez and without the accent, he had been using on the main roster.
According to an update from PWInsider, Crews has been formally added internally to the NXT roster. Azeez has also been internally transferred to the NXT roster.
Last night's episode of NXT 2.0 did not feature Azeez, and his alliance with Crews was not mentioned. Crews worked as a babyface Friday night, but it is unclear if Azeez and Crews will continue to collaborate in NXT.
Azeez and Crews first worked together in 2021 on Night 2 of WrestleMania 37 when Azeez assisted Crews in defeating Big E for the WWE Intercontinental Title. They were selected in the 2021 Draft from SmackDown to RAW last October.
Since defeating Akira Tozawa on the May 26 episode of WWE Main Event, Azeez hasn't competed in any matches. Azeez and Crews suffered a defeat to The Street Profits on Main Event the previous week.
From the time he was signed in 2016 until he was called up in 2020, Azeez worked numerous NXT live events. At the NXT live event on February 28, 2020 in Largo, Florida, he and Nick Comoroto won their final NXT match by defeating Ashante "Thee" Adonis and Aleksander Jaksic.
Tag Team Partner
While appearing on Raw, Crews and former tag team wrestler Titus O'Neil soon formed a team. They soon teamed up with Dana Brooke and debuted Titus Worldwide as their tag team name. They made their public debut on August 11, 2017, at a house concert that was part of the SummerSlam Heatwave tour. Titus Worldwide pursued The Bar's Raw Tag Team Championship during the tour (Cesaro & Sheamus). Throughout the tour, Titus Worldwide attempted to unseat the current champions in three straight title fights but was unsuccessful. In a ten-man tag match on the August 25 WWE Live house show, Titus Worldwide defeated Curt Hawkins, Goldust, The Club (Karl Anderson & Luke Gallows), The Miztourage, and Heath Slater with the help of Kalisto, R-Truth, and Rhyno (Bo Dallas & Curtis Axel).
On August 26 and August 27, Titus Worldwide and their allies Slater, Kalisto, R-Truth, and Rhyno repeatedly defeated Hawkins, Goldust, The Club & The Miztourage, as well as the next two home events. Dash Wilder & Elias were defeated by Titus Worldwide at the September 29 and September 30 home shows. They teamed up with Jason Jordan and Elias & The Club for their first-ever televised match on Monday Night RAW on October 16.
Apollo Crews and Roman Reigns
Paul Heyman thinks that Roman Reigns should be given the credit for Apollo Crews' recent turn of events in the WWE.
During a backstage segment on the WWE SmackDown programme on January 15, 2021, Reigns gave Crews some advice. Crews has since adopted a villainous persona and embraced his Nigerian heritage. At WrestleMania 37, he also defeated Big E to win the WWE Intercontinental Championship.
The WWE SmackDown post-show Talking Smack with Kayla Braxton is hosted by Heyman, who serves as Reigns' on-screen special counsel. On the broadcast this week, he gave Reigns kudos for motivating Crews.
Due to interference from Commander Azeez on this week's episode of WWE SmackDown against Big E, Apollo Crews was able to keep the WWE Intercontinental Championship. After the match, Kevin Owens and Sami Zayn got involved, raising the possibility that they could soon try to take Crews' title.
Crews claims he now recognises Roman Reigns' position as the WWE Universal Champion given that three others appear to be vying for it. Roman Reigns has defeated a number of opponents while holding the WWE Universal Championship, although Apollo Crews' most famous victories have come against Big E. The Tribal Chief successfully defended his championship against Kevin Owens, Edge, Jey Uso, Daniel Bryan, and Braun Strowman.
Apollo Crews and Terry Crews
Titus O'Neil and Apollo Crews are vying for the Raw Tag Team Titles, but this week, WWE made a significant move by shortening Apollo Crews' moniker to simply Apollo. This continues a recent pattern in which WWE has given some Superstars single-word names like Elias, Cesaro, Rusev, and others.
Before signing on with WWE, Apollo went by the moniker Uhaa Nation. When he was changed to Apollo Crews, fans immediately noticed that his name appeared to be a combination of Terry Crews and Apollo Creed.
According to rumours, the recent school shooting in Florida was the catalyst for WWE changing Apollo's name, although a supporter said otherwise on Twitter.
The supporter asserted that WWE eliminated the last name because of tensions with Terry Crews, an actor. In his reply, Terry said that while he had nothing but respect for Apollo, WWE had stolen his name.
Is WWE Crews a Nigerian?
Apollo Crews debuted his new identity to the world in February 2021. He claimed to be a representative of dominance and authority as a descendant of Nigerian royalty. Crews changed his voice to one with a Nigerian accent to match his character change.
The NXT star defended the change in pace by claiming that it represented his true identity. He asserted that if he didn't accept his speech pattern, he wouldn't be able to appreciate his roots. He argued that his method of speaking was a part of his lineage.
WWE opted to alter Crews' on-screen accent because they wanted him to fully embody his character.
Crews' return to the WWE NXT 2.0 brand was featured in the most recent episode. NXT Champion Bron Breakker, who was taken aback to see the RAW star on the broadcast, issued an open challenge, to which he responded.
The champion was informed by the Nigerian Royal that they will shortly square off. Crews no longer had Commander Azeez in his corner and no longer spoke with a Nigerian accent.
Does Apollo Crews have an accent?
In February 2021, Apollo Crews unveiled his new persona to the world. As a member of the Nigerian royal family, he asserted his power and influence. Crews altered his voice to have a Nigerian accent in order to fit his new role.
The NXT superstar defended the shift in tone by saying it reflected his actual self. He claimed that he wouldn't be able to appreciate his roots if he didn't accept his speech pattern. He said that his speech pattern came from his ancestors.
Because they wanted Crews to fully embody his persona, WWE decided to change his on-screen accent.
The most recent episode included a segment about Crews' return to the WWE NXT 2.0 brand.
The RAW star reacted to an open challenge from NXT Champion Bron Breakker, who was surprised to see him on the show.
The Nigerian Royal notified the champion that their matchup is about to take place. Crews no longer spoke with a Nigerian accent and no longer had Commander Azeez in his corner.
FAQs
Are the wrestlers Terry Crews and Apollo Crews related?
Apollo joined the WWE main roster in April 2016, and in May 2020, he won the United States Championship. At WrestleMania 37 later that year, he also captured the Intercontinental Championship. There is no connection whatsoever between Terry Crews and Apollo Crews.
Why is Apollo Crews acting Nigerian?
Crews changed his voice to one with a Nigerian accent to match his character change. The NXT star defended the change in pace by claiming that it represented his true identity. He asserted that if he didn't accept his speech pattern, he wouldn't be able to appreciate his roots. He argued that his method of speaking was a part of his lineage.
Does Apollo Crews remain a WWE employee?
American professional wrestler Sesugh Uhaa has a contract with WWE. He is presently working with RAW.
Where did Apollo Crews get his ring name from?
His current name, Apollo Crews, is not the one under which he first participated in competitions. Sesugh Uhaa is Crews' birth name; he is of Nigerian heritage. As the narrative progresses, it would be his name in part and the guidance of a high school coach that would contribute to the moniker Uhaa Nation. He recounts how the term came to be and how it all started when he switched from weight training to wrestling in high school.