Anthony Edwards full name as Anthony DeVante Edwards, known as "Ant-Man," is a highly talented American professional basketball player currently playing for the Minnesota Timberwolves in the NBA. Primarily a shooting guard, Edwards previously showcased his skills at the collegiate level while representing the Georgia Bulldogs.
Before his college career, Edwards attended Holy Spirit Preparatory School in Atlanta. He garnered significant attention and was recognized as a five-star recruit, earning accolades as one of the top players in the 2019 class according to prominent recruiting services. During his senior year, he received notable recognition, including being named a McDonald's All-American and making the USA Today All-USA first team. Edwards ultimately decided to commit to playing college basketball for the University of Georgia, making him the highest-rated recruit to choose the program. Following an impressive freshman season, he was honored as the SEC Freshman of the Year.
In the 2020 NBA draft, the Minnesota Timberwolves selected Edwards as the first overall pick, recognizing his exceptional talent and potential.
Discover all you need to know about Anthony Edwards, including his age, height, parents, siblings, college, career, NBA journey, All-Star selections, stats, girlfriend, contract, net worth, and more. Get answers to frequently asked questions and stay updated on the latest news about this talented basketball player.
Anthony Edwards Bio/Wiki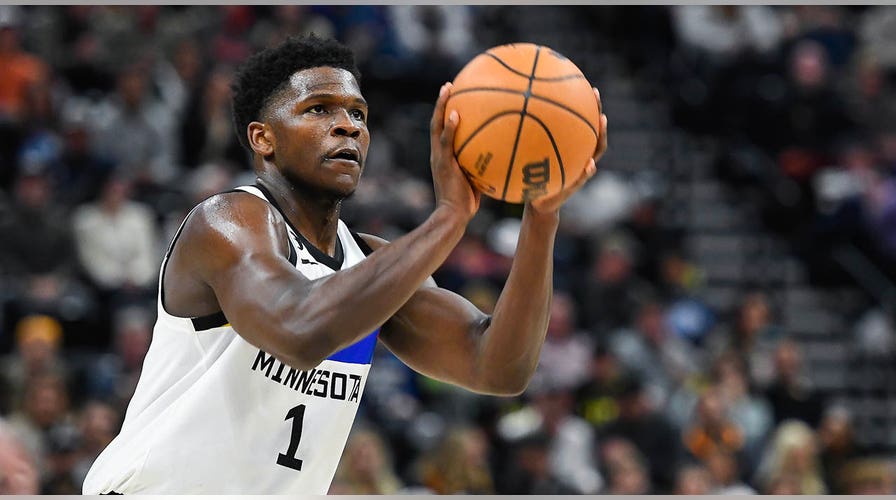 | Real Name | Anthony Edwards |
| --- | --- |
| Full Name | Anthony DeVante Edwards |
| Date of Birth | August 5, 2001 |
| Place of Birth | Atlanta, Georgia, USA |
| Height | 6 ft 5 in (196 cm) |
| Weight | 225 lb (102 kg) |
| High School | Holy Spirit Preparatory School (Atlanta, Georgia) |
| College | Georgia (2019–2020) |
| NBA Draft | 2020 / Round: 1 / Pick: 1st overall |
| NBA Team | Minnesota Timberwolves (2020–Present as of 2021) |
| Position | Shooting Guard/Small Forward |
Early Life
Born in Atlanta, Georgia, Anthony "Ant-Man" Edwards had a multifaceted upbringing marked by both joy and loss. From an early age, his affinity for sports, especially football, was evident as he demonstrated versatility in playing various positions. At age thirteen, Edwards suffered the tragic loss of his mother and grandmother to cancer within a short span, experiences that fueled his resolve to succeed in honor of their memories.
The responsibility of raising Edwards fell to his sister, Antoinette, and brother, Antoine. The resilience he cultivated during his adolescence allowed him to persevere through personal hardships and find solace in basketball, which soon evolved into his passion. As a student at Holy Spirit Prep School in Atlanta, Edwards balanced academics, athletic pursuits, and volunteer work as an instructor at youth camps. Although he intended to pursue marketing at the University of Georgia, his path was destined to diverge.
While Edwards exhibited impressive skills across various sports, including baseball, it was the thrill of basketball that stole his heart. This love for the game was fostered on his grandmother's backyard court, where competitive summer games against his brothers bolstered his determination to excel. His defining victory in ninth grade signified his dedication to basketball, marking the inception of his promising future.
Anthony Edwards Parents
Born on August 5, 2001, Anthony Edwards grew up in the vibrant city of Atlanta, Georgia. His parents, Yvette Edwards and Roger Caruth, played a significant role in his upbringing. As the third child, Anthony was nurtured by both his mother and grandmother, forming a strong bond with his family, including his siblings – a brother and sister. The familial love was evident during their shared moments, captured and remembered fondly through family pictures.
As a young boy, Anthony attended Daniel McLaughlin Therrell High School and later Holy Spirit Preparatory School in Atlanta. He cultivated his love for basketball under the guidance of Coach Ty Anderson. Comfortable and connected with his home state, Anthony preferred to play for Georgia, a testament to his love for his community and his aspirations of achieving his dreams at home.
Influence of Anthony Edwards' Mother
A central figure in Anthony's life was his mother, Chrisha Yvette Edwards. Born on October 17, 1972, Chrisha was a strong and loving woman, her influence on Anthony apparent in his career and personal life. Her life, however, was cut short after a courageous battle with cancer, passing away on January 5, 2015, at the age of 43. This loss was a significant blow to Anthony, who considered her his biggest inspiration.
Together with Anthony's grandmother Shirley, who passed away in June 2014, Chrisha nurtured and raised her children, supporting their dreams and fostering their aspirations. These two strong women had a lasting impact on Anthony, shaping him into the man and player he is today.
The Role of Anthony Edwards' Father
Roger Caruth, Anthony's father, is another influential figure in his life. Despite living apart from the family, Roger played a key role in Anthony's journey, even bestowing upon him his now-popular nickname, 'Ant-man'. Currently, Anthony's guidance comes from his older siblings, Antoine and Antoinette.
In spite of the distance, Roger's impact on Anthony's life is palpable. The nickname 'Ant-man' has become a moniker representing Anthony's prowess on the basketball court, a tribute to his father's enduring influence. Despite the physical distance, the emotional bond between father and son remains strong, serving as a driving force in Anthony's life and career.
Anthony Edwards Siblings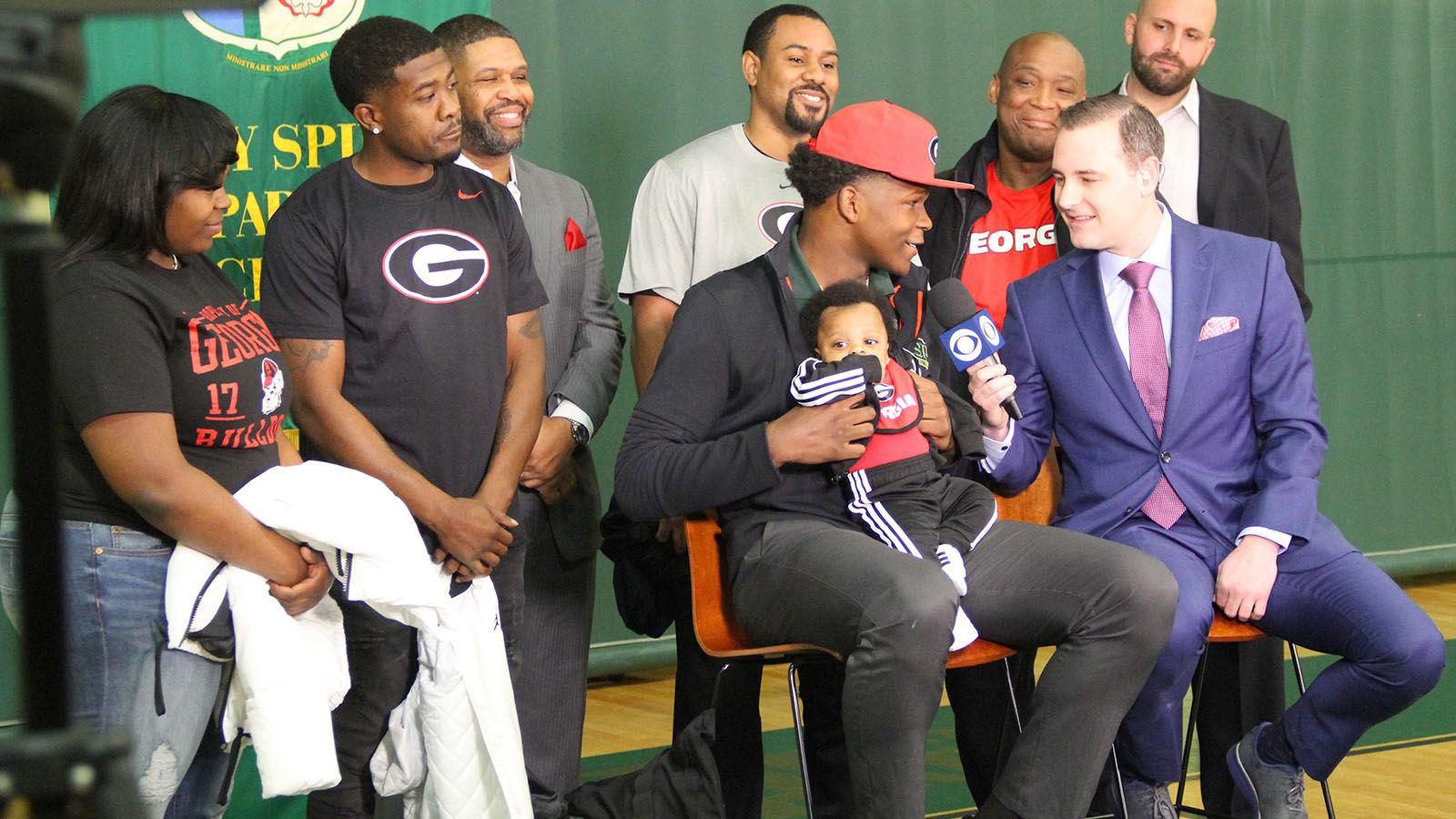 Anthony Edwards, a professional basketball player known as 'Ant-man', is the youngest member of a vibrant family. He shares a close bond with his two brothers and sister, Antoinette. Tragically, they lost their other sister, Arielle, at a young age, marking a poignant chapter in their family history.
The loss of their mother and grandmother when Anthony was just fifteen years old had a profound effect on the family. Since then, his older siblings, Antoine and Antoinette, have stepped in to fill the void, raising the young NBA star and providing the familial support needed during such a challenging time.
Siblings Antoine and Antoinette: A Brief Profile
Antoine, along with his wife Sandy, has embarked on an entrepreneurial journey. They manage travel and destinations for clients via their travel partner, Westgate Resort. They also cater to event needs, providing tents for rent for various occasions.
Antoinette, on the other hand, balances her personal and professional life with grace. A proud mother to her two-year-old son, Jace Lubin, she also runs a successful Domestic Limited Liability Company in Georgia called Yvette's Luxurious Bundles LLC.
Special Bond with Younger Brother BDifferent
Anthony also shares a special relationship with his younger brother, BDifferent, also known as F.A. Bubba. An accomplished music artist, Bubba's songs are available on various platforms like iTunes and Spotify.
The Edwards siblings stand united in times of joy and adversity. In fact, Anthony credits his passion for basketball to his brothers, who he often watched playing in their grandmother's backyard. The sense of unity and mutual inspiration within the Edwards family is a testament to their strength and shared love for each other.
Anthony Edwards Age
Anthony Edwards, the talented basketball player for the Minnesota Timberwolves, was born on August 5, 2001. As of 2023, Edwards is 21 years old. At a young age, Edwards has already made a significant impact in the NBA with his exceptional skills and performances on the court.
His age showcases his potential for growth and development as he continues to establish himself as a rising star in the league. With his youth and talent, Edwards has a promising future ahead, and fans can look forward to witnessing his continued success and contributions to the game of basketball.
Anthony Edwards Height
Anthony Edwards, the talented basketball player for the Minnesota Timberwolves, stands tall at an impressive height of 6 feet 4 inches (193 cm). This height advantage allows him to excel on the court, showcasing his skills as a point guard. As he enters his third season in the NBA, Edwards continues to make a significant impact, gaining recognition as an All-Star for the year 2023. His selection to this prestigious event highlights his exceptional abilities and contributions to the game.
In addition to his stature, Edwards maintains a balanced physique with a weight of 102 kg (225 lbs.), which is proportionate to his height. This optimal weight enables him to maintain agility, strength, and endurance on the basketball court, enhancing his performance and effectiveness in the game.
Anthony Edwards Weight
Anthony Edwards, the talented basketball player for the Minnesota Timberwolves, maintains an optimal weight that complements his height and athleticism. As of the most recent information available, Edwards weighs 102 kg (225 lbs). This appropriate weight contributes to his agility, strength, and endurance on the court, allowing him to showcase his skills to the fullest.
High School Career
During his high school career, Anthony Edwards demonstrated his immense basketball talent and left an indelible mark on the court. Initially playing for Therrell High School in Atlanta as a member of the 2019 class, Edwards showcased his skills and caught the attention of scouts and recruiters. His standout performance with the Atlanta Xpress 15-under Amateur Athletic Union team in 2016 earned him a four-star recruit rating by Rivals.
In January 2017, Edwards made a pivotal decision to transfer to Holy Spirit Preparatory School, also located in Atlanta. This move allowed him to reclassify to the 2020 class and pursue academic improvement in an environment that offered smaller class sizes and enhanced support. His commitment to both academics and athletics paid off when he played a pivotal role in Holy Spirit Preparatory's victory over The Heritage School in the Georgia Independent School Association (GISA) Class AAA state championship in March 2018.
Despite facing tough competition, Edwards's exceptional talent and dedication to improvement led him to reclassify back to the 2019 class in November 2018. This decision propelled him to the top spot in the Top247 rankings on the respected recruiting website 247Sports. Throughout his senior season, Edwards consistently demonstrated his prowess on the court, averaging an impressive 29 points, nine rebounds, and two assists per game.
His stellar performance earned him well-deserved recognition, including a spot on the USA Today All-USA first team and MaxPreps All-American fourth team. Furthermore, Edwards had the honor of participating in prestigious events such as the McDonald's All-American Game and the Jordan Brand Classic in March and April 2019, respectively. Anthony Edwards's high school career serves as a testament to his exceptional abilities and sets the stage for his future success in basketball.
Recruiting
Anthony Edwards garnered significant attention from major recruiting services, including 247Sports, ESPN, and Rivals, who unanimously rated him as a five-star recruit. He was widely recognized as one of the top players in the highly competitive 2019 class, holding a top-five ranking and being regarded as the best shooting guard prospect. This acclaim solidified Edwards' reputation as an exceptional talent within the basketball community.
On February 11, 2019, Edwards made a highly anticipated commitment to play college basketball for the University of Georgia. His decision marked a significant milestone for the program, as he became the highest-rated recruit in the modern recruiting era for the Bulldogs. Edwards chose Georgia over offers from prominent basketball schools such as Florida State, Kansas, Kentucky, and North Carolina, highlighting the program's appeal and his belief in its potential.
One of the key factors that influenced Edwards' decision was the opportunity to play under head coach Tom Crean. The chance to be mentored by Crean, who had previously coached NBA stars Dwyane Wade and Victor Oladipo during their college careers, played a pivotal role in Edwards' choice. The success and development of these players under Crean's guidance resonated with Edwards and contributed to his belief in the coach's ability to shape his own basketball journey.
College Career
In November 2019, Anthony Edwards emerged as a standout player for the Georgia Bulldogs, registering 24 points, nine rebounds, and four steals against Western Carolina in his debut game. This feat earned him a comparison with Basketball Hall of Famer, Dominique Wilkins. The same month, he scored an impressive 37 points, becoming the first Georgia freshman to achieve such a score since Jacky Dorsey in 1975.
Edwards' exceptional college basketball career, highlighted by numerous game-high scores, earned him recognition both on his team and nationally. In February 2020, he notched 29 points and 15 rebounds in a victory over Texas A&M, followed by a 32-point game against Florida. His performance against South Carolina, where he scored 36 points and gathered seven rebounds, was also notable.
Averaging 19.1 points, 5.2 rebounds, and 2.8 assists per game as a freshman, Edwards was a leading scorer among national freshmen and earned second-team All-SEC and SEC Freshman of the Year honors. His accolades also included SEC Freshman of the Week four times, a record in the Georgia program, and being a finalist for the Jerry West Award, honoring the top collegiate shooting guard.
2020 NBA draft
In March 2020, Edwards declared for the 2020 NBA draft, solidifying his status as a highly regarded prospect. By signing with an agent, he renounced his remaining college basketball eligibility, highlighting his readiness for professional challenges. His tenure with the Bulldogs showcases his considerable potential for a successful NBA career.
Professional Career
Minnesota Timberwolves (2020–present)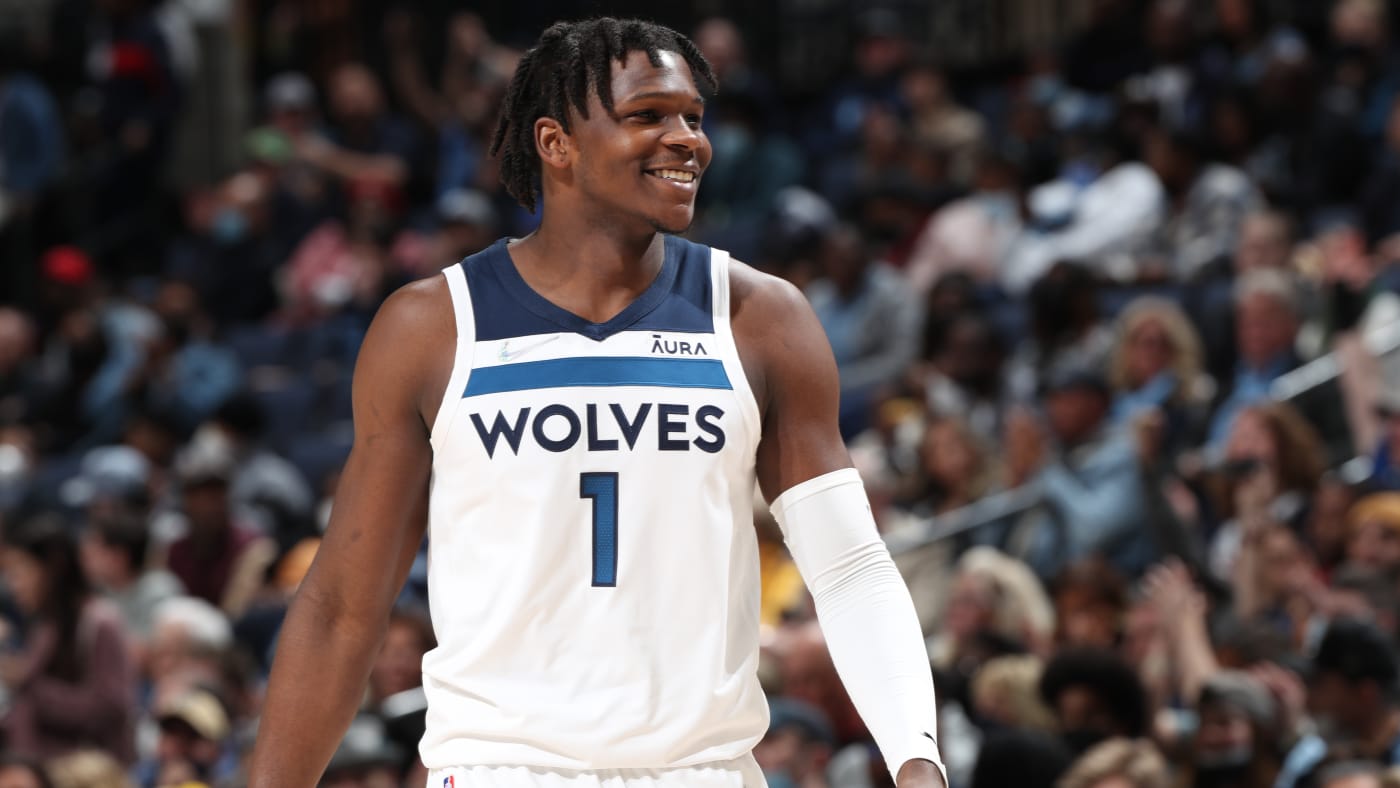 The 2020 NBA draft, delayed by five months due to the COVID-19 pandemic, saw Anthony Edwards picked as the No. 1 overall by the Minnesota Timberwolves. On his debut in December 2020, Edwards marked his arrival with 15 points, 4 rebounds, and 4 assists in a win over the Detroit Pistons. He continued to demonstrate his prowess by scoring a then career-high 42 points against the Phoenix Suns in March 2021, making him the third youngest player to score 40+ points in NBA history. His impressive first season earned him second place in Rookie of the Year voting and a spot in the NBA All-Rookie First Team.
Edwards further raised his profile with a career-high 48 points against the Golden State Warriors in November 2021. He went on to set an NBA record in January 2022 by becoming the first player to achieve a unique stat line in a single game. His standout performances continued with a career-high 49 points against the San Antonio Spurs in April 2022.
In his playoff debut, Edwards helped secure a win over the Memphis Grizzlies with 36 points and six assists. Although Minnesota lost to Memphis, Edwards' contribution of 30 points, 5 rebounds, and 5 assists was notable.
In January 2023, Edwards scored a season-high 44 points against the Houston Rockets, leading to his first All-Star selection as an injury replacement in February. He concluded the season by leading the Timberwolves to a victory over the New Orleans Pelicans.
In the playoffs against the Denver Nuggets, Edwards set a franchise record with 41 points in one game, surpassing Sam Cassell's previous record. Despite their playoff elimination, Edwards' performances solidified his place among the league's top players.
Anthony Edwards Stats
Anthony Edwards' NBA career stats reveal a consistent upward trend in his performance.
2020-21 NBA Season
In his rookie season (2020-21) with the Minnesota Timberwolves, Edwards appeared in 72 games, averaging 19.3 points with a 41.7% field goal percentage and a 32.9% three-point percentage. His rebounds and assists averaged 4.7 and 2.9 respectively, with 1.1 steals per game.
2021-22 NBA Season
The following season, 2021-22, saw Edwards further improve his performance. He again played in 72 games, but this time with increased average playing time of 34.2 minutes. His points per game rose to 21.3, while his field goal percentage improved to 44.1%, and his three-point shooting increased to 35.7%. His rebounds per game increased slightly to 4.8, and assists to 3.8, along with a slight improvement in steals at 1.5 per game.
2022-23 NBA Season
By the 2022-23 season, Edwards had firmly established himself as a key player for the Timberwolves. He played in 79 games, averaging 36.0 minutes of playing time, and scoring an impressive 24.6 points per game. His field goal percentage increased further to 45.9%, and his three-point percentage to 36.9%. His rebound and assist numbers also showed an upward trend, at 5.8 and 4.4 respectively, while his steals remained consistent at 1.6 per game.
Career Stats
Over his career, Edwards' stats reflect a consistent improvement in his performance year on year. His determination, versatility, and continuous improvement have placed him as a standout performer for the Minnesota Timberwolves.
| Year | Team | GP | Min | Pts | FG% | 3pt% | Reb | Ast | Stl |
| --- | --- | --- | --- | --- | --- | --- | --- | --- | --- |
| 2022-23 | Timberwolves | 79 | 36.0 | 24.6 | 45.9 | 36.9 | 5.8 | 4.4 | 1.6 |
| 2021-22 | Timberwolves | 72 | 34.2 | 21.3 | 44.1 | 35.7 | 4.8 | 3.8 | 1.5 |
| 2020-21 | Timberwolves | 72 | 32.1 | 19.3 | 41.7 | 32.9 | 4.7 | 2.9 | 1.1 |
| Career | | 223 | 34.2 | 21.8 | 44.1 | 35.2 | 5.1 | 3.7 | 1.4 |
Anthony Edwards All Star
Becoming an All-Star is about more than putting numbers on a stat sheet. From his very first days as a Minnesota Timberwolf, Anthony Edwards has piled up counting stats, particularly as a scorer, in a way that few players his age have. Moreover, on Feb 10, 2023, Anthony Edwards was named an All-Star in the 72nd NBA All-Star Game in Salt Lake City. Edwards is therefore, the eighth player in Timberwolves history to be named an NBA All-Star and this marks the second consecutive season a Wolves player will play in the annual game.
Anthony Edwards played in his first NBA All-Star Game after appearing in the Rising Stars Challenge last season. He was named to the Rising Stars Challenge in 2020. The 6-4 guard led the Timberwolves in games played (58) while also leading in points per game (24.7) and steals per game (1.70). No player in the last four seasons has led their team in each of those three categories for a full season. Edwards, the No. 1 overall pick in the 2020 NBA Draft, led all third-year players in scoring with 24.7 ppg.
In his third season, Anthony Edwards totaled 16 30+ point games, the most among third-year players (tied for 13th in the NBA). Edwards is in elite company this season as one of only five players in NBA history aged 21 or younger to average at least 24 points, six rebounds and four assists. Even though Edwards did not put up a gaudy stat line in his first All-Star appearance with just 12 points, he still came away from the festivities a huge winner. His unique ability already spoke for itself. It was the first of what will become many All-Star selections for Anthony Edwards, and his talent will only become more undeniable from here.
Anthony Edwards Contract
Anthony Edwards signed a lucrative four-year contract worth $44,271,137 with the Minnesota Timberwolves. The entire amount of the contract is fully guaranteed, resulting in an average annual salary of $11,067,784. In the 2022-23 season, Edwards is set to earn a base salary of $10,733,400, which also serves as his cap hit and dead cap value for that season.
Looking ahead, in the 2023-24 season, Edwards is projected to earn $13,534,817. However, the specific cap hit and dead cap value for that season are yet to be determined. Similarly, in the 2024-25 season, Edwards is expected to receive a salary of $17,595,263, with the details of the cap hit and dead cap value to be determined in the future.
It's worth noting that as Edwards progresses in his career, his potential earnings could increase substantially. The Timberwolves possess the ability to offer him a lucrative five-year contract worth up to $204 million during the upcoming offseason. Furthermore, if Edwards receives recognition by being named to any of the All-NBA teams this season or the next, the value of his contract could rise to an impressive $244 million.
| Season | Salary | Cap Hit | Dead Cap Value |
| --- | --- | --- | --- |
| 2022/23 | $10,733,400 | $10,733,400 | $10,733,400 |
| 2023/24 | $13,534,817 | TBD | TBD |
| 2024/25 | $17,595,263 | TBD | TBD |
Anthony Edwards Girlfriend: Jeanine Robel
Professional basketball player Anthony Edwards is currently in a long-term relationship with Jeanine Robel. While they have chosen to keep their relationship private and have not publicly discussed it on social media, they have been dating for a significant period of time. There is an age difference of eight years between them, with Edwards being 20 years old and Robel being 29.
Jeanine Robel, born on January 24, 1994, in the United States, identifies as a Christian and belongs to the white ethnicity. She holds American nationality. On the other hand, Anthony Edwards was born on August 5, 2001, in Atlanta, Georgia.
Although they prefer to keep their relationship out of the public eye, it is evident that Edwards and Robel share a strong bond. In a recent game between the Minnesota Timberwolves and the Houston Rockets on January 22, 2023, Edwards delivered an outstanding performance, scoring a career-high 44 points, along with 6 rebounds, 4 assists, and 8 three-pointers. D'Angelo Russell also contributed significantly to the victory with 23 points, 1 rebound, and 8 assists.
During a post-match interview, Edwards dedicated his exceptional performance to his girlfriend, mentioning that her birthday was in two days and she would be leaving the country. He expressed his desire to put on a show for her before she departed, demonstrating his affection and appreciation for their relationship.
Anthony Edwards Controversy
In September 2022, the NBA however fined Minnesota Timberwolves guard Anthony Edwards $40,000 for making anti-LGBTQ remarks in a video on his Instagram account. In it, Edwards, who was in a vehicle and being recorded, rolls down a car window and calls a group of shirtless men "queer". He apparently posted the video to his Instagram account on the weekend of 10th September but soon deleted it.
The NBA therefore stated Edwards' language "offensive and derogatory". On September 11, however Anthony Edwards posted a message of apology and regret on his Twitter account. "What I said was immature, hurtful, and disrespectful, and I'm incredibly sorry," said Edwards, 21. "It's unacceptable for me or anyone to use that language in such a hurtful way, there's no excuse for it, at all. I was raised better than that!".
Anthony Edwards Shoes
In just three seasons with the Minnesota Timberwolves, Anthony Edwards has solidified his status as a star player, earning his first All-Star selection while averaging nearly 25 points per game. As he prepares for the upcoming 2023-24 season, Edwards will also be unveiling his first signature silhouette after an off-season trip to France with Rudy Gobert.
The initial images of Edwards' inaugural silhouette have recently been revealed, showcasing a design that takes a simplified approach reminiscent of the adidas Harden Vol. 7. The shoe also incorporates elements from the adiFOM Q series, utilizing EVA Foam-based materials. The model is divided into two sections, featuring a suctioned upper bootie and a TPU overlay that covers a significant portion of the tooling and extends onto the sole unit.
With a prominent 3-Stripes logo at the heel, the initial images do not provide a glimpse of Edwards' signature logo. However, the sneaker is showcased in vibrant teal and light cream colorways, creating a striking contrast against the jet-black uppers.
While official release date information and technical details are yet to be announced, sneaker enthusiasts can enjoy a preview of the imagery and sketches of Anthony Edwards' highly anticipated debut signature shoe with adidas. Stay tuned for updates on this exciting release.
Anthony Edwards Instagram
The American Basketball player Anthony Edwards is quite popular on social media. He has over 52 posts on Instagram and about 1.3 million people following him. He has 197.2k on Twitter.
FAQs
Who is Anthony Edwards?
Anthony DeVante Edwards, better known by his stage name "Ant-Man," is an American professional basketball player. He is with the Minnesota Timberwolves of the National Basketball Association. Edwards was born on August 5, 2001, in Atlanta, Georgia. He is, therefore, 21 years old.
How old is Anthony Edwards?
Anthony Edwards was born on August 5, 2001, which makes him 21 years old.
What is Anthony Edwards' height?
Anthony Edwards stands at a height of 6 feet 4 inches (193 cm).
What is Anthony Edwards' weight?
Anthony Edwards weighs approximately 102 kg (225 lbs).
What happened to Anthony Edwards basketball?
In September 2022, the NBA fined Edwards $40,000 for posting a video on September 10 in which he called a group of shirtless men "queer". However, the next day, he posted an apology, stating, "What I said was immature, hurtful, and disrespectful, and I'm incredibly sorry."
Is Anthony Edwards Actually Michael Jordan's Son?
In recent years, rumors have circulated suggesting that Anthony Edwards, the talented player from the Minnesota Timberwolves, is the son of iconic basketball figure Michael Jordan. Edwards' exceptional skills and his reminiscent confidence on the court have drawn comparisons to Jordan, fueling speculation about their familial connection.
However, it is important to clarify that these rumors are unfounded, and the resemblance between the two players is merely coincidental. Despite their similar playing styles and physical appearances, Anthony Edwards and Michael Jordan are not related.
While it is true that Edwards has had interactions with Jordan, these interactions have been limited to occasional meetings and conversations. In such instances, the six-time champion has offered valuable advice and guidance to the young star, highlighting his role as a mentor rather than a paternal figure.
Is Anthony Edwards related to Michael Jordan?
No, Anthony Edwards is not related to Michael Jordan. The rumors suggesting a familial connection between them are unfounded.
How many 3s does Anthony Edwards have?
Anthony Edwards has therefore made 599 three-pointers in his career.
What is Anthony Edwards' salary?
So, Anthony Edwards signed a 4 year / $44,271,137 contract with the Minnesota Timberwolves, including $44,271,137 guaranteed, and an annual average salary of $11,067,784.
Does Anthony Edwards have a girlfriend?
Yes, Anthony Edwards is in a relationship with Jeanine Robel. They have been dating for a long time.
How old is Anthony Edwards' girlfriend?
Jeanine Robel, Anthony Edwards' girlfriend, is aged 29.
How can I stay updated on Anthony Edwards' latest news and achievements?
To stay updated on Anthony Edwards' latest news, you can follow his official social media accounts and check reliable sports news sources for updates on his career and accomplishments.