Peter Thomas England, also known as Pete Dunne, is an accomplished English professional wrestler. Currently signed to WWE's SmackDown brand, Dunne is a prominent member of The Brawling Brutes stable, competing under the ring name Butch WWE. Throughout his career, he has achieved notable accolades, including the WWE United Kingdom Championship and the NXT Tag Team Championship, which he won alongside Matt Riddle during the 2020 Dusty Rhodes Tag Team Classic.
Dunne's journey in the wrestling world began at a young age. At only 12 years old, in 2006, he embarked on his training, which paved the way for his debut match in 2007. Since then, Dunne has left an indelible mark on the global independent circuit, showcasing his skills in renowned promotions like Destiny World Wrestling (DWW), Fight Club: Pro (FCP), Insane Championship Wrestling (ICW), Michinoku Pro Wrestling (MPW), Over the Top Wrestling, Pro Wrestling Guerrilla (PWG), Progress Wrestling (where he held the Progress World Championship), Revolution Pro Wrestling (RPW), Singapore Pro Wrestling (SPW), and Westside Xtreme Wrestling (wXw).
Butch, also known as Pete Dunne, is a professional wrestler currently signed with WWE. This wiki provides information about his real name, age, height, WWE career, signature move (Finisher), personal life including his wife and daughter, his return to wrestling, frequently asked questions, and more. Discover all the details about Butch's journey in the world of professional wrestling and get answers to common queries in this comprehensive resource.
Butch WWE Bio/Wiki
Full Name
Peter Thomas England
Ring Name
Butch (formerly Pete Dunne)
Date of Birth
November 9, 1993
Place of Birth
Birmingham, United Kingdom
Height
5 feet 10 inches (178 cm)
Weight
205 lb (93 kg)
Nationality
English
Promotion
WWE
Brand
SmackDown
Debut
2016
Championships
WWE United Kingdom Champion
NXT Tag Team Champion
Signature Move(s)
Bitter End (Pumphandle reverse STO)
Nickname(s)
The Bruiserweight
Social Media Handles
Twitter: @PeteDunneYxB
Instagram: @petedunneyxb
Early Life
Peter Thomas England, also known as Pete Dunne, was born on November 9, 1993, in Birmingham. He grew up in Chelmsley Wood, a vibrant neighborhood.
Butch WWE Real Name
Butch, also known as Pete Dunne, is the ring name used by the WWE wrestler. His real name is Peter Thomas England.
Butch WWE Age
Butch, also known by his ring name Pete Dunne, was born on November 9, 1993, in Birmingham, United Kingdom. At present, he is 29 years old, showcasing his remarkable skills as a WWE wrestler.
Butch WWE Height
Butch, a prominent WWE wrestler also known as Pete Dunne, stands at a height of 5 feet 10 inches (1.78 meters).
Professional Wrestling Career
Training and early career (2006–2011)
During his early career, which spanned from 2006 to 2011, Pete Dunne underwent training at Phoenix Wrestling in Coventry under the guidance of Steve "Psycho" Edwards. Although his initial training provided him with only the basics, Dunne made his first appearance as a wrestler at the 2007 Holbrooks Festival in Coventry, where he encountered Mark Andrews. Subsequently, he trained briefly under Max Angelus and began performing in local shows across Birmingham, often in community centers.
Initially competing under a mask as Tiger Kid, Dunne transitioned to his new persona as Pete Dunne in January 2010 after losing a hair vs mask match against Helix at Riot Act Wrestling. He formed a tag team with his kayfabe brother Damian Dunne and extensively worked for various small independent promotions such as EDW Wrestling in Shrewsbury and Kamikaze Pro Wrestling in Birmingham. During school breaks, Dunne would train with friends, including Mark Andrews, in a converted boxing ring located in a community center in Cardiff.
In 2011, Dunne expanded his reach and began competing internationally. He participated in wrestling promotions like LDN Wrestling in England, Dublin Championship Wrestling in Ireland, Celtic Wrestling, Welsh Wrestling, and Royal Imperial Wrestling in Wales, as well as PBW in Scotland. This period marked a significant step in Dunne's career as he gained more exposure and experience in the wrestling industry.
Attack! Pro Wrestling (2011–2016)
Attack! Pro Wrestling (2011–2016) was co-founded by Pete Dunne and ring announcer Jim Lee in 2011, aiming to create more opportunities for their group of friends in the wrestling industry. They organized a weekend of shows in Birmingham to kickstart the promotion. During the inaugural weekend, Dunne participated in the Elder Stein Invitational tournament, reaching the final but ultimately losing to Mark Andrews.
Attack! Pro Wrestling expanded its reach to Cardiff and Bristol, with Dunne consistently performing as a fan favorite, often facing his best friend Mark. In 2014, Dunne gained exposure by appearing on the BBC 3 television show "People Like Us," which followed individuals from Chelmsley Wood, including Dunne, as they pursued their goals, including his dream of becoming a professional wrestler.
In January 2015, Dunne shocked the audience by turning on Mark during the "Mandrews Goes To America" event, which marked Andrews' departure as he signed with TNA Wrestling. This unexpected betrayal propelled Dunne into a prominent heel role within the promotion. From mid-2015 to 2016, Dunne held the ATTACK! 24/7 Championship for an impressive 307 consecutive days, engaging in feuds with Eddie Dennis and Wild Boar simultaneously.
Dunne's reign as a performer in ATTACK! Pro Wrestling concluded on November 20, 2016, in a five-vs-five elimination match against a team led by Jim Lee. The stipulation dictated that the losing team captain, which turned out to be Dunne, had to leave ATTACK! Pro Wrestling, thus concluding his chapter with the promotion.
Michinoku Pro Wrestling (2013)
In 2013, Pete Dunne had the opportunity to tour with the prestigious Japanese promotion Michinoku Pro Wrestling for a period of three months. During his time with the promotion, Dunne teamed up with Jason Larusso for his debut match, triumphing over Bad Boy (Daichi Sasaki and Manjimaru). However, the following night, Dunne and Larusso faced defeat at the hands of the Brahman Brothers.
Despite these setbacks, Dunne continued to showcase his skills and determination. He engaged in several matches throughout the tour, experiencing both victories and losses. One notable triumph was his first singles match in Japan, where he emerged victorious against Ayumu Gunji.
Dunne's journey with Michinoku Pro Wrestling reached its conclusion on May 5th, when he and Larusso were defeated by the formidable duo of Yapper Man #1 and Yapper Man #2. This marked the end of Dunne's involvement with Michinoku Pro Wrestling, leaving behind a valuable experience and further enriching his professional wrestling career.
Revolution Pro Wrestling (2014, 2016–2017)
Pete Dunne had notable appearances with Revolution Pro Wrestling (RPW) in 2014 and from 2016 to 2017. He made his RPW debut on May 10, 2014, teaming up with F.S.U (Mark Andrews and Eddie Dennis) in a match against The Revolutionists (Sha Samuels, Josh Bodom, and Terry Frazier), which unfortunately ended in defeat.
In January 2016, at RPW's Live At The Cockpit 5 event, Dunne had a successful night. He first defeated El Ligero and then Morgan Webster to capture the RPW British Cruiserweight Championship. Dunne held the championship for several months, defending it against formidable opponents such as Webster, Sonjay Dutt, A.C.H., Mike Bailey, and Matt Cross. Eventually, he relinquished the title to Will Ospreay at Summer Sizzler in July.
Dunne's involvement with RPW extended to international events as well. He participated in Global Wars UK, where he faced off against Yuji Nagata and Tomohiro Ishii, unfortunately falling short in both matches. On January 21, 2017, Dunne also encountered NJPW's Yoshi-Hashi, resulting in a loss.
Progress Wrestling (2014, 2016–2019)
Between 2014 and 2019, British professional wrestler Pete Dunne made a significant impact on Progress Wrestling. He debuted in May 2014 and made sporadic appearances until April 2016, when he returned full-time. Dunne turned on his kayfabe brother Damian Dunne in 2016, forming a partnership with Trent Seven known as British Strong Style. They defeated The London Riots to become Progress Tag Team Champions.
When Progress World Championship became vacant, Dunne seized the opportunity and secured the title in a 7-man elimination match. He successfully defended his title multiple times, with his first against Zack Sabre Jr. However, Progress management forced Dunne and Seven to relinquish the tag team title after a controversial attempt by Dunne to share his title with Tyler Bate. Yet, Dunne managed to retain his Progress World Championship while Seven and Bate regained the Tag Team Championships.
Dunne's reign as Progress World Champion ended when he lost to Travis Banks in September 2017. Despite this setback, he remained a formidable competitor, defending his WWE United Kingdom Championship against Jack Gallagher at Chapter 60.
In 2018, Dunne participated in the Super Strong Style 16 tournament but was disqualified in the second round against Zack Gibson. Dunne received a notable challenge from wXw Unified World Wrestling Champion, Ilja Dragunov, which he accepted. This high-profile match was set for "Hello Wembley" at the Wembley Arena, marking another major milestone in Dunne's remarkable Progress Wrestling journey.
Chikara (2014–2017)
Pete Dunne's involvement with Chikara spanned from 2014 to 2017. In September 2014, Dunne, alongside Damian Dunne and Mark Andrews, collectively known as "Team UK," made their Chikara debut in the 2014 King of Trios tournament. They reached the quarterfinals but were ultimately defeated by The Devastation Corporation.
A year later, Dunne returned to Chikara for the 2015 King of Trios tournament. This time, he teamed up with Andrews and Morgan Webster as "Team Attack!" Unfortunately, they were eliminated in the first round by the United Nations.
Dunne made another comeback to Chikara on September 1, 2017, forming a team called "House Strong Style" with Trent Seven and Tyler Bate. They participated in the 2017 King of Trios tournament and emerged victorious in their first-round match against House Whitewolf. In subsequent matches, House Strong Style defeated House Throwbacks in the quarterfinals and advanced to the finals after House Rot forfeited the match. Finally, they secured a triumphant victory by defeating House Sendai Girls in the finals, thus capturing the prestigious 2017 King of Trios championship.
Singapore Pro Wrestling (2017-2018)
Pete Dunne ventured into Singapore Pro Wrestling (SPW) from 2017 to 2018. He made his debut in October 2017, facing off against "The Statement" Andruew Tang and emerging victorious in their encounter. After the match, Dunne vowed to grant Tang a rematch.
In 2018, Dunne returned to SPW to fulfill his promise. However, this time he appeared alongside Wolfgang and Mark Davis as a team. The trio engaged in a 3-on-3 match against Andruew Tang, Kaiser Trexxus, and Aiden Rex. Despite their efforts, Dunne and his teammates suffered defeat at the hands of Tang's team.
Dunne's appearances in SPW showcased his talent on an international platform, engaging in competitive matches and leaving an impression on the Singapore wrestling scene.
WWE Career
United Kingdom Champion (2017–2019)
In December 2016, British professional wrestler Pete Dunne entered the WWE scene as a competitor in the United Kingdom Championship Tournament. Despite a promising start, Dunne eventually lost in the final to Tyler Bate. Soon after, he signed with WWE, allowing him to also continue independent bookings under certain conditions.
Dunne's rise in WWE was fast. After becoming the number one contender for the United Kingdom Championship in May 2017, he won the title later that month at NXT TakeOver: Chicago. The match was celebrated as Match of the Year at the NXT Year-End Awards.
Dunne's main roster debut came in November 2017, where he triumphed over WWE Cruiserweight Champion Enzo Amore. He continued his successful run, defending his title numerous times on NXT, and teaming up with Roderick Strong for the Dusty Rhodes Tag Team Classic.
When Strong betrayed him during a match in April 2018, a feud with The Undisputed Era began. In June 2018, Dunne, along with British Strong Style allies Tyler Bate and Trent Seven, defeated The Undisputed Era. Dunne also successfully defended his title against Zack Gibson during the United Kingdom Championship Tournament.
With the establishment of the NXT UK brand in July 2018, Dunne defended his title across both brands. By August, he had become the longest-reigning champion in WWE at 456 days.
Despite a few setbacks, Dunne continued to stand tall, even teaming up with Ricochet and the War Raiders to defeat The Undisputed Era at NXT TakeOver: WarGames in November 2018. His record-breaking reign as the UK Champion ended in April 2019 when he lost to Walter at NXT TakeOver: New York.
The BroserWeights (2019–2020)
In June 2019, Pete Dunne shifted back from NXT UK to NXT, reigniting his rivalry with Roderick Strong. Dunne also expressed interest in the NXT North American Championship, leading to a triple threat match with Strong and Velveteen Dream, the title holder, at NXT TakeOver: Toronto. Despite a strong fight, Dream retained his title.
In 2020, Dunne teamed up with Matt Riddle as surprise participants in the Dusty Rhodes Tag Team Classic. Their team, The BroserWeights, was a successful pairing, advancing through the tournament and defeating teams such as Mark Andrews and Flash Morgan Webster, Imperium's Fabian Aichner and Marcel Barthel, and finally Grizzled Young Veterans to clinch the tournament win. This victory earned them a match against The Undisputed Era's Bobby Fish and Kyle O'Reilly for the NXT Tag Team Championship at NXT TakeOver: Portland. The BroserWeights triumphed, taking home the titles.
Dunne's run was cut short due to travel restrictions imposed by the COVID-19 pandemic. Unable to return to the U.S., Dunne's tag-team partner Riddle teamed up with Timothy Thatcher as a temporary replacement. This arrangement didn't last, and Riddle and Thatcher lost the titles to Aichner and Barthel in May. As the pandemic continued, Dunne remained inactive from March to October 2020, while Riddle resumed his career as a singles wrestler on the SmackDown brand.
Kings of NXT (2020–2022)
In September 2020, Pete Dunne returned to NXT UK as a producer, also making a temporary appearance in the ring in October, teaming up with Ilja Dragunov to defeat NXT UK Champion Walter and Alexander Wolfe.
At Halloween Havoc, Dunne returned to NXT, shockingly attacking Kyle O'Reilly and aligning himself with Pat McAfee's Kings of NXT stable, turning heel. Despite a strong showing at WarGames against the Undisputed Era, the Kings of NXT suffered defeat. Dunne later competed for Finn Bálor's NXT Championship at Vengeance Day, but was unsuccessful. He then entered a feud with Kushida, defeating him at Stand & Deliver.
After the Kings of NXT disbanded, Dunne formed a new alliance with Ridge Holland following his return from injury. However, this was short-lived due to Holland being called up to SmackDown, and Danny Burch and Oney Lorcan being released. Dunne, now solo, started a feud with newcomer Tony D'Angelo and eventually joined Team Black and Gold for WarGames, losing to Team 2.0.
Despite defeating D'Angelo in a singles match, Dunne was brutally attacked with a crowbar afterwards. Dunne lost a rematch in a Crowbar on a Pole match but later triumphed over D'Angelo in a weaponized steel cage match at Vengeance Day. His final appearance in NXT was a defeat against Carmelo Hayes for the NXT North American Championship in March 2022.
The Brawling Brutes (2022–present)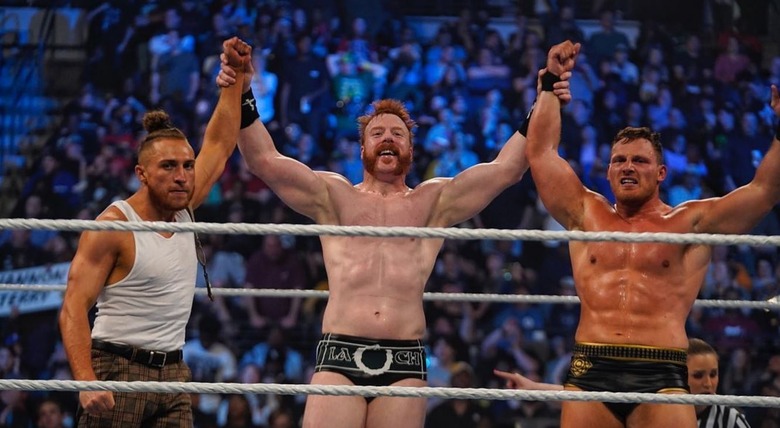 On 11 March 2023, Pete Dunne, now performing under the ring name "Butch," made his main roster debut on SmackDown. Joining forces with Ridge Holland and Sheamus, he positioned himself as a heel in their feud against The New Day. His first match on SmackDown took place on 8 April, where he faced a defeat against Xavier Woods.
In a significant turn of events at Clash at the Castle on 3 September, Butch supported Sheamus in a standout Intercontinental Championship match against Gunther. Despite Sheamus' loss, the Cardiff crowd's standing ovation turned Butch and his team, the Brawling Brutes, into faces. The Brutes secured their status as the #1 contenders for the Undisputed WWE Tag Team Championship on 16 September by winning a fatal four-way tag team match. However, they were unsuccessful in their title matches against The Usos, both on SmackDown and at Crown Jewel, thanks to interference from Imperium.
Subsequently, Butch entered a feud with The Bloodline, backed by his stable mates Kevin Owens and Drew McIntyre. This tension culminated at Survivor Series WarGames on 26 November in a WarGames match, which they lost.
Butch WWE Finisher
In the latest episode of WWE SmackDown, Xavier Woods secured a victory over Butch in a singles match using a small package rollup, which is known as "The Backwoods," Woods' finishing move. Notably, Dutch Mantell, a well-known figure in the wrestling industry, shared his thoughts on this development.
Mantell expressed that he had no issue with the rollup as it is a common tactic used to surprise opponents. However, he criticized Xavier Woods for his behavior following the match. The former WWE manager, formerly known as Pete Dunne, believed that there are better ways to maintain the integrity of a wrestler who has been defeated.
Typically, WWE promoters have employed various techniques to protect the image of wrestlers who have been pinned. However, in the case of the match between Butch and Woods, WWE chose to take a unique and distinct approach, deviating from the usual conventions of maintaining the credibility of the losing competitor.
Is WWE Butch Pete Dunne?
Born on November 9, 1993, Peter Thomas England, better known by his former ring name Pete Dunne, is an accomplished English professional wrestler. Currently signed with WWE, he competes on the SmackDown brand using the ring alias Butch.
In December 2016, it was announced that Dunne would be one of the 16 participants in the inaugural WWE U.K. Tournament, held on January 14 and 15, 2017. Throughout the tournament, he showcased his skills and defeated Roy Johnson in the first round. He advanced to the quarterfinals, then the semifinals, where he emerged victorious against Sam Gradwell and Mark Andrews. Ultimately, Dunne reached the final match but was defeated by Tyler Bate, who became the first WWE U.K. Champion.
Following the tournament, Dunne entered into a deal with WWE, which limited his availability for independent bookings. He made his debut in NXT on February 22, 2017, where he triumphed over Mark Andrews. Subsequently, Dunne made occasional appearances on NXT, including an appearance on 205 Live alongside other event participants to promote upcoming live shows in the UK, which took place on April 4.
Who is Butch WWE?
Pete Dunne, also known by his nickname "The Bruiserweight," has achieved significant success in WWE. He held the WWE United Kingdom Championship in the past and also became the NXT Tag Team Champion alongside Matt Riddle. Together, they emerged victorious in the 2020 Dusty Rhodes Tag Team Classic.
Dunne underwent a character transformation when he joined forces with Roderick Strong, forming an alliance. Their partnership commenced on March 28, where they competed in the Dusty Rhodes Tag Team Classic. In the first round, they defeated Danny Burch and Oney Lorcan. They went on to secure a victory against Alexander Wolfe and Eric Young in the semifinals. However, their final match against The Authors of Pain ended in a no contest when Kyle O'Reilly and Adam Cole intervened.
"The Bruiserweight" nickname aptly describes Dunne's style, combining his size and skill. He utilizes a repertoire of hard-hitting strikes, grappling, and manipulation of his opponents' fingers. His finishing move, the pumphandle reverse STO, is known as the Bitter End. Previously, it was referred to as Drop Dead. As he adopted the ring name "Butch," Dunne's character took on a more aggressive and volatile persona on the grand stage.
Pete Dunne's Wife Revealed: Meet Demi Burchell, the Woman Behind the Wrestler
Are you curious about Pete Dunne's marital status? Well, the talented wrestler is indeed married! Meet his wife, Demi Burchell. Although they have been married for quite some time, information about Demi is relatively scarce, as the couple prefers to keep their personal lives private. Join us as we delve into their enduring relationship and shed light on the woman who stands beside this renowned wrestler.
Pete Dunne's Daughter Revealed: Meet Emmi Rae, the Adorable Child of Pete Dunne and Demi Burchell
Pete Dunne, the talented wrestler, is not only a dedicated athlete but also a proud father. Alongside his wife Demi Burchell, Pete Dunne welcomed their daughter, Emmi Rae, into the world in 2018.
Pete Dunne's Impressive Net Worth Revealed: Estimated at $2 Million in 2023
Pete Dunne, widely recognized as Butch in the wrestling world, has achieved remarkable financial success throughout his career. As of 2023, his estimated net worth stands at an impressive $2 million.
Butch WWE FAQs
How Old Is Butch WWE?
Butch, also known as Pete Dunne in WWE, is currently 29 years old. Born on November 9, 1993, in Birmingham, United Kingdom, he has established himself as a prominent figure in the wrestling industry.
How Tall Is Butch WWE?
Butch, also known as Pete Dunne in WWE, stands at a height of 5 feet 10 inches (178 centimeters) tall. His height gives him a strong and formidable presence in the wrestling ring, allowing him to showcase his skills and dominate his opponents with his impressive stature.
What was Butch's name in NXT?
Fans once knew Butch as Pete Dunne. Now, he battles on SmackDown with Brawling Brutes and has detailed Vince McMahon's stance to the title. His past record with the WWE lines is strong. Firstly, he competed as Pete Dunne in NXT UK . And, then NXT as well as on the global scene.
Why is Pete Dunne now Butch?
After not being able to win the event, he met Tyler Bate at the NXT TakeOver match in Chicago Here, he claimed the NXT United Kingdom Title. Dunne went from the UK to the US, was moved to the main roster. Finally,  he changed his name to Butch.
Is Pete Dunne new name Butch?
After spending years in NXT, they have finally promoted Butch up to the main team. Unfortunately, Butch was handed to him by WWE. Dunne gave his reason for not being upset about the title change. He spoke about it during a chat on Mark Andrews: My Love Letter to Wrestling.
Did Pete Dunne change his name?
The WWE NXT UK King Pete Dunne (or, you may know him as Butch) made his official main label start on SmackDown. His new name was Butch, and that's how he was greeted. In fact, he already  has Sheamus and Ridge Holland working for him.
What was Butch's name in NXT?
Butch, who people once knew as Pete Dunne to fans, now fights on SmackDown along with The Brawling Brutes. Also, he has discussed Vincent McMahon's stance on the name change. His past record with the WWE line is solid. Since he has formerly fought as Pete Dunne in NXT UK and then NXT as well as on the solo scene.