Karrion Kross is an American professional wrestler. His real name is Kevin Kesar and he plays under the Smackdown brand of WWE. He was born on 19 July 1985 in New York City, New York, United States and is 37 years old.
Before joining WWE Smackdown, Karrion played in several other wrestling promotions. He began his journey with Global Force Wrestling in 2015. In the same year, he joined Lucha Underground and remained there for the next three years. A year before leaving Lucha Underground, Karrion Kross joined Lucha Libre AAA Worldwide till 2020. So, from 2017 to 2018, Karrion was signed to two wrestling promotions. Furthermore, two years before Kross left Lucha Libre AAA Worldwide, that is, in 2018, he joined Impact Wrestling. He stayed in Impact Wrestling for just a year and left that in 2019.
The next year, in 2020, Karrion Kross joined another professional wrestling promotion, Major League Wrestling or MLW. He played only one match which he won in MLW and left that for the world's biggest professional wrestling promotion, the World Wrestling Entertainment promotion. In 2020, he signed with WWE but again left the promotion after a year. In 2022, he returned to MLW, played two matches, both of which he won, and left MLW. He then joined the New Japan Pro-Wrestling promotion or NJPW, a Japanese professional wrestling promotion. There he played two matches, losing the first one and winning his next one. In 2022, he returned to WWE, making his debut on 5 August alongside his wife Scarlett Bordeaux who joined him as manager.
Scarlett's actual name is Elizabeth Chihaia. In his debut, unannounced, during Roman Reigns' segment with Drew McIntyre. Eventually, he signed himself under the Smackdown brand of WWE.
Karrion Kross was trained by Glenn Gilbertti, an American professional wrestler.
Karrion Kross Wife
Karrion Kross married Elizabeth Chihaia in Alaska on 20 April this year. The couple announced their engagement on 23 September last year. Elizabeth Chihaia is also a WWE wrestler. She goes by her ring name Scarlett Bordeaux.
Scarlett began her professional wrestling career in 2012. Like her husband Karrion Kross, Scarlett has played in many professional wrestling promotions, including being signed up for multiple promotions at the same time.
Scarlett started her professional wrestling journey playing in independent circuits from 2012 onwards. The same year she joined Ohio Valley Wrestling (OVW). She did not continue in Ohio Valley Wrestling after 2012. In 2013, she joined the Ring Of Honor (ROH) promotion for the next five years, that is, till 2017. After that, in 2018, she joined both Impact Wrestling and Lucha Libre AAA Worldwide. This was because the two professional wrestling promotions were in a partnership that year. The next year, in 2019, Scarlett left wrestling for the independent circuit. The same year, she got her biggest break. She signed with World Wrestling Promotion or WWE, the world's biggest professional wrestling promotion. She played in WWE for the next two years until 2021. In 2022, she joined Major League Wrestling or MLW. After playing only one match there, Scarlett left MLW and rejoined WWE where she is still wrestling.
Scarlett has had some victories and championship wins in her 10 years long career. In DDT Pro-Wrestling, a Japanese professional wrestling promotion, Scarlett won the Ironman Heavymetalweight Championship once. In the East Coast Wrestling Association, she won the ECWA Women's Championship once. Then she went on to win Maryland Championship Wrestling's MCW Rage Television Championship once and Masters of Ring Entertainment's MORE Wrestling Women's Championship once. Scarlett has also won the SAW Women's Championship once of Pro Wrestling After Dark.
Karrion Kross Net Worth
World Wrestling Entertainment professional wrestler Karrion Kross is quite a successful professional wrestler. He has seen many victories in the past promotions he has played for and now, while he is playing for the world's biggest wrestling promotion, he has had success there too. Karrion Kross, as a full-time wrestler for WWE, plays under its Smackdown brand. For a fact, his wife is also a WWE Smackdown professional wrestler. They often appear together.
WWE 2K series is a very popular video game series worldwide. The game has hundreds of thousands of players. The game is a professional wrestling simulation, especially WWE, wherein the video game players use their controls and wrestle as the professional wrestlers of their choice under various modes of the game. WWE 2K has officially licensed players and other data from WWE that they use. So being featured in the game as a wrestler is definitely a big deal. Karrion Kross enjoys this status. He is being featured by WWE 2K in their latest game version, WWE 2K22. This is his debut in the video game series as a featured wrestler.
By now, you should have understood the kind of achievements Karrion has had. All of this comes with a good income too. Estimates say that Karrion earns over half a million dollars yearly as a salary from WWE. Besides that, he has played for several other wrestling promotions over the past few years from where he has made a lot of money. Then his video game feature is also yielding him some income. All these when put together give an estimated net worth of Karrion Kross as about $1.5 million. This is not bad for a wrestler who has just begun their stint with WWE.
Karrion Kross debut Smackdown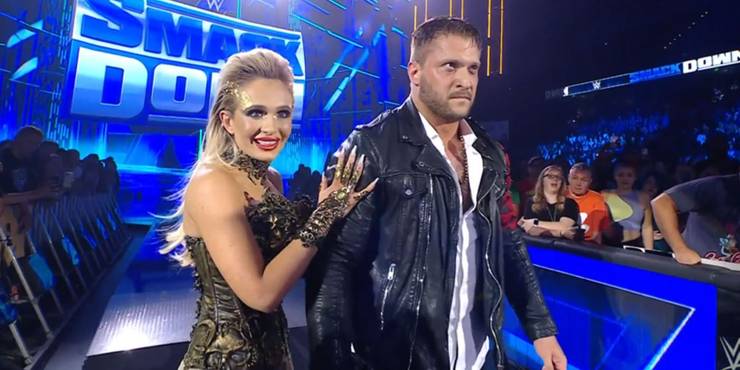 Former NXT Championship winner Karrion Kross made an unannounced but memorable in-ring return to WWE. On August 5, he returned to WWE with his wife and fellow professional wrestler Scarlett Bordeaux. Scarlett joined him as his manager. Kross entered the ring all of a sudden in his gear and defeated Drew Gulak, his opponent then, by submission. He applied a move called rear-naked choke on Drew Gulak to beat him. Prior to that, He attacked Drew Gulak with one of his signature moves, the Doomsday Saito suplex.
The match is said to have had a strong impact on Drew Gulak as he was completely unable to get back on his feet after Karrion was done beating him. Once done, Karrion and Scarlett tied Drew on one of the side ropes of the ring. The couple then took a close look at him and went backstage. That is when the couple signed back to WWE under Smackdown.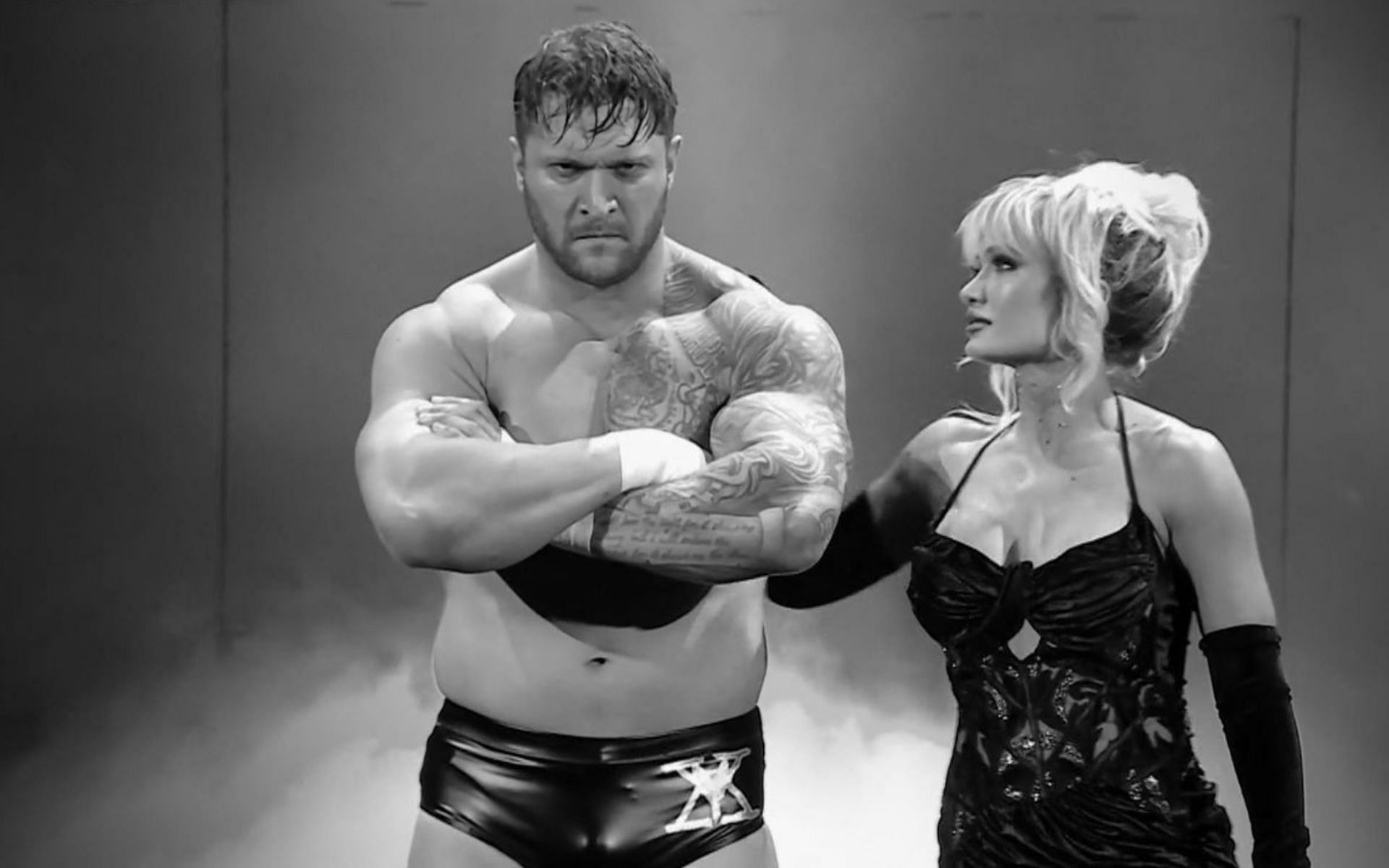 The return was quite an experience for Karrion Kross and Scarlett. Karrion's main roster debut under the RAW brand WWE did not go well. Karrion was the reigning NXT champion then. This made Kross' chances of being on the main roster very bleak. Moreover, even his NXT title came under threat. The audience started to mock Karrion by chanting "Hardy" at him. He entered the ring and lost to Jeff within three minutes. That was in July 2019.  Things got worse when he and his wife were laid off by WWE when they implemented their budge-cut policy in the Covid period. Karrion Kross was playing under the RAW brand and the black-and-gold version of NXT of WWE.
This return of Kross gave a lot of hope to his fans. They believe he will win more matches and championships at WWE from now onwards.
Karrion Kross WWE
WWE or World Wrestling Entertainment, Inc. is an American professional wrestling promotion and the biggest professional wrestling promotion in the world. WWE is its name for trade and publicity. The promotion was founded in 1953. Its first name was Capitol Wrestling Corporation (CWC). It was founded by either Jess McMahon or his son Vince J McMahon. There is no information which confirms any details about the original founder but it is confirmed that the company is a venture of the McMahon family. Currently, the majority owner of WWE is Vince McMahon, a third-generation professional wrestling promoter, with 38.6% of the company's outstanding shares. Some years later, CWC joined the National Wrestling Alliance (NWA) and the famous wrestling promoter Joseph Raymond "Toots" Mondt joined the promotion.
WWE had become so big a wrestling promotion company that it bought two of its biggest competitors. But this made WWE sign those companies' wrestlers. As a result, it had an excess of talent. For this, WWE created two brands under itself, RAW and Smackdown, in 2002. The brands went away in 2011 and then returned in 2016. In 2016, the two brands came back with two absolutely unique rosters, different rings, and different championships.
RAW's roster has wrestlers like Austin Theory, Seth Rollins, Rey Mysterio, Alexa Bliss, Dana Brooke, and Becky Lynch among several other wrestlers. The second major brand Smackdown's roster consists of wrestlers like Roman Reigns, Jinder Mahal, Karrion Kross, Charlotte Flair, Scarlett Bordeaux, and Ronda Rousey among others.
It is very important to note that WWE shows are not legitimate contests. All the fights and dialogues are scripted and choreographed, even the life-threatening moves. Vince McMahon, in 1989, confessed this aspect of people's favourite professional wrestling promotion. He did so in order to avoid taxes from the athletic commission.
Global Force Wrestling
Global Force Wrestling was an American professional wrestling promotion. It was founded in 2014 by Jeff Jarrett and Karen Jarrett. Jeff Jarrett is the co-founder and the former President of Total Nonstop Action (TNA). Karen Jarrett is Jeff Jarrett's wife. Global Force Wrestling has a parent company, Global Force Entertainment, LLC, which owns and operates it.
Jeff Jarrett was a minority shareholder of TNA. He left his position at TNA as a minority shareholder and in April 2014 launched Global Force Wrestling, the business name of Global Force Entertainment, LLC. Immediately after the launch, he began promoting various international collaborations and partnerships with various professional wrestling promotions around the world. After just about 4 months, in August of the same year, Global Force Wrestling entered working agreements with various major and world-famous professional wrestling promotions like New Japan Pro-Wrestling (NJPW), Lucha Libre AAA Worldwide (AAA), World Wrestling Professionals (WWP), and several professional wrestling promotions in Europe, Australia, and New Zealand.
Throughout the next year, Global Force Wrestling remained very active with signing and championship announcements. By June 2015, Global force Wrestling held its first show. The date was June 12, 2015. On July 9, Jeff announced GFW's television show which they named Amped. In December 2015, Jeff said they had filmed 16 one-hour shows and hoped to air them soon. Earlier the same year, GFW had announced its television collaborations. However, until 2017, no episodes of Amped ever made it to television. In 2017, these episodes were aired as Impact One Night Only. Overall, GFW held 36 live events.
Then GFW entered into some legal battles. In December 2017, GFW announced a promotional comeback but after mid-2018, they did not run any show.
GFW is famous for signing some top professional wrestlers, including the WWE Smackdown superstar Karrion Kross.
Glenn Gilbertti
Glenn Gilbertti is an American professional wrestler. He was born on 12 November 1967 in Brooklyn, New York, United States and is 54 years old. Gilbertti also goes by his ring name Disco Inferno which he had changed to Disqo for a brief period. He then reinstated Disco Inferno as his ring name. Besides these two, the other names he has had are Hip Hop Inferno and La Cucaracha.
Gilbertti has been a part of several professional wrestling promotions. He made his debut in 1991 in the independent circuit as a wrestler and began with a victory and was a regular wrestler in the Georgia Independent Circuit. He won numerous titles while playing with GCW which earned him a lot of fame and respect. In 1993, he joined the United States Wrestling Association or USWA in Tennessee, Memphis. USWA is also an American professional wrestling promotion. Overall, he played for the independent circuits, GCW, and USWA till 1995. In 1995, he joined World Championship Wrestling or WCW.
World Championship Wrestling or WCW was a professional wrestling promotion. Being a part of WCW meant you were a wrestler to watch out for because of WCW's standards and popularity. Gilbertti stayed there for 6 years and this segment of his career is the most recognisable. At WCW, Gilbertti won the WCW World Cruiserweight Championship once, the WCW World Tag Team Championship once (with Alex Wright), and the WCW World Television Championship twice.
After WCW, Gilbertti joined World Wrestling All-Stars from 2002 to 2003 and TNA from 2002 to 2004. Currently, he makes sporadic appearances as a wrestler. Gilbertti is also famous for his role as the trainer of the noted WWE wrestler Karrion Kross. Karrion Kross plays for WWE under its brand Smackdown. His wife Scarlett Bordeaux also wrestles under Smackdown.
Karrion Kross FAQs
Is Karrion a Kross in WWE?
Karrion Kross is a WWE wrestler. He plays under their Smackdown brand. He first joined WWE in the year 2020 but got laid off along with his wife Scarlett Bordeaux by WWE. The couple rejoined WWE in 2022 with an unannounced debut on August 5.
What is Karrion Kross signature move?
Professional wrestlers often have a signature move. This is the move that either they have invented or are one of the best practitioners of. They use this as the final move to completely dominate their opponent such that the opponent does not get up after that. Karrion Kross, the WWE wrestler, also has some signature moves. They are Doomsday Saito, Kross Jacket (Barearm sleeper), and running forearm smash.
How old is Karrion Kross?
WWE professional wrestler Karrion Kross is 37 years old. He turned 37 on July 19 this year. He was born on 19 July 1985 in New York City, New York, United States.
How tall is WWE Karrion Kross?
WWE wrestler Karrion Kross is 194 centimetres tall. That is about 6 feet and 4 inches high. He plays under the Smackdown brand of WWE.
How much Karrion Kross weigh?
Karrion Kross weighs around 120 kg or 230 lbs.
Is Scarlett Bordeaux married?
WWE professional wrestler Elizabeth Chihaia, whose ring name is Scarlett Bordeaux, is married. She married fellow WWE wrestler Karrion Kross in 2022. They had gotten engaged last year which they announced on September 23, 2021. This year, on April 20, they married in a private ceremony in Alaska on a glacier.
How tall is Scarlett Bordeaux?
Scarlett Bordeaux, who wrestles in WWE under the Smackdown brand, is 165 centimetres tall.
What is the age of Austin Theory?
Austin Theory is a WWE wrestler. He wrestles under WWE's RAW brand. Austin was born on 2 August 1997 and is 25 years old.