Brock Lesnar, born on July 12, 1977, is a multifaceted American athlete—distinguished in professional wrestling, mixed martial arts, amateur wrestling, and American football. Currently with WWE as a "free agent," he can appear on both Raw and SmackDown. Uniquely, Lesnar clinched primary heavyweight championships in WWE, UFC, NJPW, and NCAA, a feat no other has achieved.
In collegiate wrestling, Lesnar represented the University of Minnesota, capturing the NCAA Division I national championship in 2000. Quickly transitioning to World Wrestling Federation (renamed WWE in 2002), by 25, he was the WWE Champion—the youngest to do so. In 2004, he momentarily joined the NFL's Minnesota Vikings, but didn't make the regular season. By 2005, he was in NJPW, securing the IWGP Heavyweight Championship.
His 2012 WWE return was significant; he held the WWE Universal Championship for 504 days, a record seventh-longest reign. Impressively, Lesnar won the Royal Rumble twice, the Money in the Bank ladder match once, and the King of the Ring tournament. He headlined WWE's major events like WrestleMania and SummerSlam multiple times. Remarkably, in 2014, he ended The Undertaker's undefeated streak at WrestleMania.
Venturing into MMA in 2007, Lesnar joined UFC in 2008. He promptly won the UFC Heavyweight Championship but faced health challenges with diverticulitis in 2009. By 2010, he became the undisputed UFC Heavyweight Champion, merging titles by defeating Shane Carwin. However, health issues and losses led to his 2011 MMA retirement. He briefly returned for UFC 200 in 2016, beating Mark Hunt, but the win turned controversial after a doping violation. Lesnar's second MMA retirement came in 2017. A pay-per-view magnet, Lesnar headlined several top-selling UFC events, solidifying his status in combat sports history.
Brock Lesnar Bio/Wiki Table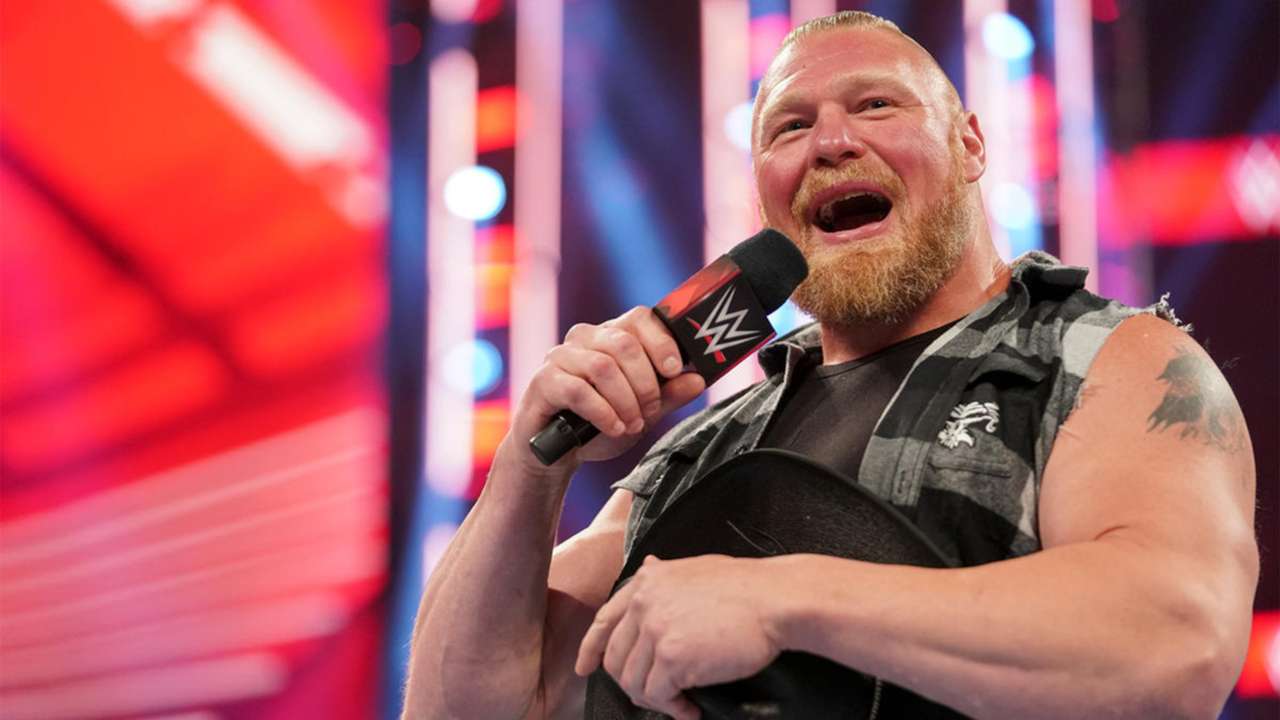 | Attribute | Details |
| --- | --- |
| Real Name | Brock Edward Lesnar |
| Nationality | American |
| Ethnicity | White |
| Birth | July 12, 1977 |
| Age | 46 years (as of 2023) |
| Height | 6 ft 3 in (191 cm) |
| Weight | 286 lb (130 kg) |
| Parents | Richard Lesnar (father), Stephanie Lesnar (mother) |
| Family | Troy Lesnar (brother), Chad Lesnar (brother), Brandi Nichol Lesnar (sister) |
| Wife | Rena Marlette Greek (Sable) |
| Children | Turk Lesnar (son), Duke Lesnar (son), Mya Lynn Lesnar (daughter), Luke Lesnar (son) |
Early Life
Brock Edward Lesnar was born in Webster, South Dakota, on July 12, 1977, the son of Stephanie and Richard Lesnar. He is of German descent, and grew up on his parents' dairy farm in Webster. He has two older brothers named Troy and Chad, and a younger sister named Brandi. At the age of 17, he joined the Army National Guard and was assigned to an office job after his red-green colorblindness was deemed hazardous to his desire to work with explosives. He was discharged after failing a computer typing test and later worked for a construction company.
Brock Lesnar Family, Parents & Siblings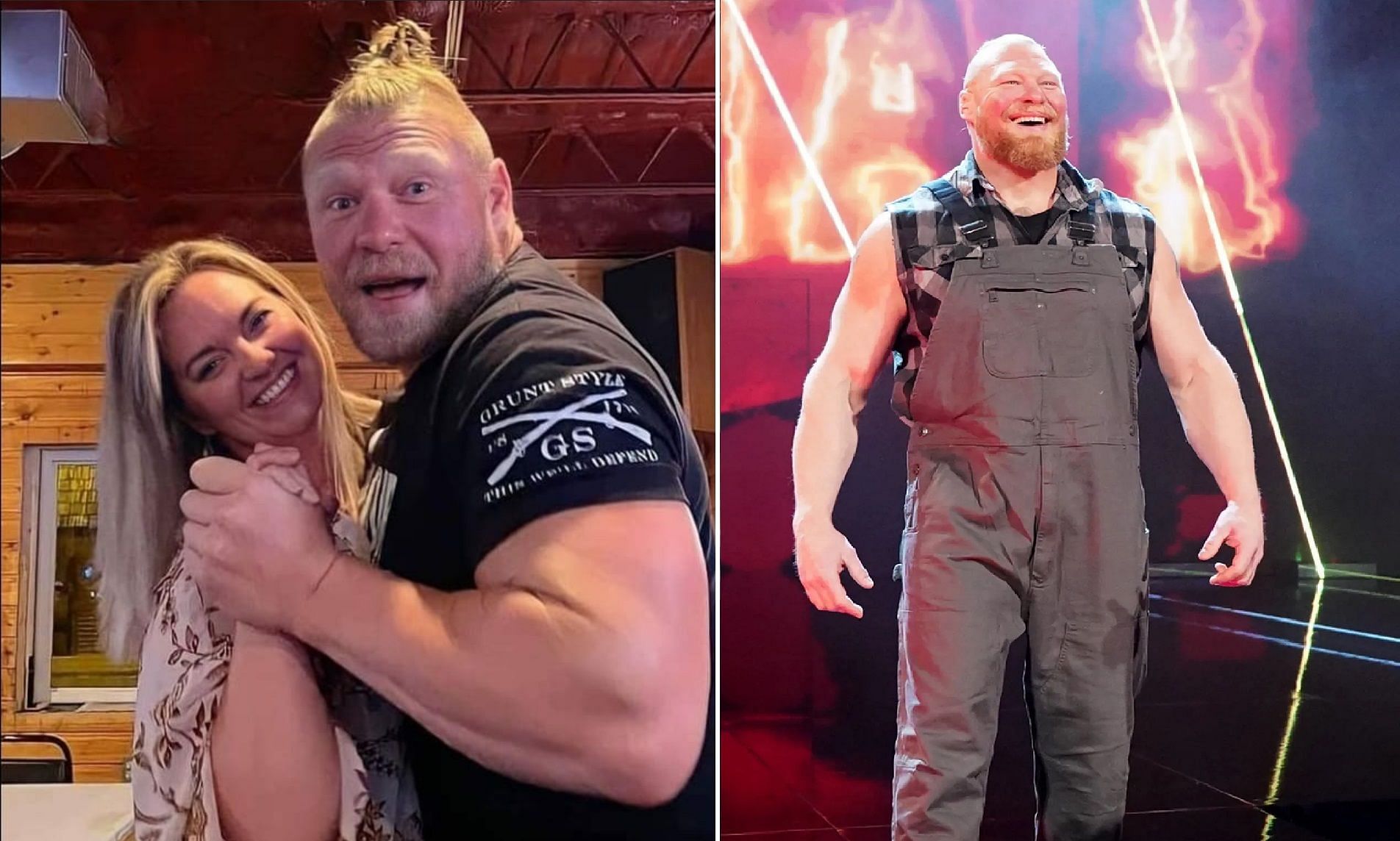 Brock Lesnar, a renowned WWE wrestler and former martial artist, hails from a close-knit family. His father, Richard Lesnar, has been a significant pillar of support throughout Brock's life. Richard, born in 1951, ran a milk farm in Webster, South Dakota, and often took young Brock to various wrestling contests and tournaments. Brock's mother, Stephanie Lesnar, born around 1950, instilled in him the values of hard work and simplicity. Brock has always been close to his mother and credits her for not spoiling him despite his sports stardom.
Brock has three siblings: two older brothers and a younger sister. Troy Lesnar, born on April 2, 1970, shared a typical sibling bond with Brock. While Troy was a good athlete, he chose a different career path. Chad Lesnar, born around 1971, also wrestled in high school but decided against pursuing it professionally. Brock's younger sister, Brandi Nichol Lesnar, born on September 26, 1978, chose a career in nursing and currently resides in Minneapolis, Minnesota.
Brock is married to Rena Mero, also known as Rena Marlette Lesnar. The couple tied the knot on May 6, 2006. They share two children, Turk Lesnar (born June 3, 2009) and Duke Lesnar (born July 21, 2010). Lesnar also has two children from a previous relationship with Nicole McClain: Luke Lesnar and Mya Lynn Lesnar, both born on April 10, 2002.
Brock Lesnar Nationality & Ethnicity
Brock Edward Lesnar, born on July 12, 1977, in Webster, South Dakota, U.S., is an American professional wrestler, mixed martial artist (MMA), amateur wrestler, and professional football player. He also holds Canadian citizenship. Brock's father, Richard Lesnar, is of half Polish and half German descent, while his mother, Stephanie, has at least part Norwegian ancestry. This diverse ethnic background contributes to Brock's unique persona and physical prowess.
Brock Lesnar Age
As of the current year, Brock Lesnar is 46 years old. He was born on July 12, 1977, which makes him a Cancer by the zodiac sign.
Brock Lesnar Height
Brock Lesnar stands tall at a height of 6 feet 3 inches, or around 191 centimeters. His towering stature adds to his intimidating presence, whether in the wrestling ring or the football field.
Brock Lesnar Weight
Brock Lesnar weighs approximately 265 pounds, or 120 kilograms. His weight fluctuates depending on his training regimen and diet, but he consistently competes at around this weight. His massive physique, combined with his agility and speed, makes him a formidable opponent in any physical competition.
Amateur Wrestling
During his time at Webster High School, Lesnar engaged in multiple sports, including football, and actively participated in wrestling. In his senior year, he achieved an impressive third-place finish in the state championships.
Subsequently, Lesnar enrolled at Bismarck State College, where he excelled in wrestling and claimed the National Junior College Athletic Association (NJCAA) heavyweight wrestling championship during his sophomore year. After spending two years at Bismarck State College, he made a significant move to the University of Minnesota on a wrestling scholarship. Interestingly, at the university, Lesnar was not only roommates with future WWE colleague Shelton Benjamin but also had Benjamin as his assistant coach.
Lesnar's wrestling prowess continued to soar, culminating in winning the 2000 National Collegiate Athletic Association (NCAA) Division I heavyweight wrestling championship in his senior year, having been the runner-up to Stephen Neal the previous year. Over the course of his amateur career, he achieved remarkable milestones, being a two-time NJCAA All-American, the 1998 NJCAA Heavyweight Champion, two-time NCAA All-American, two-time Big Ten Conference Champion, and ultimately claiming the 2000 NCAA Heavyweight Champion title. Throughout his four years of college, Lesnar accumulated an outstanding overall record of 106–5.
Professional Wrestling Career
World Wrestling Federation/Entertainment
Ohio Valley Wrestling (2000–2001)
In 2000, Lesnar signed with the World Wrestling Federation (WWF) and was sent to its developmental territory, Ohio Valley Wrestling (OVW), where he first met future friend and manager Paul Heyman. Lesnar was paired with his former college roommate Shelton Benjamin to form The Minnesota Stretching Crew. They achieved success, winning the OVW Southern Tag Team Championship on three separate occasions. Lesnar also wrestled several dark matches in 2001 and 2002 before being called up to the WWF's main roster.
The Next Big Thing (2002–2003)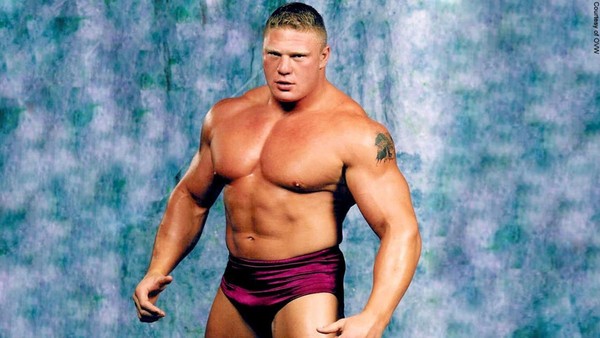 Brock Lesnar debuted on WWF television on March 18, 2002, as a heel, attacking several wrestlers during a Hardcore Championship match. Paul Heyman accompanied him and became his agent, promoting Lesnar as "The Next Big Thing." After being drafted to the Raw brand during the brand extension, Lesnar's early feuds were with The Hardy Boyz, showcasing his powerful and dominant in-ring abilities.
In June 2002, Lesnar won the prestigious King of the Ring tournament, defeating several notable opponents along the way. This victory earned him a shot at the WWE Undisputed Championship at SummerSlam. Despite facing setbacks in other matches, Lesnar captured the WWE Undisputed Championship by defeating The Rock at SummerSlam, becoming the youngest WWE Champion at the age of 25. His reign as champion quickly garnered attention, making him a force to be reckoned with in the WWE.
In 2002, Brock Lesnar quickly ascended to the pinnacle of WWE, sparking a feud with The Undertaker. The rivalry reached its climax in a Hell in a Cell match at No Mercy, which Lesnar won, establishing himself as a dominant champion. Nonetheless, at Survivor Series, Lesnar's reign ended when his ex-manager, Paul Heyman, betrayed him, leading to a loss in a WWE Championship match against Big Show. This event marked the beginning of Lesnar's transition to becoming a fan-favorite (face turn).
Brock Lesnar, after being denied a title shot by Kurt Angle, earned his spot in the Royal Rumble match by defeating Big Show. He emerged victorious in the Rumble, securing a WWE Championship match at WrestleMania XIX. In a hard-fought encounter, Lesnar faced Kurt Angle and won his second WWE Championship, even though he experienced a scary moment when he suffered a concussion attempting a shooting star press.
WWE Champion, various feuds and departure (2003–2004)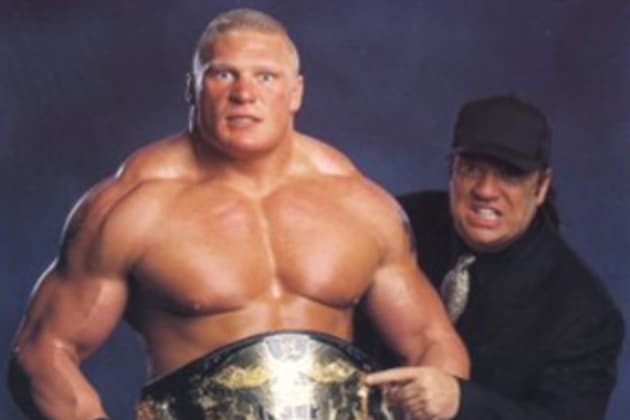 After WrestleMania, Brock Lesnar turned to John Cena, accusing him of nearly ending Cena's career. Lesnar overcame Cena at Backlash. Later, on SmackDown!, he resumed his feud with Big Show, initiated when Big Show targeted Rey Mysterio. This peaked at Judgment Day, where Lesnar successfully defended his WWE Championship against Big Show. Concurrently, Kurt Angle's return saw him form a competitive bond with Lesnar. However, at Vengeance, Lesnar lost his title to Angle in a triple-threat match.
Despite camaraderie with Angle, Lesnar's championship ambitions persisted. He was ensnared in a plot with Mr. McMahon and Angle, eventually betraying Angle to ally with McMahon. Their face-off at SummerSlam saw Angle triumph, but Lesnar reclaimed the WWE Championship from Angle in a gripping Iron Man match on SmackDown! During his defense against The Undertaker at No Mercy, interference aided Lesnar. Allying with Paul Heyman, Lesnar's team was defeated at Survivor Series. Yet, he fended off Chris Benoit to retain his title.
In 2003, Lesnar's animosity with Bill Goldberg ignited at Survivor Series. Concurrently, he clashed with Hardcore Holly, rooted in a genuine injury Holly suffered in their match. By 2004's Royal Rumble, Lesnar bested Holly but disrupted the Rumble, zeroing in on Goldberg.
The climax of Lesnar's antagonism with Eddie Guerrero was at No Way Out, where, after Goldberg's intervention, Guerrero snatched the WWE Championship. This escalated Lesnar's conflict with Goldberg, culminating at WrestleMania XX. Stone Cold Steve Austin officiated their match, which faced fan backlash due to departure rumors. Goldberg clinched victory, with both receiving Austin's finishing moves post-match. Offstage, Lesnar's burnout, injuries, addiction, and WWE discontent signaled his exit post-WrestleMania XX.
Japanese promotions (2005–2007)
In October 2005, Brock Lesnar clinched the IWGP Heavyweight Championship during his inaugural match in New Japan Pro-Wrestling (NJPW), making him one of the few Americans to attain this title. He defeated Kazuyuki Fujita and Masahiro Chono in Tokyo Dome. Lesnar renamed his signature move, the F-5, to the Verdict due to WWE's trademark on the original name, alluding to his lawsuit against WWE. Although WWE sought legal action to prevent Lesnar from working with NJPW, the court denied their requests.
Subsequent to his championship victory, Lesnar secured non-title wins against Manabu Nakanishi and Yuji Nagata, followed by successful title defenses against Shinsuke Nakamura and Sumo legend Akebono. His match against Giant Bernard was the first American vs. American title match in NJPW since the 1990 bout between Vader and Stan Hansen. However, visa complications in July 2006 led NJPW to divest Lesnar of his title, which Hiroshi Tanahashi won in a subsequent tournament. Despite this, Lesnar retained the actual championship belt until June 2007.
In a noteworthy twist, Lesnar defended his IWGP Heavyweight Championship against TNA World Heavyweight Champion Kurt Angle on June 29, 2007, as part of the Inoki Genome Federation (IGF) debut event. IGF's promoter, Antonio Inoki, declared Lesnar the legitimate IWGP Heavyweight Champion since he was never defeated for the title. In a dramatic turn, Angle defeated Lesnar with the ankle lock, acquiring the IWGP Heavyweight Championship, which was recognized by both IGF and TNA. This bout marked Lesnar's final professional wrestling match until 2012, when he re-affiliated with WWE.
Return to WWE (2012-2020)
Return and ending The Streak (2012–2014)
In April 2012, Brock Lesnar rejoined WWE and confronted John Cena, culminating in a clash at Extreme Rules, which Cena won. Following disputes over contractual terms with WWE's Triple H, Lesnar "broke" Triple H's arm in a storyline. With Paul Heyman as his spokesperson, Lesnar announced his WWE departure, filing a contract breach lawsuit. Nevertheless, he returned, confronting Vince McMahon and engaging in another feud with Triple H, culminating in a WrestleMania 29 match that Lesnar lost. This rivalry ended after a steel cage match at Extreme Rules where Lesnar, with Heyman's interference, emerged victorious.
Lesnar's next target was CM Punk, after accusations arose that Heyman had instigated an attack on Punk. This tension led to a match at SummerSlam, where Lesnar beat Punk. At the close of 2013, Lesnar, backed by Heyman, threw a challenge for the WWE World Heavyweight Championship at the Royal Rumble. When Mark Henry responded, Lesnar took him down, later also clashing with Big Show, whom he defeated at the Royal Rumble.
The pinnacle of Lesnar's career came in 2014. After expressing interest in the WWE World Heavyweight Championship, he was interrupted by The Undertaker, leading to a showdown at WrestleMania XXX. In a shocking turn of events, Lesnar defeated The Undertaker, putting an end to his legendary 21-match undefeated WrestleMania streak. This victory was labeled by Sports Illustrated as one of the most astonishing outcomes in wrestling, likened to the infamous Montreal Screwjob.
WWE World Heavyweight Champion (2014–2015)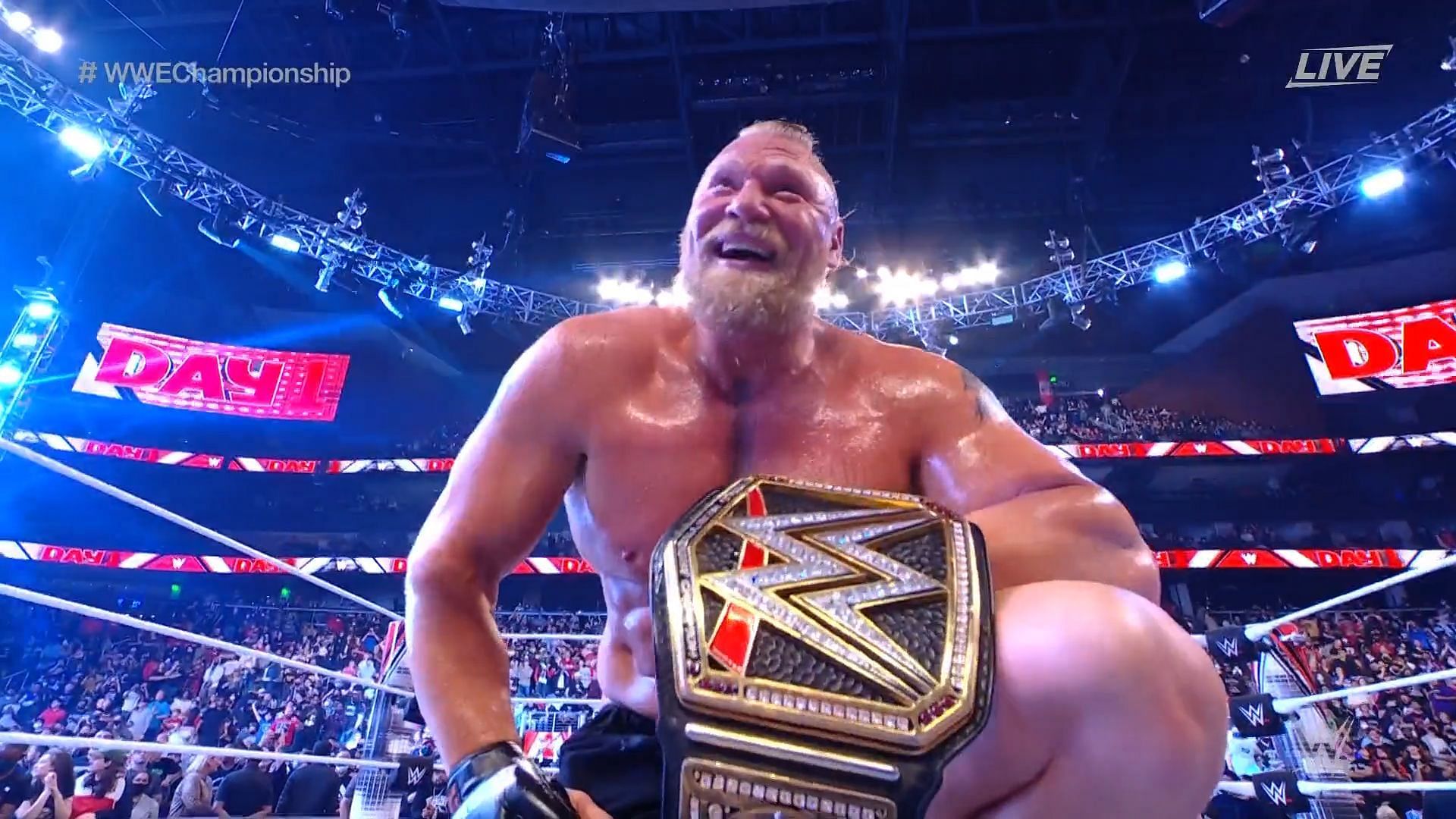 At SummerSlam, Brock Lesnar defeated John Cena to clinch the WWE World Heavyweight Championship, after delivering a staggering sixteen suplexes to Cena. Despite Seth Rollins' interference in a subsequent rematch at Night of Champions, Lesnar retained his title. Rollins later joined Lesnar and Cena in a triple threat match for the championship at the Royal Rumble, where Lesnar triumphed even after a (storyline) rib injury.
Roman Reigns emerged as Lesnar's new rival after winning the Royal Rumble match, setting the stage for a title clash at WrestleMania 31. Amidst the intense bout, where Lesnar coined the catchphrase "Suplex City, bitch!" after delivering numerous suplexes, Rollins made an unexpected move. He cashed in his Money in the Bank contract, converting the bout into a triple threat match and subsequently pinned Reigns after a Curb Stomp, thereby seizing the title. Lesnar's demand for a rematch the next day on Raw was rebuffed, leading to his violent rampage against commentators and a cameraman. Stephanie McMahon, in response, suspended him from the storyline.
Lesnar reappeared in June on Raw, designated by The Authority as Rollins' challenger for the WWE World Heavyweight Championship at Battleground. On July 4, in a rare non-televised appearance since his 2012 WWE return, Lesnar defeated Kofi Kingston at a Tokyo live event, The Beast in the East, also attacking Kingston's teammates thereafter. However, the anticipated championship match at Battleground witnessed an unexpected turn of events. Although Lesnar dominated Rollins, The Undertaker interfered, assaulting Lesnar with a chokeslam and two Tombstone Piledrivers. Consequently, Lesnar won by disqualification, but Rollins retained the championship.
Suplex City (2015–2017)
Undertaker attacked Lesnar on Raw, not for ending his WrestleMania streak, but because Lesnar and his advocate, Paul Heyman, repeatedly taunted him about it. This led to a rematch at SummerSlam, where Undertaker won controversially. During this match, the timekeeper signaled a submission from Undertaker, though the referee missed it. Taking advantage of the confusion, Undertaker defeated Lesnar. On Raw, Dallas confronted Lesnar and Heyman, which led to Lesnar aggressively responding.
At Hell in a Cell, Lesnar defeated Undertaker, concluding their feud. This match was later named the "Match of the Year" for 2015. Early in 2016, Lesnar made several notable appearances on Raw, confronting and attacking various wrestlers, leading to a Royal Rumble participation. There, he eliminated several opponents but was outed by The Wyatt Family. At Road Block, he bested Wyatt and Luke Harper in a handicap match.
Stephanie McMahon then scheduled a match among Lesnar, Roman Reigns, and Dean Ambrose at Fastlane, where the winner would challenge Triple H for the WWE Championship. Lesnar dominated but lost after Ambrose and Reigns teamed up against him. Lesnar and Ambrose then battled at WrestleMania 32, with Lesnar emerging victorious.
Subsequently, Lesnar was scheduled to face Randy Orton at SummerSlam. Meanwhile, he participated in UFC 200, although he failed two drug tests. Despite this, WWE didn't suspend him due to his part-time status. The Lesnar-Orton match culminated with Lesnar injuring Orton, leading to speculations about whether it was scripted. Vince McMahon later confirmed it was planned.
Paul Heyman then challenged Goldberg on Lesnar's behalf. Goldberg, who had previously defeated Lesnar, accepted, leading to a highly anticipated match at Survivor Series. Surprisingly, Goldberg defeated Lesnar in just 1 minute and 26 seconds. Lesnar sought redemption in the 2017 Royal Rumble but was once again outclassed by Goldberg.
Year-long Universal Championship reign (2017–2018)
In 2017, after a challenge, Lesnar faced Goldberg at WrestleMania 33. This contest turned into a title match when Goldberg won Kevin Owens' Universal Championship. At WrestleMania, Lesnar triumphed over Goldberg, marking his fifth world title win in WWE and distinguishing him as the first to claim both WWE and Universal Championships. Later, at the Great Balls of Fire event, Lesnar retained his title against Samoa Joe.
By July 31, on Raw, Lesnar was set to defend his title in a SummerSlam fatal four-way against Samoa Joe, Roman Reigns, and Braun Strowman. Lesnar, along with his advocate Paul Heyman, declared they'd exit WWE if he lost the championship. However, Lesnar retained the title at SummerSlam. Subsequent title defenses saw Lesnar emerge victorious against Strowman at No Mercy, AJ Styles at Survivor Series, and in a triple threat against Strowman and Kane at the Royal Rumble.
Reigns became Lesnar's title contender for WrestleMania 34, but Lesnar retained. Amidst rumors of a WWE exit and UFC return, Lesnar re-signed with WWE. He bested Reigns again at the Greatest Royal Rumble, albeit controversially.
Post this event, Lesnar was conspicuously absent from WWE TV. Raw GM Kurt Angle, eventually compelled Lesnar to defend his title at SummerSlam against Reigns, amidst tense and dramatic episodes involving Heyman. During SummerSlam, while Braun Strowman was ready to capitalize on his Money in the Bank contract, Lesnar got distracted. Reigns took advantage and claimed the Universal Championship. This ended Lesnar's reign at 504 days, marking the sixth-longest world championship in WWE history and the lengthiest since 1988.
World championship reigns and first retirement (2018–2020)
In September 2018, Brock Lesnar disrupted a Hell in a Cell match between Universal Champion Roman Reigns and Braun Strowman, leading to a no-contest. Later at Crown Jewel, Lesnar beat Strowman to become a two-time Universal Champion after interference from Baron Corbin. Lesnar defended his titles against notable contenders, including Daniel Bryan and Finn Bálor. Seth Rollins ended Lesnar's 156-day Universal Championship reign at WrestleMania 35.
In May 2019, Lesnar shockingly won the Money in the Bank contract. Although he failed initial cash-in attempts, he eventually secured the Universal Championship from Rollins at Extreme Rules. However, his reign was short-lived, with Rollins regaining the title at SummerSlam.
Lesnar, backed by his advocate Paul Heyman, then shifted focus to Kofi Kingston's WWE Championship. In October, on SmackDown's 20th Anniversary, Lesnar swiftly defeated Kingston, claiming his fifth WWE Championship. Following his win, he was confronted by his former UFC opponent, Cain Velasquez. Lesnar defeated Velasquez at Crown Jewel and subsequently moved to Raw to feud with Rey Mysterio. Lesnar successfully defended the WWE Championship against Mysterio at Survivor Series.
In January 2020, rather than defend his WWE Championship at the Royal Rumble, Lesnar entered the Rumble match as the first participant. He demonstrated dominance but was eventually eliminated by Drew McIntyre. Lesnar's reign ended at WrestleMania 36 Part 2, where he was defeated by McIntyre. This was his last appearance until 2021. Reports indicated that Lesnar was out of contract post-match. In March 2022, Lesnar confirmed a brief retirement after WrestleMania 36, only to return in 2021.
Second return to WWE (2021–present)
"Cowboy Brock" and feud with Roman Reigns (2021–2022)
In August 2021, Brock Lesnar returned at SummerSlam with a new cowboy look, confronting Universal Champion Roman Reigns. Lesnar was declared a free agent during the 2021 WWE Draft, letting him appear on any brand. At Crown Jewel in October, he unsuccessfully challenged Reigns due to The Usos' interference.
After a confrontation with Reigns on SmackDown, Lesnar was suspended but later reinstated. He was set to face Reigns again at the Day 1 event, but due to Reigns contracting COVID-19, Lesnar competed in and won Raw's WWE Championship in a fatal five-way match. Reuniting with Paul Heyman, Lesnar lost the WWE Championship to Bobby Lashley at the Royal Rumble because of Reigns' intervention and Heyman's betrayal. However, he entered and won the Royal Rumble match the same night, setting a few records in the process.
Lesnar then declared he would challenge Reigns at WrestleMania 38. At Elimination Chamber, he clinched the WWE Championship for the seventh time. This changed his bout with Reigns at WrestleMania into a Winner Takes All match, later amended to a title unification match. Lesnar lost to Reigns at WrestleMania, unifying the titles. In June, Lesnar returned to SmackDown, reigniting his feud with Reigns. This led to a Last Man Standing match at SummerSlam, where Lesnar was unable to dethrone Reigns due to interference from The Usos and Heyman.
Various feuds (2022–present)
On October 10, Brock Lesnar returned to Raw, attacking US Champion Bobby Lashley, reigniting their rivalry. Lesnar beat Lashley at Crown Jewel, despite being dominated for most of the match. Later, Lesnar interfered in Lashley's US Championship match, causing a loss. In the Royal Rumble, Lashley eliminated Lesnar, and at Elimination Chamber, Lesnar was disqualified against Lashley after a foul move.
On February 20, Omos challenged Lesnar for a WrestleMania 39 match. Lesnar accepted on Raw's "VIP Lounge" after assaulting Omos' manager, MVP. At WrestleMania, Lesnar emerged victorious over Omos.
On April 3, after WrestleMania 39, Triple H introduced Universal Champion Roman Reigns. Cody Rhodes interrupted, challenging Reigns and Solo Sikoa to a tag team match. Reigns agreed, with the caveat that Rhodes' partner must be a WrestleMania 39 participant and cannot challenge Reigns for the title. Lesnar joined Rhodes, though he couldn't challenge Reigns due to an existing ban.
Before the scheduled match, Lesnar attacked Rhodes, turning heel. Lesnar's aggression stemmed from dissatisfaction with his WrestleMania placement. Rhodes responded to the attack by challenging Lesnar to a match at Backlash. Though not medically cleared, Rhodes confronted Lesnar again, and WWE official Adam Pearce made the Backlash match official. At Backlash, Rhodes defeated Lesnar. However, in a subsequent bout at Night of Champions, Lesnar submitted Rhodes and broke his arm.
Professional Wrestling Style and Persona
From his debut, Brock Lesnar was depicted as an unstoppable force, earning nicknames like "The Beast Incarnate". During his early prominent phase in WWE's "Ruthless Aggression Era", Lesnar consistently used the F-5, a fireman's carry facebuster, as his signature move. Post his 2012 return, he adopted an MMA-centric persona, donning MMA gloves and introducing the Kimura lock submission. Lesnar's wrestling style frequently involved executing suplexes, especially German ones. This led to the phrase "Suplex City", coined after a remark he made during a WrestleMania 31 bout against Roman Reigns. For much of his WWE tenure, Lesnar was spoken for by Paul Heyman, playing pivotal roles in his storylines.
However, in the latter half of the 2010s, Lesnar faced mounting criticism. Reporters felt his "Suplex City" persona grew stale, and his bouts repetitive. His sporadic appearances, especially during his Universal Champion reign, garnered negative attention. Despite having one of the longest championship tenures since Hulk Hogan, he defended his title a mere 13 times, exclusively on pay-per-view events. Critics, including ESPN's Tim Fiorvanti, lamented how this rendered the main title on Monday Night Raw essentially absent. Additionally, the brief duration of his matches irked many, with both fans and journalists voicing dissatisfaction. Even former WWE Champion, Bob Backlund, commented on Lesnar's repetitive use of suplexes, noting the monotony of seeing the same move continuously.
Professional Football Career
In March 2004, after his WrestleMania XX match with Goldberg, Brock Lesnar left WWE to chase a National Football League (NFL) career, despite not having played football since high school. WWE confirmed his decision to aim for the NFL, expressing pride in his wrestling achievements and wishing him success. Lesnar shared in interviews that he'd always been keen on professional football and didn't want future regrets. He emphasized his seriousness about the transition, stating his athletic prowess matched or exceeded many in the NFL. He saw himself as a persistent underdog, relying on strength, endurance, and resilience.
Impressively, Lesnar performed well at the NFL Combine. However, a motorbike accident in April hindered his momentum, leaving him with multiple injuries, including a broken jaw and hand. By June, several NFL teams showed interest, and he worked out with the Minnesota Vikings. Hindered by his previous groin injury, his performance was compromised. By July, he had nearly recovered, and the Vikings officially signed him. After participating in several preseason games, the Vikings released Lesnar in late August. While presented with an opportunity to represent the Vikings in NFL Europa, Lesnar declined, prioritizing staying in the U.S. with his family. During his brief stint with the Vikings, Lesnar even had football cards produced in his honor.
Mixed Martial Arts Career of Brock Lesnar
Hero's Journey (2007)
In 2006, following the K-1 World Grand Prix finale in Las Vegas, Brock Lesnar expressed his intention to join K-1's mixed martial arts league, Hero's. Under the guidance of Greg Nelson from the Minnesota Martial Arts Academy and Minnesota Assistant Head wrestling coach Marty Morgan, Lesnar honed his skills. By August, he had finalized his deal with the league. Originally slated to face Hong-man Choi at the Dynamite!! USA show in June 2007, a last-minute replacement saw him squaring off against Min-soo Kim. Lesnar's foray into MMA was successful, submitting Kim within the first round.
Ultimate Fighting Championship (2008-2011)
Debut and Ascension to UFC Heavyweight Champion
At UFC 77 in October, Lesnar announced his association with the Ultimate Fighting Championship. His debut match was against former UFC Heavyweight Champion Frank Mir in February 2008. In a unique detail, due to Lesnar's hand size, he donned 4XL gloves, making him the second fighter in Nevada's history to do so. The intense bout saw Mir securing a win through a kneebar in the first round.
Even with his debut loss, Lesnar's journey continued. He was set to fight Mark Coleman, the former UFC Heavyweight Champion, at UFC 87. However, due to an injury, Coleman was replaced by Heath Herring, whom Lesnar defeated unanimously.
Later in November, Lesnar battled Randy Couture at UFC 91 for the UFC Heavyweight Championship title. Through a series of strategic moves and effective strikes, Lesnar emerged victorious, securing the coveted title.
However, the spotlight was also on Frank Mir, who challenged Lesnar for the championship after his victory over Antônio Nogueira. But due to an injury sustained by Mir, their title bout was postponed, eventually taking place at UFC 100 in 2009. The much-anticipated match concluded with Lesnar defeating Mir.
Health Struggles and Subsequent Fights
Lesnar's tenure in UFC was marred by health issues. Initially set to defend his title against Shane Carwin, he had to withdraw due to a severe illness. Later, Lesnar shared his unpleasant experience with Canadian healthcare and threw his support behind American doctors opposing health care reform. It was subsequently revealed that Lesnar suffered from mononucleosis and a severe case of diverticulitis, necessitating surgery.
After recovery, Lesnar planned to make his UFC comeback by mid-2010. However, a match-up with Shane Carwin saw Lesnar emerging as the undisputed UFC Heavyweight Champion.
Title Loss and First Retirement
Lesnar's reign came under threat from Cain Velasquez in October 2010. Despite a promising start, Lesnar was overpowered by Velasquez's superior tactics. After another bout with diverticulitis, Lesnar underwent another surgery. In December 2011, after a challenging fight with Alistair Overeem, Lesnar announced his retirement from MMA, citing health concerns.
Speculations were rife about his return until 2015 when he revealed his association with WWE, expressing his lack of mental readiness for MMA.
Return to the UFC (2016-2018)
Fight against Mark Hunt
In a surprising move, UFC announced Lesnar's return in 2016 for UFC 200. Facing Mark Hunt, Lesnar dominated the match and secured a victory, with a record payday of $2.5 million.
Suspension and Second Retirement
However, this triumphant return was short-lived. Lesnar faced potential anti-doping violations, leading to his suspension. By 2017, Lesnar once again announced his retirement from MMA.
In 2018, despite previous announcements, there was brief speculation of Lesnar's return after he challenged the new UFC Heavyweight Champion, Daniel Cormier. Although UFC hinted at a potential fight between Lesnar and Cormier, it did not materialize.
In 2020, Dana White of UFC and Scott Coker of Bellator expressed interest in potential fights involving Lesnar. Despite the buzz, by 2022, Lesnar reaffirmed his decision to stay retired from MMA.
Brock Lesnar Mixed Martial Arts (MMA) Record
Below is Brock Lesnar Mixed Martial Arts (MMA) Record:
Age: 46 (Born on July 12, 1977)
Height: 6'3″ (190.5 cm)
Weight: 265 lbs (120.2 kg)
Association: Team Death Clutch
Class: Heavyweight
Style: Wrestling
Record:
Wins: 5

KO/TKO: 3 (60%)
Submissions: 1 (20%)
Decisions: 1 (20%)

Losses: 3

KO/TKO: 2 (67%)
Submissions: 1 (33%)
Decisions: 0 (0%)

No Contest (N/C): 1
Fight History (Professional)
No Contest against Mark Hunt at UFC 200 on July 9, 2016. The fight was overturned and lasted 3 rounds with a total time of 5:00.
Loss to Alistair Overeem at UFC 141 on December 30, 2011, via TKO (Kick to the Body and Punches) in the first round at 2:26.
Loss to Cain Velasquez at UFC 121 on October 23, 2010, via TKO (Punches) in the first round at 4:12.
Win against Shane Carwin at UFC 116 on July 3, 2010, via Submission (Arm-Triangle Choke) in the second round at 2:19.
Win against Frank Mir at UFC 100 on July 11, 2009, via TKO (Punches) in the second round at 1:48.
Win against Randy Couture at UFC 91 on November 15, 2008, via TKO (Punches) in the second round at 3:07.
Win against Heath Herring at UFC 87 on August 9, 2008, via Decision (Unanimous) after 3 rounds.
Loss to Frank Mir at UFC 81 on February 2, 2008, via Submission (Kneebar) in the first round at 1:30.
Win against Min Soo Kim at K-1 HERO's on June 2, 2007, via TKO (Submission to Punches) in the first round at 1:09.
This record showcases Brock Lesnar's journey in the MMA world, highlighting his victories, defeats, and the techniques he used or faced in his fights.
Brock Lesnar: Championships and Accomplishments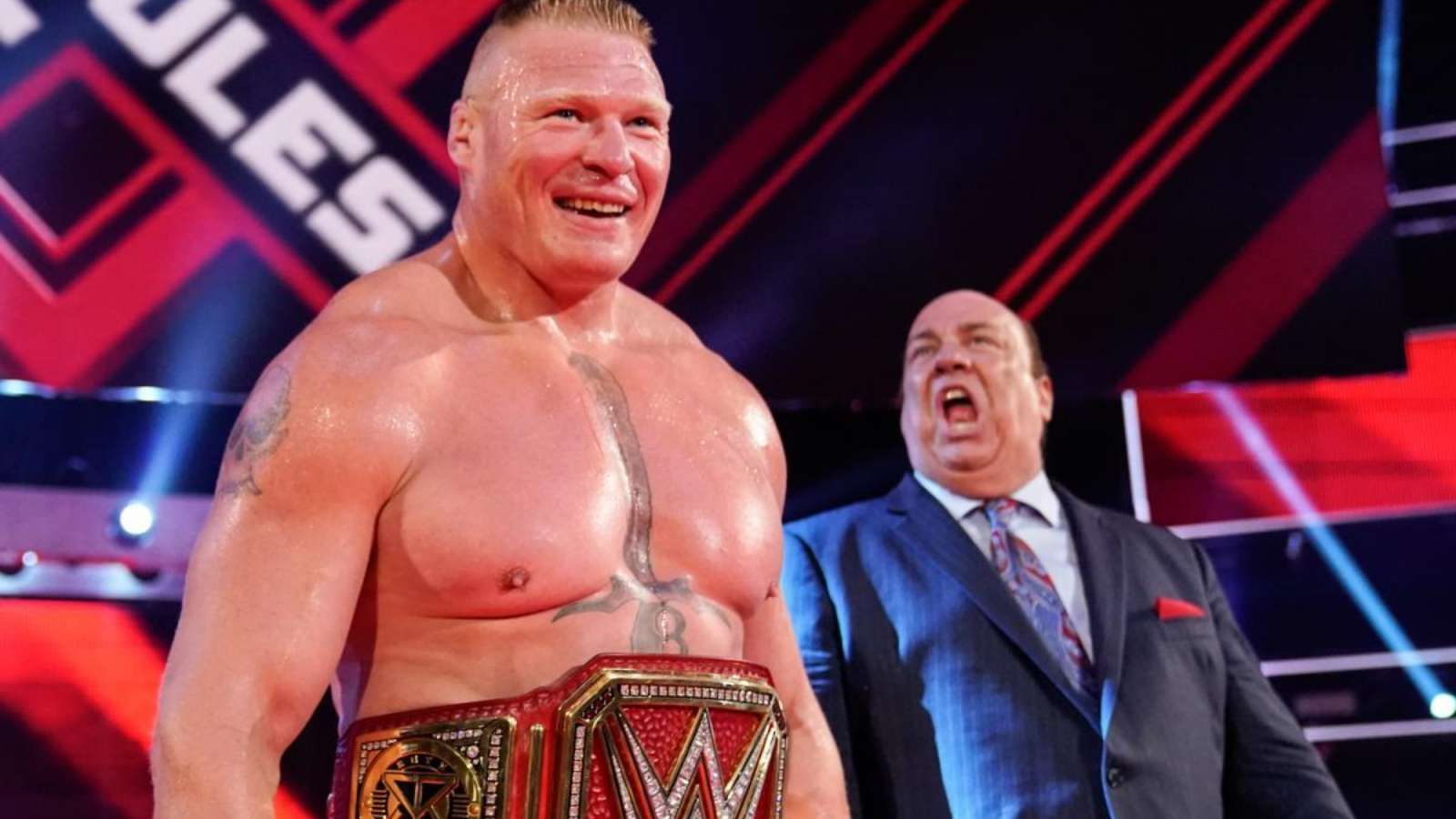 Brock Lesnar, often referred to as "The Beast," has had an illustrious wrestling career that spans multiple decades. His journey from a college wrestler to one of the most dominant figures in professional wrestling is nothing short of remarkable. Below is a detailed account of his championships and accomplishments:
Early Days and Introduction to WWE
An outstanding college wrestler, Brock Lesnar transitioned to professional wrestling in 2000 when he joined OVW (Ohio Valley Wrestling), a developmental division of WWE. Here, he trained alongside future WWE superstars like John Cena, Dave Batista, and Randy Orton. By 2002, Lesnar made his WWE main roster debut with Paul Heyman as his manager. In his debut year, he achieved significant milestones, capturing the WWE title from The Rock at Summerslam 2002 and later defeating The Undertaker.
Key Achievements in WWE
WWE Championship (7 times): Lesnar's dominance in WWE is evident with his seven reigns as the WWE Champion.
WWE Universal Championship (3 times): Apart from the WWE Championship, Lesnar has also held the Universal Championship three times, further solidifying his legacy.
King of the Ring (2002): In his debut year, Lesnar won the prestigious King of the Ring tournament.
Royal Rumble (2003, 2022): Lesnar has won the Royal Rumble match twice, showcasing his dominance in the WWE.
Journey Outside WWE
After leaving WWE in 2004, Lesnar explored other avenues, including an attempt at American Football. However, he soon found himself back in the wrestling ring, this time in Japan. In 2005, he won the IWGP title in a three-way match against Kazuyuki Fujita and Masahiro Chono. He would later lose this title to Kurt Angle in 2007.
Return to WWE and Continued Dominance
Following a successful stint in UFC, where he became the heavyweight champion, Lesnar made a triumphant return to WWE in 2012. His comeback was marked by a historic moment when he became the first man to defeat The Undertaker at Wrestlemania 30. Over the years, Lesnar has engaged in memorable feuds with superstars like Bobby Lashley, Bill Goldberg, and Roman Reigns.
Other Championships and Accomplishments
Inoki Genome Federation: IWGP Heavyweight Championship (1 time)
New Japan Pro-Wrestling: IWGP Heavyweight Championship (1 time)
Ohio Valley Wrestling: OVW Southern Tag Team Championship (3 times) – with Shelton Benjamin
Brock Lesnar's career is adorned with accomplishments, and he continues to be a significant force in the wrestling world. With no signs of slowing down, fans can expect more chapters of glory added to his already decorated story.
Brock Lesnar Wife: Sable Aka Rena Marlette Greek
Sable, whose real name is Rena Marlette Greek, is a retired WWE wrestler and a significant figure from the Attitude Era. She is best remembered for her on-screen pairing with her ex-husband, Marc Mero, and her notable appearances in Playboy. Sable left WWE twice, first in 1998 and then in 2004. Born on 8th August 1967 in Jacksonville, Florida, Rena was athletic during her school and college days, engaging in activities like softball, gymnastics, and horseback riding. In 1990, she embarked on a modeling career, representing brands like L'Oreal, Pepsi, and Guess.
Brock Lesnar and Sable's Relationship
Brock Lesnar, popularly known as "The Beast" in the wrestling world, has been married to Sable since 2006, and the couple has two children. The story of how Brock and Sable got together is filled with twists. Initially, Sable was married to Marc Mero and was involved in various storylines with him in WWE. However, after leaving WWE and suing the company for sexual harassment, she returned in 2003. During this period, even though still married to Mero, she began an affair with Brock Lesnar. Following her divorce from Mero, Sable and Brock had an on-and-off relationship, breaking up in 2005 but eventually tying the knot in 2006.
Sable's Career and Current Life
Before her wrestling career, Sable was a model, starting in 1990. She worked with renowned companies like Pepsi, Guess, and L'Oreal. After leaving WWE in 2004, not much has been publicized about her life. Like her husband, Brock, she stays away from social media and leads a private life. Recent photos show her enjoying her time with Brock, away from the limelight.
Sable's Family and Background
Born in Jacksonville, Florida, Sable was athletic from a young age. She debuted in WWE in 1996 and remained active until 2004. Today, she is the mother of two children and the wife of one of WWE's most dominant figures, Brock Lesnar. The family leads a quiet and private life.
Brock Lesnar Children
Brock Lesnar, often referred to as "The Beast Incarnate," is a renowned figure in the world of professional wrestling. While his professional achievements are well-documented, his personal life, especially his children, remains relatively private.
Brock is married to Rena Mero, also known as Rena Marlette Lesnar. The couple tied the knot on May 6, 2006. They share two children, Turk Lesnar (born June 3, 2009) and Duke Lesnar (born July 21, 2010). Brock also has two children from a previous relationship with Nicole McClain: Luke Lesnar and Mya Lynn Lesnar, both born on April 10, 2002.
This section delves into the lives of Brock Lesnar's children.
Luke Lesnar (21-year-old)
Luke Lesnar, born on April 10, 2002, in Minnesota, USA, is one of the twin children of Brock Lesnar and his former partner, Nicole McClain. Standing tall at 6 feet 4 inches, Luke has always preferred to carve his own path, away from his father's colossal shadow. A passionate ice hockey enthusiast, Luke is a three-time Minnesota State Champion in the sport. Despite being the son of a WWE superstar, he leads a low-key life, focusing on his passion for ice hockey.
Mya Lynn Lesnar (21-year-old)
Mya Lynn Lesnar, Luke's twin sister, was also born on April 10, 2002. Currently 21 years old, Mya pursued her studies at Arizona State University. Unlike her brother, Mya chose a career in sports, specifically volleyball. She has been recognized as the Minnesota State Champion in volleyball and has showcased her strength in shot-putting, ranking as the sixth-best putter in the United States. Mya's dedication to sports is evident as she joined the Arizona State Sun Devils track & field and cross-country teams.
Turk Lesnar (14 years old)
Turk Lesnar, born on June 3, 2009, in Los Angeles, California, is the elder son of Brock Lesnar and Sable. Currently 14 years old, Turk, along with his younger brother Duke, has a profound passion for hockey. The brothers represent the Wawota Minor Hockey League and have also played for the under-13 Moose Mountain Minor Hockey League team. Apart from hockey, Turk is also interested in soccer and wrestling. He currently studies at a grade school and is known for his athleticism across multiple sports.
Duke Lesnar (13 years old)
Duke Lesnar, the youngest child of Brock and Sable, was born on July 21, 2010, in Minnesota, USA. At 13 years old, Duke shares his elder brother's enthusiasm for hockey and plays for the Wawota Minor Hockey team. Despite being the son of a wrestling legend, Duke's inclination leans more towards hockey. Like his siblings, Duke prefers a life away from the limelight, focusing on his passion for sports.
In conclusion, Brock Lesnar's children, while having the legacy of a wrestling superstar, have chosen their own paths, primarily in sports. Each child, with their unique interests and passions, showcases that the Lesnar family's athletic prowess extends beyond the wrestling ring.
Brock Lesnar's Finisher: The F-5
Brock Lesnar, a name synonymous with sheer power and dominance in the WWE ring, has a repertoire of moves that have left his opponents reeling. Among these, the F-5 stands out as his signature finisher.
Overview of the F-5
The F-5 is a testament to Lesnar's brute strength and his ability to execute moves with precision. The mechanics of the move are straightforward yet devastating. Lesnar begins by hoisting his opponent onto his shoulders. With a swift motion, he then whips them around, sending them crashing face-first to the mat. The impact of the move varies, depending on how the victim lands. Regardless of the variations, the F-5 has consistently delivered vertigo and significant impact to Lesnar's rivals, irrespective of their size.
Notable Moments with the F-5
The F-5 has been pivotal in many of Lesnar's matches. It has not only won him the WWE title but also aided him in surviving intense battles, such as the Hell in a Cell match against The Undertaker. In a rather amusing instance, Lesnar even "defeated" a shark using the F-5, showcasing the move's versatility and Lesnar's sense of humor.
The Legacy of the F-5
The F-5's legacy is cemented by the number of superstars who have fallen victim to it. Its simplicity combined with its brutal impact makes it one of the most recognized and feared finishers in WWE history. Whether it's a regular match or a high-stakes title bout, when Lesnar prepares to deliver the F-5, it's almost always a sign that the end is near for his opponent.
In conclusion, Brock Lesnar's F-5 is more than just a wrestling move. It's a statement of his dominance, a testament to his strength, and a symbol of the legacy he continues to build in the world of professional wrestling.
Brock Lesnar Signature Moves
Brock Lesnar, often referred to as the "Beast Incarnate," is renowned for his sheer strength and dominance in the WWE ring. Over the years, he has showcased a variety of moves that have left both fans and opponents in awe. Here's a detailed look at some of his most devastating signature moves:
The F-5
The F-5 is Brock's most iconic move. It involves lifting the opponent onto his shoulders and then launching them off, causing them to land face-first onto the mat. The sheer power and simplicity of this move make it look as deadly as an actual tornado.
German Suplex
Popularly associated with the phrase "Suplex City," the release German Suplex is a move where Brock launches his opponents backward, often repeatedly, showcasing his unparalleled strength.
Kimura Lock
After dominating the UFC, Brock introduced the Kimura Lock to the WWE. This submission move has seen him "break" the arms of superstars like John Cena, Triple H, and Finn Bálor.
Shooting Star Press
A high-flying move, the Shooting Star Press is a testament to Brock's agility. He has executed this move several times, most notably at WrestleMania XIX, where he botched it but quickly recovered.
Ground And Pound
A move borrowed from his MMA days, the Ground And Pound sees Brock pinning his opponent to the ground and delivering a series of powerful punches.
Knees To The Chest
This move resembles a bear mauling its prey. Brock grabs his opponent and delivers a series of knee strikes to their torso, causing immense pain and potential internal damage.
Brock Lock
A unique submission move, the Brock Lock involves Brock placing his opponent's leg over his neck and applying pressure, causing excruciating pain.
Turnbuckle Spear
Instead of a traditional spear, Brock smashes his opponents into the turnbuckle repeatedly, taking the wind out of them.
Vertical Suplex
Brock's version of the Vertical Suplex is powerful, often tossing his opponent almost across the ring.
Standing Belly-To-Belly Suplex
Demonstrating his raw strength, Brock can effortlessly lift his opponent and throw them over his head, causing them to land on their neck and head.
In conclusion, Brock Lesnar's arsenal of moves is a blend of raw power, agility, and technical prowess. Each move is a testament to his dominance in the ring and his ability to adapt and evolve as a performer.
Brock Lesnar

Filmography
Brock Lesnar, a renowned professional wrestler and mixed martial artist, has made notable appearances in various films and television shows. His filmography includes roles in movies such as "Foxcatcher" where he played a cameo. Additionally, he has been featured in several TV shows, including "The Ultimate Fighter" as a coach for one of its seasons. Lesnar's presence in the entertainment industry extends beyond the wrestling ring, showcasing his versatility as an entertainer.
Brock Lesnar in Video Games
Brock Lesnar, an American professional wrestler and mixed martial artist, has been prominently featured in a variety of video games, especially those related to WWE and MMA. Here's a list of video games in which Brock Lesnar has made an appearance:
WWE 2K22 (Released: March 11, 2022)
WWE 2K Battlegrounds (Released: September 18, 2020)
EA Sports UFC 4
WWE 2K20 (Released: October 22, 2019)
WWE 2K19 (Released: October 5, 2018)
WWE Mayhem
WWE 2K18 (Released: October 17, 2017)
WWE Tap Mania (Released: July 20, 2017)
WWE 2K17 (Released: October 11, 2016)
WWE 2K16 (Released: October 27, 2015)
WWE Immortals (Released: January 14, 2015)
WWE 2K15 (Released: October 28, 2014)
EA Sports UFC (Released: June 17, 2014)
WWE '13 (Released: October 30, 2012)
UFC Undisputed 3 (Released: February 14, 2012)
WWE '12 (Released: November 22, 2011)
UFC Undisputed 2010 (Released: May 25, 2010)
UFC 2009 Undisputed (Released: May 19, 2009)
WWE SmackDown! Here Comes the Pain (Released: October 27, 2003)
WWE Raw 2 (Released: September 15, 2003)
WWE WrestleMania XIX (Released: September 8, 2003)
WWE Crush Hour (Released: March 17, 2003)
WWE SmackDown! Shut Your Mouth (Released: October 31, 2002)
These games span across various platforms and showcase Brock Lesnar's significant influence in the world of sports entertainment and video games.
Brock Lesnar Net Worth Details 2023
Brock Lesnar, often dubbed "The Beast Incarnate," is not just a force to be reckoned with in the wrestling ring and the MMA octagon but also stands as a testament to shrewd financial acumen. As of 2023, his journey through the world of sports entertainment and combat sports has culminated in a significant financial portfolio. Here's a detailed breakdown of Brock Lesnar's net worth and salary details for 2023:
Net Worth Overview
Brock Lesnar's net worth in 2023 is estimated to be around $25 million. This impressive figure is a culmination of his earnings from both WWE and UFC, as well as endorsements and other ventures. When juxtaposed with other WWE stars, Lesnar's net worth is notably higher than many, with figures like Roman Reigns standing at about $14 million.
Salary Breakdown
WWE Earnings: Lesnar's association with WWE has been a lucrative one. His current annual salary from WWE is a whopping $12 million. This places him at the pinnacle of WWE's pay scale, especially considering he earns an additional $500,000 for each main event appearance.
UFC Compensation: In the world of MMA, Lesnar has also made his mark. For UFC 200 alone, he took home a fight purse of 2.5 million, one of the highest in UFC's history.
Endorsements and Partnerships
Beyond his earnings from sports, Lesnar's financial stature is bolstered by his endorsements. He has ongoing partnerships with brands like Dymatize Nutrition and Death Clutch. Additionally, his long-standing collaboration with Jimmy John's is prominently showcased on his fight and wrestling gear.
Charitable Ventures
Lesnar's financial achievements haven't deterred him from giving back. He's actively involved with the Make-A-Wish foundation, emphasizing his commitment to societal well-being.
Assets and Lifestyle
Lesnar's lifestyle mirrors his financial success. He owns properties in both Minnesota and Saskatchewan, with the latter being valued at $2.1 million. His car collection, featuring models like the Cadillac Escalade and Jeep Wrangler, further accentuates his affluent status.
In conclusion, Brock Lesnar's financial achievements in 2023 are a testament to his unparalleled success in both the wrestling and MMA arenas, as well as his strategic financial decisions outside of them.
Brock Lesnar Social Media
Here are the social media profiles associated with Brock Lesnar:
FAQs on Brock Lesnar
Who is Brock Lesnar?
Brock Lesnar is a professional American and Canadian wrestler, footballer, Martial Artist, and actor.
How old is Brock Lesnar?
Brock Lesnar was born on July 12, 1977, which means he turned 45 years old in 2022. Lesnar has had an incredibly successful career as a professional wrestler, mixed martial artist, and football player.
Despite his age, he remains a dominant force in the WWE, having won numerous championships and headlining multiple pay-per-view events. Lesnar's physicality, strength, and athleticism have always been his greatest assets, and he continues to prove that age is just a number when it comes to achieving success in the world of professional wrestling.
Is Brock Lesnar married?
Yes, Brock Lesnar is married.
Who is the wife of Brock Lesnar?
Sable is the wife of Brock Lesnar.
How many children does Brock Lesnar have?
Brock Lesnar has two daughters Mariah & Mya and three Sons Turk Lesnar, Duke Lesnar, & Luke Lesnar.
What is the height and weight of Brock Lesnar?
Brock Lesnar is 6 feet 3 inches (1.91 meters) tall and weighs approximately 286 pounds (130 kilograms). He is known for his massive size and imposing physical presence, which have helped him become one of the most dominant athletes in the world of professional wrestling, mixed martial arts, and football.
How many siblings do Brock Lesnar have?
Brock Lesnar has two brothers and a sister.
Does Brock Lesnar smoke and Drink?
He doesn't smoke, but he drinks Alcohol.
Where did Brock Lesnar wrestle after leaving WWE?
After leaving WWE, Brock Lesnar wrestled in New Japan Pro Wrestling (NJPW) where he won the Heavyweight Championship in his first match with the organization.
What is Brock Lesnar's amateur wrestling background?
Brock Lesnar was undefeated during his senior year at Webster High School in South Dakota, going 33-0-0. He later became the 2000 NCAA heavyweight champion while at the University of Minnesota.
Did Brock Lesnar ever try out for the NFL?
Yes, after leaving WWE and NJPW, Brock Lesnar tried out for the Minnesota Vikings and made the team for a short period but never made it to the regular-season team.
How did Brock Lesnar perform in UFC?
Brock Lesnar had an impressive stint in UFC, winning the UFC heavyweight championship against Randy Couture at UFC 91. He ended his MMA career with a 5-3 overall record.
At what age did Brock Lesnar become the youngest WWE Champion?
Brock Lesnar became the youngest WWE Champion at the age of 25, setting a record by winning the Undisputed Championship in 2002.
What is the Shooting Star Press associated with Brock Lesnar?
The Shooting Star Press is a wrestling move that Brock Lesnar attempted during his WWE career. He had successfully executed it in WWE's developmental territory, Ohio Valley Wrestling, but botched the move on a bigger stage.
Has Brock Lesnar faced any legal issues related to hunting?
Yes, in 2011, Brock Lesnar faced charges related to improper tagging of an animal during a hunting trip in Canada. He was fined $1,725 and received a six-month suspension from hunting.
Where is Brock Lesnar originally from?
Brock Lesnar hails from South Dakota.
How did Brock Lesnar win his first official WWE match?
Brock Lesnar won his first official WWE match against Jeff Hardy at Backlash 2002 by knocking him out.
What are some of the titles Brock Lesnar has held in his career?
Brock Lesnar has been an NCAA champion, WWE champion, NJPW champion, and UFC heavyweight champion.
Did Brock Lesnar ever play in the NFL?
Brock Lesnar had a brief stint with the Minnesota Vikings but did not make it to the regular-season team.
How is Brock Lesnar's relationship with the WWE Universe?
Brock Lesnar has had a tumultuous relationship with the WWE Universe, but his return to WWE programming has been welcomed by many fans.
What nickname is Brock Lesnar often referred to by?
Brock Lesnar is often referred to as "The Beast Incarnate."
Has Brock Lesnar ever wrestled outside of the United States?
Yes, apart from wrestling in the U.S., Brock Lesnar has also wrestled in Japan, notably for New Japan Pro Wrestling.
What is Brock Lesnar's signature move in WWE?
Brock Lesnar's signature move in WWE is the "F-5."