Sofia Balbi, Luis Suarez's wife, was not a renowned figure before marrying the Uruguayan footballer. Her fame came after their marriage. Initially, many believed that her contribution to Suarez's affluent life was insignificant, but this assumption proved to be false.
One of the most noteworthy aspects of Sofia Balbi, Luis Suarez's wife, is her impact on the Uruguayan striker. All football fans firmly believe that she is the driving force behind many positive changes in Suarez's life, such as helping him abandon detrimental habits.
Despite remaining in the background, Sofia Balbi has profoundly influenced Suarez's life in various ways. She was the sole person who supported him and stood by his side when his parents went through a divorce.
Who is Luis Suarez's Wife, Sofia Balbi?
Sofia Balbi, the wife of renowned footballer Luis Suarez, has been a significant part of his life since they met in 2001. At the time, Suarez was working as a street sweeper in Montevideo, Uruguay. Despite the difference in their social statuses, their bond grew stronger over time. Sofia moved from Uruguay to Barcelona with her family when Suarez was 16, which led to a challenging long-distance relationship. However, Suarez's determination to be closer to Sofia motivated him to move to Europe, marking a significant turning point in his football career.
The couple got married in 2009, first in a civil ceremony in Amsterdam in March, followed by a religious ceremony in December. A year after their marriage, they welcomed their first child, Delphina, and their family has grown since then. Sofia and Luis have been together for nearly two decades, and their enduring relationship is a testament to their strong bond and mutual support. Sofia's influence on Suarez's life and career is profound, providing him with the motivation and support to reach the heights of success in football. Her story is a compelling narrative of love, support, and ambition, intertwined with Suarez's rise to stardom in football.
Sofia Balbi & Luis Suarez Love Story: A Tale of Devotion & Perseverance
Sofia Balbi and Luis Suarez share an inspiring and intriguing love story. Their tale began in Montevideo when a young Suarez, then a street sweeper, fell for the beautiful Sofia at the tender age of 13. Despite her wealthy background, Sofia reciprocated his feelings, sparking a romance that would eventually lead Suarez to his footballing fame.
The young couple spent their early days in Montevideo, with Suarez painstakingly sweeping city streets to afford their first date. When Sofia moved to Spain with her family, it was a turning point in Suarez's life. He admitted that he nearly gave up on football, only to be motivated by Sofia's departure to dedicate himself to the sport professionally.
At the age of 16, Suarez traveled to Europe to reunite with Sofia, enduring a challenging journey with meager funds and even being held at the airport due to his age.
Three years after Sofia's move, Suarez joined a Dutch team, marking his official entry into European football. This move also allowed him to bridge the geographical gap with Sofia, fostering their long-distance relationship.
Their love story led Suarez not only to his professional career but also to his migration to Europe. It was his enduring love for Sofia that prompted every decision, every journey to Barcelona during his vacations, and eventually, their move to Liverpool after their marriage in 2009.
Their tenth anniversary was celebrated with a grand renewal of vows attended by football stars like Lionel Messi, Jordi Alba, and Sergio Busquets. Suarez has often acknowledged Sofia's pivotal role in his life, attributing his success and stability to her unwavering support and help. Their captivating story is considered among the most charming and inspirational love stories by football lovers worldwide.
Sofia Balbi's Early Life & Childhood
Born on November 11, 1989, in Montevideo, Sofia Balbi grew up in a wealthy middle-class family. Her father was a prominent banker whose job led Sofia's family to relocate to Spain in 2003. Despite leaving her homeland and Suarez behind, Sofia maintained her bond with Suarez and encouraged him to follow his dreams.
Sofia Balbi's Role as a Mother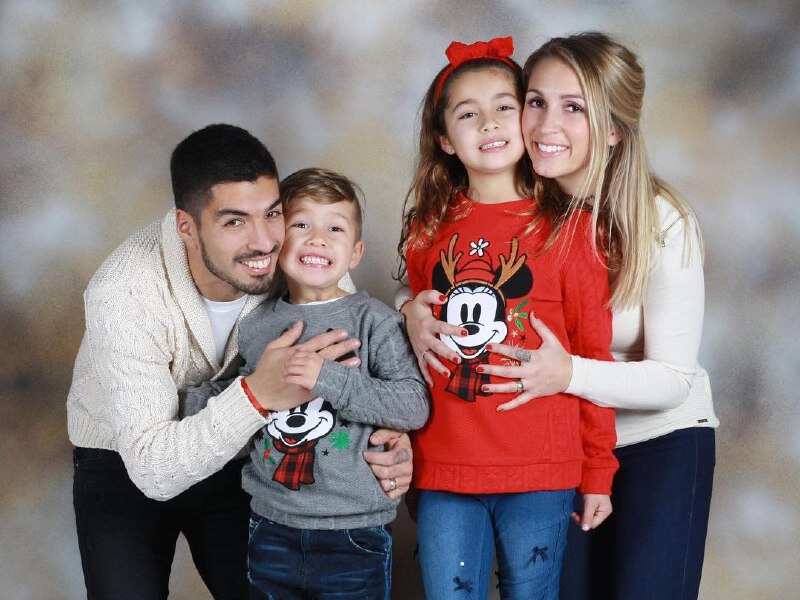 Sofia Balbi, wife of footballer Luis Suarez, embodies the pivotal role a woman plays in shaping a family. Her commitment to her family is noteworthy, acting as its bedrock and guiding light. A dedicated wife and mother, Sofia is not just a caregiver but a key influencer in her family's life.
Since marrying Suarez in 2009, Sofia has been the driving force behind her husband's success, offering unwavering support and fostering his growth as a professional footballer. Suarez attributes much of his self-belief and career realization to Sofia, acknowledging her significant role in his journey.
Besides being a supportive spouse, Sofia excels in her role as a mother, raising her three children with love and mindfulness. Their first child, Delphina, was born in 2010. Three years later, the family welcomed Benjamin, making Delphina a doting elder sister. In 2018, the couple celebrated the arrival of their second son, Lautaro, turning Benjamin into a proud elder brother.
Sofia's devotion to her children is evident, serving as a testament to the notion that her children are the focal point of her life. The love she showers upon her husband and children underscores one of the most heartwarming aspects of Sofia Balbi's life. The Uruguayan footballer's words about his wife encapsulate it perfectly, "She gave me a lot of confidence and helped me believe in myself… It helped me realize how important football was for me."
Sofia Balbi's Presence on Instagram
In our digitized world, social networks have become integral to daily life, with Instagram reigning supreme among them. With its massive popularity, it is rare to find someone who isn't familiar with this platform or doesn't maintain an account on it.
A notable aspect of Instagram's global appeal is the widespread interest in the personal lives of famous football players and their spouses. These profiles, followed by millions, offer fans a glimpse into the day-to-day lives of their favorite stars. A prime example is Antonella Roccuzzo, wife of Lionel Messi, who boasts over 31 million followers. Antonella is particularly active on Instagram, regularly sharing images of her family, granting fans a peek into the life of this soccer legend.
Sofia Balbi, wife of Luis Suarez, enjoys a similar level of attention, although she wasn't well-known prior to her marriage. Despite this, she now has an impressive following of over 1.8 million fans on Instagram. Sofia routinely shares snapshots of her daily life, her husband, and their children, satisfying her followers' curiosity about their lives off the pitch. Her Instagram presence provides a personal connection to fans, making her one of the most followed footballers' wives on the platform.
Sofia Balbi's Career
Besides being a supportive wife and a caring mother, Sofia is also a successful entrepreneur. In collaboration with Antonella Roccuzzo, Lionel Messi's wife, Sofia co-owns a branch of the Sarkany shoe boutique in Barcelona.
Sofia Balbi's Net Worth
While Sofia Balbi's net worth remains undisclosed, her husband, Luis Suarez, boasts a net worth of approximately $70 million as of 2020. Sofia leads a comfortable life, given her husband's impressive wealth and her entrepreneurial ventures.
Sofia Balbi's Birthday Celebrations
Suarez and Sofia have been known to celebrate their special occasions lavishly. Sofia's 30th birthday was marked by a grand celebration attended by the who's who of the football world, including Lionel Messi, Jordi Alba, Sergio Busquets, and Antoine Griezmann.
Sofia Balbi Age: How Old Is Luis Suarez's Wife?
Sofia Balbi, the wife of footballer Luis Suarez, was born on October 11, 1989. As of the current date, August 4, 2023, she is 33 years old.
Sofia Balbi Height: How Tall Is Luis Suarez's Wife?

Sofia Balbi stands at an average height for women, measuring 168 cm tall. Her stature perfectly complements that of her husband, renowned football player Luis Suarez, who stands at a medium height for a striker at 182 cm. Suarez has displayed his exceptional skills on several world-class teams, including Gremio, Nacional, Atletico Madrid, Barcelona, Liverpool, Groningen, and Ajax. Despite the difference in their heights, the pair make a well-matched duo, both on and off the football pitch.
The Impact of Sofia Balbi on Luis Suarez's Life
Sofia Balbi's profound impact on Luis Suarez's life and career is undeniable. She has been a pillar of strength for Suarez, encouraging him to pursue his dreams and providing emotional support throughout his journey. Her role in Suarez's life highlights the significance of a supportive partner in achieving success.