American professional wrestler Candice LeRae Gargano is presently working for WWE, where she competes on the Raw brand. She was an old member of The Way and the NXT Women's Tag Team Champion.
LeRae started her career in professional wrestling in 2002. So, from then until 2006, she was working for the Empire Wrestling Federation (EWF) organisation. LeRae competed in numerous independent wrestling promotions over the ensuing years. For example, Combat Zone Wrestling (CZW), Total Nonstop Action Wrestling (TNA), Shimmer Women Athletes, DDT Pro-Wrestling, and Pro Wrestling Guerrilla (PWG). Here, she held the only female world tag team championship in the history of the organisation at one point. She also held the Ironman Heavyweight Championship and the FWE Women's Championship, among other titles.
Candice LeRae Personal Life
Baby
Fans were happy on February 19th. It was when Johnny Gargano and Candice Lerae posted a photo of their first child on Twitter. Gargano announced on February 18 that the baby still hadn't arrived. But, Lerae had been in labour for nearly a day.
Quill was the name the parents gave to the baby boy. It was because of Gargano's passion for Marvel. The charismatic captain of Marvel's Guardians of the Galaxy inspired the name. On Gargano's official Twitter page, we got our first look at little Quill.
The adorable infant was wearing a onesie. It had his name on and there was Guardians of the Galaxy memorabilia around him. A cassette recording, a comic featuring Peter Quill, and a plush version of Rocket Raccoon are among the items.
Husband
Many years ago, Candice LeRae met her future husband Johnny Gargano. When they were both competing in independent wrestling, they initially ran into each other.
While doing an independent wrestling show, Johnny Wrestling and LeRae went on their first date at a Subway. As time passed, their relationship grew, and the two of them became inseparable.
Gargano was admittedly a WWE Superstar in 2016. He declared his engagement to The Poison Pixie in the same year. Eight months later, at Disneyland, they married each other.
LeRae joined her husband in the WWE in May 2017. Then, the two of them went on to achieve a lot in NXT.
Candice LeRae Wiki
Age
Candice Dawson is best famous as her ring as Candice LeRae. She has competed professionally in wrestling for Combat Zone Wrestling and Pro Wrestling Guerrilla. She and Joey Ryan are one-half of The World's Cutest Tag Team.
On September 29, 1985, Candice LeRae was born. She is currently the age of 37. As a wrestler, Candice LeRae is highly famous.
Height
Candice LeRae currently stands 5 feet 2 inches or 158 centimeters.
Net Worth
Candice LeRae spent the first two years competing. It was for the International Wrestling Council (IWC) and the Empire Wrestling Federation (EWF). She replaced Miss Chevius. She got hurt. LeRae did this in a match during the first round of the ChickFight tournament in 2004. However, lost against Princess Sugey. LeRae was a mainstay in the EWF in 2005, competing against wrestlers like Amazing Kong, Kid Omega, and Hurricane Havana.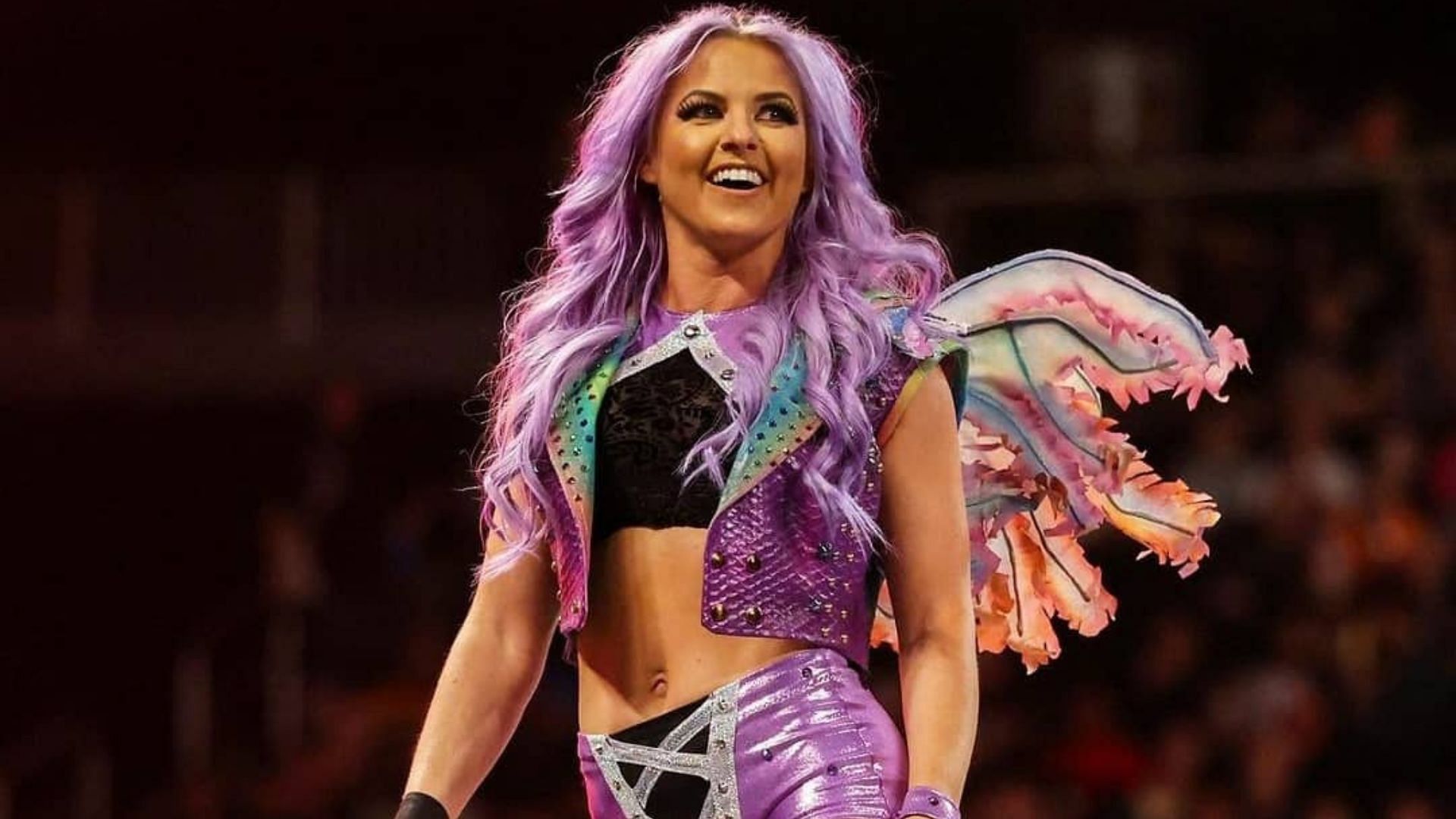 One of the wealthiest and most well-known wrestlers is Candice LeRae. We calculated Candice LeRae's net worth from Wikipedia, Forbes, and Business Insider, and it is $5 million.
Candice LeRae Return
During Candice LeRae's stint in NXT, Candice LeRae made her final appearance on a WWE television programme. She and her husband Johnny Gargano would be part of The Way faction there. But she would eventually have to give up wrestling after finding out she was expecting their first child.
Her WWE contract would end while she was still sidelined due to pregnancy. She and her spouse chose against renewing in order for her to get more time off from wrestling.
The "Poison Pixie," like Gargano, made the decision to finally make a comeback. Also, WWE promptly brought her up to the main roster. Together with her husband, she has been given the Raw brand.
Nikki A.S.H. would be as astonished as the audience when she learned that Candice LeRae would be her opponent. In that contest, LeRae quickly and easily defeated A.S.H. without breaking a sweat.
Fortunately for her, the commentary team had more than enough time to remind viewers of LeRae's identity and the impact she had on the NXT brand before departing from WWE.
Candice LeRae Matches
Bayley
After defeating Bayley on the Oct. 10 broadcast of Raw, Candice LeRae is back in the winner's circle. Since joining the red brand and rejoining WWE, she had competed in three matches.
In a backstage interview before their bout, Damage CTRL discussed Bayley's defeat by Bianca Belair at Extreme Rules. Bayley sought a way to vent her resentment and attempt to defeat LeRae.
Bayley attempted to use her Rose Plant finisher in the dying seconds of the match, but LeRae successfully reversed it into a pin to win.
A three-on-one onslaught broke out following the contest until the Raw Women's Champion sprinted to the ring.
Despite LeRae's best efforts, Bayley and the Women's Tag Team Champions would come out on top to close the segment.
Joey Ryan
Joey Ryan and Candice LeRae teamed up, and on October 19, 2013, the two unsuccessfully challenged The Young Bucks for the PWG World Tag Team Championship. In a Guerrilla Warfare match on July 27, 2014, Ryan and LeRae triumphed over The Young Bucks to win the title of PWG World Tag Team Champions.
In a three-way match on August 29, 2014, Candice and Joey—now known as the World's Cutest Tag Team—defeated The Addiction (Christopher Daniels and Frankie Kazarian) and the Inner City Machine Guns to successfully defend the PWG World Tag Team Championship. The World's Cutest Tag Team defeated Johnny Gargano and Chuck Taylor on October 17, 2014, to successfully defend their title once more.
Bianca Belair
Candice LeRae might not be present for Bianca Belair's WWE Survivor Series WarGames match since The Poison Pixie is allegedly dealing with an ailment.
LeRae was supposed to join Belair's team for their War Games contest, but Dave Meltzer of The Wrestling Observer recently pointed out that her sudden absence might be a sign that she is actually hurt.
A few weeks ago, it was mentioned during the Raw commentary that LeRae was dealing with a shoulder injury as a result of Damage CTRL's ambush and subsequent beating of her. This seems to be the explanation for her present absence, thus she might not show up at WarGames.
Candice LeRae Instagram
The famous WWE wrestler is quite active on Instagram. So, she has 315 thousand followers, but she follows back only 452 people. Also, her Instagram id is @candicelerae. Moreover, she has 848 posts.
Candice LeRae Injury
LeRae hasn't been seen on WWE programming since October 17th, when she tagged with Bianca Belair and lost to Dakota Kai and Iyo Sky. This has led to speculation that she may have sustained an injury.
LeRae's participation in Survivor Series has not been announced, according to Dave Meltzer of Wrestling Observer Radio, raising the possibility that she is injured and unable to compete. LeRae has a history of competing in WarGames contests while she was a member of NXT, and Belair's team is still missing one player. The perfect match would have been LeRae.
Is Candice LeRae still in WWE?
LeRae's contract was slated to expire in the spring, according to a story from earlier this year, but owing to her time away with injuries and her first pregnancy, there was speculation that WWE would decide to extend the contract. It was formerly anticipated that she would work with the corporation through the beginning of 2023.
Update: This morning, WWE added LeRae to their official Alumni list, and Fightful Select has verified that her contract had run out.
Together with her spouse Johnny Gargano, LeRae is currently a free agent.
Since leaving WWE in December, Gargano hasn't competed in any matches. Although he has begun to sign contracts, it is unknown at this time whether he is prepared to sign one and resume competing in the ring.
After LeRae and Gargano had their first child in February, it was anticipated that Gargano would take some time off to spend with his family before going back to work.
Candice LeRae FAQs
What is the real name of Candice LeRae?
Candice Gargano aka Candice Dawson who she really is.
Who is WWE's Candice LeRae?
LeRae, a pioneer of the independent women's wrestling scene for many years, became well-known for her incredible endurance and never-ending tenacity.
What kind of wrestler is Candice LeRae?
Because intergender wrestling doesn't occur frequently in WWE, many fans might not be aware that Candice LeRae is an authority in this area. LaRae used to frequently compete in wrestling matches with males before she joined the business.
Was Candice LeRae in the Mae Young Classic?
The fact that Candice LeRae participated in the first Mae Young Classic may be something that many people have forgotten about.