Born Sydney Jeannine Zmrzel, Maxxine Dupri is a dynamic force in professional wrestling. Since her 2023 debut, she's made her mark in the WWE's Raw brand with her commanding in-ring presence and 'Alpha Queen' persona.
With over 226K Instagram followers and significant Twitter engagement, Dupri masterfully uses social media to connect with fans, offering insights into her life in and out of the ring. Notably, she's also the entrepreneur behind @shopjaunty, showcasing her versatile skill set and deft ability to handle multiple roles.
In the ring, Dupri shines with her agile and strategic wrestling style. Her dedication and commitment are evident in each performance, solidifying her position as a part-time wrestler and manager in the WWE.
As part of the Alpha Academy, Dupri has seamlessly transitioned from NXT to SmackDown, and now to Raw, infusing each brand with her unique energy and style. Her evolution is also reflected in her ring names, transitioning from Sofia Cromwell in 2021 to Maxxine Dupri in 2022.
Her theme songs, "Shoooosh" and "For the Academy" by def rebel, add a layer of anticipation to her matches, becoming synonymous with her appearances.
Maxxine Dupri is truly a multifaceted personality, captivating audiences globally with her wrestling prowess and ventures beyond the ring. As she continues to evolve, the world watches eagerly for what this WWE superstar brings next. Stay tuned for further updates on her riveting journey.
Maxxine Dupri Biography/Wiki
So, you already know that a lot is not known about Maxxine Dupri currently. However, if you are really fanning hard for this young wrestler, we might have some information for you!
| | |
| --- | --- |
| Full name | Sydney Jeannine Zmrzel |
| Nickname | Maxxine Dupri in WWE, Sofia Cromwell in NXT |
| Date of Birth | 19 May 1997 |
| Age | 26 years |
| Birthplace | Phoenix, Arizona. However, she currently stays in Orlando, Florida. |
| Nationality | American |
| Profession | Wrestler, model and previously a cheerleader. However, she also manages her own company. So, she has a clothing brand called Jaunty. She is a fashion designer away from the limelight and opened the brand when she was only 21 in 2019. |
| Boyfriend | Anthony Luke- the American footballer. |
| Religion | Not explicitly known |
| Zodiac sign | Taurus |
| Race/ ethnicity | She has American citizenship. However, her ethnicity is not clearly known. |
So, we have dealt with the personal life and background of Maxxine Dupri in more than enough detail. Therefore, now let us shift focus to her professional career which includes wrestling, dancing, managing her business, and so on.
Maxxine Dupri Real Name
So, if you are a WWE fan or someone who knows how things work there, you must be definitely aware of the fact that ring names are not real names. For example, who does not know The Rock? Being a legendary WWE wrestler to a hit Hollywood actor, we all know him. However, in reality, he is Dwayne Johnson. Moreover, for every contingency that you wrestle for, you will have a different ring name. So, if one wrestles for more than one platform, one will have multiple ring names. This is the exact case with Maxxine Dupri. She took birth as Sydney Jeannine Zmrzel. Therefore, this is her real name.
So, Maxxine Dupri is her current ring name. Therefore, she debuted in the WWE with the name Maxxine Dupri in 2022. However, she is also a part of NXT. Hence, she has a different ring name there. She is called Sofia Cromwell there. However, as you already know none of these are her real names.
Maxxine Dupri Age: How Old Is Maxxine Dupri?
A fresh and dynamic presence in the WWE universe, Maxxine Dupri is making waves despite her young age. Born on 19 May 1997, this American wrestling sensation is currently 26 years old. Even though she's relatively young, Dupri's achievements in the wrestling arena, especially in platforms like NXT and WWE, have been nothing short of commendable. Her youth brings an invigorating energy to the ring, capturing the attention of fans worldwide.
Maxxine Dupri Height: How Tall Is Maxxine Dupri?
For celebrities, especially sportspersons, their physical stature often becomes a point of discussion. Maxxine Dupri, with her strong and robust build, showcases the epitome of a wrestler's physique.
Standing at 1.73m, which is approximately 5 feet 6.4 inches, she might not tower over many, but her stature is perfect for her agile and dynamic moves in the ring. While she might be slightly shorter than the average white woman, her height has in no way deterred her performance, proving that prowess isn't always about stature.
Maxxine Dupri Weight: How Much Does Maxxine Dupri Weigh?
Fitness is paramount in the wrestling world, and Maxxine Dupri's weight reflects her dedication to her sport. Weighing in at 61 kilograms, equivalent to 134 pounds, Dupri maintains a balanced and athletic build. This weight gives her the strength and agility she requires in her matches, making her a formidable opponent to reckon with.
Maxxine Dupri Physical Appearance
The captivating Maxxine Dupri never fails to turn heads, not just because of her wrestling prowess but also due to her striking appearance. Her currently blonde-dyed locks, a departure from her natural brown shade, add to her charismatic aura. Complemented by her dark brown eyes, Dupri's overall look exudes confidence and charm. With a height of 1.73m and a weight of 61 kilograms, her physique is as impressive as her wrestling resume. Dupri, with her distinctive look and style, remains a favorite amongst WWE enthusiasts.
Maxxine Dupri Dance
So, before she stepped into the realm of professional wrestling, Maxxine Dupri used to be a cheerleader. Moreover, you can still find her dancing videos on Instagram reels, TikTok, and other platforms. So, she worked as a cheerleader for the LA Rams as well as the Phoenix Suns. However, there is a very strong reason why she gives that up and joins NXT, and then WWE. She herself says that in one of her interviews.
So, when she joined WWE, she did not just want to make money. Her primary aim was to get a belt around her waist because that is exactly why she wanted to be a wrestler from being a cheerleader. She said when she cheered for the Los Angeles Rams, they made it to the final- the Super Bowl. However, they finally lost. Moreover, when she cheered for the Phoenix Suns, her experience remained exactly the same. So, the team did manage to go to the NBA finals but they finally lost. These losses cost her a bit too much.
After cheerleading for so many matches, she said she was tired to see a team of men losing yet another match. Moreover, it was particularly distressing for her because as a cheerleader she was just a puppet. She could do nothing about it. Therefore, she wanted to join the WWE, and take the responsibility of winning a match on her own shoulders.
Wrestling Career: WWE Journey (2021-Present)
Starting Out: The Valet Role (2021-2023)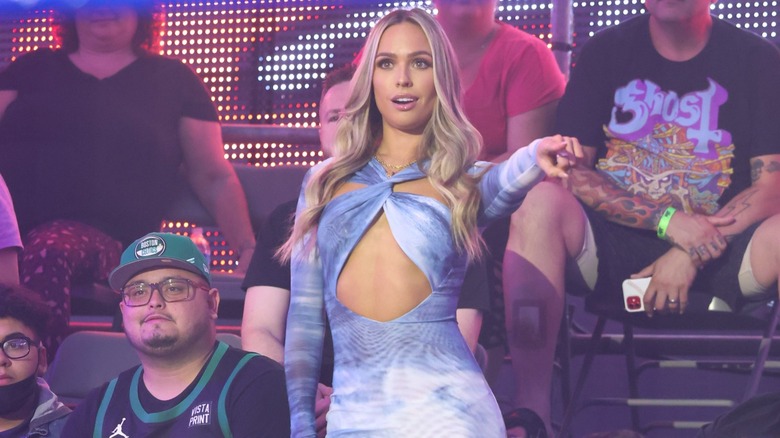 In August 2021, Zmrzel attended a WWE tryout in Las Vegas, Nevada, securing a contract as one of the 14 chosen attendees. In 2022, she debuted in the NXT as Sofia Cromwell, a valet for Robert Stone and Von Wagner.
Zmrzel, now Maxxine Dupri, made her main roster debut on the July 22, 2022 episode of SmackDown. She played the role of "director of talent" for Max Dupri's heel stable, Maximum Male Models. In October 2022, Max rebranded himself as LA Knight, leaving Maxxine as the stable's valet. By February 2023, the Maximum Male Models had shifted to the Raw brand.
Evolution: Alpha Academy Journey (2023-Present)
After transitioning to Raw, Dupri initiated a humorous narrative with Otis, trying to persuade him to join the ranks of Maximum Male Models. This led to a string of engaging episodes with Chad Gable, both aiming to have Otis on their sides. Eventually, Dupri parted ways with Maximum Male Models to align with Alpha Academy, marking her first face turn in wrestling.
On Raw's June 12 episode, Dupri showcased her skills with an impressive arm drag against Valhalla from The Viking Raiders, triggering their inaugural rivalry. Under the guidance of Otis and Gable, Dupri received rigorous training, glimpses of which were showcased in backstage vignettes. Making a stellar appearance, Dupri, representing Alpha Academy, outshined Valhalla in a mixed tag team bout aired on Raw's July 3, 2023 episode, securing her victory with a swift roll-up pin.
Come July 10, Raw witnessed Alpha Academy celebrating Dupri's wrestling journey with a graduation event. As the highlight, Gable bestowed upon Dupri an iconic Alpha Academy letterman's jacket. But the joy was short-lived as The Viking Raiders caused a scene. In a shocking twist, Valhalla blindsided Dupri, making away with her newly-acquired jacket. This fueled the next Raw episode where Gable and Otis faced Erik and Ivar in an intense "Viking Rules" showdown. Even though Gable and Otis couldn't clinch the win, Dupri showed her mettle by reclaiming her jacket.
Culminating her rookie journey, Dupri triumphed over Valhalla using the Japanese Ocean Cyclone Suplex on Raw's July 31 episode.
Maxxine Dupri Jaunty
So, Jaunty is a clothing brand that Maxxine Dupri built from scratch. Therefore, behind the limelight of her modeling, wrestling, and cheerleading career, she is also a skilled fashion designer. As a result of her efforts, she launched her clothing line back in 2019. It was important to notice that she was only 21 at that point in time. Therefore, she was quite a young entrepreneur while having a thriving cheerleading and modeling career. So, she really has achieved a lot in such a short time.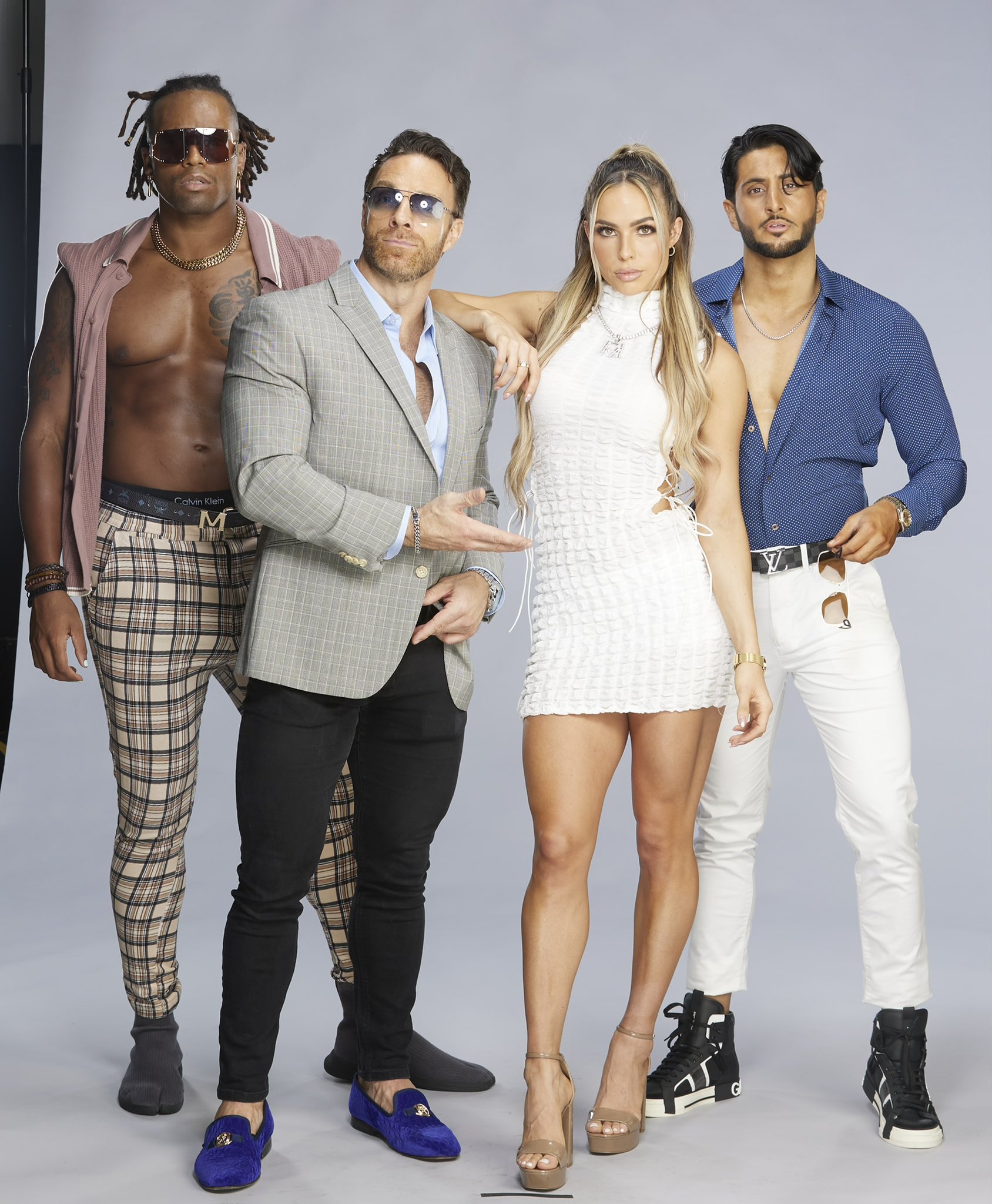 So, now that we have discussed her professional life in detail as well, let us go to the final part. Her social media accounts.
Maxxine Dupri Twitter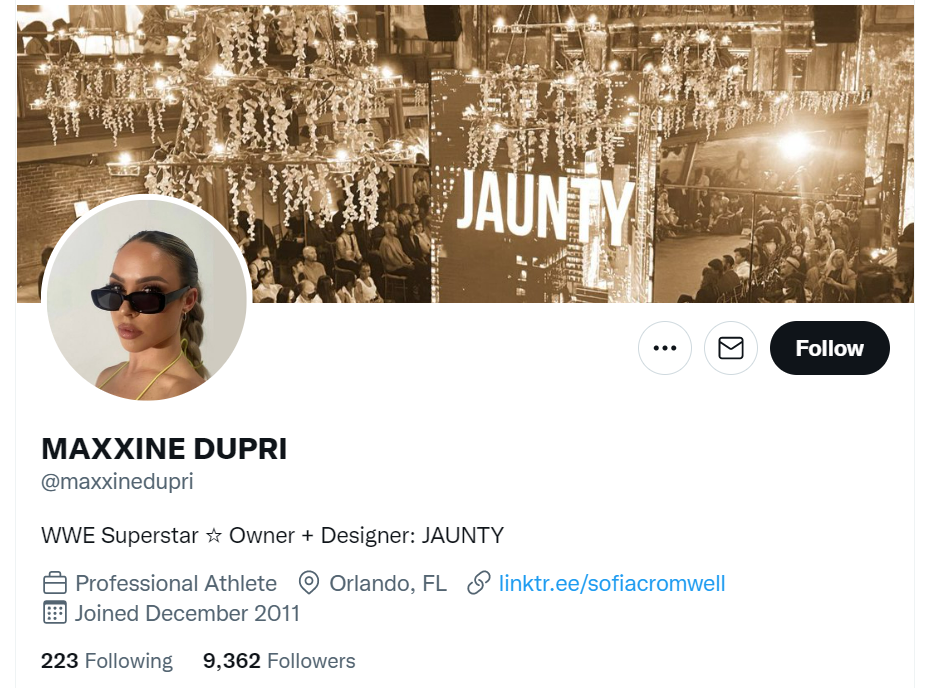 So, Maxxine Dupri is there on Twitter and is quite popular there. Hence, she has a follower count of more than 21k which is huge. On the other hand, she follows only 255 people. However, it has been a long time since she joined Twitter which was back in December 2011. Her username is @maxxinedupri. Therefore, you can easily find her with this name. Her bio says she is a WWE SuperStar, Director of Talent at Maximum Male Models, and the owner and designer of Jaunty. Most of her content on Twitter is from the ring- her looks, or her performance! Moreover, she also retweets a lot of her appearances.
Maxxine Dupri Instagram
So, she is there on Instagram as well. You can find her out on @maxxinedupri. Most of her posts feature her own pictures- whether from the ring or in a steamy selfie or from a modeling shoot. However, she has a range of highlights from her holidays or the places she has visited. Currently, she has a follower count of 71.9k with 426 posts and 1380 following. Moreover, she is quite regular at posting. Therefore, you can come across her posts and stories every now and then. She also shares pictures from her personal collection, her friends, her vacations, and so on.
Maxxine Dupri Husband/Boyfriend
As per reports, Maxxine Dupri is currently dating Anthony Luke who is an American footballer. She has not publicly announced that she is married, and there is no information available about her wedding or marital status. However, without any official confirmation from Daigle herself, any information about her wedding or marital status is purely speculative.
Maxxine Dupri Salary, Earnings & Net Worth 2023
Maxxine Dupri, popularly known as the "Alpha Queen," has made significant strides in the world of WWE. As of 2023, her net worth is estimated to be around $1.5 million. This impressive figure is a testament to her dedication and prowess in the wrestling arena.
Dupri's earnings are not just limited to her matches; she also garners a considerable amount from her WWE contract, endorsements, and other ventures. Her status as a mid-card superstar in WWE has not only brought her fame but also financial success.
Maxxine Dupri FAQs
Who is Maxxine Dupri WWE?
So, Maxxine Dupri recently made her debut in WWE in 2022. She is the storyline sister of Max Dupri. However, Maxxine Dupri is just her ring name in WWE. She has a huge identity outside that. So, she has worked as a cheerleader and works as a model and manager for NXT. Moreover, she also owns her own clothing business Jaunty. Therefore, she is really a multifaceted American businessman. Additionally, she is only 26 years old. So, she has achieved a lot in a remarkably short time.
How old is Maxine from WWE?
First things first, this is not the same person as the Maxxine Dupri that we are talking about. So, this is the ring name of Karlee Leilani Perez. She took birth on 19 April 1986. Therefore, currently, she is 26 years of age.
Why did Maxine leave the WWE?
So, Karlee Leilani Perez left the WWE or World Wrestling Entertainment due to a large number of frustrations. The 26-year-old star said that the house did not offer her a steady and guaranteed contract. Moreover, she felt her opportunities were narrowing down. She said she did not see a future where she could prove her worth. So, she was unable to take herself beyond the WWE NXT level. Hence, she left.
Who is Sophia Cromwell?
So, Sophia Cromwell is the ring name that Sydney Jeannine Zmrzel uses in the NXT universe. She had participated in a tryout that WWE or the World Wrestling Entertainment had organized in Las Vegas, Nevada. Out of the fourteen attendees who could manage to sign a contract with them, she was one of the most prominent ones. It was from then that her persona as Sofia Cromwell came into being.
Who has Robert Stone managed?
Robert Stone is a monumental figure in NXT. Moreover, Maxxine Dupri has also worked with him. So, ever since he signed with them, he has managed live events with several wrestlers. The list includes people ranging from Riddick Moss to Rinku Singh, Dorian Mak to Sourav Gujar. Moreover, he always had the best gift of gab. This makes him a remarkable manager.
Is Maxxine Dupri Married?
Maxxine Dupri has not publicly announced that she is married, and there is no information available about her wedding or marital status.