Samuel Robert Shaw, an American professional wrestler, is currently affiliated with WWE's Raw brand as Dexter Lumis. With a career spanning various promotions, including Total Nonstop Action Wrestling (TNA), Shaw has established himself as a notable figure in the wrestling industry.
Hailing from Jacksonville, Florida, Shaw embarked on his wrestling journey in 2007, initially competing on the independent circuit. In 2010, he inked a deal with TNA, where he achieved recognition by emerging victorious in the TNA Gut Check challenge in 2012. Following a brief tenure in TNA's developmental territory, Ohio Valley Wrestling, Shaw made a comeback in 2013. However, in 2015, he parted ways with TNA, leading him to spend the next five years honing his skills on the independent wrestling scene.
In 2019, Shaw's talent caught the attention of WWE, prompting his signing with the company. Although he encountered a release in April 2022, he made a triumphant return to the independent circuit. Subsequently, in August 2022, Shaw reclaimed his position in WWE, where he continues to showcase his abilities as Dexter Lumis on the Raw brand.
Discover all you need to know about Dexter Lumis! Uncover his real name, age, height, weight, career highlights, WWE journey, intriguing gimmick, relationship with Indi Hartwell, his wife, notable tattoos, and more. Get answers to frequently asked questions and delve deeper into the fascinating world of this enigmatic WWE star.
Bio/Wiki Table
| | |
| --- | --- |
| Birth Name | Samuel Robert Shaw |
| Date of Birth | January 17, 1984 |
| Age | 39 |
| Place of Birth | Jacksonville, Florida, U.S. |
| Alma Mater | Savannah College of Art and Design |
| Ring Names | Boss Hogg, Dexter Lumis, Lupus, Sam Shaw, Samuel Shaw, Slick Sleazy |
| Billed Height | 6 ft 2 in (188 cm) |
| Billed Weight | 230 lb (104 kg) |
| Billed From | Jacksonville Beach, Florida, U.S.; Recluse, Wyoming, U.S. |
| Trained by | Curtis Hughes, WWA4 Wrestling School, Bubba Ray Dudley, D-Von Dudley |
| Debut | September 21, 2007 |
Dexter Lumis Real Name
Dexter Lumis, the enigmatic professional wrestler, is known by his ring name, which has become synonymous with his captivating persona. However, his real name is Samuel Shaw. This behind-the-scenes detail adds a layer of intrigue to his character, as fans discover the person behind the larger-than-life persona.
Samuel Shaw adopted the ring name Dexter Lumis to embody the mysterious and intense character he portrays in the wrestling ring. His real name provides insight into the man behind the character, showcasing his versatility as a performer and his ability to immerse himself in different personas.
Early Life
Samuel Robert Shaw was born in January 1984 in Jacksonville, Florida. He completed his high school education at Allen D. Nease High School in St. Augustine, Florida, and went on to graduate from the Savannah College of Art and Design in 2006.
After completing his studies, Shaw relocated to Orlando, where he secured a position as an illustrator at Universal Studios. Following his time there, he returned to his hometown of Jacksonville. He found work at the Riverside Arts Market, where he showcased his talent by creating caricatures for visitors. Additionally, Shaw ventured into a side business, crafting "pet ornaments" by drawing images of people's pets on Christmas ornaments.
Dexter Lumis Age: How Old Is Dexter Lumis?
Dexter Lumis, born on January 17, 1984, is a professional wrestler known for his captivating persona and in-ring abilities. At the age of 39, he continues to leave an indelible mark on the wrestling industry. Hailing from Jacksonville, Florida, Dexter Lumis has amassed a dedicated fan base with his unique style and enigmatic character.
With a career spanning several years, Dexter Lumis has showcased his talent in various promotions, captivating audiences with his intensity and in-ring storytelling. Despite being in his late thirties, he demonstrates incredible agility, strength, and technical prowess that rival wrestlers much younger than him.
Dexter Lumis Height: How Tall Is Dexter Lumis?
Dexter Lumis, the enigmatic professional wrestler, stands tall at a height of 6 feet 2 inches (188 cm). This impressive stature adds to his presence inside the wrestling ring and enhances his ability to dominate his opponents with his physicality and skill.
Standing at 6'2″, Dexter Lumis possesses a commanding presence that demands attention. His height allows him to tower over his adversaries, creating an imposing figure that strikes fear into the hearts of his opponents. Combined with his in-ring abilities, this height advantage enables Dexter Lumis to execute powerful maneuvers and maintain control throughout his matches.
Dexter Lumis Weight: How Much Does Dexter Lumis Weigh?
Dexter Lumis, the captivating professional wrestler, is billed at a weight of 230 pounds (104 kg). This weight contributes to his physicality and strength, allowing him to execute powerful moves and assert his dominance in the wrestling ring.
At 230 pounds, Dexter Lumis possesses a solid and muscular build that showcases his dedication to maintaining peak physical condition. His weight provides him with the necessary strength to execute impactful maneuvers, making him a formidable opponent for anyone who steps foot in the ring with him.
Professional Wrestling Career
Early Career (2007–2012)
Samuel Robert Shaw embarked on his wrestling career after training at the WWA4 Wrestling School under Curtis Hughes. His debut at World League Wrestling occurred on September 21, 2007, partnering with Tookie Tucker to triumph over Marco Cordova and Otis Idol in a thrilling tag team bout. Memorable matches followed, including a face-off against Bruce Santee at Full Impact Pro in 2009, which ended in a loss.
Shaw's career spanned numerous wrestling promotions, including Victory Pro Wrestling, Ring of Honor Wrestling, and Pro Wrestling Extreme. A major milestone came on May 30, 2009, when he bested Glacier in Vintage Wrestling, becoming the inaugural Vintage Heavyweight Champion. Despite challenges from Tyson Tomko and Jesse Neal, he defended the title until February 2011 when Thomas Marr wrestled it from him. Shaw regained the title in April only to relinquish it to Jesse Neal in September.
In the 2011 King of the State tournament, Shaw reached the finals, eventually yielding to Francisco Ciatso. Later, he recaptured the Vintage Heavyweight Championship for a third time by defeating Aaron Epic. Subsequently, he defended this title in a title vs. title match, retaining it despite Simon Sez's disqualification. However, his reign concluded when Francisco Ciatso wrested the title from him in 2012.
Shaw's stint at Florida Underground Wrestling (FUW) started on August 8, 2011, with a three-way victory over Romeo Razel and Sideshow. Although he earned an FUW Heavyweight Championship match against Bruce Santee, victory eluded him. Later, he faced Wes Brisco for the FUW Cuban Heavyweight Championship, but was again defeated. His final FUW match on June 30 witnessed a win over James Alexander.
Total Nonstop Action Wrestling (2010–2015)
Samuel Robert Shaw's initial stint with Total Nonstop Action Wrestling (TNA) started in August 2010. Making appearances in several matches, he soon participated in the Gut Check on Impact, eventually winning a contract and a spot on the TNA roster, despite challenges. In November 2012, he returned to Impact Wrestling with a victory over Alex Silva.
Shaw featured in numerous matches throughout 2013, including TNA X-Travaganza and TNA Hardcore Justice 2. Despite setbacks, he advanced to the finals of the Bound for Glory Series tournament, only to lose to Jay Bradley at Slammiversary.
Simultaneously, Shaw debuted at Ohio Valley Wrestling (OVW), TNA's developmental territory, in October 2012. Teaming with Alex Silva, they won the OVW Southern Tag Team Championship in December 2012, lost it in January 2013, regained it in February, and eventually lost it in April. Despite these ups and downs, Shaw continued to win several individual matches.
Adopting a new character akin to Patrick Bateman from American Psycho, Shaw started his persona as "Samuel Shaw" in November 2013. He established himself as a heel, defeating Norv Fernum and developing an obsession with Christy Hemme, leading to various confrontations with other wrestlers like Mr. Anderson and Eric Young.
In subsequent matches, Shaw used Hemme as a distraction to win, but faced defeat in rematches. Post a brief hiatus in a psychiatric facility, he returned under the supervision of Gunner, seemingly reverting to a hero. However, he soon turned villain again, aligning with Brittany, before she exited TNA. Shaw's final TNA match was against Crimson in June 2015. Known as the 'creepy bastard' during the Hemme storyline, he announced his TNA departure later that month.
Independent Circuit (2015–2019)
Shaw made his return to Vintage Wrestling in May 2015. In his first match back on May 16, he emerged victorious over Nick Fame. The following day, on May 17, Shaw joined forces with BeastMode (Biff Slater & Don Maximo), Leo Gold, and Mike Cruz in a match against The Dark City Fight Club, Francisco Ciatso, Simon Sez, and The Afro Boy, but unfortunately, they were unable to secure the win.
In September 2016, Shaw debuted for Full Throttle Pro Wrestling (FTPW). He started off on a high note by defeating Shannon Moore in his first match on September 17, 2016. Shaw's success continued on June 23, 2018, when he overcame M.V.P. and Papadon to claim the vacant FTPW Championship. However, his reign was short-lived as he lost the title on October 20, 2018, to Barrington Hughes, in a match that also featured Shannon Moore.
March 18, 2017, marked a significant moment in Shaw's career when he participated in Tried N True/Global Force Wrestling's The Art of War II event. He triumphed over Crimson to become the inaugural TNT Champion, a title he held for an impressive 658 days. Eventually, Shaw's reign came to an end on January 5, 2019, at the NWA Pop-Up Event, where he lost the championship to Crazzy Steve.
At the National Wrestling Alliance's NWA 70th Anniversary Show on October 21, 2018, Shaw competed in a fatal four-way elimination match against Colt Cabana, Sammy Guevara, and Scorpio Sky. His victory in this match earned him the opportunity to compete for the vacant NWA National Championship later that night. However, in the finals, he was defeated by Willie Mack. Shaw had a championship rematch against Mack on December 9 but was unable to reclaim the title, suffering another loss at Championship Wrestling From Hollywood.
WWE Career

(2019–2022)
In 2019, Shaw inked a WWE contract and reported to the WWE Performance Center. His debut came on March 16 at an NXT house show, going by his real name before adopting "Dexter Lumis" in June. Lumis competed in the NXT Breakout Tournament, but lost in the first round. His return was announced in March 2020, and Lumis established himself as a face, aiding Velveteen Dream in multiple matches.
Lumis unveiled his "Tortured Artist" gimmick on June 3, sketching himself with the Undisputed Era captive. This persona was further displayed at TakeOver: In Your House, where Lumis abducted Roderick Strong and Bobby Fish. Despite some losses, Lumis secured a victory against Strong in a strap match. He qualified for the NXT North American Championship at NXT TakeOver XXX, but an ankle injury forced his withdrawal.
He reappeared on the September 30 NXT episode, feuding with Cameron Grimes. Lumis challenged Damian Priest for the North American Championship but was thwarted by Grimes. The rivalry culminated with Lumis's victory in a Haunted House of Terror match. Grimes interfered once again when Lumis faced Timothy Thatcher, leading to Lumis's loss. A blindfold match between the two ended ambiguously, followed by Lumis's definitive win at NXT TakeOver: WarGames.
Lumis hosted NXT: New Year's Evil in 2021 and subsequently abducted Austin Theory during NXT TakeOver: Vengeance Day. Lumis's interaction with Indi Hartwell sparked a romantic storyline. After a six-man Gauntlet Eliminator match and mixed tag team match, Hartwell proposed to Lumis in August, leading to their on-air wedding in September. The ceremony included Lumis's first spoken words in WWE – "I do". Lumis's time in WWE ended abruptly when Shaw was released from his contract in April 2022.
Return to the independent circuit (2022)
Shaw's return to the independent circuit in 2022 saw him make several notable appearances. On June 11, 2022, he made his first appearance since leaving WWE at the National Wrestling Alliance (NWA) pay-per-view event called Alwayz Ready. In this event, Shaw competed in a fatal four-way match for the vacant NWA Worlds Heavyweight Championship. His opponents in the match were Trevor Murdoch, Nick Aldis, and Thom Latimer. However, Murdoch emerged victorious and won the championship.
Shortly after, on June 13, 2022, Shaw competed in an episode of NWA USA, where he faced and defeated Mercurio. This win helped establish his presence in the NWA promotion.
On June 26, 2022, Shaw also made an appearance with USA Pro Wrestling at the "USA Pro Wrestle War 2022" event. In this event, he faced and defeated Ryzin, further showcasing his abilities in the independent wrestling scene.
Later, on July 23, 2022, Shaw participated in the 21st Shane Shamrock Memorial Cup hosted by MCW Pro Wrestling. Initially substituting for Pat Brink, Shaw teamed up with Alec Odin to challenge the reigning MCW Tag Team Champions, the Trade (Eric Martin and Robert Locke). Unfortunately, Shaw and Odin were unsuccessful in capturing the tag team championships.
Return to WWE (2022–present)
In August 2022, Shaw surprised the WWE universe with his unexpected return on Raw, resuming his Dexter Lumis character. Subtle hints, like a backstage car wreck, were dropped before his appearance during the main event between AJ Styles and The Miz. Lumis's involvement culminated in his arrest. Days later, he abducted The Miz during a Raw match, which led to a brief reunion with his on-screen wife, Indi Hartwell, on NXT before yet another arrest.
In a twist of events, Lumis cost The Miz his United States Championship title during a steel cage match against Bobby Lashley. Lumis later showed up at Miz's house during an interview about the incident. The feud escalated when Lumis was assaulted by Miz in the October 17 Raw episode. Later, it was revealed that Miz had orchestrated Lumis's attacks on him and owed Lumis money for the act.
Lumis eventually overcame Miz in an "Anything Goes" match, earning a WWE contract and the money owed. However, he lost his winnings to Miz in a ladder match after interference from Bronson Reed.
Lumis made a brief NXT return in April 2023 at NXT Stand & Deliver, assisting his on-screen wife Hartwell in securing the NXT Women's Championship. He appeared again in May, this time rescuing Hartwell as she forfeited her title due to an injury and her transition to the RAW brand following the 2023 WWE Draft.
Dexter Lumis and Indi Hartwell: The Enigmatic WWE Love Story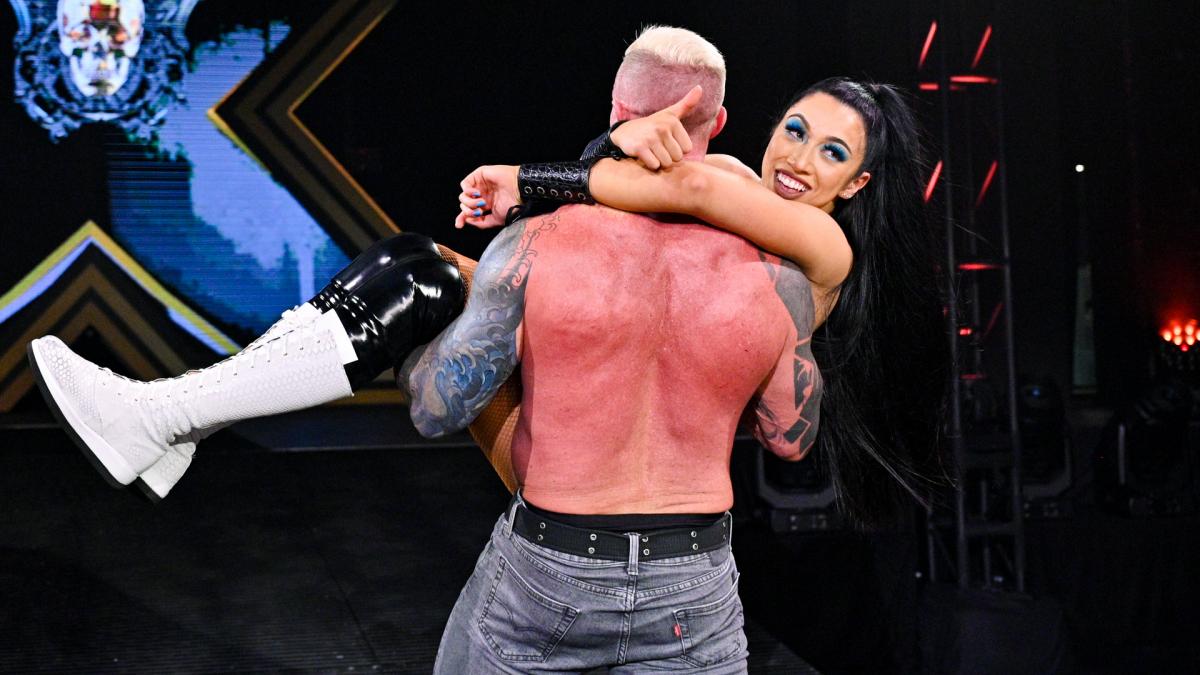 WWE RAW superstar Dexter Lumis and Indi Hartwell captured the hearts of fans in 2021 with their captivating on-screen romance. Known by their joint moniker 'InDex,' the pair quickly became a crowd favorite. Their unexpected love story spun multiple threads of intrigue and engagement that kept viewers on edge.
Lumis' Rise to Fame: The 'Tortured Artist'
Before his romantic involvement with Hartwell, Lumis was already making waves in the WWE Universe. Debuting his enigmatic 'Tortured Artist' gimmick, he became a consistent threat to former champions like Cameron Grimes and Johnny Gargano, solidifying his place on WWE's developmental brand.
The Birth of InDex
The Dexter Lumis-Indi Hartwell love story ostensibly started in February when Hartwell hesitated to strike Lumis with a steel chair during a match against Austin Theory. This hesitation hinted at her growing feelings for her teammate, a sentiment she confirmed after the match, branding Lumis as "hot."
InDex in Action: The Mixed Tag Team Match
In April, Dexter Lumis teamed up with Bronson Reed, Shotzi, and Ember Moon to take on The Way in an exhilarating eight-person mixed tag team match. Indi Hartwell ended up unconscious during the showdown, prompting Lumis to gallantly carry her away from the arena, further fueling the couple's popularity.
A Wrestling Wedding to Remember
In a surprising turn of events, Hartwell proposed to Lumis on the August 17, 2021 edition of WWE NXT, shortly after their first victory as a tag team. Their extravagant on-screen wedding took place on September 14, with the proceedings spiced up by Lumis choking out the priest to make room for Hall of Famer Beth Phoenix.
The Reality Behind the Romance
Despite their on-screen vows, many fans questioned whether Lumis and Hartwell were actually married off-screen. In an interview with Sportskeeda, Lumis confirmed the couple's relationship as purely a storyline, emphasizing its relatability to the WWE Universe.
InDex Today: What's Happening in WWE?
InDex continues to provide occasional romantic interludes even after Lumis' move to RAW. On NXT Heatwave, Hartwell received a touching letter from her on-screen husband that affirmed their ongoing relationship with the phrase 'InDex Forever.' Lumis is currently engaged in a program with The Miz and Johnny Gargano, which recently witnessed the return of Bronson Reed, who sided with Miz against Lumis.
Meanwhile, Hartwell is not deeply entangled in any major storyline but continues to display her prowess in the ring, evidenced by her victory in an Iron Survivor Challenge Wild Card Triple Threat match in December 2022 against Fallon Henley and Wendy Choo. Despite a recent defeat against Elektra Lopez, fans eagerly anticipate what's next for this dynamic WWE superstar.
Dexter Lumis Tattoos
American professional wrestler Dexter Lumis, currently signed to the WWE's RAW brand since 2019, has attracted attention not just for his wrestling career but also for his noticeable tattoos. Lumis, also known by his actual name Samuel Robert Shaw and his former ring names "Sam Shaw," "Lupus," and "Boss Hogg," initially sported tribal tattoos on his arms. However, he eventually decided to black out these symbols, creating an entirely different look that stirred up discussions among his fans.
Dexter Lumis' Tribal Tattoos and the Controversy
In his early wrestling career, especially during his time with Total Nonstop Action Wrestling (TNA) from 2010 to 2015, Lumis was known for his tribal tattoos. These tattoos, including a Superman logo surrounded by tribal symbols, were a significant part of his persona. However, fans were critical of these tattoos, often regarding them as meaningless and unoriginal. He also bore some religious designs but never discussed their symbolism or backstory, simply stating that he liked them.
Lumis' Decision to Black Out His Tattoos
After enduring a slew of criticisms for his tribal tattoos, Lumis chose to cover them with solid black ink. This process is often referred to as a "piercer sleeve," a term used for those who add more ink to cover previous tattoos due to regret or dissatisfaction with the original designs. The transformation was so drastic that it appeared his arms had to be censored. This decision was met with mixed reactions among fans, with some finding it an interesting way to handle a regrettable tattoo choice.
Tattoos as a Part of Lumis' Identity
Despite the controversy surrounding his tattoos, Lumis defended them as a means of gaining prominence and individuality in the wrestling world. The tribal symbols were a distinguishing feature, making him stand out among other wrestlers. However, these tattoos, unconnected with his personal heritage, were criticized for cultural insensitivity, particularly by those who felt he was using sensitive cultural symbols for personal gain.
Still, Lumis remained unfazed, believing his tattoos reflected rarity in the wrestling community. Despite the negative publicity, he preferred to cover his body art with more ink rather than undergo the process of removing them. His approach to his tattoos has indeed given him a unique identity, for better or worse, in the wrestling world.
Instagram
Stay connected with Dexter Lumis on Instagram! Follow him at https://www.instagram.com/dexterwwe/?hl=en to catch a glimpse into his world, updates, and exclusive content.
Dexter Lumis FAQs
In real life, are Indi Hartwell and Dexter Lumis a couple?
So, Dexter and Indi Hartwell have been on-screen pairs for a while. Prior to getting married inside the ring on the September 14 episode of NXT 2.0, they got engaged on the show in August of last year.
Does Dexter Lumis have a voice?
During his wedding, he said the first words he ever said in WWE. One of the most distinctive personalities in NXT was Dexter Lumis. Until one of the show's most wholesome episodes ever, he remained silent the entire time he was there.
Dexter Lumis: a creative person?
For WWE's Tortured Artist, Dexter Lumis, a passion for sketching is more than just a gimmick. Dexter Lumis is one of several superstars that Triple H and the current leadership of the company are bringing back to the WWE.