Saraya Jade Bevis, professionally known as Saraya or Paige, is a celebrated English wrestler born on August 17, 1992. Currently signed with All Elite Wrestling (AEW), she's renowned for her time with WWE as the two-time WWE Divas Champion and the first NXT Women's Champion. Saraya made history as the only woman to hold both Divas and NXT Women's Championships at the same time.
Her wrestling career began at 13, under the name Britani Knight, in her family's World Association of Wrestling promotion. After winning several European championships, WWE scouted and signed her in 2011. Her developmental journey included an impressive winning streak in NXT, culminating in her main roster debut in 2014, where she became the youngest WWE Divas Champion at 21.
Saraya faced challenges, including hiatuses in 2015 and 2016 due to a neck injury that required surgery. Another neck injury in 2017 forced her into early retirement from in-ring competition in 2018 at age 25. She remained with WWE, contributing to related programs and managing roles until July 2022. In September 2022, she signed with AEW, debuting at Grand Slam.
Throughout her career, Saraya received numerous accolades. Paige was ranked No. 1 in Pro Wrestling Illustrated's Female 50 and named Diva of the Year by Rolling Stone in 2014. In 2018, she received the WWE Year-End Award for General Manager of the Year. Saraya's life was spotlighted in the 2012 Channel 4 documentary, "The Wrestlers: Fighting with My Family," adapted into a 2019 feature film with Florence Pugh portraying her. Her transition from WWE to AEW signals an exciting new chapter in a career marked by resilience, innovation, and triumph.
Who is Paige WWE?
Paige WWE is a retired English professional wrestler and actress, signed to WWE. Not only is she a two-time WWE Divas Champion but also the inaugural NXT Women's Champion. She is the only person in the history of WWE, to have held both these championships concurrently. It should be noted that 'Paige' isn't her actual name; it's the ring name under which she performs. This popular female star presently resides in Los Angeles, California in the US. Her pale skin coupled with goth-festival makeup has undoubtedly charmed many hearts.
If you would like to know more about Paige WWE, then scroll over the article. You will come across a detailed biography and various lesser-known facts about the WWE superstar.
Paige WWE Biography/Wiki
Real Name
Saraya-Jade Bevis
Nick Name
Paige
Famous As
Wrestler
Age
31-years old
Birthday
17 August 1992
Birthplace
Norwich, England
Birth Sign
Leo
Nationality
British
Ethnicity
Mixed
Religion
Christianity
Height
5 ft 8 in (1.73 m)
Weight
54 Kg (120 lbs)
Body Measurements
34-26-35 inches
Bra Cup Size
33 C
Eye Color
Dark Brown
Hair Color
Blonde
Shoe Size
5 (US)
Boyfriend
1. Alberto Del Rio
2. Kalan Blehm
3. Ronnie Radke
Dating/Boyfriend (Name):
Ronnie Radke
Net Worth
$4 Million (USD)
Born on August 17, 1992, in Norwich, Norfolk, England, her name at birth was Saraya Jade Bevis. She holds British nationality and belongs to a mixed ethnicity.
Bevis belongs to a professional wrestling family. Likewise, her parents, Julia Hamer-Bevis (Sweet Saraya) and Patrick Bevis (Ricky Knight) are prominent wrestlers. Besides, even her older brothers, Roy Bevis and Zak Frary are also wrestlers. The Bevis family runs the World Association of Wrestling promotion in Norwich. Additionally, Julia owns and operates a women's wrestling promotion based in Norwich – Bellatrix Female Warriors.
Paige and her family lived in a council house in Norwich. Her primary alma mater was The Hewett School located in Norwich. In her initial years, she was scared of wrestling after seeing the injuries her family members received. Previously, the former WWE Divas Champion aspired to become a zoologist.
From the tender age of 10, she would get in the ring sometimes and fight one of her brothers. Her father, Patrick would guide her with wrestling tips.
When she was only 13, her younger brother breathed his last. Of Paige's several tattoos, one is specially dedicated to him.
After turning 15, she started working as a bouncer and bartender at her parents' pub in their absence.
Career
Bevis made her wrestling debut in 2005, at an age of 13. Her father asked her to replace a wrestler who had failed to turn up during a wrestling show. Her earliest recorded match was in April 2006. There she teamed with her mother for a loss in a triple threat tag team match in WAW. Initially, she started her career using the ring name Britani Knight.
When 14, she started sending résumés to various wrestling promotions in and around Europe. Eventually, she grabbed chances to wrestle in many countries. To name a few – Scotland, Turkey, Ireland, Norway, Wales, Germany, Belgium, Denmark, France, and the US. Since then, she began traveling by herself.
Despite being an amateur at wrestling, she went on to sign a contract with the WWE in 2011.
Bevis made her Main Roster debut in WWE, on the April 7 2014 episode of Raw. Surprisingly, this beauty defeated AJ in the match. Thereupon, she won her first Divas Championship in WWE, which consequently made her the youngest Divas Champion. When she won the championship, she also became the first female wrestler to hold a developmental and primary championship simultaneously.
Ever since this WWE superstar has won multiple Divas and Raw Women's Division championships. In addition, she has never lost the title in a match. Besides receiving ample accolades, she has also won several hearts across the globe. Moreover, she has led many new WWE superstars to the spotlight.
However, her in-ring career came to an end, unfortunately, owing to scoliosis. Nevertheless, her gorgeous face was a big attraction to the crowd. WWE wanted to use her potential on TV as well. Soon, she stepped into the shoes of the GM for Smackdown Live. Henceforth, Bevis stayed active despite being out of the competition.
Paige WWE Injury and Retirement
Paige's string of fights with fellow female wrestlers such as Nikki Bella and Sasha Banks resulted in her suspension. Previously, her first suspension came on August 17, 2016. Following this, WWE issued an immediate 60-day suspension for a second violation of its wrestling company's anti-drug Talent Wellness Programme. And this took place in October 2016.
Further, Paige underwent surgery to repair a herniated disc in her neck the same year. And she returned to in-ring competitions in 2017. However, during her first match since June 2016, she suffered yet another impact injury. For this reason, she had to unwillingly announce her retirement from in-ring fighting. She formally retired in 2018, when she was 25.
Nevertheless, she did not stay away from the ring for long. After 24 hours of having announced her retirement, she accepted Shane McMahon's offer to become SmackDown LIVE's General Manager. Even after moving on from her authoritative role, she remained with the blue brand. Briefly, she became the manager for Asuka and Kairi Sane as well.
Undoubtedly, the Glampire has remained a contributor to WWE-related programs and fulfilled managing roles.
Paige WWE Achievements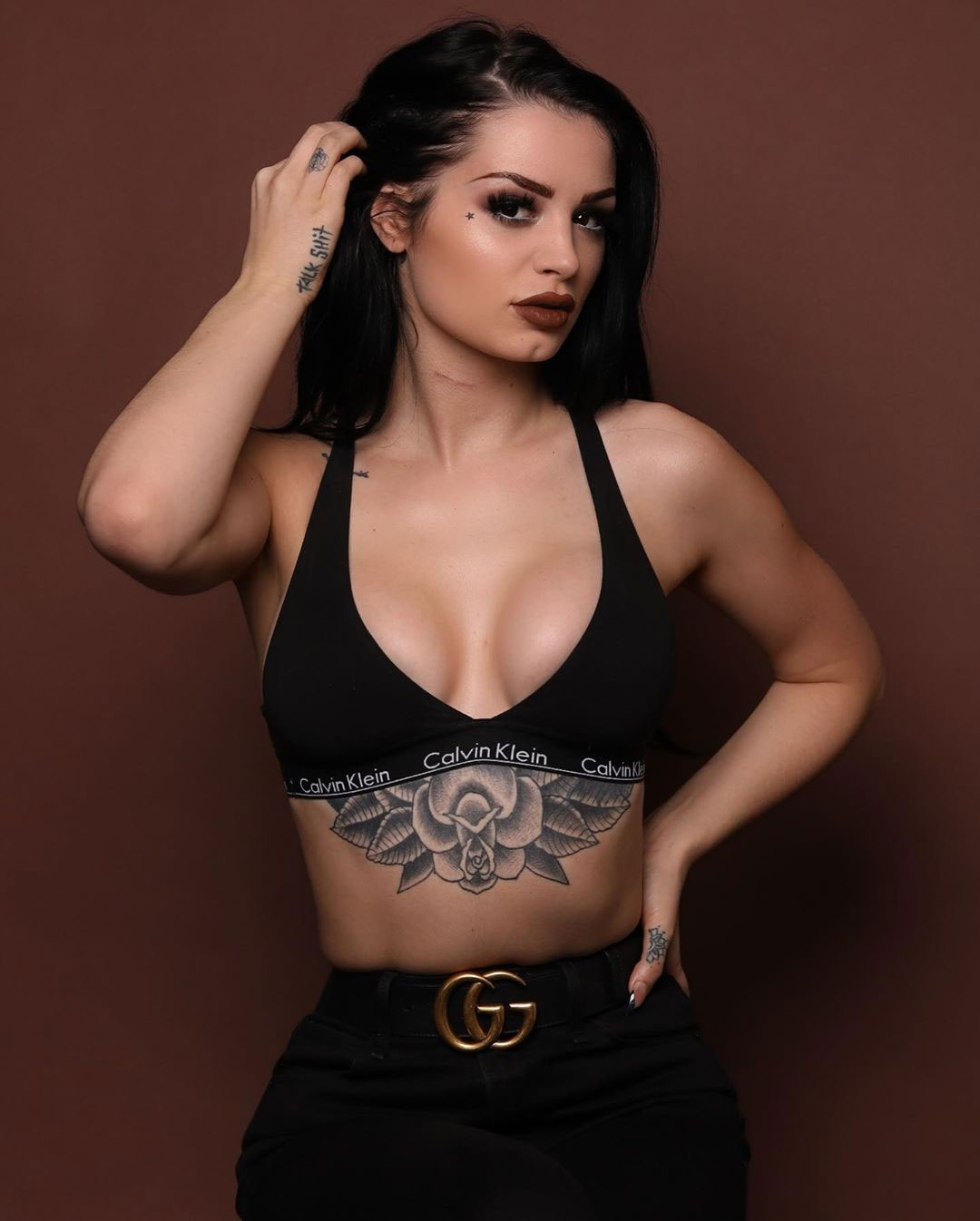 The WWE Superstar has several accomplishments up her sleeve. Therefore, listing them as follows:
NXT Diva of the Year (2012)
GSW Ladies Championship (Once)
HEW Women's Championship (Twice)
NXT Women's Championship (Once)
NXT Women's Championship Tournament (2013)
PWF Ladies Tag Team Championship (Once)
Pro-Wrestling: EVE Championship (Once)
RDW Women's Championship (Once)
RQW Women's Championship (Once)
SCW Women's Championship (Once)
WAWW British Tag Team Championship (Once)
WAWW Ladies Hardcore Championship (Once)
WAW British Ladies Championship (Once)
WWE Divas Championship (Twice)
Paige WWE Filmography
As mentioned earlier, the former WWE Superstar has been a part of different movies and TV shows. Let's take a look at them.
Movies
Santa's Little Helper (2015)
Scooby-Doo! and WWE: Curse of the Speed Demon (2016)
Surf's Up 2: WaveMania (2017)
TV Shows
The Wrestlers: Fighting With My Family (2012)
WWE Tough Enough (2015)
Conan (2015)
Total Divas (2015-2018)
Ridiculousness (2016)
Total Bellas (2018-2019)
Miz & Mrs. (2018-2019)
What Just Happened??! (2019)
WWE Backstage (2019-2020)
Paige WWE & Business Ventures
Paige co-launched a coffee company named The Dark Gypsy in September 2015. She partnered with the Blackcraft Cult clothing company owners, Bobby Schubenski and Jim Somers. However, in October 2016, Paige tweeted about no longer being affiliated with the company.
The next year, in December 2017, she launched an online clothing store. She named it under her real name Saraya – TheSarayaStore.com. Besides, she announced extending her brand to a brick-and-mortar store as well.
Following, on February 26, 2018, she hosted the grand opening at The Saraya Store in Anaheim, California. Soon, she introduced and launched a new makeup line as well – Saraya Jade Cosmetics, on November 16, 2018. The year 2019 saw her partnering with the brand Hot Topic to launch an exclusive makeup collection.
Paige AEW
Saraya, famously known in the wrestling world, made her thrilling return to the ring with AEW at Grand Slam in Queens, New York on 21 September 2022. Her comeback included an electrifying confrontation with Dr. Britt Baker, D.M.D., on 5 October's episode of AEW Dynamite, marking Saraya's first physical engagement since her 2017 neck injury.
The excitement peaked when Saraya announced she was fully cleared for action and went on to defeat Baker at Full Gear, her first match since 2017. Her AEW journey continued with a tag match alongside Toni Storm on 11 January 2023, and a match at AEW Revolution against Ruby Soho and Jamie Hayter for the Women's World Championship.
Saraya's involvement with Toni Storm led to significant victories, including a win against Skye Blue on 10 February, aided by Storm's distraction, culminating in a submission win with Saraya's signature Scorpion Cross-lock.
In March, the duo aligned with Soho, officially forming "The Outcasts." They embarked on a winning streak against AEW's homegrown talent and created memorable moments, including a surprise attack on Baker during a confrontation between Chris Jericho and Adam Cole on 19 April.
Paige WWE Nicknames
Paige's popular nicknames are:
Britani Knight
Norfolk Doll
Glampire
The Anti-Diva
The Diva Of Tomorrow
The Enchanting or Mysterious Raven-Haired Lady
Porcelain Princess
Paige WWE Net Worth
Currently, the former WWE superstar has a net worth that roughly stands at $3.5 million. Starring in various films and shows has also helped in increasing her net worth to a larger extent. Her association with WWE helps in reportedly earning a basic paycheck of $200K on an annual basis. Considering her current status with the WWE, this is quite huge as she is a retired professional. The Anti-Diva's other sources of income include her online clothing line and cosmetic stores as well. In fact, she is presently in the Top 20 Richest WWE Divas of All-time.
Paige WWE Personal Life
Paige has often been in the headlines due to her personal life. Over the years, she has switched partners like none else in the WWE locker room.
Besides, she has openly confirmed her bisexual instincts. She admitted to having previously dated another woman, on the WWE Reality TV show Total Divas.
Paige WWE and Kevin Skaff
In 2015, she had her engagement with A Day to Remember guitarist Kevin Skaff. This special moment took place during an episode of Total Divas, where Kevin surprised her with a unique proposal.
However, this couple ended up calling it quits. Paige admitted to realizing that she was not ready to marry. Also, she chose not to get into a long-term, serious relationship then. At that point in her life, she only wanted to focus on herself and her career.
Paige WWE and Bradley Walden
Bradley Walden was a singer for the rock band, Emarosa. His relationship with Paige became the subject of plenty of storylines on Total Divas. They didn't seem to have a very smooth relationship; there were plenty of ups and downs. They were just not compatible, and in the end, their relationship met a dead end. Paige called him a "huge baby" because of how they broke up. Bradley had dumped her over texts, which is indeed deplorable, regardless of what happened between them.
Paige WWE and Alberto Del Rio
Again, in October 2016, she exchanged rings with fellow wrestler José Alberto Rodríguez Chucuan. His ring name in the WWE was Alberto Del Rio. This relationship was shocking, as Alberto was 15 years older than Paige. Moreover, he had just divorced his wife a few months before starting an affair with Paige.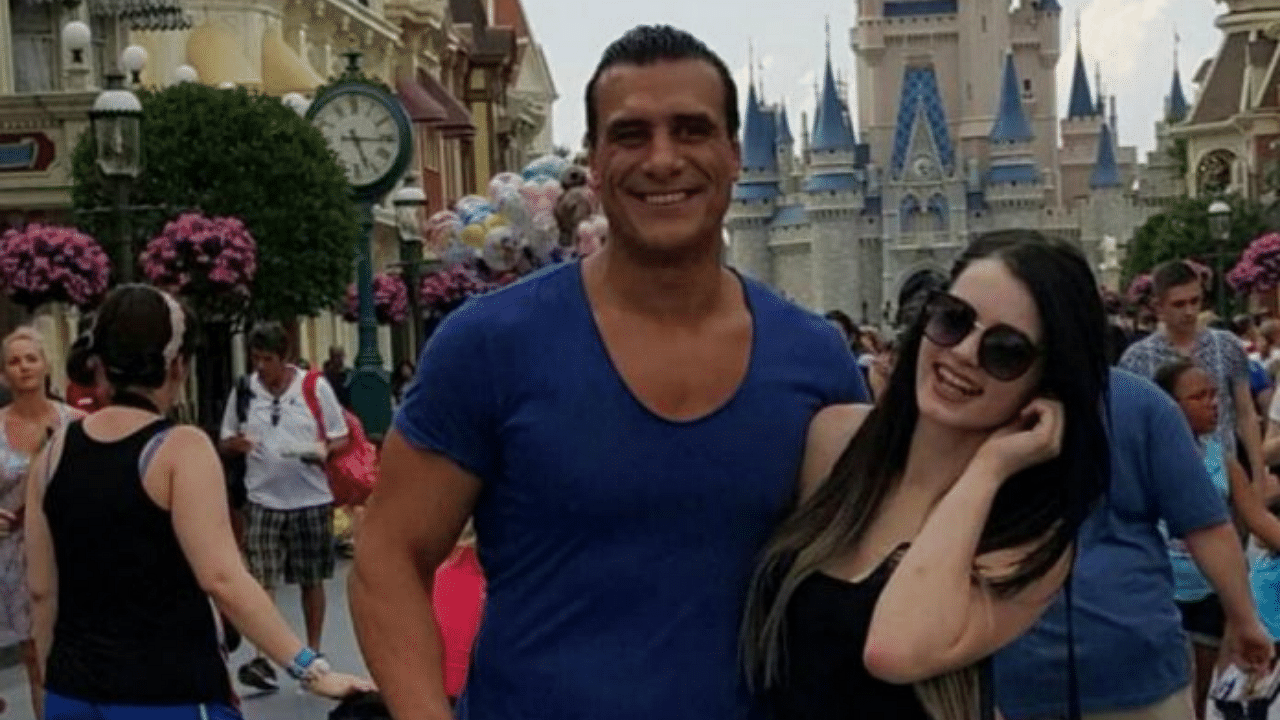 Despite the severe criticism from Paige's fans, family, friends, and co-workers, she continued with her relationship. However, this couple had a heated argument once at an airport in Orlando, Florida. Shortly after this, they parted ways in late 2017.
In July 2021, Alberto threatened to expose her for her previous arrests. As per his claims, Paige breached a $1 million confidentiality agreement between them by commenting on their affair. Also, he made claims of domestic violence against her during an interview with Hannibal TV. Meanwhile, Alberto himself was facing allegations of sexual assault from his former girlfriend, Reyna. If convicted, he would surely be put behind bars.
Paige WWE and Kalan Blehm
After ending her stormy affair with former WWE Superstar Alberto Del Rio, Paige soon began dating Kalan Blehm. If you are wondering who Kalan Blehm is, then let us briefly introduce him to you. Kalan is a bass guitar player and backup vocalist for the metal-core band, Atilla.
They began dating in and around November 2017. And in February 2018, Paige made their relationship official by sharing a photo of the duo sitting courtside. However, she made it clear about trying to keep this relationship under wraps.
Reportedly, the couple broke up on a bitter note. While speaking about the reason for their breakup, WWE announcer Charly Caruso mentioned Kalan's insecurity indirectly. In his words, men find it hard to maintain a relationship with a very successful and established partner.
Paige WWE and Ronnie Radke
Since late 2018, she has been in a relationship with Falling in Reverse lead singer Ronnie Radke. Evidently, she is quite happy and head over heels in love with Radke. After having a turbulent love life, Paige is finally having a steady relationship.
Paige WWE Sex Tape Scandal
In March 2017, an ugly event changed Paige's life. Her private nude photos and a sex tape featuring her were leaked online. Brad Maddox had videotaped the whole thing himself. The leaked sex tape revealed Paige WWE and Xavier Woods to be friends with benefits. Since the footage leaked, Brad's popularity soared overnight.
This incident resulted in her catching up on stress-induced anorexia. In fact, she even considered suicide after this.
Mostly Goggled Facts about Paige WWE
Therefore, we bring to you the most sought-after facts about Paige WWE on Google. Read on.
Paige WWE Real Name
The real name of this Norwich-raised star is Saraya Jade Bevis.
Paige WWE Age
The Anti-Diva is currently 31 years of age.
Paige WWE Birthday
She celebrates her birthday every year on August 17.
Paige WWE Birth Sign
Her birth sign is Leo.
Paige WWE Height
She stands tall at a height of 5'8″ or 1.73 m.
Paige WWE Weight
She weighs around 54 kg or 120 lbs.
Paige WWE Physical Stats
Body measurements – 34-26-35 inches
Bra Cup size – 33C
Show size – 5 (US)
Hair color – Blonde
Eye color – Dark brown
Paige WWE Debut
The wrestling superstar made her main roster debut on the April 7, 2014 episode of Raw.
Paige WWE Boyfriend
The Glampire has been dating musician Ronnie Radke since 2018. He has been a huge support to the star during her difficult times. However, they have not tied the knot yet.
Paige WWE Drugs
For a major part of 2017, Paige had been quite a headliner in the pro-wrestling field. However, it was not due to her association with WWE or performing well inside the ring. Rather, her involvement in wrong moves drew public attention. Despite WWE's warning to stay away from Alberto, she paid no heed and suffered multiple wellness policy violations.
Further, in her attempt to look cool, she just got wrapped up in drinking and the party lifestyle. At one point, there arose speculations that she might even be addicted to drugs.
Paige WWE Plastic Surgery
As per reports, Paige is a fan of Botox. She prefers to get it for her forehead. In addition, she likes getting lip plumpers.
Paige WWE Miscarriage
When she was just 18, the wrestling superstar found out she was pregnant. However, tragedy struck as she suffered a miscarriage early in the pregnancy. Besides losing the baby, she also had to undergo emergency surgery to fix some issues with her ovaries. That surgery unfortunately left her incapable of conceiving for a lifetime.