Mercedes Justine Kaestner-Varnado, known as Mercedes Moné in New Japan Pro-Wrestling (NJPW) and formerly Sasha Banks in WWE, is a prominent American professional wrestler. Born on January 26, 1992, she began her wrestling career in 2010 with Chaotic Wrestling, winning the Women's Championship.
In 2012, she joined WWE's NXT, where she became the NXT Women's Champion and made history with Bayley in the first-ever women's iron match. Voted Woman of the Year by Pro Wrestling Illustrated, she was promoted to WWE's main roster in 2015.
Varnado's WWE career includes five Raw Women's Championships, the inaugural WWE Women's Tag Team Championship, and the SmackDown Women's Championship. She became a Women's Grand Slam and Triple Crown Champion, and was named Wrestler of the Year by Sports Illustrated in 2020.
Alongside Charlotte Flair, she broke barriers in the first women's Hell in a Cell match and headlined a WWE pay-per-view event. At WrestleMania 37, she and Bianca Belair were the first two black women to headline the event.
After leaving WWE in 2022, Varnado debuted in NJPW/Stardom as Mercedes Moné in January 2023, where she became a former IWGP Women's Champion and appeared in World Wonder Ring Stardom.
Outside the ring, she portrays Koska Reeves in the Disney+ series The Mandalorian. Her impact on the wrestling world, from her time in WWE to her current role in NJPW, reflects her talent, versatility, and pioneering spirit in the industry. Her achievements continue to inspire and shape the future of women's professional wrestling.
Who Is Sasha Banks?
Sasha Banks, born as Mercedes Justine Kaestner-Varnado, is a name synonymous with groundbreaking achievements in the world of professional wrestling. Emerging from Boston's independent wrestling scene, Banks' talent and determination led her to WWE's NXT, where she transformed into "The Boss." Her rise to stardom was meteoric, as she became a key figure in WWE's Women's Evolution.
Banks has made history on multiple occasions, participating in the first-ever Women's WWE Iron Man, Hell in a Cell, Royal Rumble, and Elimination Chamber Matches. Alongside Bayley, she became one of the first WWE Women's Tag Team Champions. Her accolades include multiple Raw Women's Titles and a reputation for being a trailblazer in the industry.
Sasha Banks' influence extends beyond the ring, setting new standards and inspiring the next generation of female wrestlers. Her story is a testament to talent, hard work, and the relentless pursuit of excellence.
Sasha Banks Biography/Wiki
| | |
| --- | --- |
| Real Name | Mercedes Justine Kaestner-Varnado |
| Date Of Birth | January 26, 1992 (age 31) |
| Place Of Birth | Fairfield, California, U.S. |
| Occupation | Professional wrestler |
| Spouse | Sarath Ton (m. 2016) |
| Relatives | Snoop Dogg (cousin), Brandy Norwood (cousin), Ray J (cousin), Daz Dillinger (cousin) |
| Ring name(s) | Mercedes KV, Mercedes Moné, Miss Mercedes, Sasha Banks |
| Billed height | 5 ft 5 in (165 cm) |
| Billed from | Boston, Massachusetts, U.S., Cambridge, Massachusetts, U.S. |
| Trained by | Brian Fury, Brian Milonas, Sara Del Rey, WWE Performance Center |
| Debut | August 8, 2010 |
Sasha Banks Birth & Early Life
Born on January 26, 1992, in Fairfield, California, Sasha Banks developed a passion for wrestling at a young age. Despite her mother's disapproval, she would sneak into her brother's room to watch pro-wrestling on TV. Her family's frequent relocations to find suitable facilities for her disabled brother played a significant role in her upbringing. She began her wrestling training at Chaotic Wrestling in 2008 and later signed with WWE in 2012, changing her ring name to Sasha Banks.
Sasha Banks Real Name
Sasha Banks, a renowned name in the world of professional wrestling, was born as Mercedes Justine Kaestner-Varnado on January 26, 1992. Known for her charismatic presence and wrestling prowess, she has made a significant mark in the industry. Her ring name, Sasha Banks, has become synonymous with success and talent, but her real name, Mercedes Kaestner-Varnado, reflects her unique identity and heritage.
Sasha Banks Parents, Siblings & Relatives
Mercedes Kaestner-Varnado, popularly known as Sasha Banks, was born in Fairfield, California, USA.
Details about her father's name are not publicly known, but her mother, Judith Varnado, played a significant role in her life. She has a physically disabled brother, and the family had to relocate frequently to find suitable schools and hospitals for him.
Sasha is also related to famous personalities like rapper Snoop Dogg, music producer Daz Dillinger, and singers Brandy Norwood and Ray J.
Sasha Banks Nationality & Ethnicity
Banks holds American nationality and hails from Fairfield, California. Her ethnic background is a blend of German and African American descent.
Sasha Banks Age
As of 2023, Sasha Banks is 31 years old. Born on January 26, 1992, she has achieved remarkable success in her professional wrestling career.
Sasha Banks Height
Sasha Banks stands tall at a height of 5'5″ or 1.65 m. Her height, combined with her agility and athleticism, has made her one of the most prominent figures in women's wrestling. Her stature complements her in-ring style, making her a formidable opponent.
Sasha Banks Weight
Sasha Banks weighs around 52 kg or 115 lbs. Her weight is well-proportioned to her height, contributing to her agility, strength, and endurance in the ring. Her dedication to maintaining optimal physical condition is a testament to her professionalism.
Sasha Banks Physical Appearance & Body Measurement
Sasha Banks possesses an athletic physique with body measurements of 30-27-32 inches. Her hair color is black, and her eye color is also black. She has a fair body color, which adds to her striking appearance. Known for her extravagant looks and highly effective wrestling moves, her appearance is both vibrant and functional.
Sasha Banks & Chaotic Wrestling
In 2008, Banks began her wrestling journey by enrolling in Chaotic Wrestling (CW) classes in Woburn, Massachusetts. She trained rigorously and made her debut on October 1, 2010, as Mercedes KV. Alongside Nikki Roxx, she entered a tag team match against Alexxis and Danny E. Roxx and she worked together often, creating a dynamic presence. Early setbacks included two defeats by Danny E, but KV remained determined.
KV and Roxx won their first victory on January 7, 2011, over Alexxis and Mistress Belmont. KV aimed for the Women's Championship but fell short in a gauntlet match. The year had ups and downs, with KV wrestling in singles. She finally won the Women's Championship on December 2, defeating Alexxis in an "I Quit" match.
2012 started with KV successfully defending her title against Barbie on January 6. Her reign included bold victories over Luscious Latasha, Nikki Roxx, and others. She triumphed in a four-way match on June 1, setting a new record as the longest-reigning Women's Champion in CW history.
KV kept her dominance, beating opponents like Barbie, Aida Marie, and Kasey Ray. She lost to Ivy Fit in her last appearance for CW on August 18. WWE signed KV on August 17, starting a new chapter. Her departure ended a 259-day reign as the Women's Champion, a defining era in women's wrestling.
Sasha Banks Independent Circuit
KV made her pro wrestling debut in New England Championship Wrestling (NECW) on August 8. There, she teamed up with Ivy to defeat Sammi Lane and Ariel's team. On September 4, 2011, she attracted a large number to the NECW by returning there. Additionally, she teamed up with Ivy once more to defeat Mistress Belmont and Veda Scott. Moreover, KV beat Mistress Belmont on September 23 in a singles match. On July 14, 2012, at the Red White and Bruised event, KV made a second return in the promo though.
On November 19, 2010, KV made her National Wrestling Alliance (NWA) debut against Julian Starr. This time, nevertheless, she assumed the ring alias Miss Mercedes. Following that, Mercedes won singles matches against Sheik Ali and Nick Fahrenheit on the next two nights. Mercedes and The Great Cheyenne got into a fight after she defeated her over and over again. On August 9, 2011, however, she defeated Arlene in a singles match to win her final match for the NWA.
Sasha Banks: WWE Career
The BFFs (2012–2014)
In June 2012, Kaestner-Varnado attended a WWE tryout camp. She signed a contract on August 18 and joined NXT, WWE's talent incubator. Adopting the ring name Sasha Banks, she made her TV debut on December 12, facing Paige.
Banks' NXT journey was eventful. A secret admirer storyline led to a feud with Audrey Marie. Banks and Paige defeated Marie and Summer Rae in a tag team match. Banks then competed for the NXT Women's Championship but lost in the first round. Influenced by Summer Rae, she lost again to Champion Paige. After that loss, she attacked Paige and turned heel.
As "The Boss," Banks teamed up with Rae, forming The Beautiful, Fierce Females (BFFs). They beat opponents like Paige, Emma, Bayley, and Charlotte. When Rae moved to WWE's main roster in mid-January 2014, dynamics shifted. Banks, Charlotte, Bayley, and Natalya started a rivalry. Banks' fame grew, and she appeared at WrestleMania XXX.
Sasha Banks then aimed for the vacant NXT Women's Championship. She beat Bayley but lost to Natalya in the semi-finals. Her alliance with Charlotte ended in July, breaking up the BFFs.
NXT Women's Champion (2014–2015)
On August 14, Sasha Banks fought Bayley on NXT to be the number one contender for the Women's Championship. Bayley defeated her. Their rivalry grew at NXT TakeOver: Fatal 4-Way on September 11. There, Banks attacked Bayley, but Charlotte stopped her.
In the weeks that followed, Banks joined forces with Becky Lynch. They challenged NXT Women's Champion Charlotte. Banks lost the title match on December 11 at NXT TakeOver: R Evolution and a rematch on December 25. She made her main roster debut on December 30, 2014, losing to Charlotte.
The new year brought Banks opportunities. On February 11, 2015, she won the NXT Women's Championship at NXT TakeOver: Rival. Her reign included successful defenses against Charlotte, Alexa Bliss, and Becky Lynch.
Her reign ended at NXT TakeOver: Brooklyn on August 22. She lost the title to Bayley after 192 days. The match received praise and won Match of the Year at the NXT Year-End Awards. Their feud ended at NXT TakeOver: Respect on October 7. Bayley defeated Banks in the first women's 30-minute Iron Man match in WWE history, winning three falls to two.
Team B.A.D. (2015–2016)
Sasha Banks made her official WWE main roster debut on July 13, 2015, during Raw. This marked a significant shift in the WWE Divas division. Alongside Charlotte and Becky Lynch, Banks joined Stephanie McMahon's call for a "revolution" in women's wrestling. While Charlotte and Lynch teamed with Paige, Banks formed Team B.A.D. (Beautiful and Dangerous) with Naomi and Tamina. This ignited a fierce rivalry between the three teams.
Immediately, Banks made an impact by competing in a triple threat match against Charlotte and Brie Bella at Battleground on July 19. Although she didn't win, her matches against Paige and Divas Champion Nikki Bella showcased her skill. Additionally, her role in the first-ever Divas number one contender's Beat the Clock challenge solidified her top contender status.
In the following months, Banks defeated notable opponents such as Brie Bella, Alicia Fox, and Becky Lynch. Furthermore, she rekindled her rivalry with Paige, leading to multiple victories. Her performance in a fatal four-way number one contender's match further demonstrated her prowess.
After briefly stepping away from television, Banks returned at the Royal Rumble pay-per-view on January 24, 2016. She announced her intention to pursue the Divas Championship, separating from Team B.A.D. Consequently, this turned her into a fan favorite. Her feud with Naomi and Tamina ended in a tag team victory at Fastlane, where she teamed with Lynch.
On the road to WrestleMania 32, intense competition arose between Banks, Lynch, and Charlotte. Two inconclusive matches to determine the number one contender led to a triple threat match at WrestleMania. In a historic moment, the Divas Championship was retired, and the new WWE Women's Championship was introduced.
Raw Women's Champion (2016–2017)
Sasha Banks triumphantly returned to WWE television in early June. She reignited her feud with Charlotte over the WWE Women's Championship. This sparked a series of confrontations and matches. They climaxed in a tag team victory with Paige on Raw, on June 27. She continued her rivalry with Charlotte and Dana Brooke. At Battleground on July 24, she teamed with surprise partner Bayley to defeat them.
Banks' momentum surged when she was drafted to the Raw brand during the 2016 WWE draft. On July 25, she defeated Charlotte to win the WWE Women's Championship for the first time. Unfortunately, she lost the title to Charlotte at SummerSlam. Her reign lasted just 27 days, and the title was renamed the Raw Women's Championship.
In October, the feud between Banks and Charlotte escalated. Banks won back the title on the October 3 episode of Raw. Then, they competed in the first-ever women's Hell in a Cell match, which was also the main event. Although she lost the title to Charlotte, Banks remained a prominent figure.
Banks' third reign as Raw Women's Champion came after defeating Charlotte in a falls count anywhere match. Additionally, their rivalry culminated in a 30-minute Iron Man match at Roadblock. There, Banks lost to Flair in sudden death overtime.
In the following months, Banks helped Bayley win the Raw Women's Championship. She also participated in a fatal four-way elimination match at WrestleMania 33. Her pursuit of the title continued as she faced Alexa Bliss. She won the championship at SummerSlam but lost it to Bliss eight days later on Raw.
The Boss 'n' Hug Connection (2017–2019)
Sasha Banks kept breaking barriers in WWE, including competing in the first-ever women's match in Abu Dhabi against Alexa Bliss in December. In 2018, she played a key role in historic matches. This included the first Women's Royal Rumble, where she impressively lasted 54:46, and the inaugural women's Elimination Chamber match.
Banks' relationship with Bayley evolved into a significant storyline marked by betrayal and animosity. After weeks of rising tension, they fought backstage, and their rivalry grew. This led to various matches, culminating in a no-contest match in April, interrupted by The Riott Squad.
In June, Banks competed in her first Money in the Bank ladder match but lost to Alexa Bliss. The tension between Banks and Bayley required counseling sessions, eventually leading to reconciliation. In July, they formed a tag team known as "The Boss 'n' Hug Connection."
Banks returned from an injury in October and participated in the all-women's pay-per-view Evolution. Here, she teamed with Bayley and Natalya for a win over The Riott Squad. Despite a separated shoulder, she performed well at Survivor Series and in a title match against Ronda Rousey at the Royal Rumble.
A highlight of her career came on February 17 at the Elimination Chamber. She and Bayley won the inaugural WWE Women's Tag Team Championship. They successfully defended the titles at Fastlane, but, unfortunately, lost them at WrestleMania 35 to The IIconics. This loss ended their reign at 49 days.
Hiatus and renewed alliance with Bayley (2019–2020)
Sasha Banks' career took an unexpected twist after WrestleMania 35. She canceled a talk show appearance on Wendy, sparking rumors about her leaving WWE. These rumors grew from Banks' reported unhappiness with a last-minute decision at WrestleMania. Struggling with depression, she asked for her release, but WWE's Vince McMahon denied it, instead offering her time off.
Four months later, Banks returned triumphantly, teaming with Bayley as heels. They reignited a feud with Raw Women's Champion Becky Lynch. This led to a Clash of Champions match, where Banks won by disqualification, but Lynch kept the title. Unfortunately, their rivalry culminated with Banks losing the second-ever women's Hell in a Cell match.
In a new phase, Banks was drafted to SmackDown in the 2019 draft but then took a brief hiatus due to injury. When she returned, she led the SmackDown women's team at Survivor Series. She was the last woman standing for her brand but lost to Rhea Ripley from Team NXT.
Banks' pursuit of success continued. At WrestleMania 36, she faced a tough challenge in a fatal five-way elimination match for Bayley's SmackDown Women's Championship. Despite her best efforts, she couldn't win the title.
SmackDown Women's Champion (2020–2021)
After WrestleMania 36, Sasha Banks and Bayley sparked a storyline. The duo won back the WWE Women's Tag Team Championship on June 5, defeating Alexa Bliss and Nikki Cross. Their reign ignited a feud with Asuka, culminating in a controversial match at The Horror Show at Extreme Rules.
Then, Banks beat Asuka on Raw, winning the Raw Women's Championship for the fifth time. This win made her and Bayley the first female tag team to hold singles and tag team titles simultaneously. Their feud with Asuka persisted until Banks lost her title back at SummerSlam. A week later, they also lost the Tag Team Championship.
In a shocking turn of events on September 4, Bayley betrayed Banks, attacking her. Consequently, a Hell in a Cell match unfolded where Banks won the SmackDown Women's Championship. She became the third Women's Grand Slam and fourth Triple Crown Champion. Banks then defended her title against Bayley and Carmella, breaking her streak of unsuccessful defenses.
At the Royal Rumble, she kept her title against Carmella. However, Bianca Belair, who won the women's Royal Rumble match, chose to face Banks at WrestleMania 37. This was the first time two African-American women faced off in a marquee WrestleMania match. Banks lost her title to Belair, ending her 167-day reign.
Banks was set to face Belair at SummerSlam in July but got pulled from the event. Later, she competed in a triple threat match at Crown Jewel but didn't regain the title. She captained the SmackDown women's team at Survivor Series, but a countout eliminated her.
Partnership with Naomi and departure (2022)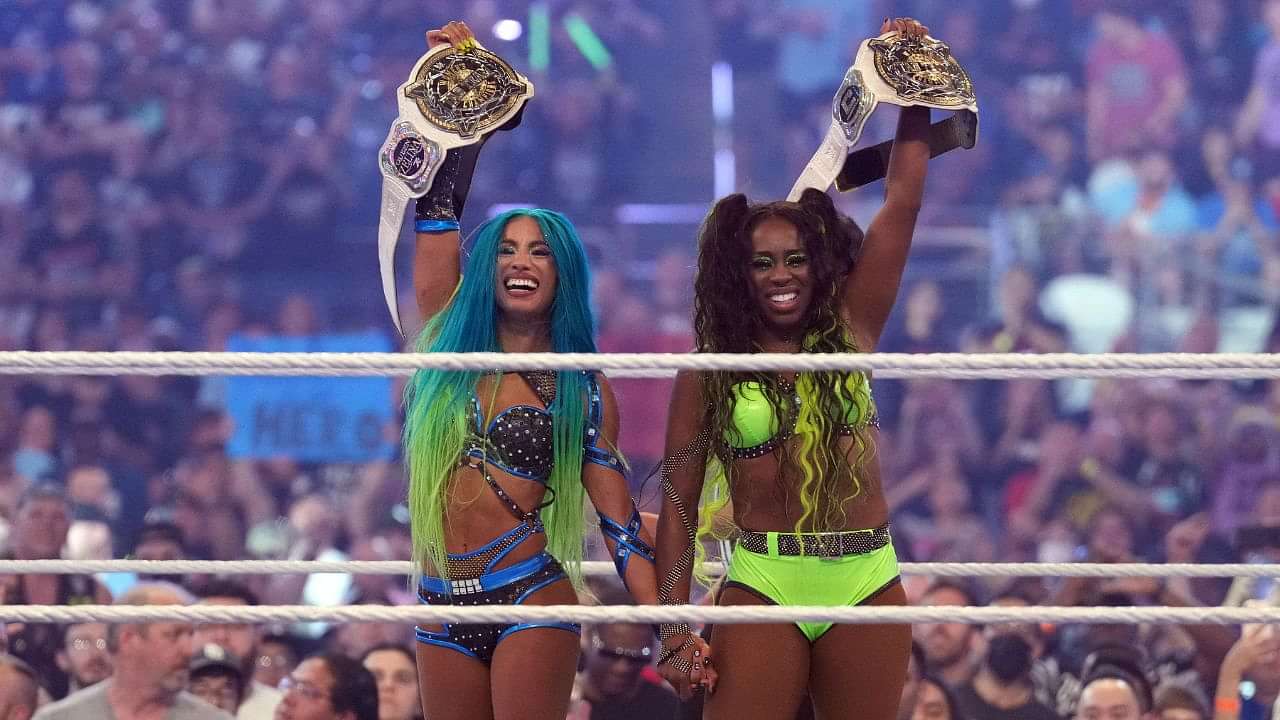 On January 2, 2022, Sasha Banks suffered a calcaneus injury during a house show match against Charlotte Flair but made a triumphant return on the January 28 episode of SmackDown, declaring her entry into the women's Royal Rumble match. At the event, she made notable eliminations before being ousted by Queen Zelina. Later, on the February 25 episode of SmackDown, Naomi and Banks announced their intention to challenge for the WWE Women's Tag Team Championship.
At WrestleMania 38, the duo achieved victory, with Banks tying a record with her third Tag Team Championship win. However, this success was short-lived, as tensions with WWE management escalated. On May 16, Banks and Naomi reportedly walked out on WWE due to a creative dispute with Vince McMahon. WWE's official statement described the pair leaving their championship belts with WWE Head of Talent Relations John Laurinaitis and walking out, leading to their suspension and the subsequent vacation of the titles.
The situation marked a dramatic turn in Banks' career, culminating in reports in December 2022 that negotiations over compensation had failed, and Banks was officially done with WWE.
Sasha Banks &

New Japan Pro-Wrestling and Stardom
In a thrilling development, Varnado, known as Mercedes Moné, made her debut in New Japan Pro-Wrestling (NJPW) at Wrestle Kingdom 17 on January 4, 2023. She confronted and attacked reigning IWGP Women's Champion Kairi, announcing her alliance with NJPW and World Wonder Ring Stardom.
This led to a title match at Battle in the Valley on February 18, where Moné triumphed over Kairi to win the championship. Her first title defense at Sakura Genesis on April 8 saw her defeat AZM and Hazuki in a three-way match. However, her reign ended at 64 days when she lost the title to Mayu Iwatani at Stardom All Star Grand Queendom.
Moné then participated in a tournament at Resurgence on May 21, advancing to the finals but losing to Willow Nightingale. Unfortunately, she sustained an ankle injury during the match, adding a dramatic twist to her burgeoning NJPW career.
Sasha Banks & Her Wrestling Moves
Sasha Banks, one of the most celebrated female wrestlers, has left an indelible mark in the wrestling world with her unique and powerful moves. Known for her athleticism and finesse, Banks has a collection of moves that are both visually stunning and highly effective. Her top 5 moves include:
Banks Statement: A submission move that often leads to victory, this cross-face technique leaves opponents with no choice but to tap out.
Frog Splash: Inspired by Eddie Guerrero, this move sees Banks diving from the top rope, making a frog-like motion in the air.
Diving Meteora: An athletic move where Banks dives from the ring apron, delivering both knees to the face of her opponents.
Backstabber: Often used as a setup for her finishing move, the Backstabber involves Banks striking her opponents with both knees from behind.
Tornado DDT: A visually pleasing move where Banks runs from the second rope to deliver a DDT, resulting in near falls.
Though no longer with WWE, Sasha Banks' incredible moves continue to resonate with fans and fellow wrestlers alike, showcasing her unparalleled skill and dedication to the sport. Her legacy in wrestling is cemented by these signature moves, reflecting her status as one of the greatest female wrestlers of all time.
Sasha Banks Championships and Accomplishments
Sasha Banks, born Mercedes Justine Kaestner-Varnado, has become a symbol of excellence in the world of professional wrestling. Her career, marked by numerous championships and accomplishments, reflects her dedication, skill, and charisma in the ring.
World Wrestling Entertainment (WWE):
5 WWE/WWE Raw Women's Championships: Sasha's reigns as Raw Women's Champion have been thrilling, showcasing her ability to deliver in high-pressure situations.
1 WWE SmackDown Women's Championship: Her victory at SmackDown further cemented her status as one of the top female wrestlers.
3 WWE Women's Tag Team Championships: Twice with Bayley and once with Naomi, these wins highlight her versatility and teamwork.
1 NXT Women's Championship: Her time in NXT was marked by classic matches and a title reign that set the stage for her main roster success.
New Japan Pro Wrestling (NJPW) and Other Promotions:
1 IWGP Women's Championship: Her recent success in NJPW adds to her global appeal and recognition.
Various Other Titles: Including the CW Women's Championship, IWE Women's Championship, and RWC No Limitz Championship.
Special Accomplishments:
WWE Women's Grand Slam and Triple Crown Champion: A testament to her all-around ability and dominance in WWE.
PWI Woman of the Year (2015), Tag Team of the Year (2020 – with Bayley), and other PWI honors.
WWE Year-End, Slammy, and Bumpy Awards: Recognizing her as Woman of the Year and for standout matches and feuds.
ESPY Award – Best WWE Moment (2021): With Bianca Belair, for making history as the first Black women to main event WrestleMania.
Sports Illustrated Wrestler of the Year (2020): A prestigious honor reflecting her impact on the sport.
Sasha Banks' career is filled with groundbreaking moments, from her part in the Women's Revolution in WWE to her current work in NJPW and STARDOM under the ring name Mercedes Moné.
Sasha Banks Video Game
She first debuted in a video game as Sasha Banks in WWE 2K17. Ever since, she has made subsequent cameos in WWE 2K18, 2K19, 2K20, and 2K22. In addition, you can even spot her in the WWE SuperCard and WWE Mayhem mobile games. Moreover, her other features include YouTube videos, UpUpDownDown, and Smosh Games.
Sasha Banks TV
In the second season of the Disney+ TV series The Mandalorian, Banks makes her acting debut as Koska Reeves. Likewise, she essays the role of a Mandalorian working for Bo-Katan Kryze as a member of the Nite Owls.
Sasha Banks Music
The Mountain Goats wrote and performed the 'Song for Sasha Banks'. It retells her early years of watching Chris Jericho compete on SmackDown. This was before she went on to become a pro wrestler in her own right though. On June 18, 2018, it gained a release digitally as a single track.
Sasha Banks Salary, Earnings & Net Worth 2023
Sasha Banks, a prominent figure in professional wrestling, has achieved significant financial success in her career. As of 2023, her net worth is estimated to be around $5 million. Her yearly income and salary are reported to be $500,000+, with a monthly income of $40,000+.
Apart from wrestling, Banks has also made her mark as an actress, contributing to her earnings. Her financial growth over the years reflects her increasing popularity and success in the wrestling world.
With properties in California and Florida and a collection of luxury cars, including a Mercedes Benz and Range Rover, Sasha Banks continues to be a symbol of success and inspiration in the wrestling industry.
Sasha Banks and Snoop Dogg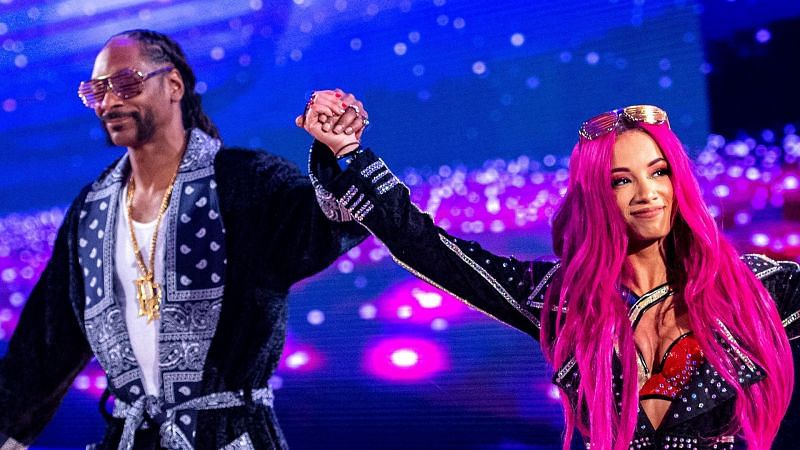 The relationship between Sasha Banks and Snoop Dogg is a fascinating tale of family bonds intertwined with a shared passion for professional wrestling. Cousins by blood, Sasha and Snoop didn't grow up close together, with a 20-year age gap and living on opposite coasts. Their connection blossomed when they discovered their mutual love for wrestling.
Snoop Dogg's involvement with WWE at WrestleMania 24 allowed Sasha, then a teenager, to attend the event as his guest. This experience further ignited her desire to become a wrestler, and Snoop played a vital role in nurturing her dreams. Their relationship transcended family ties, becoming part of the wrestling world itself.
Sasha's "The Boss" character was inspired by Snoop, and he even rapped her to the ring during her first WrestleMania 32 entrance. Snoop's induction into the WWE Hall of Fame in 2016 and his remix of Sasha's entrance theme further solidified their connection in the wrestling industry.
Even after Sasha's departure from WWE and her transformation into Mercedes Mone in NJPW, Snoop continues to support his cousin, celebrating their "bloodline" on social media.
Sasha Banks Husband: Sarath Ton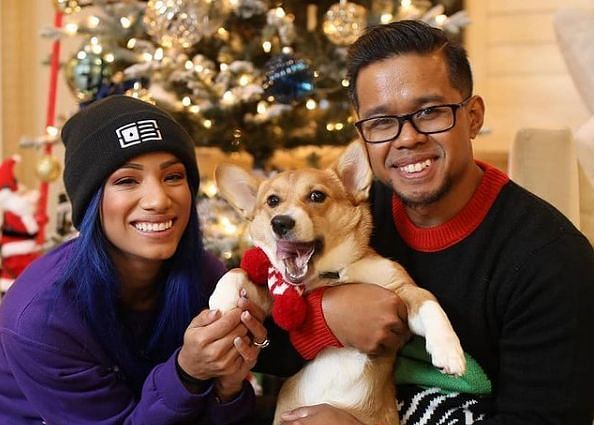 Sasha Banks, known in the wrestling world as "The Boss," is married to Sarath Ton, who is also recognized by his in-ring name, Kid Mikaze. The couple tied the knot on August 4, 2016, and their relationship has been a beautiful journey of love and shared passion for wrestling.
Sarath Ton was born on June 9, 1983, in Springfield, Massachusetts, and he made his wrestling debut in 2002. He wrestled under the names Kid Mikaze and Mikaze in various northeast promotions for over a decade. His wrestling style combined mixed martial arts with high-flying aerial moves, earning him titles such as the CW Heavyweight Title, CW New England Title, and CW Tag Team Title.
Unfortunately, a severe head injury in 2015 ended his in-ring career, but his passion for designing led him to a new role as a costume designer in WWE. He has designed gear for several wrestlers, including Paige, Ruby Riott, Bayley, and Seth Rollins. Recently, he collaborated with Puma to design a limited edition of a Sasha Banks-themed shoe.
Sasha and Sarath's relationship began in 2010 when they met on the independent wrestling circuit. Sarath's ambition for designing wrestling gear brought them closer, and he has been the creative mind behind Banks' iconic gears ever since. Their relationship has grown over almost seven years, and they share a strong bond, supporting each other in their respective careers.
As of now, Sasha and Sarath do not have any children. They continue to be a symbol of partnership and creativity, both in the wrestling industry and in their personal lives. Sarath's net worth is estimated to be between $2 million and $5 million as of 2023, reflecting his success as a designer and former wrestler.
FAQs
Therefore, we bring to you the most sought-after facts about the popular WWE Diva on the web. Read on.
What is Sasha Banks' age?
The six-time WWE Women's Champion is currently 31 years of age.
When is Sasha Banks' birthday?
She celebrates her birthday every year on January 26.
What is Sasha Banks' birth sign?
Her birth sign is Aquarius.
What is the height of Sasha Banks?
She stands tall at a height of 5'5″ or 1.65 m.
What is the weight of Sasha Banks?
She weighs around 52 kg or 115 lbs.
State Sasha Banks' physical stats
Body measurements – 30-27-32 inches
Hair color – Black
Eye color – Black
Body color – Fair
When did Sasha Banks debut in the wrestling circuit?
Pro Wrestling – August 8, 2010
NXT – December 12, 2012
RAW – July 13, 2015
What are Sasha Banks' ring names?
Mercedes KV
Miss Mercedes
Sasha Banks
Name Sasha Banks' trainers
Maeve Stowe
Brian Milonas
Hanson
Sara Del Rey