Bobby Lashley is an American professional wrestler and MMA fighter. He is presently contracted to 'World Wrestling Entertainment,' where he works under the 'Raw' brand. Also, Lashley has won the 'Extreme Championship Wrestling' two times and the 'WWE United States Championship once.' He has also excelled in 'Impact Wrestling,' winning the 'Impact World Championship' four times in his career. Also, Lashley began competing in amateur wrestling throughout his high school years. During his undergraduate years, Lashley grew increasingly involved in wrestling and was named 'National Wrestling Champion' three years in a row. Also, Lashley entered the 'U.S. Army' after graduating and served for three years. He was also involved in wrestling here.
While Lashley was attempting to qualify for the 'Olympic Games,' an injury caused him to put his wrestling career on hold for the time being. Later, he joined the 'WWE,' where he won several famous matches. Later, Lashley switched to other brands such as 'ECW' and 'TNA.' Lashley has also delivered outstanding accomplishments in MMA, where he won his debut bout. He has collaborated with companies such as 'Strikeforce' and 'Shark Fights.' He has defeated numerous well-known fighters, including Roman Reigns and Seth Rollins. In this Article, we are talking about him. So. keep reading to know more about this legend.
Bobby Lashley Birth
Bobby was born and raised in Junction City, Kansas, USA, on July 16, 1976. His father was in the army and had to travel a lot, so he was reared by his mother, Clara Lashley, and his three sisters. However, he had to deal with his parents' divorce when he was young, and coming to terms with the knowledge that his parents would not be together was difficult for him. Also, Lashley was a mischievous child, and his sisters would frequently take him to the woods and tie him to a tree for hours. Then, in seventh grade, he was exposed to wrestling, which was the off-season alternative to football.
However, wrestling subsequently became his passion, and he was able to escape his family's drama. Also, Lashley saw his mother struggle to support four children, so he began working at a young age. Similarly, he attended Fort Riley Middle School for his main schooling. Following that, he earned a degree in human-service agency management and recreation administration from Missouri Valley College. Few of you may be aware that Lashley first followed in his father's footsteps and entered the army. He did, however, continue to wrestle and fight in the army's world-class athletic programmes. He had also received several medals while serving in the army. So, he was even eligible to wrestle for Team USA in the 2004 Olympics. He couldn't play that season, though, since some thugs shot him in the knee with a pistol.
Bobby Lashley Bio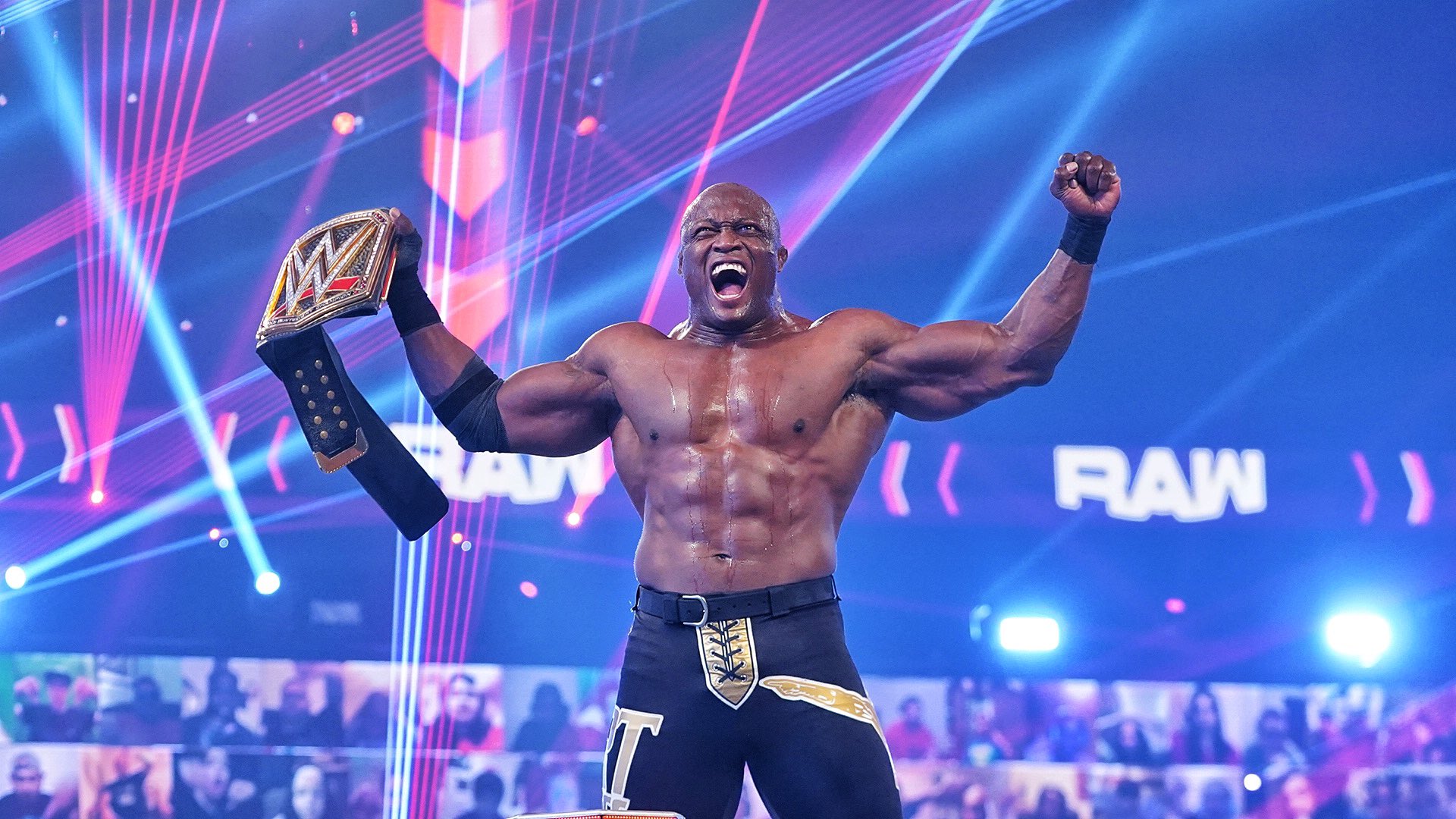 | | |
| --- | --- |
| Birth Place | Junction City, Kansas U.S |
| Father's Name | NA |
| Mother's Name | Clara Lashley |
| Star Sign | Cancer |
| Net Worth | $ 4 million |
| Salary | $ 1 million |
| Age | 46 |
| Date of Birth | July 16, 1976 |
| High School | Junior City High School |
| Nationality | American |
| Wrestling Debut | 2005 |
| WWE Debut | 2005 |
| Finisher | The Dominator, Spear |
| Achievements | WWE Champion, ECE World Champion, TNA World Heavyweight Champion |
| Spouse | Not married dated former WWE wrestler Kristal |
| Children | 2 children |
| Nickname | The Boss, The Dominator |
| Social Media | Instagram, Twitter |
Bobby Lashley Career
2004-2007
Bobby Lashley inked a deal with the 'WWE' in November 2004. He was given the nickname 'Ohio Valley Wrestling.' In 2005, Lashley appeared in multiple wrestling events for WWE's Raw and Smackdown! brands. Also, Lashley beat Simon Dean in his first bout. Bobby Lashley became the first 'Smackdown!' wrestler to qualify for the 'Royal Rumble' in January 2006. Also, Lashley beat Sylvain in the event, but was subsequently eliminated by a combination of Big Show and Kane. Also, Lashley wrestled in his debut 'WrestleMania,' in the 'Money in the Bank' ladder match, in April 2006. He also competed in the 'King of the Ring' tournament on 'Smackdown!' On 'Judgment Day,' Lashley reached the finals but was beaten by Booker T.
Lashley switched to the 'ECW' brand in November 2006. He made his debut when he unexpectedly entered the 'Extreme Elimination Chamber' bout for the 'ECW World Championship.' He defeated Big Show and Test to win the title of "ECW World Champion." Lashley was the first African American to win the championship. Also, Lashley defended his championship against numerous major names in 2007, including Big Show and Robert Van Dam. Then, Lashley beat Vince McMahon in a street fight in June 2007 to capture the 'ECW World Champion' title for the second time. Also, Lashley was recruited from the 'ECW' brand to the 'Raw' brand in June 2007. He was the top challenger for the 'WWE Championship,' but he was defeated by John Cena.
2008-2011
Lashley was released from his contract with the 'WWE' in February 2008. Following this, Lashley competed in 'Triplemania XVI,' the AAA's main event. Also, Lashley made his MMA debut in December 2008, at the inaugural event of the 'Mixed Fighting Alliance,' 'There Will Be Blood'. Then, in the first round, he beat Joshua Franklin in 41 seconds. Also, Lashley won a majority decision against experienced fighter Jason Guida in March 2009. Also, Lashley made a cameo in the 'Total Nonstop Action Wrestling' pay-per-view event, 'Lockdown,' in April 2009. He also appeared on the wrestling television show 'TNA Impact!' In June 2009, Lashley made his 'TNA' debut in a tag team bout, partnering with Mick Foley to beat the 'World Heavyweight Champion,' Kurt Angle. Also, Lashley was released from the 'TNA' in February 2010 so that he could focus on his mixed martial arts career.
Bobby Lashley focused on his 'MMA' career throughout the first part of the decade. Also, Lashley fought Chad Griggs in the 'MMA' event 'Strikeforce: Houston' in August 2010. Despite dominating in the early stages of the bout, Lashley was injured and lost. Also, Lashley was hospitalized as a result of the fight. Also, Lashley joined the 'Titan Fighting Championship' in February 2011. However, his bouts were hampered by injury. He signed a three-year contract with 'Shark Fights' in 2011. By defeating Karl Knothe, Lashley became the 'Shark Fights' heavyweight title.
2014-2015
Lashley inked a contract with 'Bellator MMA' in July 2014. His promotional debut was against Josh Burns. Also, Lashley won the bout. Also, Lashley defeated Dan Charles in the second round of their battle in June 2015. Until his return to the 'WWE,' Lashley was under contract with the 'Bellator.' Lashley returned to the 'TNA' in 2014. He defeated Eric Young in June 2014 to win the 'TNA World Heavyweight Champion.' Lashley was the first African-American to win the championship. Bobby faced Jeff Hardy, Austin Aries, and Bobby Roode in his championship defense.
He lost the title to Kurt Angle in March 2015. Also, Lashley competed in the 'TNA World Title Series' in 2015, attempting to reclaim the 'TNA World Heavyweight Championship.' He made it to the semi-finals before being upset by Ethan Carter III. Later, Lashley won the TNA X Division Championship by defeating Eddie Edwards in a 'Winner Take All Six Sides of Steel' match. In addition, he reclaimed the 'TNA World Heavyweight' championship. Also, Lashley won the championship four times in his career.
2018
Lashley was released from his contract with 'Impact Wrestling' in 2018. Also, Lashley returned to the 'WWE' in April 2018, with the night following 'WrestleMania 34.' He competed in the 'Greatest Royal Rumble,' but lost to Braun Strowman. He competed in tag-team battles alongside Seth Rollins, Roman Reigns, and Braun Strowman. At the 'Extreme Rules' match, Lashley beat Roman Reigns.
Bobby Lashley Net Worth
Bobby Lashley's net worth is $4 million as of 2022. WWE pays him a yearly salary of $1 million. Outside of wrestling, Lashley has been active in a variety of companies. He launched a health smoothie shop in 2007. He announced the establishment of the Lashley Network of websites in July 2009, which included his official gym, nutrition shop, and social networking accounts.
Bobby Lashley vs Theory
Bobby Lashley defeated Mr. Money in the Bank Theory at WWE SummerSlam on Saturday night to retain the United States Championship. Theory attempted to get an advantage against The All Mighty by assaulting him with his briefcase before the referee rang the bell. Lashley, on the other hand, seemed unfazed by the surprise onslaught. He easily battled back, outpowered Theory, and ultimately won the submission with the Hurt Lock after a massive power slam. The SummerSlam match was a rematch of Money in the Bank, in which Lashley defeated Theory to win the US title. As a surprise participant, A-Town would subsequently win the men's Money in the Bank ladder match the same night.
Despite leaving MITB with only the briefcase and not the US Championship, Theory battled hard against Lashley and pushed him to the edge. Following the Hurt Locker, the All Mighty ultimately forced the youngest US champion in WWE history to tap. The following night on Raw, Lashley addressed the WWE Universe, insisting that no one could beat him for the championship, only to be interrupted by Theory. Theory congratulated himself on his Money in the Bank ladder match victory and informed Lashley that he had been given a rematch at SummerSlam. Later that night, Lashley and The Street Profits faced Theory and Alpha Academy, and Lashley led his side to victory.
More Details
It was uncertain if Theory had the weapons to beat Lashley going into SummerSlam, especially given that he threw all he had at Lashley leading up to and during their Money in the Bank battle. Theory even squirted baby oil into Lashley's eyes during a pose down, allowing him to assault The All Mighty; yet, this was unable to discourage the former WWE champion. While Theory gave it another shot at SummerSlam, Lashley was one again too much for him, and he maintained the US championship. Theory, on the other hand, is only one win away from becoming world champion for as long as the Money in the Bank contract is in his hands.
Bobby Lashley and Lana
Bobby Lashley returns to WWE in 2018 following a 10-year sabbatical. He appeared to be in excellent form, having competed in TNA/IMPACT Wrestling as well as MMA. After the first year or so WWE pushed Bobby Lashley into a romance with Lana, the latter left his real-life wife Rusev on-screen.
Bobby Lashley Wife
Bobby is a fantastic wrestler who is having a successful career. His personal life, however, is not as exciting as his professional life since he has always been unlucky in love. Bobby has had two major partnerships in the past, both of which resulted in children. Unfortunately, neither of the partnerships survived, but he had his children with him, who gave him hope to be a better person every day. He dated Kristal Marshall, a well-known wrestler. Bobby and Marshall began dating in 2007 and made news for their lovey-dovey relationship. Their son, Myles, was born in 2008, and they also have a daughter called Naomi.
Unfortunately, Marshall and Bobby split up in 2010, after four years of dating. Kristal announced their breakup on Twitter. Prior to his romance with Kristal, Lashley dated another lady, with whom he has a daughter called Kyra Lashley, born in 2005. Unfortunately, no one knows Kyra's mother since she has been kept hidden. He then married Lana as part of his WWE character. However, WWE created this fabricated connection to make it entertaining to watch. However, their on-screen romance ended when Lashley divorced Lana. Also, Lashley is currently content and enjoying a great life with his children. According to insiders, Lashley maintains cordial relationships with his ex-girlfriends as part of his parenting duties.
Bobby Lashley Age
Bobby Lashley was born in Kansas, United States, on July 16, 1976. He is 44 years old currently.
Bobby Lashley Height and Weight
Lashley's personality is "tall, dark, and gorgeous." Lashley is 6 feet 3 inches tall. Also, this is an excellent height. Similarly, he weighs roughly 124 kg. Also, Lashley goes to the gym more frequently to keep his body in shape. Bobby even maintains a unique diet to keep his body in shape. As a result, his body type is athletic, with well-defined abs. Bobby, despite being a foodie, has had to adhere to a rigorous diet. He enjoys sampling new meals and cuisines, and his favorites include anything with peanut butter and the Jealousy Burger. But it's part of his profession to seem fit, so he treats himself every now and again.
Bobby Lashley MMA
Bobby Lashley prepared to become an MMA fighter after leaving WWE in 2008. The following year, he made his MMA debut and won his first bout. Also, Lashley then worked for Sharkforce, Titan Fighting Championship, and Bellator, among others. He has a 15-2 MMA record.
Bobby Lashley vs Seth Rollins
Seth Rollins started the WWE Monday Night RAW programme on September 12 by discussing his spectacular victory against Riddle earlier this month at WWE Clash at the Castle (pay-per-view). Rollins stated that Riddle got what he deserved and declined the Original Bro's request for a rematch. While Riddle was mercilessly pummeled Judgment Day later in the show, Rollins also met his next opponent. After Omos' victory against Khash Marazi and Ryan Toombs, Rollins appeared in a backstage interview and stated that he is the face of Monday Night RAW.
However, the incumbent US champion Bobby Lashley rolled up and claimed that Rollins isn't the face of RAW unless he has the gold, pointing to the US Championship crown. This prompted Rollins to challenge Lashley to a championship bout, which Lashley accepted. Meanwhile, following the night, WWE issued a statement confirming that the US Championship battle between Rollins and Lashley will take place at the next Red Brand event.
Some Frequently Asked Questions
Why doesn't Bobby Lashley have eyebrows?
Bobby Lashley lacks brows owing to a disorder known as alopecia. Alopecia is a condition that causes hair loss and can affect only the scalp, the head, or the full body.
How did Bobby Lashley lose his title?
Seth Rollins placed Austin Theory through Lashley's pod early in the WWE championship Elimination Chamber battle. As a consequence, the glass broke and struck Lashley, who was left stunned.
Why did Bobby Lashley leave WWE?
After only a few matches with the business, WWE discreetly removed him from his contract in early 2010 to devote his entire attention to his mixed martial arts career.
Did Brock Lesnar lose to Bobby Lashley?
Brock Lesnar was set to battle Bobby Lashley for the WWE Championship in Madison Square Garden. Also, Lashley defended the WWE championship within the structure at Elimination Chamber 2022. But Lesnar injures Bobby before he can get out of his pod. Lesnar eventually won the bout and became the WWE Champion.
How much does Bobby Lashley make?
Since his return to the WWE in 2018, there have been several inquiries concerning Lashley's yearly compensation. According to rumors, Bobby Lashley receives a basic salary of $1 million. This basic pay does not include any bonuses or royalties earned by WWE Superstars from product sales.