Patrick Mahomes II is a quarterback for the Kansas City Chiefs of the NFL. Likewise, he is famous for his offensive plays, passing scores, and Ludacris long throws. He began his college career at Texas Tech University, where he played football and baseball. However, he gave up baseball after his sophomore year to focus exclusively on football. Mahomes is the third player in NFL history to throw for 50 touchdowns in a single season.
Read Also: Kenny Golladay: Career, Contract, Fantasy & Net Worth
If you would like to know more about Patrick Mahomes II, kindly scroll over and read along. We shall shed ample light on his life and career ahead, in detail.
Patrick Mahomes II Biography/Wiki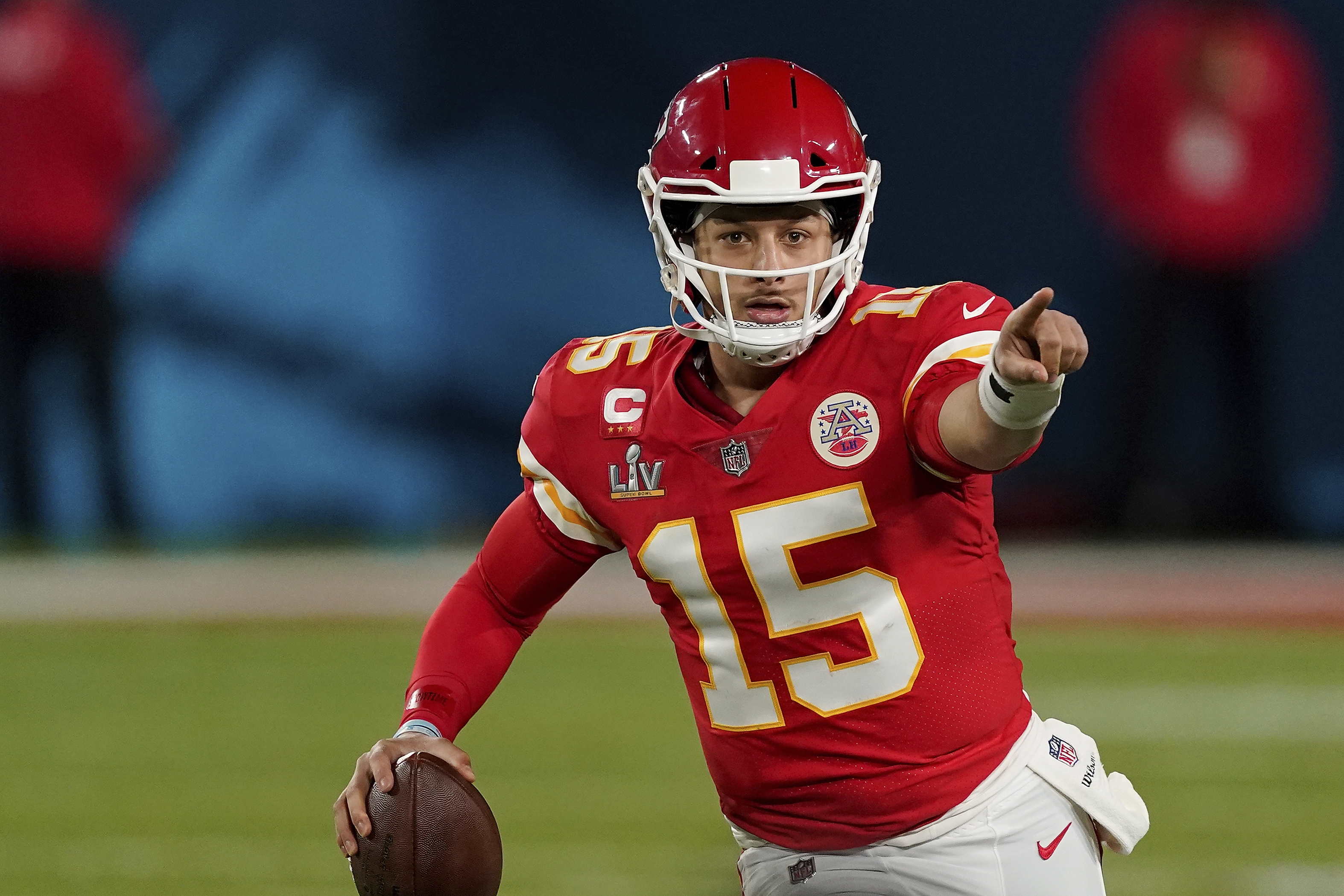 Full Name
Patrick Lavon Mahomes II
Birth Date
September 17, 1995
Birth Place
Tyler, Texas
Age
27 years old
Nickname
Showtime
Religion
Christian
Nationality
American
Education
Whitehouse High School, Texas Tech University
Horoscope
Virgo
Father's Name
Pat Mahomes
Mother's Name
Randi Mahomes
Siblings
Jackson Mahomes, Mia Randall
Height
6'3″ (1.91 m)
Weight
230 lbs (104 kgs)
Build
Athletic
Shoe Size
12
Hair Color
Light Brown
Eye Color
Light Brown
Position
Quarterback
League
NFL
Team
Kansas City Chiefs
Marital Status
Engaged
Girlfriend/Fiancé 
Brittany Matthews
Children
One Daughter
Profession
American football athlete
Debut
2017
Career Highlights and Awards

Super Bowl champion- LIV
Super Bowl MVP- LIV
NFL Most Valuable Player- 2018
NFL Offensive Player of the Year-2018
Bert Bell Award- 2018

Net Worth
$40 million
Social Media
Instagram, Twitter, Facebook
Last Update
2022
Birth and Family
Mahomes' birth took place in Tyler, Texas, on September 17, 1995. His mother was Randi Mahomes. On the other hand, his father was Pat Mahomes, a former MLB pitcher. On his Instagram feed, Mahomes often posts photos of his younger sister, Mia, and younger brother, Jackson.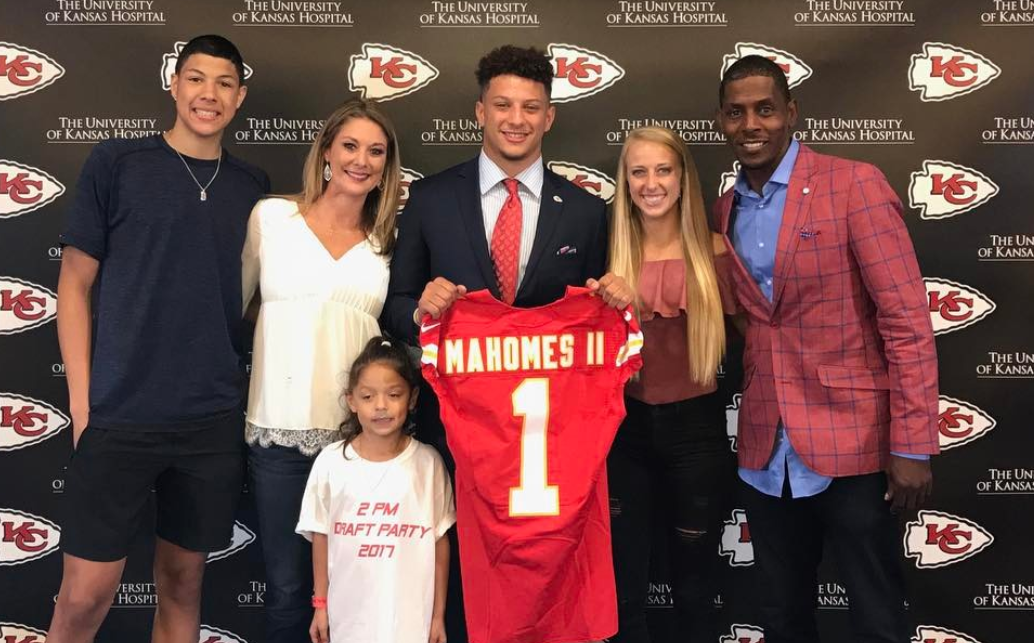 Likewise, Mahomes is the godson of LaTroy Hawkins. He was also a former Major League pitcher and his father's teammate on the Minnesota Twins.
Education and Early Life
Mahomes attended Whitehouse High School in Texas, where he played football, baseball, and basketball.
He had an outstanding football record in his final year of high school. He achieved 15 rushing scores, 50 passing touchdowns, 948 rushing yards, and 4,619 passing yards. Besides, he was also a skilled baseball player. He threw a no-hitter with 16 strikeouts in a contest as a pitcher. Following, the American website MaxPreps awarded him 'Male Athlete of the Year'.
Mahomes was a three-star football recruit as per Rivals.com. Further, he ranked as the 12th best dual-threat quarterback in his class. Subsequently, he decided to attend Texas Tech University. Additionally, he was also a top prospect for the 2014 MLB draught. However, owing to his pact with Texas Tech, he couldn't be taken high. He was drafted in the 37th round of the 2014 MLB Draft by the Detroit Tigers though. Nonetheless, he did not sign a contract because of his desire to play football.
Professional Career
Patrick Mahomes II & His Start of Career
The Oklahoma State Cowboys of the Oklahoma State University were Mahomes' first college football opponents. He was a fill-in for the injured quarterback Davis Matthew Webb.
He started his first game as a starter against the University of Texas at Austin's Texas Longhorns. Mahomes completed 13 of 21 passes in his debut game. Henceforth, he stayed as the starter for the final three games of the season too. He passed for 598 yards and 6 passing touchdowns in a game against the Baylor Bears of Baylor University. Besides playing football, he was also a relief pitcher for his collegiate baseball club – the Texas Tech Red Raiders.
Patrick Mahomes II as a Quarterback
In his sophomore season, he started as a quarterback for the first time. With 4 passing touchdowns, he helped his team beat Sam Houston State University in 2015's first game. Further, Mahomes had a game against the UTEP Miners of the Texas University at El Paso. Thus, he threw 4 passing touchdowns and 2 rushing touchdowns and led his team towards a victory. With 36 passing touchdowns, 15 interceptions, and 4,653 passing yards, he finished the 2015 season on a high note.
Mahomes opted to stop playing baseball before the start of the new season to focus only on football. Subsequently, he broke many records in a game against the Oklahoma Sooners on October 22, 2016. He averaged 421 yards per game and 53 passing touchdowns that season. He made it to the Academic All-American 2nd Team. In addition, he received the Sammy Baugh Trophy for his superb feats.
Patrick Mahomes II in NFL Draft
He stated on January 3, 2017, about entering the NFL Draft later that year. Before the draught, Sports Illustrated rated him the second-best QB, ESPN the third-best, and NFL Selection Scout the fourth-best. He was one of the most sought-after players in the draught because of his smashing collegiate record. Mahomes had 18 private workouts and visits with some notable teams. Those included the Arizona Cardinals, New Orleans Saints, Cincinnati Bengals, Los Angeles Chargers, Chicago Bears, Pittsburgh Steelers, and Cleveland Browns.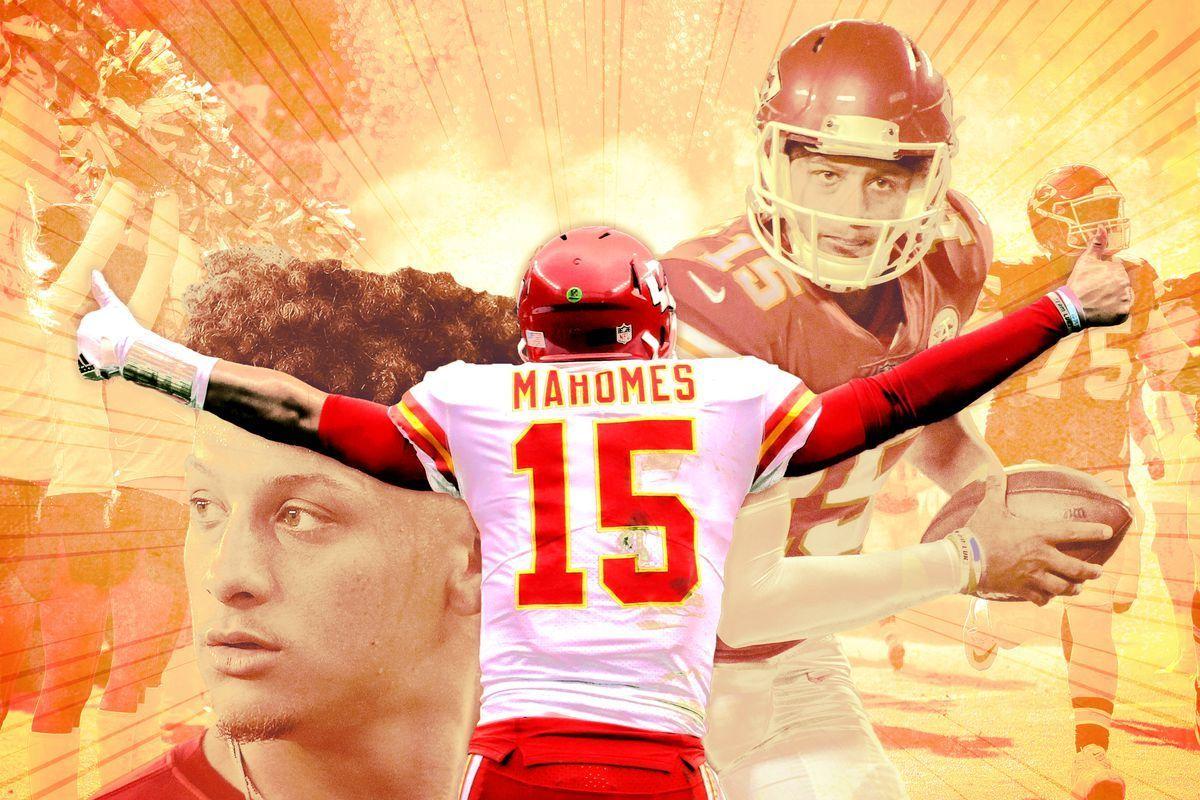 Patrick Mahomes II For Kansas City Chiefs
Therefore, the Kansas City Chiefs gradually chose him in the first round of the draught. Furthermore, Mahomes became the first quarterback selected in the first round by the Missouri-based squad. He signed a $16.42 million contract with the Chiefs on July 20, 2017. Hence, he made his starting debut against the Denver Broncos and aided the Chiefs in their victory.
The Chiefs announced on January 30, 2018, that they will trade a regular starter, Alex Smith. The team's choice to trade Smith allowed Mahomes the chance to start the entire season as a quarterback.
He tossed 4 touchdown passes in his first game as a regular starting quarterback. Thus, he helped his team in defeating the Los Angeles Chargers. He received the AFC Offensive Player of the Week Award for being a crack shot.
Patrick Mahomes II & His NFL Record
He broke the NFL record for most touchdown passes in a quarterback's first 3 games against the Steelers. Moreover, he threw the most touchdown passes in the first 2 weeks of the season in a game. Hence, he also set a new NFL mark. Mahomes was renamed AFC Offensive Player of the Week for the second week in a row. Thus, he became the first quarterback since 2011 to earn 2 consecutive accolades at the season's start. In addition, he was named the AFC Offensive Player of the Month.
In the 4th week of his starting quarterback career, he had a win over the Denver Broncos. He threw for 304 yards, a rushing touchdown, and a passing touchdown in that game. Mahomes had 4 passing touchdowns, 352 passing yards, and 2 interceptions in the following game. However, his team lost to the New England Patriots in the 6th week.
Further, the Chiefs responded by defeating the Cincinnati Bengals in their next game. He had 4 passing touchdowns, 358 passing yards, and an interception in the contest. Following, he threw for 4 touchdowns, an interception, and 303 yards in a win against the Denver Broncos.
Mahomes became the second quarterback in NFL history to reach 50 passing touchdowns and 5,000 passing yards. He achieved so while playing against the Oakland Raiders in the 17th week of 2018. Furthermore, he is one of only 7 players in NFL history to pass for 5,000 yards in a single season.
Patrick Mahomes II in Home Playoff
Mahomes made his first playoff appearance as a starting quarterback on January 12, 2019. He had 278 passing yards and a rushing touchdown in the game against the Colts. Thus, he also helped the Chiefs win their first home playoff game since 1993. With the victory, the Chiefs qualified for their first AFC Championship game since 1993. The club, however, lost in the championship game to the New England Patriots.
Patrick Mahomes II & His 2020 Contract
The Chiefs took up Mahomes' 5th-year option on his contract on April 30, 2020. He signed a 10-year agreement worth $477 million on July 6. Further, he received an additional $26 million in potential bonuses, for a total of $503 million. The contract will run until the 2031 season. Moreover, Mahomes is the first professional athlete to sign a contract worth half a billion dollars.
Patrick Mahomes II & His First Double-Digit Loss
Further, he threw for 325 yards and 3 touchdowns in the AFC Championship game against the Buffalo Bills. He guided the Chiefs to a 38-24 victory alongside their second consecutive Super Bowl. Mahomes created history by being the youngest quarterback to start 3 consecutive AFC Championship games. He threw for 270 yards and 2 interceptions in the Chiefs' 9-31 loss to the Buccaneers in Super Bowl LV. It was his first loss in the NFL by double digits though. Moreover, it was also the first time he failed to score a touchdown after taking over as quarterback.
Patrick Mahomes II & His Surgery
Nonetheless, Mahomes had to undergo surgery 3 days after the Super Bowl. This was to treat a turf toe injury he sustained in a divisional-round game against the Browns.
Patrick Mahomes II in 2021
Mahomes altered his deal on March 12, 2021, to save the Chiefs $17 million in salary-cap space. He threw the first interception of his career in September. Likewise, it was in the Chiefs' week two loss to the Baltimore Ravens. Besides, it was also his first loss in September in his career path.
Patrick Mahomes II Net Worth
Patrick Mahomes II has a probable net worth of $40 million. This also includes his first contract with the Kansas City Chiefs, where he earned only $555K per year. After his 10-year long contract with the Chiefs, his salary will increase to $645K. Brand deals and investments are some of his other income sources. His revenues from endorsements are reportedly in the $7 million range.
At the start of 2022, Mahomes will probably earn an average of $45 million per year. He has roughly earned $10 million in 2020, besides bonuses and incentives.
Following his MVP season, Mahomes began getting many sponsors. Hunt's ad contract was his first. He signed deals with Oakley, Essentia Water, Hy-Vee, State Farm, DirectTV, Adidas, and Head & Shoulders after that. Likewise, he was the first player from the Kansas City Chiefs to be on the cover of Madden NFL 20. In addition to his official salary, he currently makes around $7 million each year.
On July 28, 2020, Mahomes became a minority shareholder in the Kansas City Royals investor group. He has also partnered with Kevin Durant, Eli Manning, and Rory McIlroy to invest in Whoop, a software unicorn.
Charity Work

Patrick Mahomes II' charity – The 15 and the Mahomies Foundation aims to improve the lives of children. He has spoken out against police brutality and violence against black people in the US. Besides, he had also called on the league to admit it was wrong to silence Colin Kaepernick and Eric Reid. They had conducted protests during the National Anthem.
In Kansas City, Mahomes and Tyrann Mathieu created a voter registration drive. It was to encourage locals to register to vote in the 2020 Presidential Election. He also enlisted the help of his Chiefs friends to persuade other players to vote. Additionally, he became a part of LeBron James' Rock the Vote campaign, which encourages individuals to register and vote.
Patrick Mahomes II House and Cars
Patrick Mahomes II is behind the wheel of a Ferrari 812 Superfast. His house is around 3,759 square feet. His home is in a private upscale subdivision in the center of Kansas City. The mid-century house was built in 1953. It is on a huge green lot with lots of rooms for the dogs to run around. It has 3 bedrooms and is worth $1.9 million.
Patrick Mahomes II Wife/Child
Patrick Mahomes proposed to his high school sweetheart, Brittany Matthews, in a suite at Arrowhead Stadium on September 1, 2020. It was the same day he earned his Super Bowl ring. Matthews played professional soccer for UMF Afturelding for a short time before becoming a qualified personal trainer. Moreover, she is also a co-owner of the Kansas City NWSL, a club soccer team for women. Mahomes and Matthews both call Kansas City home.
Likewise, the couple revealed that they were expecting their first child together on September 29, 2020. Subsequently, on February 20, 2021, their daughter was born. The couple married on March 12, 2022, in Hawaii. On May 29, 2022, the couple announced that they were expecting their second child, a boy.
Extra Facts About Patrick Mahomes II
Therefore, we bring you the most common facts on the NFL quarterback – Patrick Mahomes II.
Patrick Mahomes II Age
He is currently 27 years old.
Patrick Mahomes II Birthday
His birthday falls on September 17 every year.
Patrick Mahomes II Height
He is 6'3″ or 1.91 m tall.
Patrick Mahomes II Weight
He weighs 225 lbs or 102 kg.
Patrick Mahomes II Agent
His agent is Leigh Steinberg.
Patrick Mahomes II NFL Stats
Passing attempts – 1,798
Passing completions – 1,192
Completion percentage – 66.3
TD-INT – 123-27
Passing yards – 15,092
Passer rating – 108.9