Ashley Louise Urbanski, born on March 14, 1992, is a multi-talented American professional wrestler and singer. She is currently a prominent figure in the world of wrestling, signed with WWE and performing on the SmackDown brand under the name Shotzi. Previously known as Shotzi Blackheart, she has left her mark on the wrestling industry.
Shotzi's journey to WWE began with her impressive performances in various independent promotions on the wrestling circuit. She showcased her skills and captivated audiences in promotions such as Shimmer Women Athletes, Evolve, Rise Wrestling, and Shine Wrestling. Notably, she clinched the Shine Nova Championship, establishing herself as a force to be reckoned with.
Her remarkable abilities and undeniable talent caught the attention of WWE, leading to her eventual signing. Shotzi made her mark in the NXT brand, where she became a former NXT Women's Tag Team Champion. Her charisma and unique persona made her a standout performer among the talented roster.
Currently performing on the SmackDown brand, Shotzi continues to bring her high-energy style and captivating presence to the WWE universe. With her remarkable wrestling skills and undeniable stage presence, Shotzi is sure to make a lasting impact in the world of professional wrestling.
Discover all there is to know about Shotzi Blackheart in the WWE. Explore her real name, age, height, career highlights, net worth, contract details, relationships, notable connections with Tegan Nox and her tank gimmick, along with intriguing facts and frequently asked questions. Get all the essential information and delve deeper into the world of this talented wrestler.
Shotzi Bio/Wiki Table
| | |
| --- | --- |
| Real Name | Ashley Louise Urbanski |
| Ring Name | Shotzi Blackheart |
| Height | 1.68 meters (5 feet 6 inches) |
| Weight | 57 kg (126 pounds) |
| Birth Place | Santa Clara County, California, USA |
| Star Sign | Pisces |
| Net Worth (2023) | $1.5 million |
| Salary (2023) | $120,000 |
| Age | 31 Years Old |
| Date of Birth | March 14, 1992 |
| Nationality | American |
| Wrestling Debut | 2014 |
| WWE Debut | 2019 |
| Finisher | Tiger Suplex, Diving Senton |
| Achievements | NXT Women's Tag Team Champion |
| Nickname | Pizza Cat, The Ballsy Badass |
| Social Media | Instagram, Twitter |
Birth & Early Life
At just 31 years old, Ashley Louise Urbanski, known by her ring name Shotzi Blackheart, is making waves in the world of professional wrestling. Currently competing on the SmackDown brand for WWE, Shotzi has quickly gained recognition and a devoted fanbase.
Hailing from the San Francisco Bay Area community of Santa Clara County, California, Shotzi's journey in wrestling is unique. With no previous ties to the industry, she embarked on her path to stardom through sheer determination and talent. Born on March 14, 1992, she brings a vibrant mix of Filipino and Polish ancestry to her persona.
Before joining WWE, Shotzi honed her skills and passion for performance in various fields. From her involvement in gymnastics during her school years to her fascination with theatrical society, she cultivated a diverse background that now enhances her in-ring presence.
Shotzi made her mark as a heel on the WWE main roster but quickly won over the hearts of fans with her dynamic performances and undeniable charm. With each match, she continues to impress and captivate audiences, solidifying her position as a rising star.
Having achieved significant success in a relatively short time, Shotzi's future in the women's division of WWE looks bright. Fans eagerly anticipate her ascension to championship glory as she brings a unique energy and undeniable talent to the ring.
Shotzi Blackheart is poised to become a force to be reckoned with in the wrestling world, and her journey is just beginning. With her extraordinary abilities, captivating personality, and relentless drive, she is set to leave an indelible mark on WWE and the hearts of fans worldwide.
Shotzi Blackheart's Real Name
Shotzi Blackheart, the popular professional wrestler, is known by her ring name in the wrestling world. However, her real name is Ashley Louise Urbanski. Born with this given name, Ashley embarked on her wrestling journey, eventually adopting the persona of Shotzi Blackheart.
Shotzi Blackheart Age
Born on March 14, 1992, Shotzi Blackheart has emerged as a prominent figure in the wrestling industry. At 31 years old, she has made a significant impact in a relatively short time. Shotzi's talent and charisma have garnered her widespread recognition and a devoted following within the wrestling community.
Shotzi Blackheart's Physical Stats: Height and Weight
Shotzi Blackheart, the talented wrestler, stands at an impressive height of 1.68 meters (5 feet 6 inches). In addition to her stature, she maintains a weight of approximately 57 kg (126 pounds).
Shotzi's height and weight are notable aspects of her overall persona, complementing her skills as she navigates the world of professional wrestling.
Professional Wrestling Career: Early Years of Shotzi Blackheart (2014-2019)
Shotzi Blackheart's journey in professional wrestling began in 2014 when she stepped into the ring at Hoodslam in Oakland, California. Initially known as Missy Highasshit, she portrayed a cheerleader valet for the Stoner Brothers and the hilarious Stoner U stable, a playful parody of Missy Hyatt and the Steiner Brothers.
Throughout her early career, Urbanski made frequent appearances on the California independent circuit, showcasing her skills in promotions like All Pro Wrestling, Bar Wrestling, Big Time Wrestling, and even the Impact Wrestling promotion based in Nashville, Tennessee.
Her talent and determination caught the attention of Shimmer Women Athletes, and on November 11, 2016, Shotzi made her debut for the promotion, unfortunately facing defeat against Melanie Cruise.
She continued to expand her horizons and made her presence felt in Evolve, making her debut at Evolve 115 on November 9, 2018. In a valiant effort, she challenged Allysin Kay for the Shine Championship but was unable to secure the victory.
Shotzi also made her mark in Shine Wrestling, culminating in a significant moment at Shine 58 on May 10, 2019. In an impressive display of skill, she defeated Aja Perera to claim the prestigious Shine Nova Championship. She successfully defended her title in a thrilling triple threat match at Shine 59, besting both Perera and Santana Garrett. Notably, she continued her title reign by defeating Natalia Markova at Shine 60.
However, the turning point in Shotzi's career came at Evolve 137 on October 11, 2019. Following a victorious match against Aja Perera, Shotzi caught the attention of WWE's William Regal, who surprised her with an unannounced appearance. Impressed by her abilities, Regal offered Urbanski a coveted WWE contract, a career-changing opportunity. Unfortunately, this meant she had to vacate the Shine Nova Championship.
WWE Career
Tough Enough and NXT (2015, 2019–2021)
In 2015, professional wrestler Blackheart, known by her real name, auditioned for the sixth season of WWE's show, Tough Enough. She was initially chosen as one of six women to compete but had to withdraw due to an undiagnosed irregular heartbeat. Despite this setback, she attended a tryout at the WWE Performance Center in May 2016.
In 2019, it was announced that Shotzi Blackheart had signed with WWE and would start training at the WWE Performance Center in October. She officially joined the company in November and made her debut at an NXT house show on December 5, where she faced Chelsea Green. Her televised debut came on the December 25 NXT episode in a match against Bianca Belair.
Throughout 2020, Shotzi Blackheart participated in numerous competitions, including the NXT Women's Championship and the Royal Rumble, showing her determination and competitive spirit. However, she and Tegan Nox were unable to secure the WWE Women's Tag Team Championship from Bayley and Sasha Banks.
Shotzi Blackheart's hosting gig at Halloween Havoc saw her saving Shirai from a surprise attack. Forming an alliance with Rhea Ripley, Shirai, and Ember Moon, they engaged in a WarGames match against a formidable team but didn't succeed.
In 2021, Shotzi Blackheart continued her journey in WWE, entering the Royal Rumble again and participating in the Women's Dusty Rhodes Tag Team Classic with Ember Moon. They made it to the finals but lost to Dakota Kai and Raquel González. However, their resilience paid off when they defeated Kai and González for the NXT Women's Tag Team Championship in March, marking Blackheart's first NXT title. Despite retaining the titles against The Way at TakeOver: Stand & Deliver, their reign ended after 55 days. Her final NXT match took place on June 29.
SmackDown (2021–present)
In July 2021, Blackheart, now recognized as Shotzi, made her debut on the SmackDown episode with Tegan Nox. The duo was split during the 2021 Draft, leading to Nox moving to Raw and Shotzi staying with SmackDown. Shotzi's significant turn came in October when, after losing a match to Charlotte Flair, she attacked Sasha Banks, taking a villainous turn.
Shotzi continued to participate in notable matches, including the Survivor Series and Royal Rumble, but was eliminated by Bianca Belair and Ronda Rousey, respectively. Her journey to the SmackDown Women's Championship title was thwarted by Natalya during a six-pack challenge and later by Shayna Baszler in a gauntlet match.
In an attempt to win the WWE Women's Tag Team Championship, Shotzi paired with Xia Li but was defeated in the first round. A "Last Chance" fatal four-way match also saw them losing to Natalya and Sonya Deville.
A pivotal moment in Shotzi's career came in September when she saved Rodriguez from Dakota Kai and Iyo Sky's attack, leading her to become a fan favorite. However, Shotzi and Rodriguez's challenge for the Women's Tag Team Championship against Kai and Sky ended in defeat. Shotzi went on to co-host NXT Halloween Havoc and engaged in a surprise attack on Lash Legend.
Her biggest achievement came in November when she won a six-pack challenge, earning a title match against Ronda Rousey at Survivor Series WarGames. However, Shotzi's bid for the title was dashed due to interference from Shayna Baszler.
Shotzi Net Worth
Shotzi Blackheart has achieved notable success in her professional wrestling career, and her net worth reflects her accomplishments. As of 2023, her estimated net worth stands at approximately $1.5 million. Shotzi earns a base salary of $120,000 from her contract with WWE, serving as a testament to her value and contributions to the company.
In addition to her salary, Shotzi generates income from various sources within the wrestling industry. She benefits from merchandise royalties, as her popularity among fans translates into strong merchandise sales. Furthermore, she also earns from premium live event (PLE) appearances, where she showcases her skills and entertains audiences.
Shotzi's career progression has been remarkable. In 2022, she made the transition from NXT to SmackDown, which opens up new opportunities and potential for growth. With this move, it is possible that her salary could increase in the future, as she continues to make her mark on the main roster and captivate audiences worldwide.
Shotzi Contract
Rumors swirled about Shotzi Blackheart's signing with WWE, and on October 15, 2019, she officially reported to the renowned WWE Performance Center. Shortly after, on December 5, 2019, she made her live NXT house show debut, where she faced off against Chelsea Green, unfortunately coming up short.
Making her NXT debut on December 18, 2019, Shotzi stepped into the ring against the formidable Bianca Belair, showcasing her skills and determination. Her performance caught the attention of the NXT roster and fans alike.
On the January 15, 2020 episode of NXT, Shotzi participated in a thrilling battle royal with an opportunity to challenge for the NXT Women's Championship at NXT TakeOver: Portland. In an impressive display, she emerged victorious, securing a shot at the title against the dominant Shayna Baszler.
The subsequent showdown with Baszler on the following show proved to be a formidable challenge for Shotzi, as she faced the experienced champion. Though she fought valiantly, she ultimately fell short in the intense encounter.
Shotzi Blackheart's star continued to rise as she entered the women's Royal Rumble match at number 26. Displaying her resilience and skill, she managed to reach the final seven competitors before being eliminated by Shayna Baszler.
Following the Royal Rumble, Shotzi found herself the target of Deonna Purrazzo's aggression. This led to a highly anticipated battle between the two on the January 29, 2020 edition of NXT. She emerged victorious, delivering an awe-inspiring Senton Splash to secure the win.
Shotzi Blackheart Personal Life & Relationships
Shotzi Blackheart has skillfully managed to keep her personal life out of the public eye, and little information is available regarding her romantic relationships. Based on our research, there is no concrete evidence of her dating anyone at the moment, and it is widely believed that she is currently single.
When delving into her social media presence, we did not come across any indications of past or present relationships. It appears that the breakout star of 2020 prefers to maintain a level of privacy when it comes to her personal life. However, rumors suggest that she may be in a relationship with Jesus Alfaro, but the details remain undisclosed, as she keeps their connection under wraps.
On Instagram, Shotzi Blackheart shares glimpses of her life, often posting photos alongside both male and female acquaintances. Her account also reveals some of her interests and hobbies. She enjoys riding motorcycles, indulging in horror movies, and has a fondness for the music of Elvis Presley.
Shotzi and Nox
In an episode of "Into The Danger Zone with Chris Denker," Tegan Nox opened up about her unexpected split with former tag team partner Shotzi. Their partnership, which many expected to achieve WWE Women's Tag Team Championship, ended suddenly, leaving both wrestlers startled. Nox described their journey as a close one, filled with challenges and memorable moments.
Nox recalled an incident that highlighted their lack of awareness regarding draft changes. They found out about their separation through Twitter, causing confusion. Despite their successful streak and contendership matches, there was no hint about the upcoming shift.
Nox hinted that her WWE trajectory might have been different if she had stayed in NXT. She wished to see the development of her conflict with Dakota Kai and believed her continued journey in NXT could have offered comfort during this difficult time.
Nox's tenure in WWE was plagued with multiple knee surgeries that impeded a meaningful run in NXT. Nevertheless, she valued her NXT stint, specifically mentioning her feud with Dakota Kai as one of her most enjoyable wrestling experiences.
Shotzi Blackheart Tank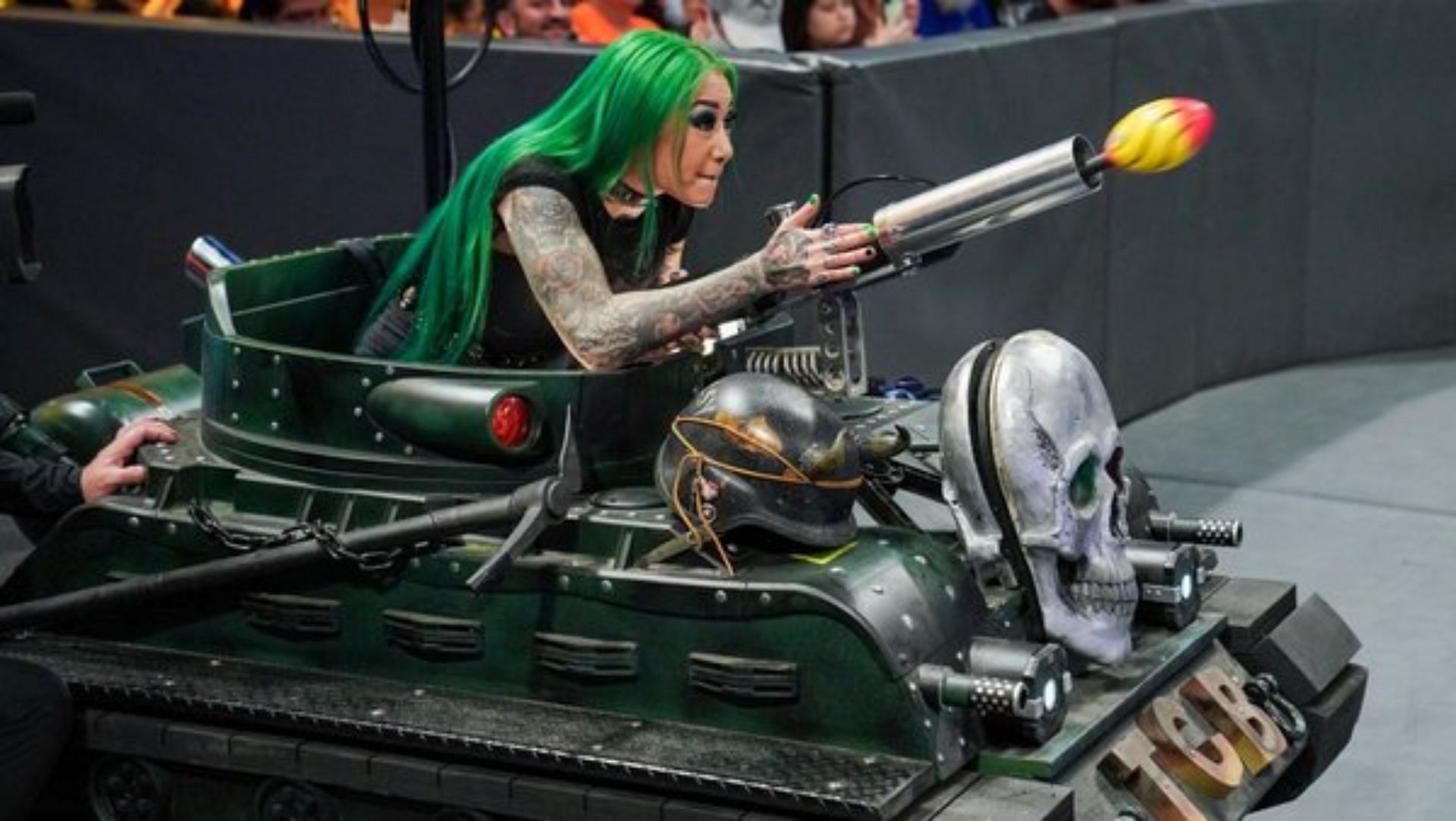 Shotzi Blackheart, a former NXT star, experienced significant changes upon her promotion to WWE's main roster. One notable transformation was the loss of both her last name and her iconic compact armored battle vehicle, commonly known as a tank, which she used as a dramatic entrance prop during her NXT matches.
In NXT, Shotzi's tank gimmick had become a fan favorite, capturing the imagination of the audience as she drove down the ramp in her unique vehicle. However, as she made her way to the main roster, certain adjustments were made, including a minor personality change that resulted in the removal of the tank from her act.
During a recent interview on the Out Of Character podcast with Ryan Satin, Shotzi revealed that the decision to part ways with the tank was not hers to make. Despite the loss of the tank, she expressed her satisfaction with her new character and the opportunities that come with it.
While the tank gimmick had a successful run in NXT and resonated with the fans, it is not uncommon for WWE superstars to undergo character adjustments when transitioning to different platforms. Shotzi's evolution on the main roster offers a fresh start and the chance to explore new dimensions of her persona.
Facts about Shotzi
When they become true pro wrestlers in the profession, most pro wrestlers prefer to use stage names. There are several exceptions to this rule, including Randy Orton, John Cena, and others. The same is true with Shotzi, whose real name is Ashley Urbanski. Given that the current Smackdown star is of Polish and Filipino origin, the moniker Shotzi Blackheart appears to be more appealing.
The majority of today's pro wrestlers began from a modest platform. Most wrestlers begin by laboring for tiny sums of money. Then, she began wrestling in 2014 for Hoodslam Oakland, California. Also, her first battle and debut were as a cheerleading valet for Hoodslam stable, Stoner U, under the moniker Miss Highassh**.
Wrestlers in the indie wrestling scene experiment with many personas, most of them are casual and approachable. Shotzi also experimented with the personas while competing in indie wrestling as a pizza cat. The crowd frequently saw her enter the ring with a pizza cutter, and her ring gear would always include some type of pizza-related reference, which helped her gimmick to be incredibly amusing and relatable.
When it comes to Shotzi, some may believe that she works solely for WWE, but this is not the case. Shotzi had worked in Impact wrestling before moving on to WWE.
Because of all the paperwork and such, WWE contracts are usually signed in private, but not in the case of Shotzi. That's because William Regal showed up unexpectedly at Evolve 137 to chat with Shotzi. He surprised Shotzi and the entire audience by offering Shotzi an NXT contract.
Monster Candy podcast is the name of her channel. Because Shotzi enjoys horror, she co-hosts this podcast that takes a look at everything that is going on in the horror realm.
Social Media
Shotzi Blackheart, the talented WWE superstar, maintains an active presence on social media, providing fans with a glimpse into her wrestling journey and personal life. Follow her on Instagram at https://www.instagram.com/shotziwwe/ for a visual treat of captivating posts, behind-the-scenes moments, and updates on her in-ring performances.
Her official Twitter handle, https://twitter.com/ShotziWWE, offers real-time updates, engaging interactions, and insights into her thoughts and experiences as she continues to make waves in the wrestling world.
Stay connected with Shotzi on these platforms to stay up-to-date with her latest endeavors and join the vibrant community of fans who cheer her on every step of the way.
Some Frequently Asked Questions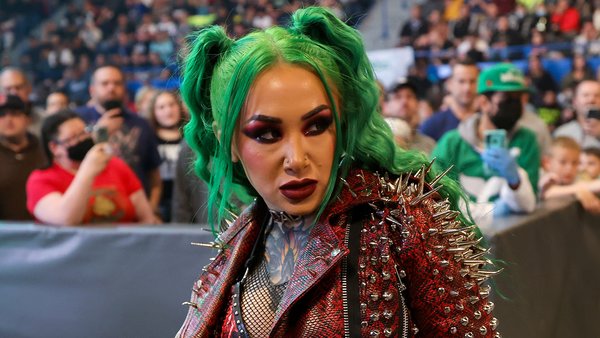 What does TCB mean Shotzi Blackheart?
When Shotzi Blackheart and Ember Moon tagged together on NXT, they named themselves Team TCB. Also, they never revealed the exact meaning of TCB. But the acronym TCB means for taking care of business, which seems like a fitting moniker for a wrestling tag team.
Did Shotzi Blackheart turn heel?
WWE shocked fans by turning Shotzi Blackheart villain. Also, she defeated Sasha Banks in what looks to be her first WWE singles rivalry. This alteration will also result in the removal of a fan favorite part of Shotzi's persona.
When did Shotzi Blackheart debut in NXT?
Ashley Urbanski (born March 13, 1991) is a professional wrestler from the United States who goes by the ring name Shotzi Blackheart. Also, she made her WWE NXT debut on December 25, 2019, following a personal request from William Regal to join NXT.
What happened to Shotzi WWE?
Shotzi, the former NXT Women's Tag Team Champion, was bloodied during the Women's Money in the Bank Ladder match that began this year's show. Top RAW and SmackDown performers competed for a chance to win the prized briefcase.
Is Shotzi Blackheart a good wrestler?
Shotzi Blackheart isn't a really talented wrestler in general. Also, her finest work came in NXT, when she was more of an on-camera personality than a wrestler. She's a nasty wrestler who might be difficult to watch at times. She had a few tough matches, but they were few and far between.
How Old Is Shotzi Blackheart?
As of the current year, 2023, Shotzi Blackheart is 31 years old. She was born on March 14, 1992.
How Tall Is Shotzi Blackheart?
Shotzi Blackheart stands at a height of approximately 1.68 meters or 5 feet 6 inches.